UFC 162: Info and Predictions for Silva vs. Weidman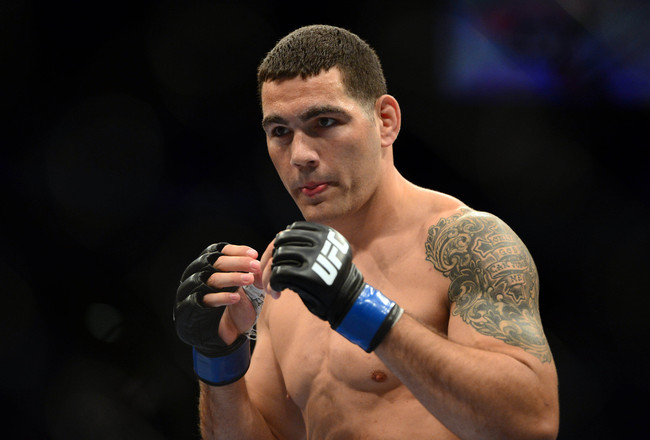 Chris Weidman (pictured) faces Anderson Silva this weekend for the UFC middleweight championship.
Kyle Terada-USA TODAY Sports
UFC 162 goes down this Saturday in Las Vegas, Nevada. You may have heard something about the main event, in which middleweight champ and pound-for-pound kingpin Anderson Silva puts his waistwear on the wire against the most serious threat remaining to him at 185 pounds: undefeated Chris Weidman.
But there's a lot going down up and down the card this weekend. Former UFC lightweight champion Frankie Edgar is in action, for example, as are a bevy of intriguing middleweights. Oh, make no mistake: this one is truly stacked.
What follows are information capsules and predictions for each and every fight going down from the epicenter that is the MGM Grand, including coordinates on where and when to watch.
Mike Pierce vs. David Mitchell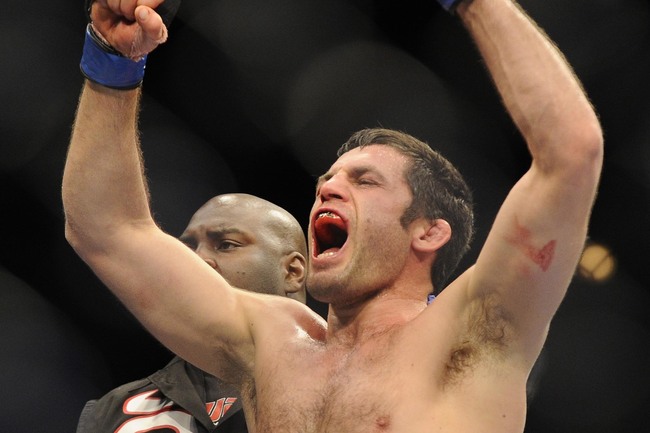 David Mitchell
David Banks-USA TODAY Sports
Division: Welterweight
See it on: Facebook (6:30 p.m. Eastern)
After David Mitchell directed and starred in "The Town," I was sure he had topped out. It was "Heat" meets "The Departed," after all. And we thought he would live forever.
But then it all came crashing down. Following a 2011 loss to Paulo Thiago, injuries and plain bad luck kept him out of action for about a year and a half. And then: redemption. An upset of submission artist Simeon Thoresen returned him to the limelight. The Facebook limelight.
Now he faces Mike Pierce, a grinder with a nickel-plated jaw and a constitution to match. Pierce has never been finished, which doesn't bode well for a serious but not super-elite submission hunter like Mitchell. Looks like it's back to polishing that "Argo" statuette.
Prediction: Pierce, Unanimous Decision
Seth Baczynski vs. Brian Melancon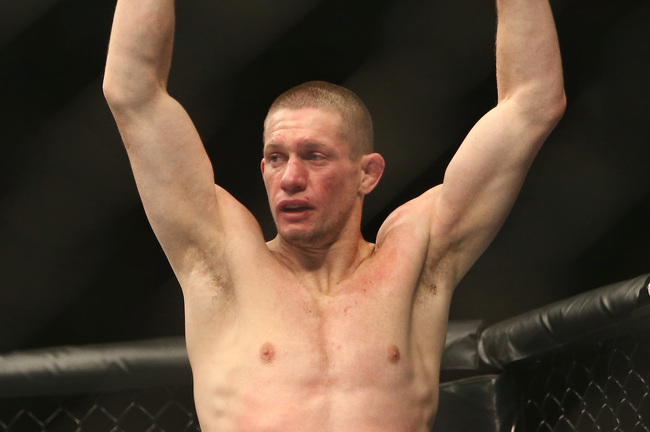 Seth Baczynski
Tom Szczerbowski-USA TODAY Sports
Division: Welterweight
See it on: Facebook (6:30 p.m. Eastern)
Interestingly, the aforementioned Mike Pierce's last opponent was one Seth Baczynski. Perhaps even more interestingly, Pierce won that fight, and yet here sits Baczynski, slotted above him on the bill. Grinders get no justice in this world.
In fairness, Baczynski was on a four-fight UFC win streak before Pierce smothered him in December. Regardless, this matchup, on paper anyway, seems far more favorable for "The Polish Pistola."
The 6'3" Baczynski— by my count the tallest welterweight in the UFC—will have crazy seven-inch height and five-inch reach advantages over Brian Melancon, who is making his Octagon debut. The Pistola should be able to strike first and strike hard from the perimeter and eventually finish the green Texan.
Prediction: Baczynski, TKO, Rd. 2
Edson Barboza vs. Rafaello Oliveira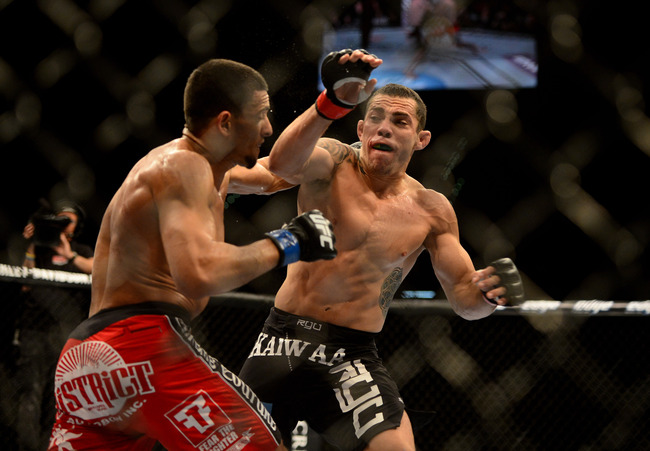 Rafaello Oliveira (right) takes on Yoislandy Izquierdo at UFC 148.
Mark J. Rebilas-USA TODAY Sports
Division: Lightweight
See it on: FX (8 p.m. Eastern)
Rafaello Oliveira avoided the executioner's axe at UFC 148 with what I will forever henceforth refer to as The Ryan Jimmo Special. He took down Yoislandy Izquierdo and rode his back to a decision victory.
So he lived to see the Octagon again, but will need to do a lot better against the Muay Thai wrecking machine that is Edson Barboza. After that stunner of a defeat to Jamie Varner, Barboza got back on the good foot in January by forcing a rare and emasculating tap-to-strikes from Lucas Martins.
But here's the thing: Oliveira won't be willing or able to strike with Barboza, as Martins was. He'll probably want to close the distance and maul Barboza, or at least get him moving backward. That would essentially mean a negation of the standup phase.
And yet, this is still Barboza's fight to lose, in my opinion. Why? Because his real ace here is the ground game. Where Izquierdo doesn't have much of anything on the ground, Barboza is wide open to such an exchange. Here's guessing Oliveira gets it to the ground, but Barboza takes it from there.
Prediction: Barboza, Unanimous decision
Gabriel Gonzaga vs. Dave Herman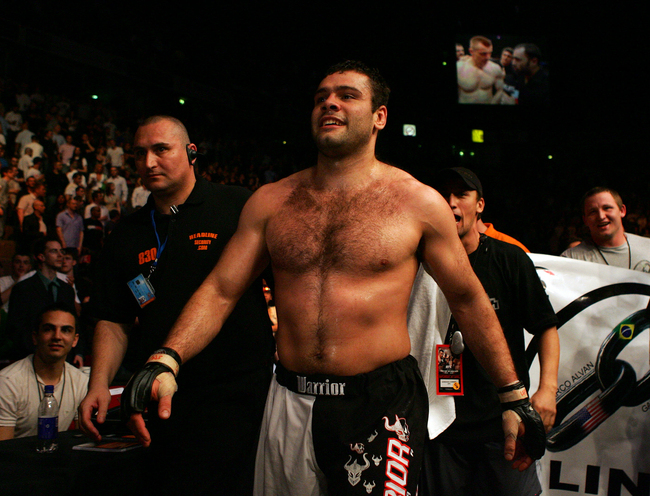 Gabriel Gonzaga
Gary M. Prior/Getty Images
Division: Heavyweight
See it on: FX (8 p.m. Eastern)
A fun little undercard bout between two very big little dudes. Assuming Dave Herman passes his drug test, of course. I'm reasonably confident "Pee Wee" passes, but at the same time, if I'm Todd Duffee, I'm sticking on the West Coast and staying out of Carl's Jr. I'm not saying anything. Just saying.
Anyway, Gabriel Gonzaga keeps plugging along. Not quite good enough to be a gatekeeper, but still good enough to weed out the bottom guys. He's like an algae eater in your fish tank, if Ben Rothwell was algae.
Prediction: Gonzaga, Jiu-jitsu submission, Rd. 2
Norman Parke vs. Kazuki Tokudome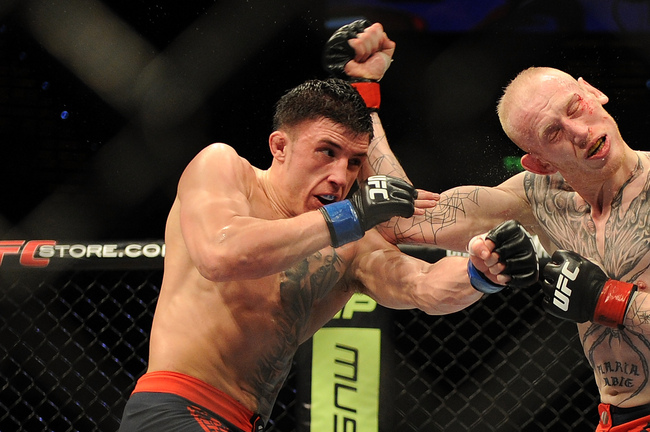 Norman Parke (left) competed on the British version of The Ultimate Fighter
Matt Roberts/Getty Images
Division: Lightweight
See it on: FX (8 p.m. Eastern)
As you know, Norman Parke is a Northern Ireland native who took the lightweight title on The Ultimate Fighter: The Smashes by decisioning excellent self-marketer Colin Fletcher.
On the other side, I'm not entirely sure what to make of Kazuki Tokudome. He showed quite a jaw versus Cristiano Marcello and pulled what, to my mind, was a substantial upset. But I'm not sure he can hit takedowns and take it so easy against a power wrestler on par with Mr. Parke.
And there's one more factor: if Parke doesn't win, that might submarine this little thing he has going with Irishman Conor McGregor. McGregor, for his part, is juuuust a bit willing to move up.
Prediction: Parke, Unanimous decision
Chris Leben vs. Andrew Craig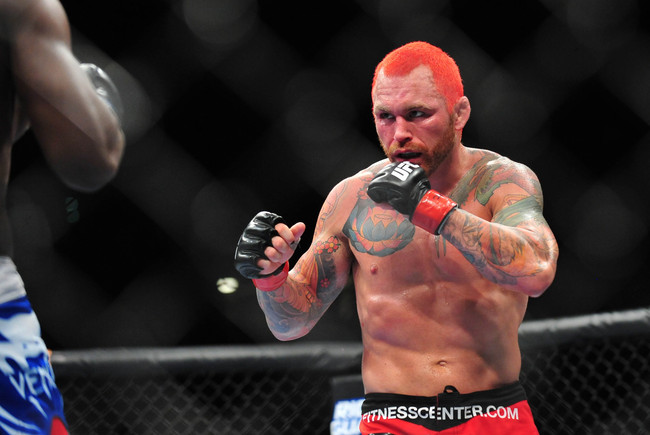 Chris Leben
Gary A. Vasquez-USA TODAY Sports
Division: Middleweight
See it on: FX (8 p.m. Eastern)
Full disclosure: I respect the stuffing out of Chris Leben. There's a reason this fight is the FX headliner (a by-no-means-unimportant position, by the way), and that reason is consummate headhunter and fan favorite Christian Cyrus Leben.
But I found myself agreeing recently with Andrew Craig's assertion that he's essentially Chris Leben 2.0. This will be entertaining, and I think Craig will ultimately take it in a slugfest.
Prediction: Craig, TKO, Rd. 3
Cub Swanson vs. Dennis Siver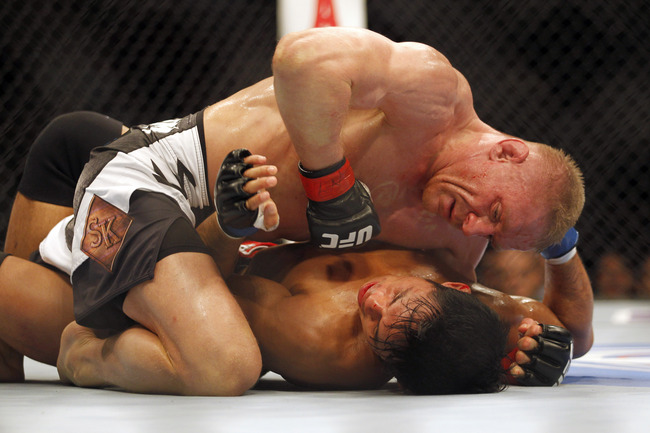 Dennis Siver pounds Nam Phan in his second fight as a featherweight.
Joe Nicholson-USA TODAY Sports
Division: Featherweight
See it on: Pay-per-view (10 p.m. Eastern)
Far be it from me to stand between a man and his mission, but Cub Swanson's quest for a chance at a title and a move beyond the sport's longest-lasting eight-second TKO will end (at least for now) against the surprisingly well-rounded brick house that is Dennis Siver. Sound the upset alarms.
Prediction: Siver, Unanimous decision
Mark Munoz vs. Tim Boetsch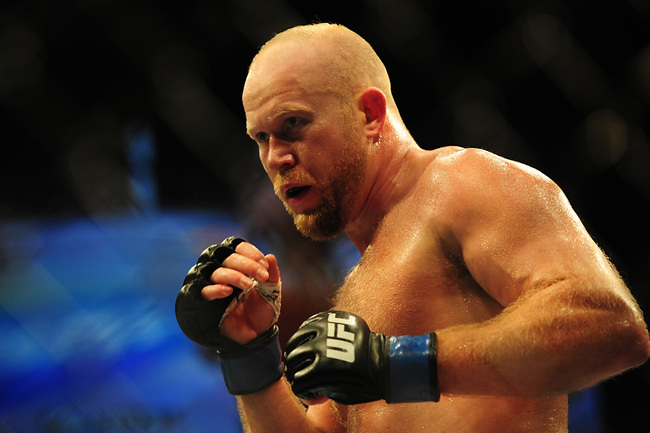 Tim Boetsch
Anne-Marie Sorvin-USA TODAY Sports
Division: Middleweight
See it on: Pay-per-view (10 p.m. Eastern)
This blunt instrument of a matchup pits two outstanding wrestlers and stone-fisted strikers against each other. And it could be Fight of the Night when it's all said and done.
This one is sure to be waged at close proximity, meaning both men should be able to get a glove on the other. I see a back-and-forth 15 minutes here, with the bigger (and less-rusty) fighter coming out on top.
Prediction: Boetsch, Split decision
Tim Kennedy vs. Roger Gracie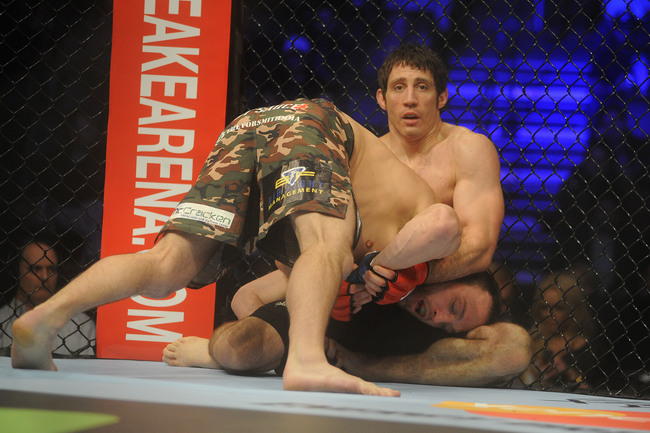 Tim Kennedy makes his UFC debut at UFC 162.
USA TODAY Sports
Division: Middleweight
See it on: Pay-per-view (10 p.m. Eastern)
Don't look at me like that, TIm Kennedy. You brought this on yourself, bro.
You're certainly entitled to your feeling that fighter pay is too low, and I respect your willingness to give a candid opinion on an important and sensitive topic. But maybe the week before your UFC debut on the most anticipated MMA card of 2013 was not the best time to do that.
As a result of the unfortunate timing, you now find yourself with a bona fide distraction heading into the biggest Saturday of your fighting life. You're probably a better all-around fighter than Roger Gracie, but your fellow UFC debutante will fly into the event comfortably below the radar and force the first tapout of your career.
Prediction: Gracie, Submission, Rd. 1
Frankie Edgar vs. Charles Oliveira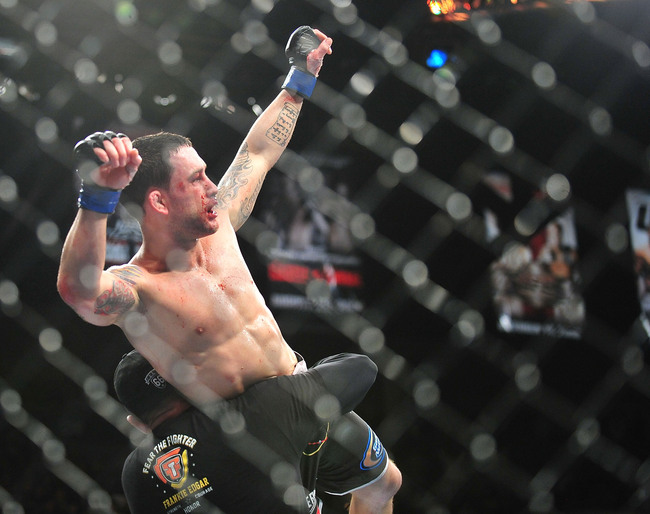 Frankie Edgar
Gary A. Vasquez-USA TODAY Sports
Division: Featherweight
See it on: Pay-per-view (10 p.m. Eastern)
Chan Sung Jung and Ricardo Lamas were originally set for a number-one-contender match Saturday night. But after the UFC tapped the Zombie to face featherweight champ Jose Aldo at UFC 163, the fight was scrapped and Lamas was shelved.
Fortunately for featherweight fans, we still have Frankie Edgar and Charles Oliveira. No disrespect to a promising young buck in Oliveira, but Edgar might be the best fighter in the world who is currently on a three-fight losing streak. He should be able to keep Oliveira at bay and use his great quickness to dart in and out and take this fight on points.
Prediction: Edgar, Unanimous decision
Anderson Silva vs. Chris Weidman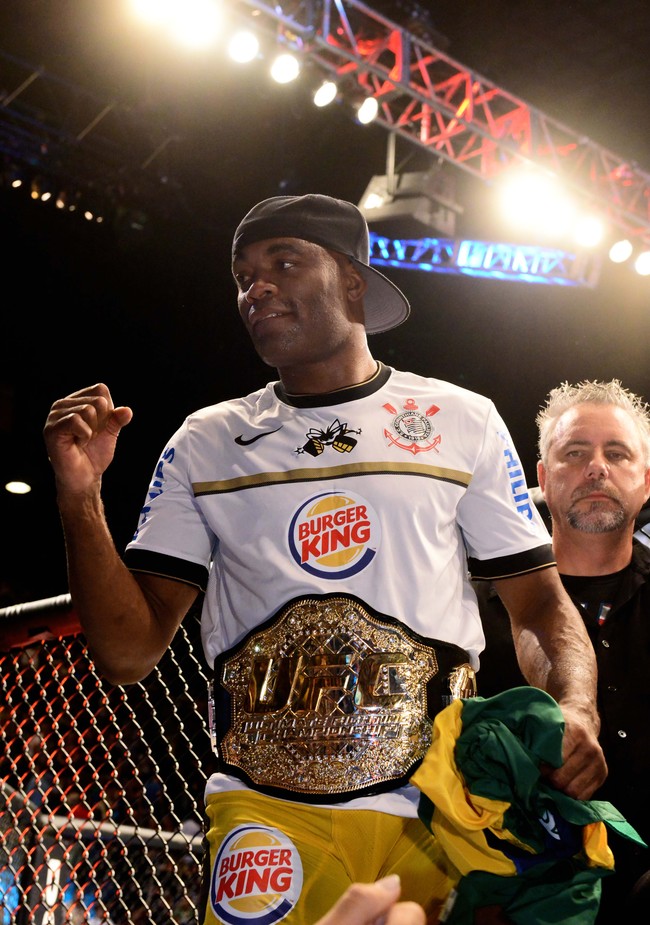 Middleweight champ Anderson Silva
Mark J. Rebilas-USA TODAY Sports
Division: Middleweight (for UFC middleweight title)
See it on: Pay-per-view (10 p.m. Eastern)
The narrative is pretty well-worn at this point. The 29-year-old Chris Weidman brings a perfect record and the perfect Silva-stopper game plan into the cage with him Saturday night. Weidman, goes the narrative, has the skills and the sand to sell out and get the aging GOAT on his back—and the power to hurt him once there.
And hey, I get it. This was definitely the fight to make for Anderson Silva. Weidman is clearly his biggest threat in the middleweight division. I understand why so many fans and pundits are picking him.
Now, here comes the but. And it's really not much of a "but," in my opinion. Anderson Silva is the greatest fighter in MMA history. That's not exactly news, but it's worth repeating since so many people seem to forget. Yes, he's 38 years old. Sure, that Jon Jones talk is a little disconcerting. But, it's safe to say Weidman has never faced anyone like Silva; the opposite isn't true. Silva will keep this vertical long enough to take Weidman places he's never been before. Weidman will have his day. That day won't be Saturday.
Prediction: Silva, TKO, Rd. 3
Keep Reading