FIFA Confederations Cup: 8 Players Whose Transfer Values Increased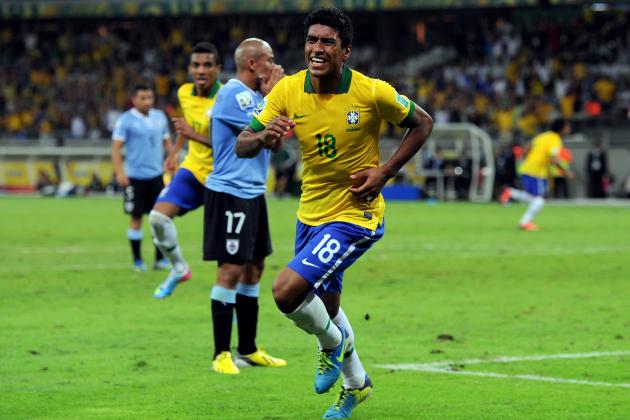 Michael Regan/Getty Images

Major tournaments are always avenues for promising talents to showcase their abilities.
With much of the world tuned in and the pressure ratcheted to unusually high level, players are afforded the opportunity to display what they can do on the biggest stages in front of the widest audiences.
While some believe that the Confederations Cup is merely a money-making exercise for FIFA, millions of people across the globe are paying attention to what is transpiring in Brazil. Let's look at eight players who have impressed during the last few weeks.
Begin Slideshow

»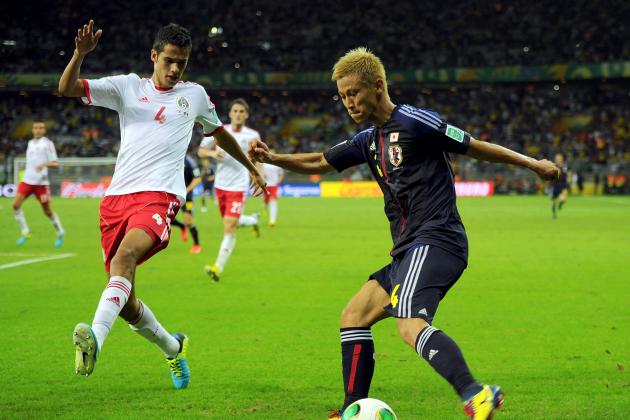 Michael Regan/Getty Images

Fans of CSKA Moscow know how effective Keisuke Honda is as an attacking midfielder. But with Manchester United star Shinji Kagawa capably filling that role, Honda was shifted to the left wing.
And how effective he was, surging forward at every opportunity with tremendous pace and tenacity, creating chances for others and never hesitating to do his bit in defense.
While he might hesitate to forsake the hefty salary that he is surely receiving in Russia, Honda will likely be peppered with offers from other teams.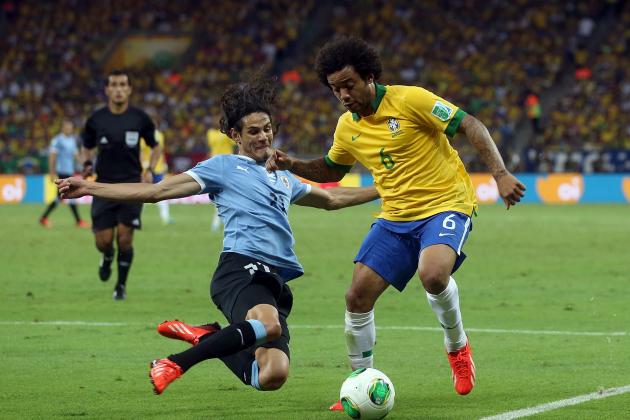 Scott Heavey/Getty Images

As noted in this Daily Mail article by Rob Draper, Edinson Cavani's transfer fee was never going to be low. But he certainly has not hurt his case at the Confederations Cup.
The Uruguayan has one more game to play (the third-place game), and he will have incentive to try, with a potential move to Chelsea reportedly nearing materialization.
Cavani's fine finish against Brazil in the semifinal was nearly enough to send Uruguay to the final, and it shows why there is so much interest in him.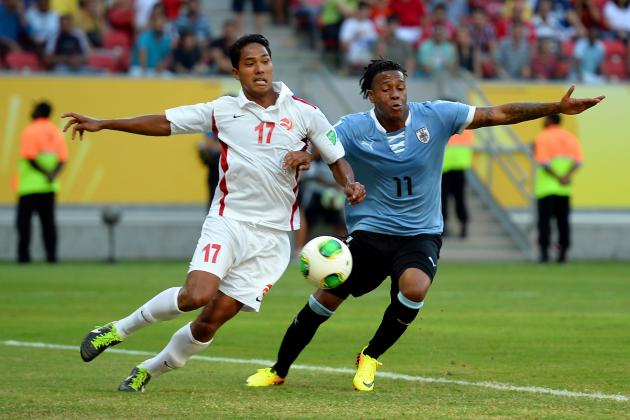 Laurence Griffiths/Getty Images

Sure, he's not what one would consider a "professional" footballer, but perhaps Jonathan Tehau's feel-good goal against Nigeria in the group stage will catapult him to greater relevance?
Alright, the odds of that happening are roughly equal to those of myself playing and scoring in the Confederations Cup (where's the Tahitian immigration office?), but it is nevertheless harmless to hope.
At least Tehau and his lovable national side got some deserved publicity for a couple of marvelous weeks.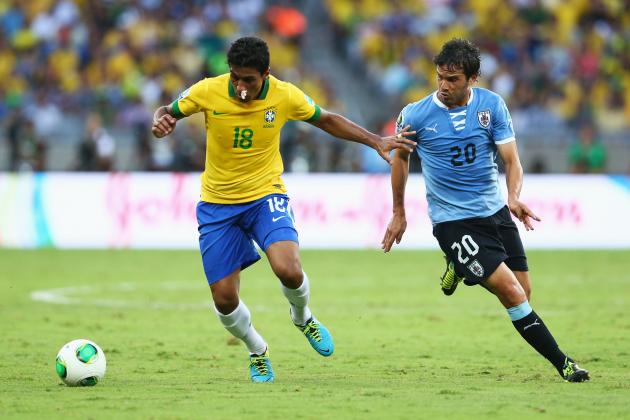 Ronald Martinez/Getty Images

As Luiz Felipe Scolari has looked to radically alter the shape of his Brazil side during his brief tenure as national team manager, Paulinho has become ever more essential.
The 24-year-old certainly has an eye for goal, as evidenced by his dramatic late winner against Uruguay, which sent the Selecao into the final.
But he is also the archetypal central midfielder that Brazil need so badly at the moment; he allows the likes of Neymar, Oscar and Hulk to dart and shimmy their way forward.
Paulinho still plays in Brazil with Corinthians, so European teams will certainly see an opening there.
Laurence Griffiths/Getty Images

This has been an excellent Confederations Cup for Luis Suarez. The Liverpool forward, who is as volatile as a radioactive Molotov cocktail concocted with gasoline and gunpowder, has—almost—made it through the tournament without biting anyone or making a racist remark.
These are jokes, of course, but the reason why Suarez's managers are so reluctant to bench him is that he consistently produces exceptional things when he is on the pitch.
Three goals in four games is an extremely impressive return. Perhaps Real Madrid's ears will perk up a little bit more after watching Suarez skitter his way through Brazil.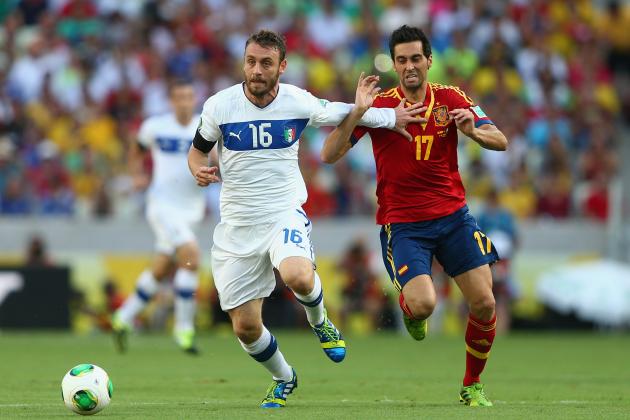 Clive Mason/Getty Images

Is it a coincidence that, per Sky Sports' Nadia Carminati, Roma refused to rule out selling their star midfielder as the Confederations Cup began to wind down?
To those who watched him play for Italy, probably not.
Daniele De Rossi is certainly not a spectacular player in any sense, but he is solid in every sense. His defensive fundamentals are sound, and he is unafraid of moving up the pitch to help the attack flow.
De Rossi has been listed amongst the transfer rumors for years, but a move to Chelsea could be in the cards this summer, if this report from Goal.com's Srinivasan Mohan is to be believed.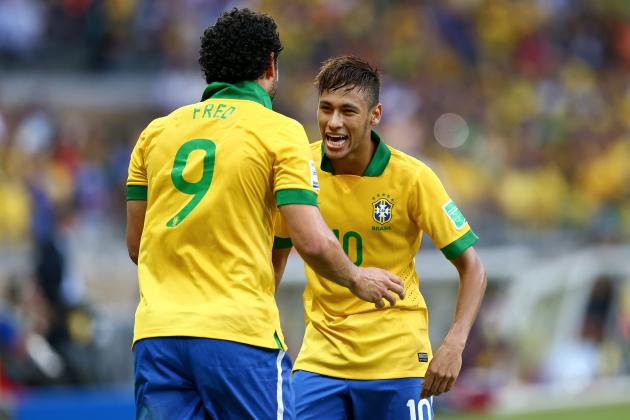 Ronald Martinez/Getty Images

While Neymar receives a disproportionate amount of the hype that perpetually buzzes around Brazil's attack, striker Fred—who appropriately has the most blase name of any player in the tournament and perhaps the world—deserves much of the credit for actually scoring the goals.
The bobbling rebound finish against Uruguay was probably assisted by the kind winds of luck, but Fred has consistently been the rock up front that the wingers and midfielders can aim at. His three goals in four games indicate that he is the steel behind Brazil's veil of flair.
He used to ply his trade in France with Lyon, and he now plays for Fluminese in the Brazilian Serie A. Perhaps, then, he might be reticent to return to Europe, but he will certainly have offers.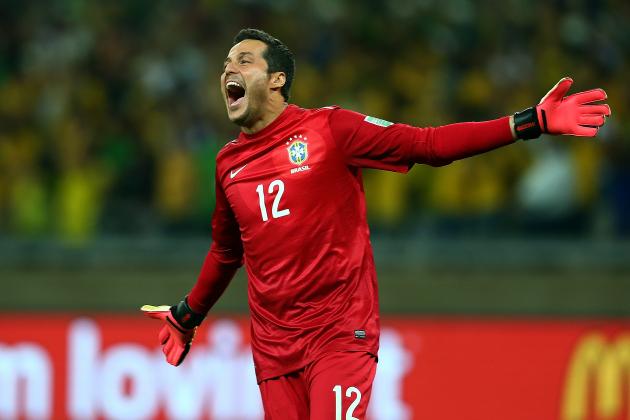 Ronald Martinez/Getty Images

Luiz Felipe Scolari trusted a player many believed to be well past his best days—having gone from Inter Milan to relegation from the Premier League in a single season—and has been richly rewarded.
Who knows how Julio Cesar regained the confidence and ability to command a goal that is constantly under scrutiny. Regardless, he has clearly found the intangible swagger that every world-class goalkeeper needs to do his job at an exceptional level.
When Brazil's Olympic side travelled to London last summer, their inability to pick a reliable and consistent first-choice goalkeeper wrecked the team's cohesion more than perhaps any other single factor.
In the Confederations Cup, Cesar has provided his team with a rock between the posts and thus the confidence to take attacking risks and utilize the talent further up the pitch for which the Brazilians are so well-known.
The man certainly won't be playing in the nPower Championship next season.