In the wake of the Chicago Blackhawks' 2013 Stanley Cup victory and subsequent parade through the streets of the Windy City, there's no rest for the weary when it comes to activity during the NHL offseason.
And that starts with the rumors surrounding player movement and NHL draft moves that could shake up the framework of all 30 franchises next season.
As noted in this juicy rumor from Nick Kypreos, it seems like there are more players not off-limits than the other way around with the way the rumor mill has been spinning since the end of the 2012-13 hockey season:
Other names coming off 1st yr deals being dropped in #NHL trade talk besides #Bruins Seguin, #Canes Skinner #Sabres Myers. #veryfewofflimits

— Nick Kypreos (@RealKyper) June 29, 2013
The NHL draft is approaching, and the "no off-limits" idea is setting in when it comes to the draft picks that teams own, too. Several teams with top picks have been rumored to be seeking out a trade partner in the days leading up to the draft, and those movements could do just as much damage as potential player ones.
Take a look at the sections below as we break down some of the latest when it comes to NHL trade rumors happening league-wide.
Draft Trade Rumors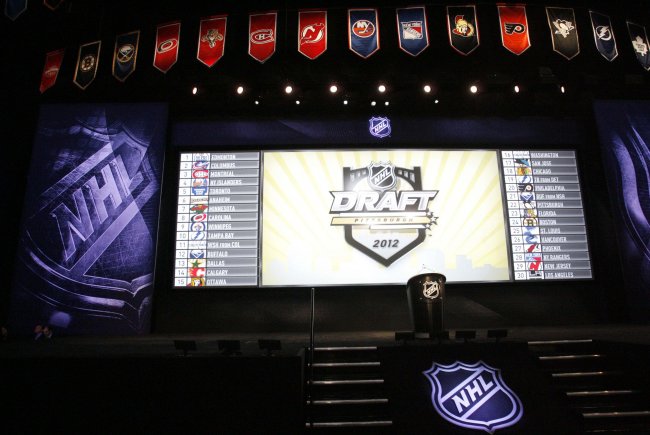 Charles LeClaire-USA TODAY Sports
We'll start this section off with a tweet from Chip Alexander of the Raleigh News & Observer, who noted that Carolina Hurricanes general manager Jim Rutherford is letting it slip that interest has been there in the team's No. 5 pick:
Canes Now - Rutherford: 'Lot of interest' in No. 5 pick | http://t.co/FBi3QvLjiu blogs http://t.co/3eWrgs2hkc

— Chip Alexander (@ice_chip) June 29, 2013
Carolina finished 13th in the Eastern Conference last year and got the right to the No. 5 pick with just 42 points on the lockout-shortened season, but finding value in a potential trade might trump getting a player in this draft for the Canes.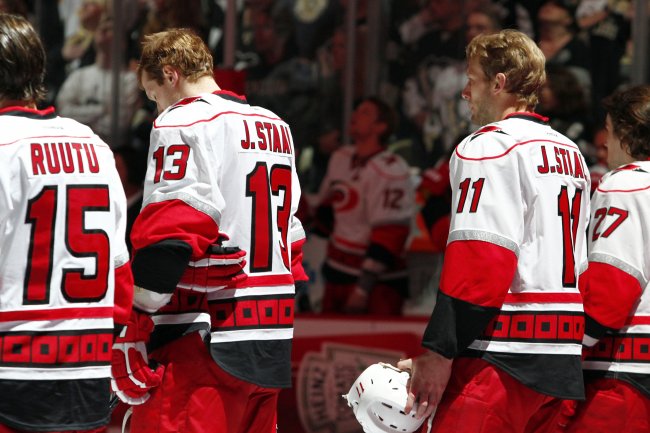 Justin K. Aller/Getty Images
Per Alexander's report from the tweet, the Hurricanes are looking to upgrade their back line more than anything else this offseason. Rutherford mentions that getting a defenseman is the team's top priority, and if that can happen by sending the fifth overall pick to a team looking to deal, then Carolina might be able to produce an instant starter instead of growing one through the draft.
The Montreal Canadiens are also in trade rumors centering around their draft picks. As noted by ESPN's Pierre LeBrun, the depth of the picks the Habs have to work with might net them a first-rounder in the process:
LIke many teams, Habs would like to move up in first round. They have 3 2nd-round picks... May wait until draft commences to make their move

— Pierre LeBrun (@Real_ESPNLeBrun) June 29, 2013
Montreal had a disappointing end to their season in the Stanley Cup playoffs, flaming out to the Ottawa Senators despite being the higher seed and having home ice advantage. If there's a deal to be made to net them a player of interest in the first round, don't be surprised to see general manager Marc Bergevin make a move with the second-rounders.
Another NHL draft-related nugget comes from Mac Engel of The Fort Worth Star-Telegram, who notes that the Dallas Stars could be putting together a package to lure out a team in the top three in the draft (Colorado, Florida, Tampa Bay) to secure a chance to draft a player of note:
#NHL source says #dallasstars kicking around idea of super trade for Seth Jones. Would involve W Loui Eriksson.

— Mac Engel (@MacEngelProf) June 29, 2013
Seth Jones' father Popeye played in the NBA for the Dallas Mavericks, and as noted by Mike Heika of The Dallas Morning News, his ties to Texas are strong enough to where the Stars might start feeling nostalgic enough to make a move to get him.
If the Stars do manage to get Jones in a potential trade with either Colorado or Florida, expect the start of the new Jim Nill era in Dallas to get off to a strong start in the eyes of Dallas faithful.
The Fourth Period's Dave Pagnotta reported that Columbus, which owns the No. 14 and No. 19 picks in the first round of the draft, are also navigating through some offers right now:
Columbus also working on a few deals. Hearing they've discussed more than moving just their 1st rounders

— David Pagnotta (@TheFourthPeriod) June 29, 2013
Our final piece of draft-day trade information comes from Jonathan Willis of the Edmonton Journal, who noted on Friday that the Oilers could look to package both of their second-round picks (No. 37 and No. 56) for a shot at a player to contribute right away.
Willis notes that GM Craig MacTavish is going to be very active this weekend in upgrading his roster for next season, a necessity after finishing 12th in the Western Conference and firing Ralph Krueger in favor of Dallas Eakins.
Player Trade Rumors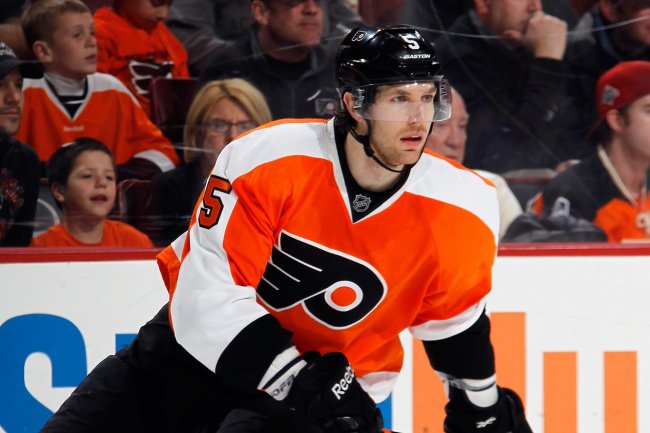 Bruce Bennett/Getty Images
Maybe the biggest news on Friday came from TSN's Bob McKenzie, who placed Boston Bruins' youngster Tyler Seguin on the trading block after an up-and-down third season with the club during their run to the Stanley Cup Finals:
Not 100 per cent yet but looks like Nathan Horton will NOT be back with BOS. B's talking trade and Tyler Seguin's name has been discussed.

— Bob McKenzie (@TSNBobMcKenzie) June 29, 2013
Seguin is log-jammed behind a stellar Boston lineup right now, and though he was a top pick just a few years ago in the draft, Boston can find out what his trade value is now before either shipping him or giving him one last chance in town.
John Vogl of the Buffalo News had this tidbit about the Sabres' star goalie:
Both Darcy Regier and agent Mike Liut tell Buffalo News they expect Ryan Miller to remain with Sabres through draft weekend. Story upcoming.

— John Vogl (@BuffNewsVogl) June 29, 2013
Miller had a tough year in Buffalo, giving up 2.81 goals per game and finishing 34th in the NHL in that category. Still, he's one of the better goalies in the league and did finish with a 91.5 save percentage, good for 19th in the league.
CSN Philadelphia's Tim Panaccio noted on Twitter that a potential Flyers-Oilers trade including Braydon Coburn will not send the No. 7 pick back to Philadelphia in the deal, rather the two second-round picks mentioned above in the draft section:
The Coburn trade talk is NOT about getting EDM 1stR pick (7); it's about their 2 second-round picks which would give Flyers 3 in that round

— Tim Panaccio (@tpanotchCSN) June 29, 2013
The 28-year-old defenseman had one goal in 33 games for Philadelphia last year and would help the Oilers upgrade the position on their back line.
LeBrun also had these series of tweets about potential interest for players currently with the Vancouver Canucks:
With lack of trade interest in Luongo, Canucks decided yesterday that they'd put Schneider out there and see what the reaction would be...

— Pierre LeBrun (@Real_ESPNLeBrun) June 29, 2013
Another player generated a lot of phone calls towards Vancouver is d-man Alex Edler. His NTC kicks in July 1 but teams are calling...

— Pierre LeBrun (@Real_ESPNLeBrun) June 29, 2013
Another player generated a lot of phone calls towards Vancouver is d-man Alex Edler. His NTC kicks in July 1 but teams are calling...

— Pierre LeBrun (@Real_ESPNLeBrun) June 29, 2013
The Canucks have been trying to trade one of their goalies since the start of the lockout-shortened season, but it was a no-go. Now, with the trade market bigger than ever, if Vancouver could send one out for a huge return, it would do wonders to other areas of need on the team.
That's it for the latest installment of NHL trade rumors, but rest assured that a new batch of ones concerning both the draft and different players will run rampant both before and after the 2013 NHL draft is completed on Sunday.
Follow Bleacher Report FC Ethan Grant (@DowntownEG) on Twitter.