Giants vs. Rockies Live Blog: Instant Reactions and Analysis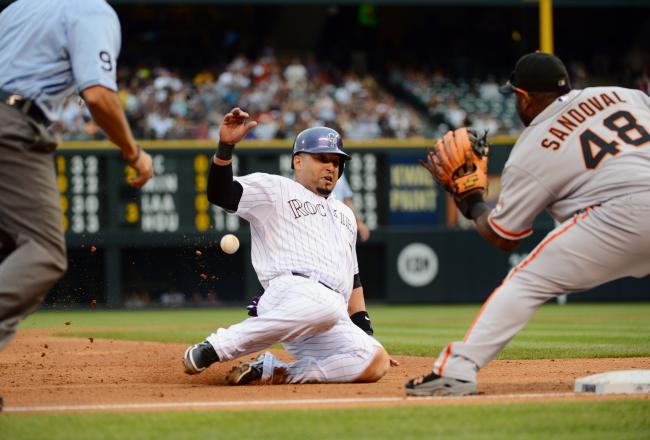 Garrett Ellwood/Getty Images
Rockies win, 2-1.
Colorado continued to lean on the efforts of Michael Cuddyer, who extended his hitting streak to 26 games with a single off of Giants pitcher Matt Cain in the bottom of the first.
Posey evened things up by driving in Marco Scutaro with a double. Otherwise it was a pitcher's ball game heading into the ninth.
Arenado hit a walk-off single to give Colorado the win. San Francisco's hitting continues to disappoint as they failed to even create opportunities to score. They've now lost six straight games, seven straight on the road.
The Rockies improve to .500 while the Giants have a losing streak they haven't had since 2010.
And they convert! Arenado hits one up the middle for a walk-off single, Rockies win 2-1. Wasted effort from Matt Cain as SF drops their sixth straight.
Aggressive lead from Rutledge (pinch runner for Todd Helton) results in a stolen base. Rockies have their chance.
Cain is done for the day, in comes Jeremy Affeldt. Tall task for Affeldt with Hernandez leading off.
Hector Sanchez replaces Quiroz at catcher.
Rockies can't do anything against Cain. Giants can't do anything against a pitcher. Who wins???
Worthy note: Including today, Pablo Sandoval hasn't had a hit in four games.
This is the Giants game to win or lose. Cain's been great, hitting hasn't. One of them will change this game. Or Cain will eventually be pulled.
Cain is officially on fire.
Who's your MVP of the game so far?
The situation: they just walked Cain, putting runners on first and second. A) you don't walk pitchers, B) Especially when there are already two outs.
Belisle is now on the mound
Not very impressive start for Rockies relievers. 2/3 of an inning and they're already on their third one.
Something's wrong with De La Rosa's hand and he's done for the day. Definitely an early exit, yet another opportunity for the Giants.
Wilton Lopez comes in and immediately gives up a single to Quiroz. He's getting yanked.
"starting" shouldn't have been included. That's a lot of batters.
Cain's starting to heat up. Retired the last 12 batters.
Nope. Middle of the inning, but SF has the equalizer. 1-1.
Good thing he didn't have to swing the bat. De La Rosa walks him...can the Giants capitalize?
Pence: 8-54 in his last eight games. Ouch.
And take notice they do. Posey rockets one to left for a double, bringing in Scutaro. All tied up, 1-1.
De La Rosa losing his handle on the last few pitches, sending them into the dirt. Giants should take notice.
And he just got caught stealing. Not the best call to steal, he'd already done it once and as I said before, he's the only one the Rockies need to worry about as of now.
Scutaro wit a base hit.
And yet another hit for Torres. 3-3 today, he is the only batter doing anything for SF.
Pitch Count: Cain 61, De La Rosa 63. Good duel between the two
Middle of the fifth, Rockies still lead 1-0. May not even half to post while the Giants are up to bat, nothing has been happening in the top innings for a while.
Giants fans, what do you think the problem is with SF's hitting?
Defense may win championships, but you need offense to get you there. Giants proving so in these last stretch of games
Giants can't get anything going at the plate.
Posey opens the fourth inning with a drive to left. Now's a good time for Pence to break out of his slump.
Right after I typed the above sentence, he grounds into a double play. Awesome, Hunter, awesome.
This article is
What is the duplicate article?
Why is this article offensive?
Where is this article plagiarized from?
Why is this article poorly edited?