WWE Main Event and SmackDown: In-Depth Recap and Analysis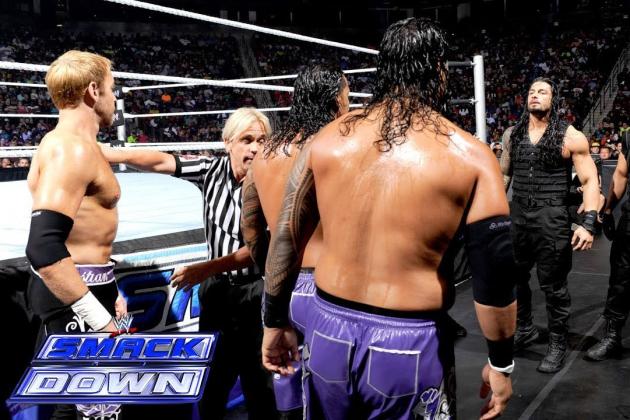 WWE.com
Every week here on Bleacher Report, I will take an in-depth look at Main Event and SmackDown, recapping all the action and offering analysis on everything from the matches to commentary and anything else that takes place on the show.
WWE has produced another solid week of shows, and the buildup for Money in the Bank is starting to get more interesting by the day.
We now know all of the participants in both Money in the Bank matches. We also have matches set for the WWE and World titles, as well as a match between Ryback and Chris Jericho.
As for Main Event and SmackDown, they were good shows. There were a few very entertaining matches and a fair amount of storyline development.
Let's get into the first match from Main Event, Cody Rhodes vs. Chris Jericho.
Begin Slideshow

»
After a couple of weeks of Main Event not producing match of the week candidates, we are back to that level thanks to Cody Rhodes and Chris Jericho.
This match had everything you could want, including a clean victory.
Rhodes looked like he was on top of his game, and he would have to be when going up against someone as versatile as Chris Jericho.
Neither man was able to control the match for very long, which made the pace quick and the variety of offense we saw entertaining.
This would actually be a pretty fresh feud if this weren't just a match to fill time until Jericho faces Ryback at Money in the Bank. The chemistry they had in this match would probably allow them to steal the show at a pay-per-view, too.
Both men were hit with finishers and managed to avoid being pinned, but it was Jericho who ended up taking home the victory after he made Rhodes tap to the Walls of Jericho.
Winner: Chris Jericho
Some notes from the match:
I always love seeing someone pull out a Northern Lights Suplex, and tonight Chris Jericho obliged.
Jericho almost never hits The Lionsault anymore. People either get their knees up or roll out of the way almost every time.
Miz claimed to have never seen someone kick out of Cross Rhodes, but I am almost sure I remember Miz kicking out of it during a match they had awhile back. I will have to figure out which match it was and post a video next week.
Is Cody's mustache shrinking? I swear that thing is getting smaller every time I see it.
I am starting to like the pair of Cesaro and Colter less and less. I hope Jack Swagger comes back, Colter sides with him, and he and Cesaro get in a fight.
Cesaro doesn't need a mouthpiece that bad. He just needs to be booked in the right matches. Let his opponents do the talking while Cesaro just beats them up.
This promo didn't do anything to make me care more about the character.
Christian vs. Ambrose was a good match up until The Shield caused a disqualification. The Usos stopped it from turning into a 3-on-1 attack.
Christian and Ambrose would be an interesting feud, but Christian doesn't need to go after another mid-card title.
Winner: Christian by DQ
Some notes from the promo and match:
WTF? Did Colter have a bet with someone to see how many times he could use a word that included the letters c-o-c-k? He said Gamecock about a dozen times, and then he said cock-a-doodle-doo.
I like Cesaro's hat. It makes him look like a militant type.
Christian is not showing many signs of ring rust.
This was a short tag match to end the show. Nobody had time to do anything special in this encounter, but we did get to see a new Diva.
Clay and Tensai got in some decent offense, but PTP ended up taking home the win, which is great to see after an extended period of losing for the talented duo.
Winners: Prime Time Players
Some notes from the match:
WWE's new show, Total Divas is going to be like Bad Girls Club with body slams. At least, that's what I hope it is; otherwise it might be kind of boring.
Clay can take a lot of punishment, but hit him in the shoulder with a hair pick and he goes down like he was hit with a baseball bat.
Titus O'Neil is going to be a huge star some day. He just seems to have what it takes to me.
Main Event has achieved what WWE's ECW, the original NXT and Superstars failed to do, and that is produce an hour-long show that is actually worth watching.
For some reason, ever since Raw and SmackDown both went to two or more hours, WWE has had trouble producing a top-flight show that only lasts an hour.
For a little while Main Event was getting pretty bad, but in the past few months it has consistently produced great matches, on top of giving us a chance to see some Superstars we might not see too often on Raw or SmackDown.
I have said it before, and I will say it again: Main Event's ratings do not reflect the quality of the show.
This match kicked off the show, and judging from the amount of stuff at ringside, I see why. There was a kegerator right at the bottom of the ramp.
Sandow delivered a promo before the match about South Carolina that garnered him some pretty good heat.
It took about 30 seconds before Sandow and Sheamus began using the no-DQ stipulation to their advantage. It took about a minute before Sheamus used a sack of potatoes as a weapon.
Sandow and Sheamus really gave each other a beating in this match. Sandow was especially aggressive with a kendo stick at one point, beating Sheamus so bad that he broke the stick in half.
Sheamus scored yet another win over Damien Sandow with a Brogue Kick. This was a really fun match, but I am tired of seeing this match have the same ending every time.
Winner: Sheamus
Some notes from the match:
It really is beginning to feel like WWE changes the SmackDown opening video a little bit every week. Am I nuts, or has it changed a lot in 2013?
The guy wearing the Dolph Ziggler shirt who made the "Keep calm and steal the show" sign wins sign of the night.
The second best sign said "I cried for Henry."
You have to admire whoever made the decision to use taps for Smithwicks and Harp Lager instead of Guinness on the bar outside the ring. Harp is made by Guinness, but everyone would have expected it to be Guinness because that is the stereotypical Irish beer.
Daniel Bryan was shown with Kane backstage, and it seemed like Bryan was trying to push Kane's buttons a little bit.
I really wish I had a time machine so I could go back 30 years just to show somebody like Harley Race this one video from the future of pro wrestling to see the look on his face.
I don't have a problem with this segment. Bryan and Kane are always funny together, but I never thought a significant part of a storyline would revolve around two men hugging out their problems.
Paul Heyman was on MizTV to talk about CM Punk and Brock Lesnar. It took less time than I thought it would for Curtis Axel to come out.
Axel attacked Miz and took him out with a nice swinging neckbreaker. Miz is still in the hunt for the IC title, but I see Axel winning when they do eventually have a match. They want to push him, so having Miz put him over is a great way to start his title run.
Kaitlyn decided to pay back AJ for the impersonation on Monday by doing her own impersonation of AJ.
She joked about AJ dating the timekeeper, ringside Doctor and even Lilian Garcia. Then she skipped around the ring during the match like AJ used to do all the time.
AJ got distracted while freaking out at Kaitlyn, and Natalya ended up pinning her. The match was secondary to the story outside the ring.
Winner: Natalya
This is a match we have seen many times before, but Kane and Orton always manage to have entertaining encounters.
This match had quite a bit of back-and-forth action. Orton seemed to have control during more of the match, but it was Bryan who may have ended up handing Orton the match by rolling Kane back in the ring into an RKO.
Bryan had a smile on his face after the match, which seems to indicate that a Kane vs. Bryan feud could be right around the corner.
Winner: Randy Orton
Some notes from the match:
It is beginning to look more likely that we will see a Daniel Bryan heel turn before we see a Randy Orton heel turn.
Bryan is back to wearing the Yes shirt instead of the No shirt. It's probably not important.
JBL is going to get some hate tweets from Syracuse.
This was a very short match that only served to keep Ryback and Chris Jericho's feud in people's minds as we get closer to Money in the Bank.
Ryback for the easy win, but he was selling a hurt leg after Gabriel kicked him several times throughout the match.
After the match was over, Chris Jericho came out and got the crowd to chant Cryback to make fun of Ryback's recent complaining.
Jericho rushed the ring and took Ryback down, but failed to lock him in the Walls of Jericho.
Winner: Chris Jericho
Some notes from the match:
I was really surprised to see Ryback hit a roundhouse kick to Gabriel.
The way Ryback caught Gabriel and hit Shell Shocked was kind of cool-looking.
Since Jericho is getting the better of Ryback, it probably means Ryback will win the match at the PPV.
The Wyatt Family video that aired after this match was the best one yet. Is it possible for WWE to get an Emmy or some kind of award for these video packages?
As is usually the case with matches involving The Shield, this was an entertaining main event.
The match didn't last as long as the six-man matches we usually get from The Shield, but everyone got to showcase one or two of his signature moves.
The spot of the night goes to Rollins, who seemed to have little to no regard for his body when he flipped over the top rope out onto the Usos.
The Spear Christian hit at the end of the match to pick up the win was probably the best Spear he has ever hit on anyone. Ambrose went down like he was hit by a truck.
Winners: The Usos and Christian
Some notes from the match:
I think WWE writers are running out of ideas to keep The Shield fresh.
The Usos and Christian coordinated their outfits before the match.
Christian being gone for so long makes every match he is in feel new. It might have been a blessing in disguise that he was out for so long.
It will be very interesting to see if The Usos can finally win the Tag titles when they take on The Shield..
Ricardo Rodriguez made fun of the Southern accent before he brought out Alberto Del Rio
There were balloons and a table with chips and salsa set up. He also had a Mariachi band and a piñata with Dolph Ziggler's face on it.
Del Rio bragged about being a four-time World champion before he asked WWE to turn on the closed caption so he can speak in his own language.
The crowd started to chant USA. I don't speak Spanish, but I understood a lot of what Del Rio was saying during his Spanish promo for some reason.
WWE never did turn on those captions. Del Rio took out the piñata in two swings and then talked about how he will beat Ziggler at Money in the Bank.
Del Rio called out Ziggler, and Ziggler slowly walked out on the ramp as his music played. He removed his watch and jacket before walking down to the ring.
Ziggler rushed the ring and ended up getting the better of Del Rio. Ricky tried to help by climbing to the top rope, but Ziggler ended up throwing him right through the snack table.
Del Rio escaped the ring, which left Ricardo to take a shot from a guitar that could have been a home run in any Major League stadium.
It seems pretty clear that Ziggler is a babyface at this point, but why hasn't WWE separated him from AJ and Langston?
The show ended with Ziggler celebrating with the mariachi band. This was a great way to cap off a decent episode of SmackDown.
Thanks for reading and follow me on Twitter @BR_Doctor.