My Top Wrestling Moments of the Week: WWE Divas, an X Division Swerve and More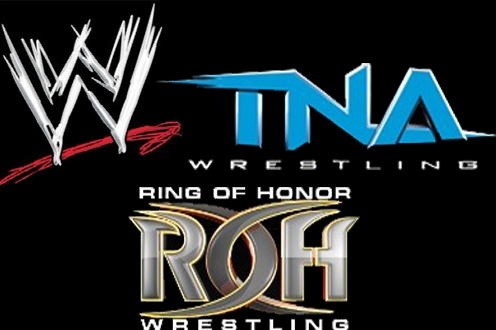 wwe.com, impactwrestling.com, rohwrestling.com
Another week of professional wrestling has come to an end, and it was another great week.
Things started out last Saturday with ROH Best in the World on Internet pay-per-view. Overall it was a great display of wrestling, but constant technical difficulties and terrible camera work really hurt the show.
WWE Raw was up next on Monday with a good show. There were only a few good matches, but the storyline development throughout the night was excellent. Main Event came across good as well on Wednesday night, which kept the week going strong.
TNA Xplosion presented its one match this week, and it was a good one, while WWE NXT presented a good show as well. The majority of the matches weren't that great, but character and storylines were pushed nicely.
TNA Impact Wrestling presented a great show. It was definitely one of the best it's had this year. Every match but one delivered on Thursday night, while storyline development was just plain excellent. What it did with the X Division was certainly memorable in itself.
WWE SmackDown was also a good show that was just a lot of fun to watch on Friday. With a number of good matches and solid storyline build, WWE kept the momentum going, ending the week strong with WWE Superstars.
I was unfortunately unable to find this week's episode of ROH Wrestling, so it's being left off this week. I hope things change for next week's list.
Which show, or shows, was the best of the week? Click here to cast your vote!
Begin Slideshow

»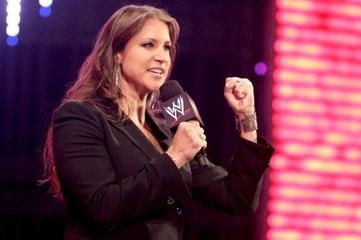 photo from wwe.com
The power struggle on Monday Night Raw continued this past week. This time around, though, neither the McMahons nor Triple H ended up in the same room. Poor Vickie Guerrero and Brad Maddox were once again stuck in the middle, too.
It started with Vince McMahon, who wanted the Daniel Bryan vs. Randy Orton match cancelled due to Bryan being unstable. Then it was Triple H who told them not to cancel and to also add a stipulation.
Stephanie McMahon appeared later as well, but instead of addressing what her father and husband did, she instead took it upon herself to announce the WWE Championship Money in the Bank participants, which was a job for Team Brickie to do.
Mr. McMahon and Triple H are battling each other behind the scenes, and it's Team Brickie that gets caught being the messengers. Stephanie, on the other hand, is taking matters into her own hands.
The chairman and chief operating officer aren't making any actual decisions, or even taking a hands-on approach. The vice president is doing the exact opposite, though. It looks like she may have grown tired of the power struggle within her family and is beginning to make a play for power herself.
The fact that they didn't confront one another this week makes the situation more intriguing. They kept their distance and instead made plays behind each other's backs. I'm interested to see who'll win this!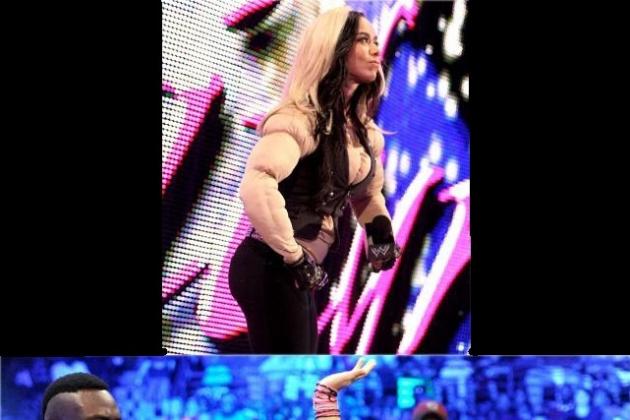 both photos from wwe.com
The Divas division is the most interesting it has been in years, and it's thanks to the feud between AJ Lee and Kaitlyn.
Seeing two women start out as best friends and turn into bitter enemies, WWE did something for the division that it hasn't done in a long time. The company developed a story and followed through with it!
The division has seen many storylines in recent years, but they would either fall flat or just stop being pushed. This storyline between AJ and Kaitlyn has been brewing for a year (more if you count their friendship), and now the trigger has been pulled.
This week on Raw, AJ came out during Kaitlyn's match with Aksana dressed as her rival. Complete with a muscle suit, ring attire and wig, AJ mocked Kaitlyn's recent misfortunes. Big E Langston even got involved, reprising his role as Kaitlyn's "secret admirer." The segment was overall well-done.
AJ delivered a great promo and came out with her heel character as strong as ever. Kaitlyn looked sympathetic in the eyes of fans due to AJ's actions. At the same time, she came across strong because she wanted to run up there and rip her head off. If it wasn't for Layla, she may have done just that.
On SmackDown, Kaitlyn gave AJ a taste of her own medicine by dressing up like her and going over her many relationships in WWE. She even joked she's had ones with the timekeeper, the ringside doctor and Lilian Garcia.
It was just as effective on SmackDown as it was on Raw. Friday night's took it one step further, though. Not only did AJ lose, but Kaitlyn landed a spear after the match. For the first time in forever, the WWE is actually doing something with the Divas division!
I give the company major props, along with AJ and Kaitlyn, for making the division interesting again!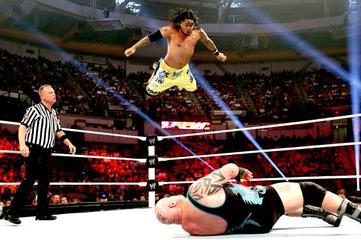 photo from wwe.com
Jimmy and Jey Uso have been on the main roster of WWE since 2010. While they did get a few shots at the WWE Tag Team Championship in the beginning, for the past year or two, they have been floundering.
It's a huge shame since they are a great team and were actually over with most crowds. Their entrance got people pumped up and excited to know that The Usos were in action. That was only on Superstars, though, and occasionally Main Event.
Over the past month, they added some face paint and seemed re-energized. They were appearing on both Raw and SmackDown, and things were definitely looking up for the twin sons of Rikishi. When Team Hell No lost the titles to Seth Rollins and Roman Reigns of The Shield, I was hoping The Usos would be next in line. This past Monday on Raw, my hope became a reality.
Defeating Brodus Clay and Tensai of Tons of Funk and 3MB's Drew McIntyre and Jinder Mahal, Jimmy and Jey Uso became the No. 1 contender's for the WWE Tag Team Championship!
Seeing The Usos in the spotlight is great. It's a long time coming, and they definitely deserve it. I highly doubt they'll win the titles from The Shield, but just being in the spotlight is good to see.
This was quite the interesting segment. Whether it was CM Punk telling fans why he was a "Paul Heyman Guy" or Paul Heyman himself rambling on about their friendship, this segment was very telling and very well done.
Heyman did deny being behind Brock Lesnar's attack last week, but his rambling suggests otherwise. He was nervous and constantly changing the subject. He kept repeating that he and Punk were best friends as well. Punk just stood there the whole time staring at him.
When he declared that he believed Heyman and hugged him, the look on his face was just blank. He was as cold as ice. I fully believe it will eventually be revealed that Heyman did order the attack, and I think Punk knows it as well. The stone-cold look on his face tells me he's going to bide his time.
He's going to wait and see what happens before he makes a judgment call about Heyman. He already decided what to do with Lesnar, and that is just to bring the fight to him. With his "best friend," though, he's waiting for the right time.
Later on, Heyman would send Curtis Axel out to help Punk from an attack by the Prime Time Players. Punk wasn't too happy about it, but that's all a part of Heyman's plan. Punk may not want him in his corner anymore, but he'll be there with Axel. Next week on Raw, Punk will team with Axel to face Darren Young and Titus O'Neil. As a result, Heyman will technically be in Punk's corner.
Heyman's up to something, but Punk knows that. It'll be interesting to see how this all develops.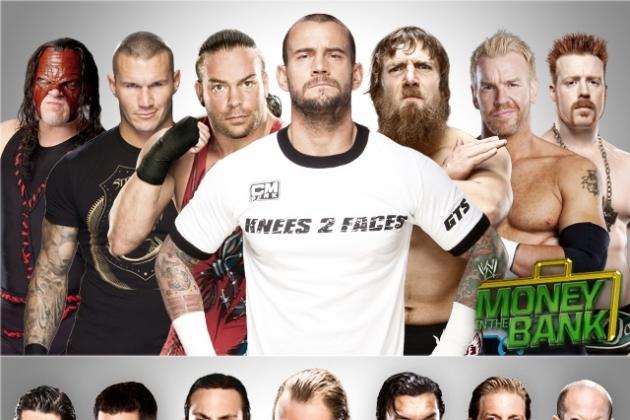 both photos from wwe.com
On Raw, vice president Stephanie McMahon announced the participants of the WWE Championship Money in the Bank Ladder match at the Money in the Bank PPV. In total, there will be seven WWE Superstars competing for the red briefcase.
The seven men are as follows: CM Punk, Daniel Bryan, Sheamus, Randy Orton, Christian, Kane and Rob Van Dam.
While it is a bit disappointing that the MITB match has become a place for main event stars and former champions to compete instead of midcard guys fighting for a spot in the main event, that is a pretty good lineup. Punk, Bryan, Christian and Van Dam will thrive in a ladder match, while Sheamus, Orton and Kane will be right at home with its hardcore-style.
With the exception of Van Dam, I would love to see any Superstar get the briefcase, more so Bryan, Christian or Orton.
When it comes to RVD, I really hope he doesn't win. While he'll be able to compete well in an extreme match, anything past that is nothing to look forward to.
In TNA, Van Dam was a shell of his former self. He has gotten to a point in his career where he just goes through the motions. He'll hit his signature moves with a few punches and kicks in between. He's still exciting in an extreme match, but he's gotten quite boring in regular singles matches.
I am happy with the participants in this year's Raw match, and I'll be even happier as long as RVD doesn't take home the briefcase.
What made me even happier was the World Heavyweight Championship Money in the Bank match. Featuring Wade Barrett, Jack Swagger, Antonio Cesaro, Fandango, Dean Ambrose, Cody Rhodes and Damien Sandow, SmackDown's match is exactly what a MITB match should be, which is non-main event talent fighting it out for a spot in the main event.
Seeing any of them win would be exciting due to the overall intrigue that it would create. Could you imagine Fandango winning the match? It would not only be shocking, but it would also create more shock if he successfully cashed in.
While I do like the lineup for Raw's match, I like SmackDown's even better!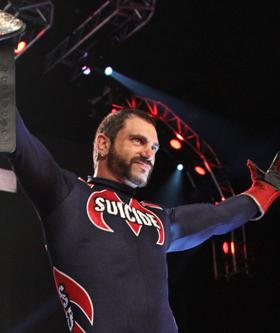 photo from impactwrestling.com
TNA Wrestling has never been too good with swerves. It would have a good one here and there, but quite a few of them have fallen flat over the years. This past Thursday on Impact Wrestling, though, it delivered one that made my jaw drop to the floor!
Chris Sabin would lose the X Division Championship to Suicide, which was surprising in itself. When Hulk Hogan revealed T.J. Perkins as Suicide and that he was attacked, I couldn't believe it!
TNA planted the seeds for something big, but with its history, I feared that it would just tie into current storylines. I figured that Suicide would be the newest member of the Main Event Mafia, or even a member of the Aces & Eights. Instead, the man under the mask was Austin Aries!
Being the inventor of Option C and successfully cashing in last year, he planned on doing it again. The look on Bully Ray's face was priceless. Aries is a man who has defeated him before, and with the Main Event Mafia targeting his gang, he knew that he was in some real trouble.
TNA gave quite a surprise here and a major swerve. Every indication was pointing to Sabin being champion and cashing in Option C. TNA made it seem like it was going in one direction and then just went the complete opposite way.
Major props to TNA Wrestling for pulling this off!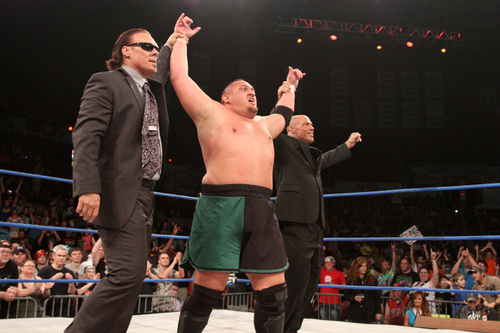 photo from impactwrestling.com
Thursday's episode of Impact Wrestling saw another wrestler join the new Main Event Mafia. While the member wasn't completely new, he was still a great addition.
After defeating Mr. Anderson in a Bound for Glory Series match, Samoa Joe hugged both Sting and Kurt Angle to signify that he was joining the group. The Samoan Submission Machine was a member of the Mafia before, but it was more toward the end of the stable.
He was definitely the lowest-ranking member at the time, though, so it's great to see him rejoin the group as an equal to Sting and Angle.
Joe is a perfect choice for the Mafia since he is one of the guys who has fought the Aces & Eights since the beginning. He realized he can't take them on by himself; he needs a "family." That's what Sting is creating.
He is recruiting former allies, which is a good first step in building said family. While the Mafia is looking great right now with Sting, Angle and Joe, I would like to see a few surprises in the stable. Both Angle and Joe were obvious choices, so I think it would be nice to see TNA put a few unlikely allies in there.
Two that immediately come to mind are Matt Morgan and Jeff Jarrett.
What better way for Morgan to prove himself to Hulk Hogan than to join the Main Event Mafia and help take down the Aces & Eights. He may be a heel right now, but that's what would make him an unlikely ally.
Jarrett would make for a major surprise since he hasn't been seen on television in TNA since 2011. Who better to fight for TNA than its founder? It would make for a good final run for him.
With guests Paul Heyman and Curtis Axel, The Miz presented another good edition of Miz TV.
Whether Miz was putting Heyman in his place about bullying Renee Young last week, him and Axel arguing over the Intercontinental Championship or a few Star Wars references, Miz TV continues to be one of the most entertaining segments in the WWE.
Miz's reference to Axel's father, Mr. Perfect, saying, "Luke, you are not your father," was a bit low. It works for the storyline, though. Axel has some big shoes to fill, and he's starting to fill them now as Intercontinental champion.
A feud with The Miz is going to help elevate him in a big way. Miz is an established WWE star and former WWE champion. Just feuding with him is putting more of the spotlight on Axel.
If he ultimately defeats him, Axel will have successfully defended his title against somebody who used to be one of the company's top guys. The future is certainly bright for Curtis Axel!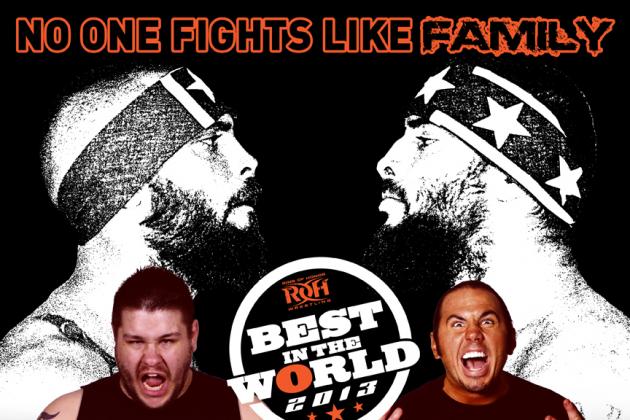 photo from rohwrestling.com
Jay Briscoe vs. Mark Briscoe: ROH World Heavyweight Championship Match
Despite technical issues preventing fans from seeing two crucial moments, and terrible camera work forcing people to miss part of the finish, this was a great match.
The two real-life brothers gave ROH fans what was without a doubt the match of the night. That's saying something since the night was filled with great wrestling throughout the show. They delivered great back-and-forth and nonstop action throughout the contest.
Their chemistry with one another is absolutely phenomenal. Being actual brothers, they know each other very well inside the ring. They make a great team because of that. They were able to transition that chemistry as a team to singles competition here, and it really went over quite well.
They showed that they are two of the best the company has to offer. While the constantly freezing stream ROH was offering was extremely annoying, this match truly delivered.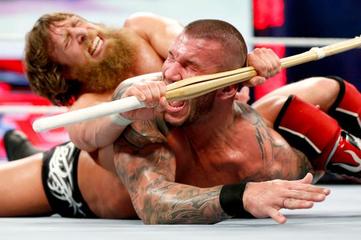 photo from wwe.com
Daniel Bryan vs. Randy Orton: Street Fight
Monday Night Raw had only three matches out of the seven featured that actually delivered. Out of those three, two of them were great matches.
Raw's top match came down to Chris Jericho vs. Alberto Del Rio and the Street Fight between Daniel Bryan and Randy Orton. Jericho and Del Rio gave fans a great wrestling match, while Bryan and Orton did the same with added physicality and intensity. At the end of the day, Raw's top match definitely goes to the Street Fight!
It really was just a great match. There was constant action throughout, as they just beat the hell out of each other. Highlights included Bryan powerbombing Orton through a table on the outside, Orton countering a missile dropkick into a powerbomb, and Bryan using a kendo stick for the No Lock.
That's only a small taste. If you missed Raw, I highly recommend finding a way to watch it so you can watch this match.
The finish saw quite the big moment in itself. WWE's Apex Predator tapped out to the No Lock! In recent memory, I can't remember the last time Orton actually tapped out to a submission hold. That kind of victory could snap Bryan out of his "weak link" character.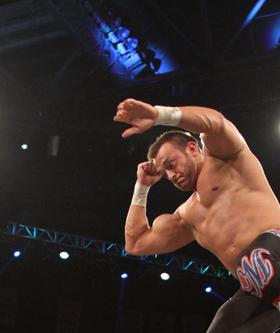 photo from impactwrestling.com
Bobby Roode vs. Magnus: Bound for Glory Series Match
All of the matches on Thursday's Impact Wrestling delivered except for one, but this Bound for Glory Series match between Bobby Roode and Magnus was without a doubt the best of the night.
Roode and Magnus really delivered here, as they gave a great match with solid back-and-forth action throughout. Their chemistry with one another is very good—better than I expected. Perhaps their experience with each other in tag team matches helped a bit.
I would love to see them go at it a few more times before the series ends.
The result of the match saw Magnus pinning Roode, which gave the British wrestler seven points in the series. As a result, Magnus solidified his No. 1 spot with 17 points while Roode remained with zero.
Magnus is really starting to come into his own. He's performing at a main event level and is proving to be one of TNA's best right now. I don't think it matters if he wins or loses the BFGS; the TNA World Heavyweight Championship is definitely in the future for Magnus!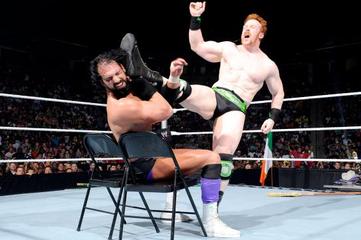 photo from wwe.com
Sheamus vs. Damien Sandow: Dublin Street Fight
WWE Friday Night SmackDown featured a couple of good matches, but the opening Dublin Street Fight between Sheamus and Damien Sandow was the match of the night. With kegs flying, green kendo sticks being swung and even a sack of potatoes being used as a weapon, Sheamus and Sandow really delivered in the opening of the Friday night show.
The match was very physical and was filled with plenty of action. As a whole, the match was just so much fun to watch. Hoping that the feud is now over, this match was a fitting end.
Sandow seems better than ever. A storyline with one of WWE's top stars looks to have re-energized him. His skill on the mic and work in the ring didn't go down in quality; it's just that he has a new spring in his step.
I've been saying for months that Sandow is ready for the main event, and I stand by that statement. Since he's in the World Heavyweight Championship Money in the Bank match, WWE could finally see that as well.
While I can see either Superstar featured in the match winning, I really hope that it's Sandow who grabs the briefcase!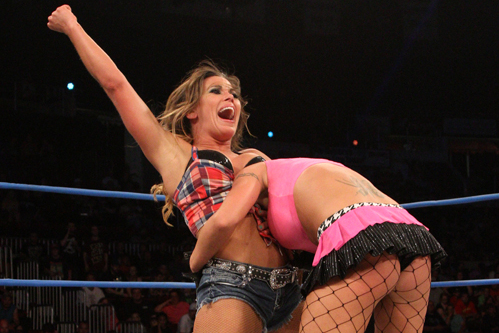 photo from impactwrestling.com
With so much going in wrestling today, I just don't have the time to give everything its own individual slide anymore. From now on, only the best match from each of the main shows will get its own slide.
As for the rest, I will simply list what I found to be the other top matches each week. To me, a top match includes one or more of the following: solid back-and-forth action, physicality (certain match types), chemistry between opponents, good storytelling and/or storyline development.
There are a few others as well, but those are the main ones for me. If a match in WWE, TNA Wrestling or Ring of Honor meets any of the criteria, it will be listed here.
Here are what I found to be the top matches this week:
Mike Bennett vs. B.J. Whitmer (Best in the World)
American Wolves vs. Adrenaline Rush (Best in the World)
Roderick Strong vs. Adam Cole (Best in the World)
Tommaso Ciampa vs. Michael Elgin (Best in the World)
Kevin Steen vs. Matt Hardy: No DQ (Best in the World)
Rhodes Scholars vs. Sheamus and Christian (Raw)
Chris Jericho vs. Alberto Del Rio (Raw)
Chris Jericho vs. Cody Rhodes (Main Event)
Eric Young vs. Jessie Godderz (Xplosion)
Kassius Ohno and Corey Graves vs. Scott Dawson and Garrett Dylan (NXT)
Chris Sabin vs. Kenny King vs. Suicide (Impact Wrestling)
Mickie James vs. Velvet Sky (Impact Wrestling)
Samoa Joe vs. Mr. Anderson (Impact Wrestling)
Kane vs. Randy Orton (SmackDown)
The Shield vs. Christian and The Usos (SmackDown)
The Miz vs. Wade Barrett (Superstars)
Antonio Cesaro vs. Zack Ryder (Superstars)
What was the best match this week? Click here to cast your vote!
Thanks for reading! Don't forget to vote on what you thought was the best show of the week if you haven't already!