10 Bold Predictions for the Oakland A's in the Second Half of the Season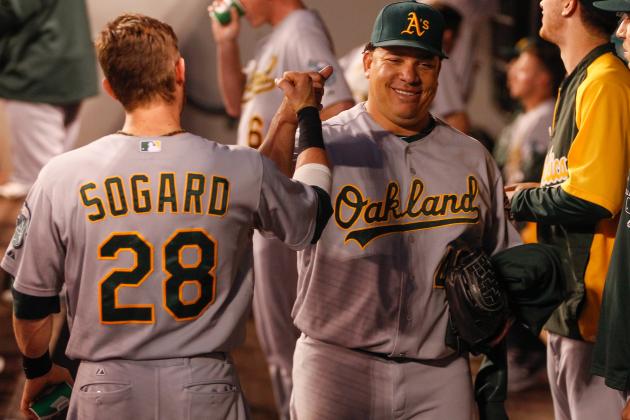 Otto Greule Jr/Getty Images
Put five and five together, and you've got 10!
What if I were to tell you 10 bold predictions for the Oakland Athletics, including that they will finish as statistical leaders in two categories. Would that be something you're interested in?
The A's are setting themselves up for big things in the second half. The ball is already rolling.
Hot hitters, rebounding pitchers, aging wonders and ownership of rivals are just some of the top headlines from the first half. So what could possibly be even more inspiring and awesome in the second half?
How about a big trade, more wins for a pitcher than two hands can count and a crazy streak that nears record books?
Check out all 10.
Begin Slideshow

»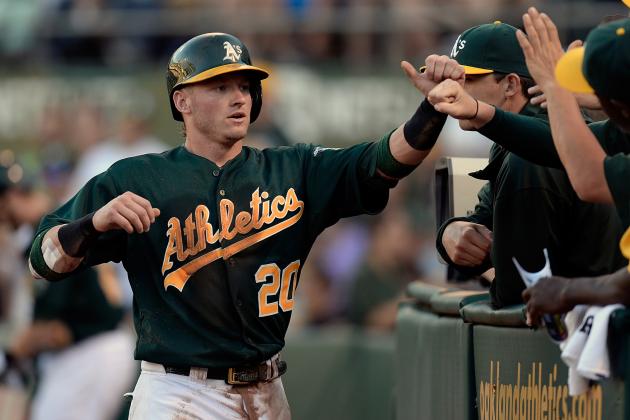 Thearon W. Henderson/Getty Images
If Miguel Cabrera isn't in the league, this guy is clearly the starting 3B All-Star.
Saying it out loud seems bold, but look at the stats and you'll see Josh Donaldson is nearly there already.
Among third basemen, Donaldson currently owns the third-best batting average behind Miguel Cabrera and Manny Machado. He's in the top three in on-base percentage, slugging percentage, walks, RBI and doubles, too. Of the stats not mentioned, Donaldson is in the top five in most of those as well.
He won't catch Cabrera unless Miggy gets hurt.
Machado gets a ton of notice because he's young and is following in the footsteps of Mike Trout and Bryce Harper (a newbie setting the baseball world on fire). If Donaldson were as young, he'd get the same recognition.
The bold prediction here is that this is no fluke. Donaldson is going to continue lighting it up, so much so he finishes the season as the clear second-best third baseman in the entire league.
Since re-arriving in Oakland midway through 2012, Donaldson hasn't stopped. His average rose from .160 to .240. The 2013 season began, and he picked up right where he left off, surpassing .240 just 11 games in. The last time he held a batting average below .300 was on May 13, when it was .299.
Robert Binder/Getty Images
Hiroyuki Nakajima won't see Oakland until September.
In 39 games in Sacramento, Hiroyuki Nakajima hasn't done much to wow statistically speaking. A .273 average is pretty good, but again, he hasn't done anything to widen eyes and make any of the powers that be think they must bring him up immediately.
But the biggest reason Nakajima won't come up anytime soon is roadblocks.
Jemile Weeks originally owned second base in 2011. But after a poor start to 2012, he was sent down. Still, he's hitting near what Nakajima is hitting. You might think of these two as a "it's better to have 50 percent of something than 100 percent of nothing" scenario.
Half of Weeks' production is terrible, but the other half is phenomenal. We have no idea what Nakajima's big league production looks like.
Weeks' stats aside, Grant Green is hitting .322. The 25-year-old has been in the minors for quite some time now and will soon need to show something.
The second half could make sense.
It should be about time we see what Green can do in the show. If he sticks, that's great. If he doesn't, well then Eric Sogard keeps his job with no questions. It's not like the guy (Sogard) is terrible.
Regardless, it seems a Nakajima move is very low on the list—behind staying the course, trading for a second baseman and pulling up Green.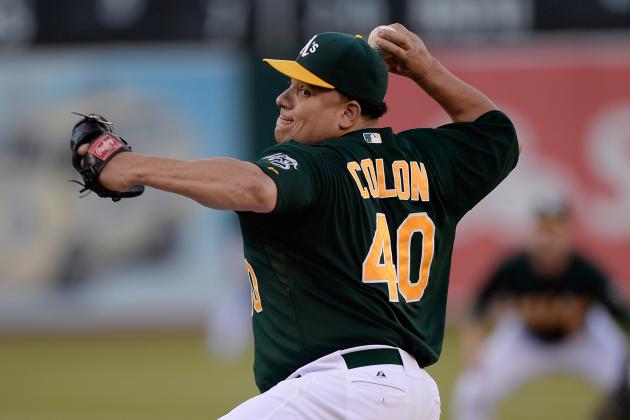 Thearon W. Henderson/Getty Images
Bartolo Colon will not cool off.
Again, this doesn't seem bold if you think about it. After all, he is halfway there already before the official midseason point.
One thing that won't change, though, is his age.
Colon is 40 years old, which makes his production all the more impressive. If he can continue this pace without surprises or injuries, there's not much reason to believe he can't pull off 22 wins.
The real bold prediction here is that Colon will finish the season in the AL Cy Young discussion.
He won't win, though, because the names in front of him are too prominent to surpass and also because of last year's failed PED test (lingering suspicion). Still, the fact that he's even in the conversation will be outstanding.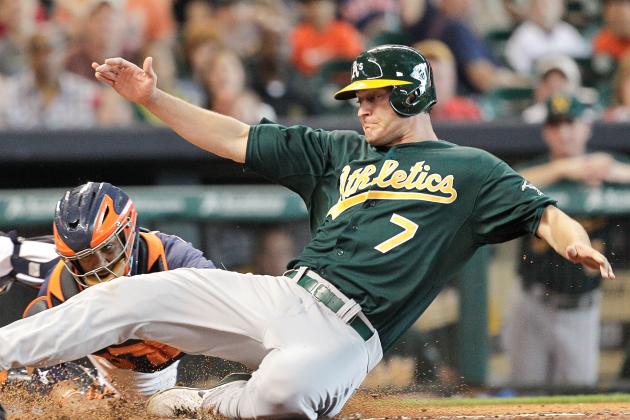 Bob Levey/Getty Images
Nine down, 10 to go.
Oakland is currently 9-0 against Houston. So far, the A's have outscored the Astros 68-31 in three series.
The two teams meet another 10 times.
This isn't a statistical argument by any means, but you have to believe confidence plays a huge factor down the stretch. As the A's continue to get hot, their confidence grows. As the Astros fall further behind, theirs lessens.
Look at a Seattle Mariners and A's matchup for an indication of confidence.
The Athletics do well against powerhouses such as the San Francisco Giants and St. Louis Cardinals, but for some reason they can't get past the Mariners. Why? Because the belief is Seattle owns Oakland's number this year.
Winless against Oakland, Houston might already be in "they have our number" mode.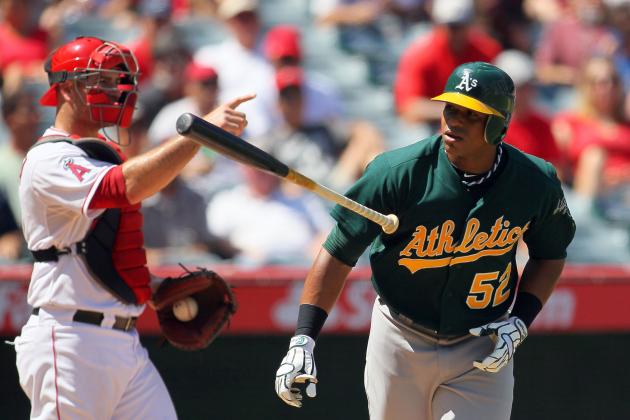 Victor Decolongon/Getty Images
Yoenis Cespedes has 21 walks so far.
The Oakland A's currently lead all of baseball in walks. By the end of the season, that won't have changed.
Currently they only have four more walks than the next team, the Boston Red Sox.
If you compare just these two teams, you'll find that the A's starting nine (or the nine guys who have started the most games at least) average about 27 walks per player to the Red Sox's 26. Throw in the top two players on the bench for each team in terms of walks, and the number still favors the A's.
It's pretty close in terms of playing teams who allow walks, too.
The Red Sox play the New York Yankees a ton, and the Yankees are allowing the fifth-least amount of walks. The A's play the Seattle Mariners, who give up the seventh-least amount. That still favors Oakland. Flip it, and the third-most walks come via the Astros, while the fifth-most come from the Toronto Blue Jays.
That number still favors the A's.
Of course, that's just comparing one other team. The reason all others are not included, however, is because the third closest team in walks is 20 behind already.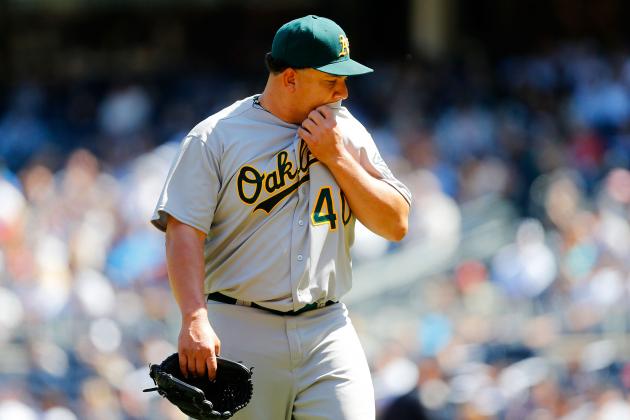 Jim McIsaac/Getty Images
Maybe he's masking a smile over how ridiculous 13 walks in 16 games is.
While we're on the subject of leading the league in walks, let's go the opposite route; the Oakland pitching staff will give up the least amount of walks.
At 204, they've given up the third-least and are within three of being league leaders already.
Of the starters, only Jarrod Parker allows more than three walks per nine (3.1), and Bartolo Colon's pace will help land him in that Cy Young discussion mentioned earlier (a blistering 1.1 per nine). The staff averages 2.6 per nine.
Consider this: The St. Louis Cardinals are No. 1 largely due to Adam Wainwright's 0.9 walks per nine. Their average, though, is 3.12.
It's the bullpen bailing St. Louis out. (Side note: The Mariners rotation has allowed 111, easily the least. But their bullpen has allowed the eighth-most.)
Throwing out the rotation, the bullpens match up 67 (Cardinals) to 72 (A's). It's worth noting Oakland's bullpen has thrown 22.1 more innings as well. So on average, they're giving up less walks.
If all things remain, the number of walks allowed by Cardinals starters will continue to increase, while the number for the A's starts to close the gap.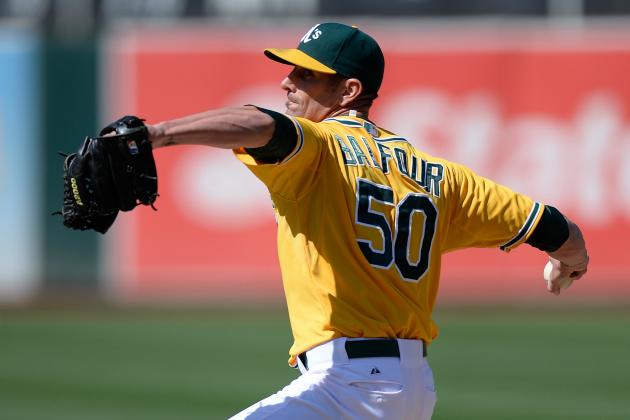 Thearon W. Henderson/Getty Images
Heck, maybe he goes for the number on his jersey.
Grant Balfour is insane right now. No, it doesn't have anything to do with his cursing into his glove between pitches. I mean he is pitching insanely right now.
In addition to a 1.97 ERA, only four home runs allowed in 33 games and 33 strikeouts in those same 33 games, Balfour has 19 saves. But here's the fun fact: All 19 have come consecutively, without a blown save to end the streak.
But it gets more fun.
As of June 30, Balfour is on a 37-game streak of successful saves dating back to last year.
The record, held by Eric Gagne, is 55. Balfour is only 18 away. That's going to be very difficult to do.
It's tempting to give him the nice even number of 50. Not only is it a nice benchmark, but it'd match his jersey and have us all wondering if baseball gods really do exist. But even 13 more will be incredibly hard to do.
But eight?
Very doable.
His confidence is building, and his stats are getting better and better. You might think he's due, right? Well, hopefully the slip came on June 23 when he entered a tie ballgame, gave up three runs and took a loss. It wasn't a save opportunity, so he kept the streak alive.
Let's hope that outing really made him angry.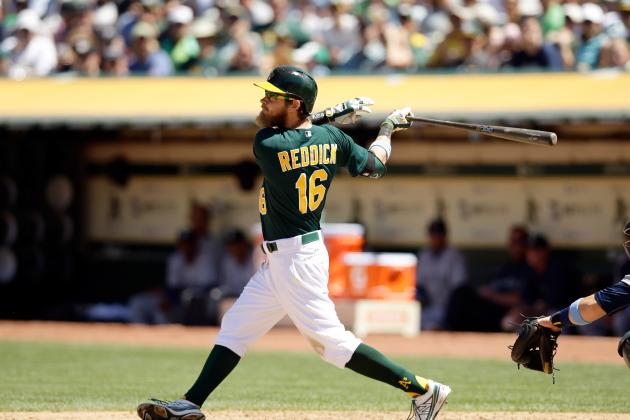 Ezra Shaw/Getty Images
Cue NBA Jam announcer: "He's heating up!"
Josh Reddick started the 2013 season at a snail's pace. That's why, even though his end-of-year stats might not look overwhelming, he'll have one of the best rebounds on the team.
Here's the prediction: .260 BA with 15 home runs.
Again, it doesn't seem like much. But think about what he must do in the second half to even out a .210 average to .260. And 15 home runs? He has only three right now at the midway point, so this prediction banks on Reddick multiplying his first-half production by five.
So what's the reasoning here?
Well, in his last 14 games alone, he's increased his batting average from .190 to .217. That still doesn't seem like much of anything, but consider in that span he's hitting .300 with a BABIP of .341 according to baseball-reference.com.
Via Fangraphs.com, the average BABIP is between .290 and .310.
There's not much pressure on him these days, he's returned to full health after a wrist injury and it appears from his body language (based on this writer's observation) his confidence is being restored more and more with every hit.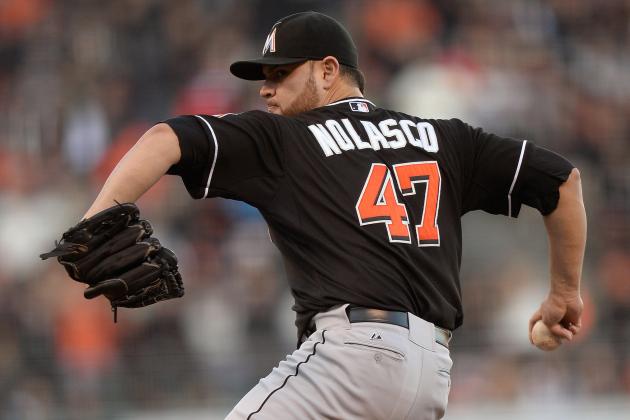 Thearon W. Henderson/Getty Images
Ricky Nolasco might be the hottest commodity on the market.
On June 29, Tim Kawakami of the Mercury News wrote a fantastic piece about Oakland's vast options at the trade deadline.
In it, Kawakami lists four options: Remain on the current path as is, go all in, go younger as they have the last several years or do a combination and make smaller-scale but still impacting moves.
If you've tracked Beane's moves for the last decade, you're most likely inclined to believe he'll break your heart by moving fan favorites, or he'll make a seemingly insignificant move that pays huge dividends in the short term.
No one knows what the man will do.
But why not make a huge move? Last season, the A's went to Game 5 of the ALDS against the Detroit Tigers, who eventually went on to the World Series. This season, those same A's are even better.
They can compete with the Tigers, the Los Angeles Angels and the Texas Rangers. They can beat strong National League teams like the St. Louis Cardinals and Cincinnati Reds. Oakland is—though it feels odd to say—on the verge of being a powerhouse. They're just one piece away from domination.
So again, why not make a move that puts this team over the top? Try for this year.
The fans definitely deserve it. The stadium would see a spike in attendance, which is good for everyone involved. And free agents next year will be more inclined to want to sign in Oakland. (Seriously, how many times can the A's make offers to Lance Berkman and Adrian Beltre, only to get spurned?)
Oakland can swing a killer deal for a top-notch starting pitcher (Ricky Nolasco anyone?) with a package built around Sonny Gray (perhaps including Grant Green and Raul Alcantara).
It wouldn't be devastating to the farm league, and it'd put the A's in fantastic position to go deep into the playoffs, if not the World Series.
Maybe Nolasco's $11.5 million price tag is too high (h/t: Jon Heyman of CBSSports.com). Maybe $3 million Bud Norris does the job. Right in between the two is $6 million Scott Feldman.
The smaller salaries make some of these guys even more attractive, increasing the competition.
How amazing would it be to see the A's pull the trigger, take a risk and land themselves a superstar?
It might just happen.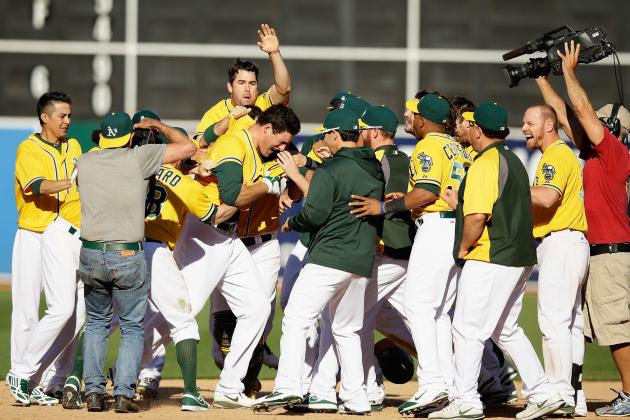 Ezra Shaw/Getty Images
Fingers crossed this slide doesn't jinx them!
The second half can finish a few different ways, but no matter what happens, the Oakland A's will be playing in the postseason.
According to ESPN, the A's have a 73.8 percent chance of making the playoffs. That figure is second-best in the American League. MLB.com gives them a 74.4 percent chance as of July 1, which is fourth-best in the AL.
Five teams go, so Oakland looks to be in fantastic shape.
Let's run some scenarios.
Worst-case scenario, they don't make a trade and they dip a bit. They still plausibly take a wild-card spot and have a great chance at winning the one-game playoff.
If the season ended today, that game would be against the Detroit Tigers, but more likely it would be against the Baltimore Orioles (fifth-best percentage chance of postseason).
Afterwards, it'd be a five-game series against the Boston Red Sox, which would be a challenge.
Best-case scenario, they make an efficient trade that helps them win the AL West and likely the third seed. They would then face the Detroit Tigers in the wild card round.
Of course, that too would be a challenge.
A bonus prediction might say that while playoffs are all but guaranteed, so is a second consecutive Game 5 ALDS exit. But we'll stay positive. This is about the second half and getting there first.
Once we transition to the postseason, all bets are off.