Max Scherzer's reign of terror across Major League Baseball cannot be stopped.
The Detroit Tigers right-hander brought his record to 12-0 on the season Friday night against the Tampa Bay Rays, as Scherzer got the win in Detroit's 6-3 victory at Tropicana Field. Scherzer went seven strong innings, spraying just four hits and three earned runs while fanning nine Rays hitters.
#Tigers take game one of the series 6-3. Max Scherzer improves his record to 12-0 on the season.

— Detroit Tigers (@tigers) June 29, 2013
As Sports Illustrated's MLB Twitter account noted, Scherzer became the first pitcher to start a season 12-0 in over a quarter century. Roger Clemens' legendary 1986 season, when he went 24-4 en route to his first Cy Young Award, was the last time a pitcher pulled off the feat.
If Scherzer wins tonight, he will be the first pitcher to start a season 12-0 since Roger Clemens did it for the Red Sox in 1986.

— SI MLB (@si_mlb) June 29, 2013
ESPN's John Buccigross mentioned just how close Scherzer was to the all-time-great streaks prior to Friday night's contest:
Most Consecutive Wins To Begin Season since 1969 1969-Dave McNally,15. 1986-Clemens,14. 1978-Guidry,13. Max Scherzer can make it 12 tonight

— John Buccigross (@Buccigross) June 28, 2013
While there is still a long way to go in the 2013 MLB season, Scherzer at times felt as dominant as Clemens in his prime on Friday night.
The 28-year-old flamethrower began splendidly—the way he has almost the entirety of this season. Scherzer retired the first 11 Tampa Bay batters, striking out four and only allowing one ball out of the infield.
Ben Zobrist broke up Scherzer's perfect-game bid with a solo home run with two outs in the fourth inning, his fifth of the season. Scherzer responded by asserting his dominance over the next batter, fanning Kelly Johnson to end the frame.
Johnson entered the game for Evan Longoria, who left with a foot injury, per an Associated Press report (h/t ESPN).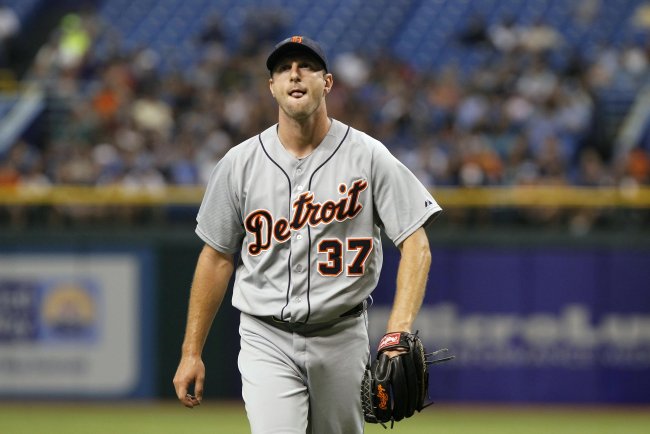 Kim Klement-USA TODAY Sports
Though mostly dominant throughout, Scherzer's mistakes tended to be big ones. Wil Meyers took advantage of a hanging pitch in the fifth, belting a solo shot to left field for his third homer since being called up to the majors.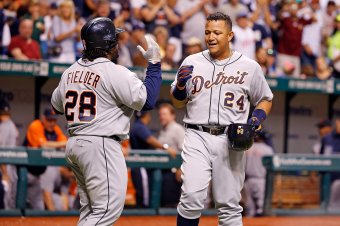 J. Meric/Getty Images
Luckily, Scherzer's minor mistakes went unpunished. As has been the case in many of his wins this season, the Tigers star owes a thank you to Miguel Cabrera and Prince Fielder. The reigning American League MVP went 4-for-4 Friday night, blasting two home runs and driving in three runs to give Scherzer an early cushion.
This was the MLB-leading sixth time the Triple Crown-award-winning Cabrera has had four hits this season, per ESPN Stats & Information:
Miguel Cabrera just recorded his MLB-leading sixth 4-hit game this season.

— ESPN Stats & Info (@ESPNStatsInfo) June 29, 2013
Fielder scored the Tigers' fourth run of the game on a wild pitch by Rays starter Alex Colome in the fourth inning. Colome went six innings, giving up four earned runs and as many hits.
After Colome left the game, Scherzer got himself into the closest thing to trouble he'd see. With two outs in the bottom of the seventh, Meyers singled to center and was doubled home by Luke Scott, bringing the score to 4-3. With a runner in scoring position and the Rays a base hit away from tying the game, Scherzer forced Jose Lobaton to hit a weak ground ball to first on a 2-2 count.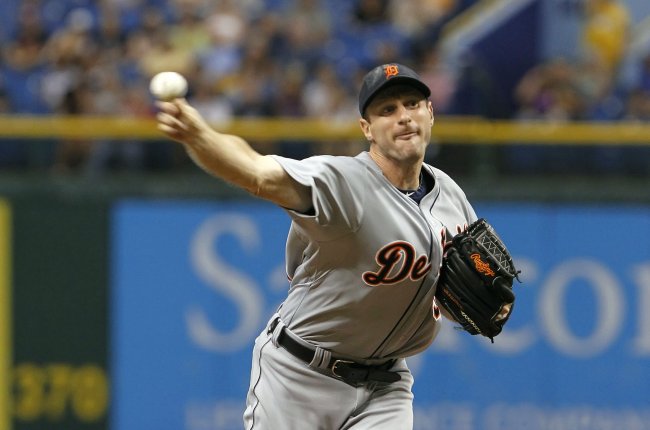 Kim Klement-USA TODAY Sports
Threat averted, Fielder clinched the game with a two-run bomb off Cesar Ramos that hit the catwalk at Tropicana to extend the lead to 6-3. That cushion gave Jim Leyland just enough room to feel comfortable taking Scherzer out of the game in favor of his relievers.
Is Max Scherzer the AL Cy Young favorite?
Al Alburquerque and Drew Smyly combined to take care of the eighth, while Joaquin Benoit sealed the deal in the ninth to record his fifth save of the season.
The win keeps the Tigers 2.5 games ahead of the Cleveland Indians in the American League Central, a lead for which Scherzer can take much credit. His 12 victories represent over a quarter of Detroit's total for the season, and Scherzer's historic pace undoubtedly puts him in the Cy Young conversation.