Initial 2013 New York Knicks Post-NBA Draft Depth Chart Projections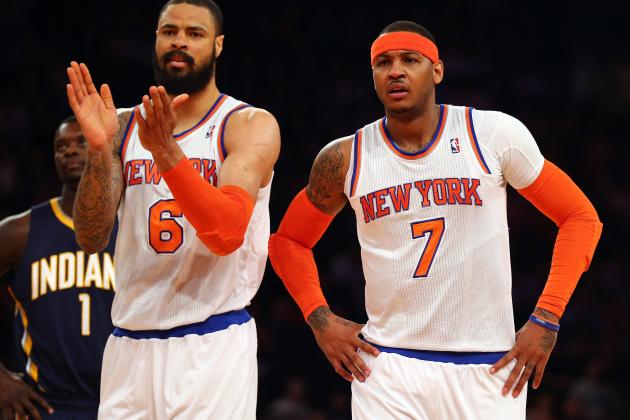 Elsa/Getty Images

With the 2013 NBA draft now officially in the books, the New York Knicks will look to evaluate their players, possibly re-sign some key free agents and see how their depth chart pans out heading towards next season.
The future of J.R. Smith, the reigning NBA Sixth Man of the Year, remains clouded in uncertainty. If Smith receives an offer exceeding $5.5 million annually from any other team looking to acquire his services, the Knicks won't have the financial flexibility to retain him.
Losing Smith would be a huge blow to a Knicks team that's looking to build off of an impressive 2012-13 campaign. New York advanced to the second round of the NBA playoffs for the first time since 1999-2000.
The landscape of the Atlantic Division has drastically changed over the last few days. A blockbuster trade that sent Kevin Garnett and Paul Pierce from the Boston Celtics to the Brooklyn Nets has added more intrigue and drama to the Knicks-Nets in-state rivalry.
The current core of the roster is more than capable of keeping up with the new and improved Nets, but the road to a second-straight division title will certainly be more difficult.
There are some holes and question marks in the team's depth chart that need to be looked at, however, the Knicks will have the summer to address those issues and fill out their rotation accordingly
*no unrestricted free agents (J.R. Smith, Earl Barron, Quentin Richardson and Kenyon Martin) were included in the following depth chart.
*all statistics/salary information is provided by Yahoo Sports!, HoopsHype, NBA.com/stats and ESPN.com.
Begin Slideshow

»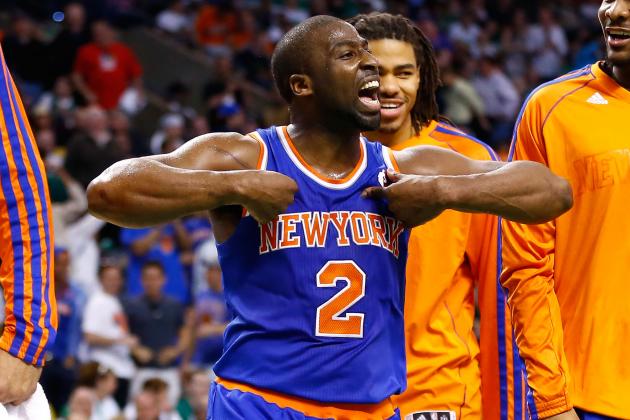 Jared Wickerham/Getty Images

Projected starter: Raymond Felton
2012-13 statistics: 68 games played, 34.0 minutes, 13.9 points, 42.7 percent from the field, 2.9 rebounds, 5.5 assists, 1.4 steals, 0.2 blocks, 2.3 turnovers, 15.22 PER
2013-14 salary: $4,180,000
Backup: Pablo Prigioni/Iman Shumpert
The retirement (and new coaching position with the Brooklyn Nets) of Jason Kidd hurts the Knicks' depth at point guard.
The team will miss Kidd's veteran presence at the position, but as far as on-the-court play is concerned, Felton was always the better option, if only by a little.
Felton missed some time during the winter months to nurse a thumb injury, which was greatly hindering his ability to shoot the basketball. He's not a great defender, so he needs to be potent enough on offense to make a large enough impact when he's on the court.
He can certainly hold down the fort as the starting point guard, but it's hard not to imagine the team (at least) looking at upgrading the position.
In the meantime, the Knicks will look to free agency to possibly add a backup point guard or third-stringer, although both Pablo Prigioni and Iman Shumpert are both more than capable of running the offense, if need be.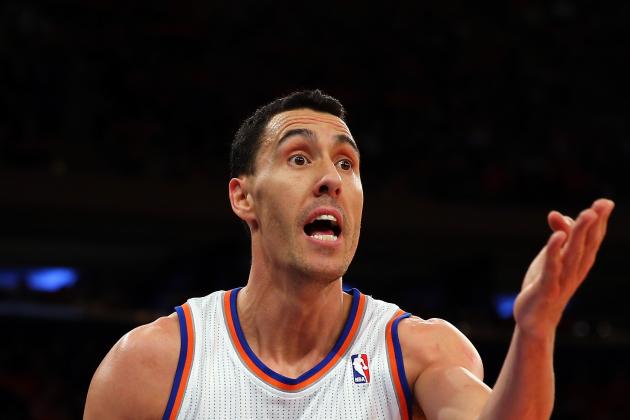 Elsa/Getty Images

Projected starter: Pablo Prigioni (restricted free agent)
2012-13 statistics: 78 games played, 16.2 minutes, 3.5 points, 45.5 percent from the field, 1.8 rebounds, 3.0 assists, 0.9 steals, 0.0 blocks, 1.1 turnovers, 13.01 PER
2013-14 salary: $988,872 (qualifying option)
Backup: Tim Hardaway Jr.
2012-13 statistics (Michigan Wolverines): 34.8 minutes, 14.5 points, 43.7 percent from the field, 4.7 rebounds, 2.4 assists, 0.7 steals, 0.4 blocks, 1.9 turnovers
2013-14 salary: rookie contract
Shooting guard is certainly the weakest position on the Knicks' roster, especially if J.R. Smith decides to bolt for richer pastures.
Pablo Prigioni, a 6'3", 36-year-old rookie, found himself starting a handful of games at the two spot for the Knicks. For the most part, it worked out well. New York averaged .3 more points and allowed 3.8 points less per 100 possessions when Prigioni was on the court.
In his 21 starts, the Knicks would go 18-3.
His high basketball IQ and ability to facilitate ball movement were never going to show up on the stat sheet. His numbers were humdrum at best, but that didn't matter. He did the little things that kept him on the court and in the good books of the coaching staff.
As successful as Prigioni has been playing in the starting backcourt, the Knicks do need a more conventional shooting guard option for the present and down the road.
Insert Tim Hardaway Jr.
Knicks' fans in attendance at the 2013 NBA draft actually cheered for the Hardaway Jr. pick, which is something they never do.
This could be a sign that the team doesn't have much faith in re-signing Smith, but even if they do, Hardaway Jr. can still step in and produce in limited minutes.
He's a tremendous athlete who can shoot the basketball, although he needs to work on getting more to the basket and attacking the rim.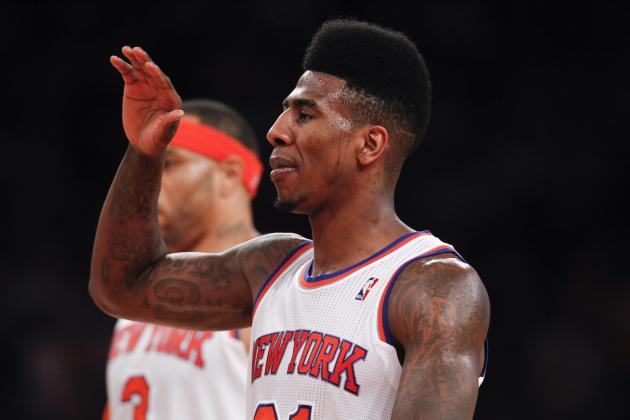 Jeff Zelevansky/Getty Images

Projected starter: Iman Shumpert
2012-13 statistics: 45 games played, 22.1 minutes, 6.8 points, 39.6 percent from the field, 3.0 rebounds, 1.7 assists, 1.0 steals, 0.2 blocks, 0.8 turnovers, 11.72 PER
2013-14 salary: $1,797,600
Backup: Chris Copeland (restricted free agent)
2012-13 statistics: 56 games played, 15.4 minutes, 8.7 points, 47.9 percent from the field, 2.1 rebounds, 0.5 assists, 0.5 assists, 0.3 steals, 0.2 blocks, 0.9 turnovers, 16.89 PER
2013-14 salary: TBD
An ACL injury in his left knee that Iman Shumpert suffered in the first round of the 2012 NBA Playoffs wound up costing the young guard the first two months of the following regular season.
Upon his return, Shumpert would see his minutes drop (28.9 down to 22.1) and his scoring numbers remain rather unpredictable (40.1 percent from three-point range, but just 39.6 percent from the field).
He saw his role with the Knicks increase during their postseason run against the Boston Celtics and Indiana Pacers, as his playing time and scoring numbers both saw a nice boost.
Shumpert should continue to see minutes at small forward, as the Knicks don't have much depth at the position at the moment, especially with Carmelo Anthony being moved to the four spot.
Chris Copeland would be the primary backup, but his future remains uncertain as a restricted free agent.
The New Orleans Pelicans, Milwaukee Bucks, Utah Jazz and Los Angeles Lakers all appear to be interested in bringing in Copeland.
However, according to a report by RealGM.com, it seems that Copeland would be willing to turn down a more lucrative offer in order to remain a New York Knick.
Undrafted rookie C.J. Leslie out of N.C. State could also be an option at small forward, but there is no guarantee that he will make the final roster.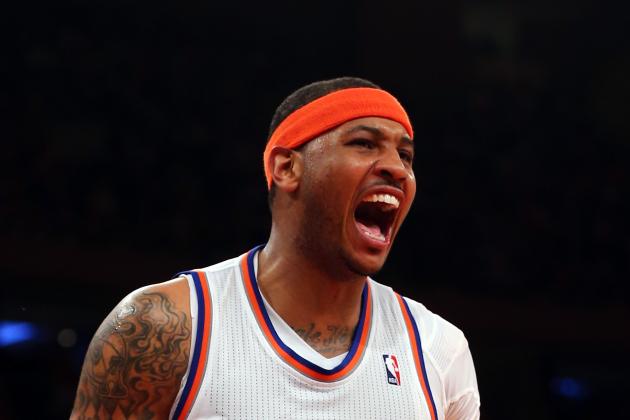 Elsa/Getty Images

Projected starter: Carmelo Anthony
2012-13 statistics: 67 games played, 37.0 minutes, 28.7 points, 44.9 percent from the field, 6.9 rebounds, 2.6 assists, 0.8 steals, 0.5 blocks, 2.6 turnovers, 24.83 PER
2013-14 salary: $21,490,000
Backup: Amar'e Stoudemire
2012-13 statistics: 29 games played, 23.5 minutes, 14.2 points, 57.7 percent from the field, 5.0 rebounds, 0.4 assists, 0.3 steals, 0.7 blocks, 1.7 turnovers, 22.16 PER
2013-14 salary: $21,679,893
To no one's surprise, six-time NBA All-Star Carmelo Anthony will once again be expected to handle a majority of the Knicks scoring load next season.
The (potential) departure of J.R. Smith could put even more pressure on Anthony's shoulders to put points on the board, as Smith was the second-leading scorer on the team at 18.1 points per game.
Thankfully for Knicks' fans, putting the ball in the basket comes naturally to Anthony, as he won the NBA Scoring title for the first time in his career last season by averaging 28.7 points.
A healthy Amar'e Stoudemire could help take some of the burden off of the Knicks star, but that will depend greatly on whether or not he can stay healthy.
He missed the first 30 games of the 2012-13 regular season with a knee injury. Head Coach Mike Woodson later restricted Stoudemire to a maximum of 30 minutes per game, as to not wear him down physically and put more strain on his bad knees.
Stoudemire is a more natural fit at the power forward position than Anthony, but the Knicks found a great deal of success using Melo at the four spot, so there's really no need to fix what isn't broken.
A starting frontcourt of Anthony/Stoudemire/Tyson Chandler is just 34-36 over the last three seasons.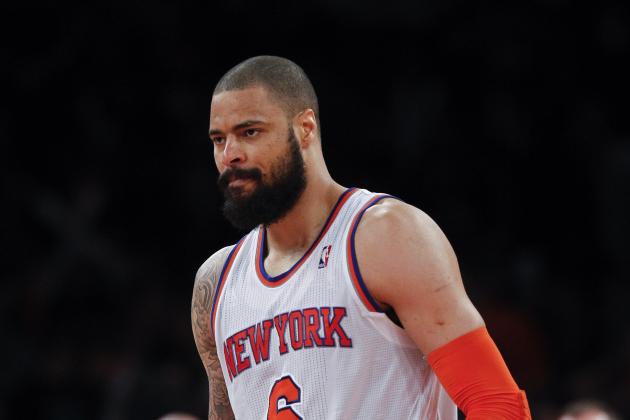 Jeff Zelevansky/Getty Images

Projected starter: Tyson Chandler
2012-13 statistics: 66 games played, 32.8 minutes, 10.4 points, 63.8 percent from the field, 10.7 rebounds, 0.9 assists, 0.6 steals, 1.1 blocks, 1.3 turnovers, 18.88 PER
2013-14 salary: $14,100,538
Backup: Andrea Bargnani
2012-13 statistics: 35 games played, 28.7 minutes, 12.7 points, 39.9 percent from the field, 3.7 rebounds, 1.1 assists, 0.6 steals, 0.7 blocks, 1.5 turnovers, 11.27 PER
2013-14 salary: $11,000,000
Tyson Chandler is the be-all and end-all at the center position for the New York Knicks.
Highly regarded as one of the best defensive big men in the entire league, Chandler would go on to earn his first All-Star nomination in 2013, including a spot on the NBA All-Defensive First Team, as well.
Ironically, Chandler was named to just the NBA All-Defensive Second Team in 2012, despite winning the Defensive Player of the Year award.
Update: According to a report by Howard Beck of the New York Times, the Knicks have agreed to a deal that will send Marcus Camby, Steve Novak, a 2016 first-round pick and two future second-round picks to the Toronto Raptors in exchange for Andrea Bargnani.
The potential trade may have to be slightly altered in order for it to work under the 2013-14 salary cap. A minimum-salaried player included in a sign-and-trade (Pablo Prigioni, Quentin Richardson, Earl Barron) would need to be added to make the deal go through.
If Bargnani does make his way to New York, the Knicks would end up with a former No. 1 overall pick (2006) who can help spread the floor and keep the defense honest with his perimeter shooting.
Despite being a 7-footer, Bargnani has struggled in the past to grab rebounds at a high rate (4.8 rebounds per game for his career) and defend the paint. He would likely find himself paired up with Chandler in the frontcourt on occasion so that some of his major deficiencies can be covered up and accounted for by the more defensive-minded Chandler.