Highlighting the Career of Chipper Jones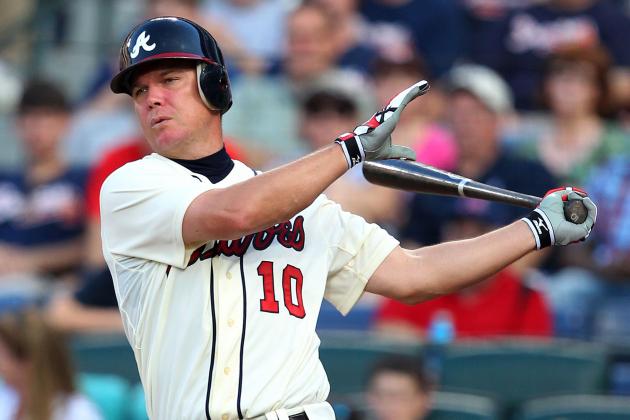 Mike Zarrilli/Getty Images

The Atlanta Braves are retiring the No. 10 jersey worn by Chipper Jones on Friday prior to their game against the Arizona Diamondbacks. Over the 19 seasons of his illustrious career, Jones provided fans with countless memories. With the smoothest and most finely tuned of swings, Jones was a classic player who could have starred for any team in any era, but it was Atlanta that he called home.
Legends of the past are many for the Braves, who moved from Boston to Milwaukee before settling in Atlanta. It is a franchise rich in history and Hall of Famers.
But like Derek Jeter for the New York Yankees, this generation of fan recognizes one player as synonymous with his team. It has as much to do with tradition as anything else.
Chipper Jones was the Braves for nearly two decades.
The following slideshow highlights the career of the greatest player in Atlanta Braves history.
All statistics courtesy of Baseball-Reference.com
Begin Slideshow

»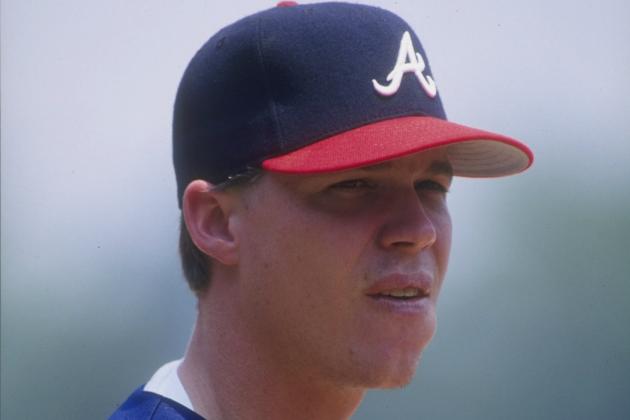 Al Bello/Getty Images

Drafted No. 1 overall by General Manager Bobby Cox out of the Bolles School in Florida, Jones proved that he deserved the distinction of the top pick.
A shortstop who would have attended the University of Miami on a baseball scholarship, Jones instead went pro when Atlanta made him the No. 1 pick in the 1990 amateur draft.
Highly regarded pitching prospect Todd Van Poppel was high on Atlanta's wish list as well, but he ended up going at No. 14 in that first round to the Oakland Athletics. He went on to pitch parts of 11 seasons with six different clubs in the big leagues, going 40-52 with a 5.58 ERA in 907 IP. His 89 walks for the A's in 1994 were the only time he ever paced the league in any statistical category.
Needless to say, Atlanta made the right decision.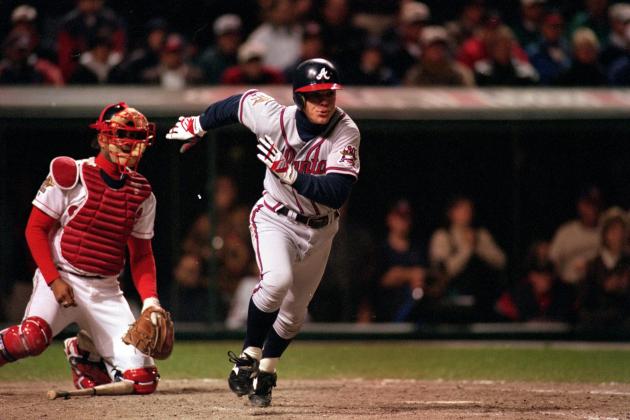 Otto Greule Jr/Getty Images

To say that Chipper Jones turned Atlanta into a winning team is far from accurate. After all, the Braves had already reeled off three division titles, and made two trips to the World Series.
His fairytale rookie season did culminate with Atlanta's first and only World Series Championship. You can credit Jones for much of that success. After recovering from a torn anterior cruciate ligament in his left knee during spring training of 1994 while attempting to win the club's vacant left field job, Jones was plugged in at third base the following year.
The results were immediate. Jones batted .265 with 23 home runs and 86 RBI in 140 regular season games, before really turning it on in the postseason.
In October, Jones turned in a combined .364/.446/.618 slash line between the NLDS, NLCS and Word Series. Jones belted the first three of his 13 career home runs in postseason play.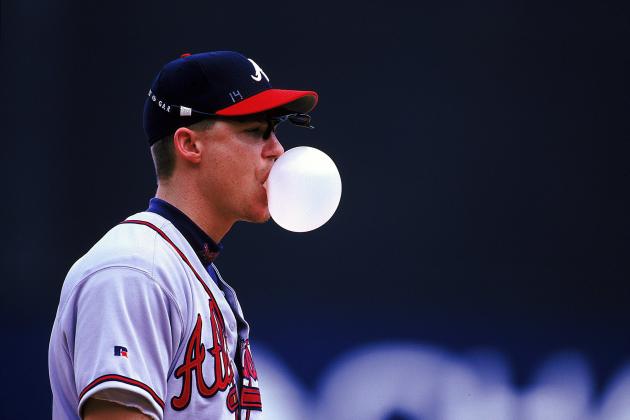 Jamie Squire/Getty Images

Jones enjoyed his best season at age 27 in 1999, when he earned National League MVP honors. The season allowed Jones to display every one of his considerable talents.
He led the Braves to their fifth World Series appearance of the decade with a .319/.441/.633 campaign which included a career-high 45 home runs, 25 steals and 126 walks as well. With 110 RBI, Jones was just one off a career-best in that category as well, while his .633 slugging percentage was also his best single-season showing.
Jones' special season may have come in the midst of baseball's performance enhancing drugs scandal, but his name was never dragged through the proverbial mud with the likes of other MVP's of the period.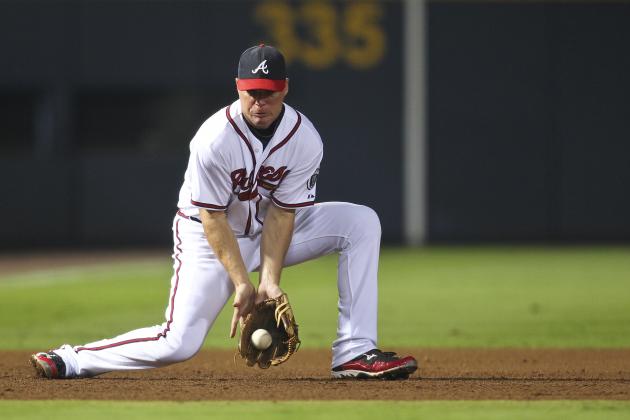 Daniel Shirey/Getty Images

As Jones cranked out season after season of continued excellence, he did so while bouncing around the field every few years. While he will likely always be remembered as a third baseman after playing 1,904 of his 2,405 career games at that position, Jones was converted from shortstop in order to provide him with an everyday big league job.
Former NL MVP Terry Pendleton signed with the Florida Marlins in the 1994 offseason, leaving the Braves in need at the hot corner. Jones had to follow in the footsteps of a gold glover and team leader, but the rookie did just fine at the position.
As fate would have it, the Braves made a mid-August trade with the Marlins to reacquire Pendleton in 1996. That move required Jones to slide back to shortstop for the remainder of the season, though he would move back to third base in 1997.
He stayed at third base until 2002, when he moved to left field in order for the Braves to sign free agent Vinny Castilla prior to that season. He remained in the outfield until returning to the hot corner half way through 2004. There he would stay until his retirement in 2012.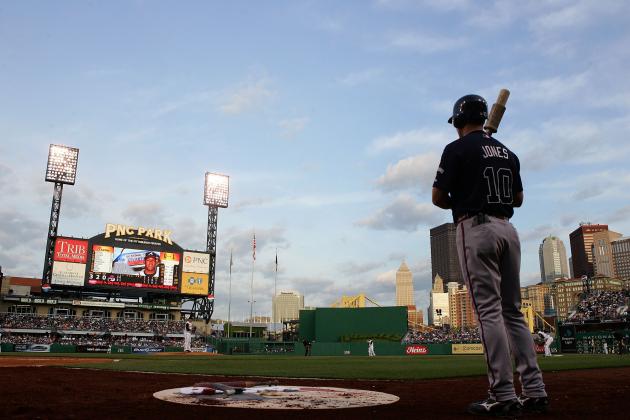 Jim McIsaac/Getty Images

The nagging injuries that hampered Chipper Jones were many. Beginning in 2004, he missed an average of 37 games per season until the end of his career. An extra 330 or so games would likely have been enough to put him over the 500 home run mark among other things, but Jones was not a shell of his former self either.
Exhibit A: His 2008 batting title, which he won at the age of 36.
He made an extended run at Ted Williams' now- fabled .400 mark that season, carrying an average of exactly .400 through June 18. His final average of .364 that season is the highest by any NL player in the last nine years (including 2013).
Interestingly enough, Jones nearly won the batting crown in 2007 as well. He batted .337 that year, and finished just three points behind Matt Holliday of the Colorado Rockies. While Jones hit just .261 over the final seven games, Holliday used a seven-game hitting streak to overtake him and close the season with a .340 average.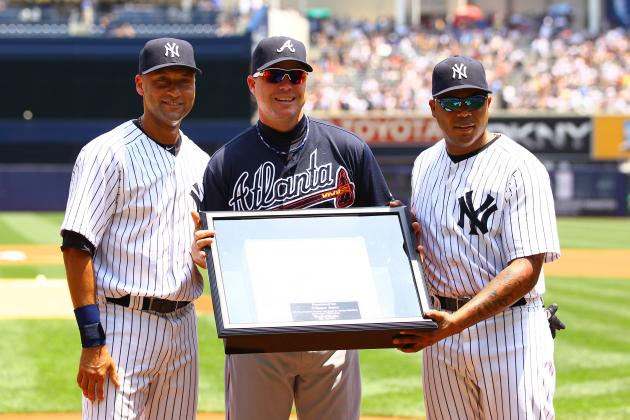 Al Bello/Getty Images

It seemed every stop in every city across both leagues had something special for Chipper Jones during his final campaign in the big leagues. Many teams opted to give Jones the third base bag from their respective ballpark as a keepsake, while others got a little more creative.
Memorabilia gifts were popular and wide-ranging. The Boston Red Sox gave him a piece of the scoreboard from the Green Monster. The Chicago Cubs presented him with a famous flag from Wrigley Field.
As the team went out west, the souvenirs became more interesting. The Houston Astros' gift was a 10-gallon cowboy hat, while the San Diego Padres had a special surfboard waiting for him.
All of these items and the ceremonies accompanying them typically included a video tribute of highlights and remarks from great players and luminaries representing each club. Jones' career was also celebrated at the All-Star game in Kansas City, where he made his eighth and final All-Star appearance.
To be celebrated by one's peers is about as humbling as it gets, and Jones accepted these kind words, well wishes and gifts with grace and humility to be sure.
The Braves held a special "Chipper Jones Appreciation Night" to honor him on September 28. It was a moving trip down memory lane, filled with more gift presentations and well wishes. Given the sheer number of occasions on which Jones served as a guest of honor, it is safe to say that his legacy was known throughout the baseball world.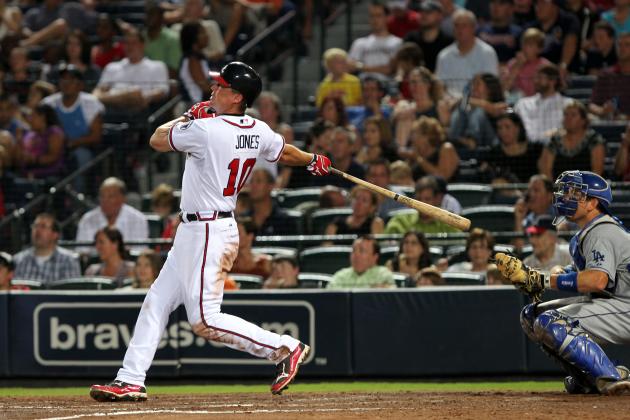 Joe Murphy/Getty Images

Chipper Jones finished his career with 468 home runs, third most ever by a switch-hitter.
Here a few facts and memorable blasts:
He homered against 25 different teams and off 323 different pitchers.
Steve Trachsel surrendered seven home runs to Jones, narrowly edging out Randy Johnson and Shane Reynolds as the most given up by any one hurler.
His first home run came off Josias Manzanillo of the New York Mets on 5-9-95; it was the first of 49 career home runs against New York. That's tied for most against any team (more on that in a moment).
Home runs numbers 371 and 372 came on the same night (7/5/07) as Jones tied and passed Dale Murphy for most homers in Atlanta Braves history.
He finished with 468 home runs, which trails only Hank Aaron (733) & Eddie Mathews (493) in franchise history (Boston, Milwaukee and Atlanta).
His final blast came against Philadelphia closer Jonathan Papelbon, a walk-off shot on September 2, 2012, which gave him 49 home runs against the Phillies. That equalled Jones' total of 49 against the Mets, which is the most home runs he ever hit against an opponent.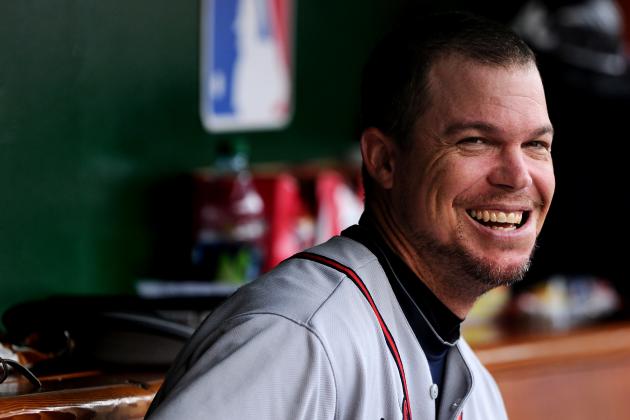 Patrick Smith/Getty Images

There have been quite a few great switch-hitters in baseball, but very few that could combine the ability to get on base at a high rate and hit for power. Jones has a place between Hall of Famers Mickey Mantle and Eddie Murray when it comes to sluggers who could bat from both sides of the plate.
With that in line, here are a few facts that cement Jones' place among switch-hitters:
The home runs (468) trail only Mickey Mantle (536) and Eddie Murray (504) for most ever by a switch-hitter.
Holds a lifetime batting average of .303 from the left side and .304 on the right side. Not even Pete Rose, who batted .307 lefty and .293 righty, accomplished batting .300 from both sides of the plate. Hall of Famer Roberto Alomar holds a lifetime .300 average, but he batted .312 as lefty and .268 as a righty.
Additionally, Jones' .401 career on-base percentage is higher than both Rose (.375) and Alomar (.371).