UFC 162 Preview: Ranking Anderson Silva's UFC Middleweight Title Fights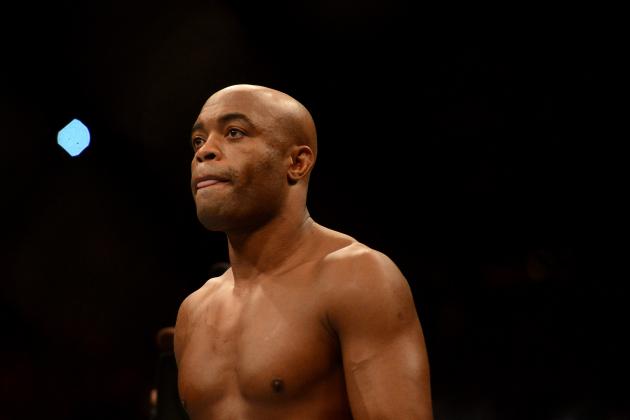 Mark J. Rebilas-USA TODAY Sports

When Anderson Silva steps into the Octagon on July 6, he will be looking to break two records, two records that he already holds. If Silva manages to defeat Chris Weidman in UFC 162's main event, he will extend his UFC winning streak to 17 consecutive fights, and his middleweight title defense streak to 11 consecutive defenses.
As a little reminder of how Silva got to where he is, what follows is a ranking of every UFC middleweight title fight Silva has been involved in to date.
Begin Slideshow

»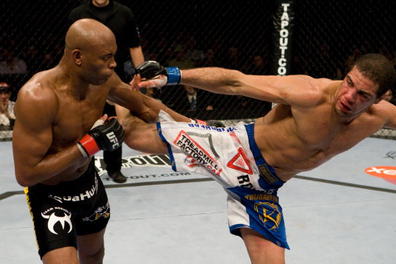 Josh Hedges/Zuffa LLC via Getty Images
You want to know how dissatisfied the Montreal crowd was with UFC 97's main event, well, in the middle of the third round, the crowd began chanting "GSP, GSP, GSP." Kind of odd since the fight was between Anderson Silva and Thales Leites.
At the beginning of the final round, Joe Rogan said, "He's going to get some criticism for this fight."
"Some" turned out to be a huge understatement. After the fight, UFC president Dana White offered the following to ESPN radio, "I can tell you this, after being in this business for almost 10 years now, I've never been embarrassed by a fight like I was tonight with the main event."
As far as legacy-damaging fights, this was one of them.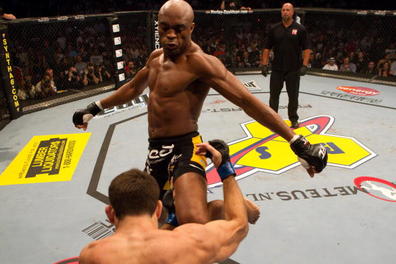 Josh Hedges/Zuffa LLC via Getty Images
"This is going to be a real test for Anderson," so said UFC president Dana White in the video montage leading up to UFC 112's main event.
Yeah, not so much. Turned out that this fight was more of a test for the fans and the UFC, especially White. It was the third middleweight title defense in a row that left fans wondering what was going on inside the head of Silva.
The message that Silva was sending in this fight was that Maia didn't belong in the Octagon with him; he was on a level that Maia couldn't even comprehend. The problem was that Silva sent that message in an exaggerated way that was meant to do nothing but embarrass Maia and the sport.
At the post-fight press conference, White said, "I don't think I've ever been more embarrassed in the ten years being in this business. It's the first time that I ever walked out on a main event and given the belt to a guys manager and told him to put it on."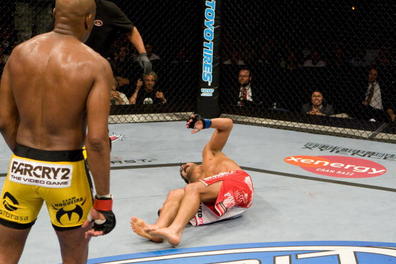 Josh Hedges/Zuffa LLC via Getty Images
After Anderson Silva and Patrick Cote were given their instructions by referee Herb Dean, the fighters bowed. UFC commentator Mike Goldberg then commented on the "classy display by both fighters." It was the last time the words class and Silva were going to be used in the same sentence for quite a while. Unless the word class was prefaced with "no" or "low."
Silva was very slow to engage in this fight, and when he did engage, it was only for brief moments before he backed off. It was a disinterested performance from the champion to say the least.
It was one of Silva's most forgettable performances, but it would not compare to the fight that would follow it—his UFC 97 bout against Thales Leites.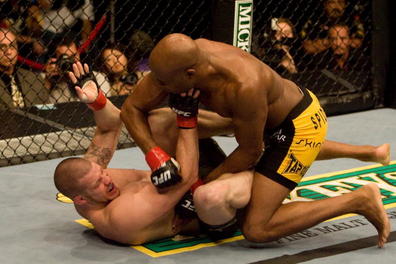 Josh Hedges/Zuffa LLC via Getty Images
Anderson Silva's first UFC middleweight title defense was set for UFC 67, but that contest turned into a non-title bout when Travis Lutter came in 1.5 pounds over the 185-pound limit.
Silva would have to wait until UFC 73 for his first title defense. Going into the bout, his opponent, Nat Marquardt, said during his pre-fight interview, "I do expect the fight to go to the ground and I do expect to dominate there." Marquardt was half-correct. The fight did go to the ground, but he did not dominate form that position.
By the same token, Silva was not overly impressive in his ground attack, sure he was active in looking for submissions, but there was nothing extraordinary in his ground game.
The tide of the fight changed when referee John McCarthy stood the fighters up. Silva delivered a kick and followed that up with a left that sent Marquardt diving for a takedown, a takedown attempt that Silva reversed.
Once Silva had Marquardt on the ground, strikes from above brought McCarthy in for the stoppage with 10 seconds left in the first round.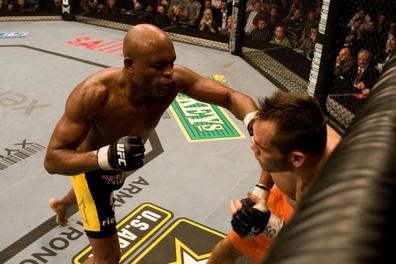 Josh Hedges/Zuffa LLC via Getty Images
Silva's second defense of his UFC middleweight crown came against the man he took the title from at UFC 64, Rich Franklin.
During the build up to the fight, UFC commentator Mike Goldberg said, "Undoubtedly this is a different Rich Franklin."
Goldberg was correct, Franklin showed no fear of the striking of Silva early on in this fight, and he did his best to avoid Silva's Muay Thai clinch, the position that spelled doom for Franklin in their first meeting.
As the fight progressed, Silva loosened up and showed an increase in his movement. That movement made Silva an elusive target.
The first round ended with Franklin being dropped by a Silva right hand. Franklin needed assistance to get back to his stool between rounds, and as he sat in his corner, he had a far-away look in his eyes. Silva, on the other side of the cage, looked totally relaxed.
Franklin did his best to get back in the fight in the second round, but he was just overmatched. Fifty seconds into the round, Silva attacked, and just like at UFC 64, it was knees to the head that ended the night for Franklin.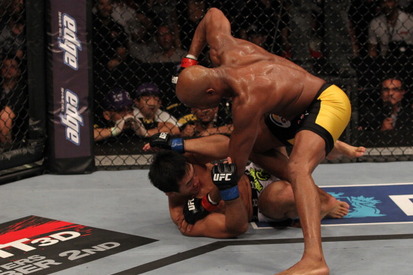 Al Bello/Zuffa LLC/[Zuffa LLC via Getty Images
The first time Anderson Silva and Yushin Okami met was January 2006. That fight, with Rumble on the Rock, ended with Silva being disqualified via an illegal upkick. It is the last loss on Silva's record.
The two opted not to touch gloves to start the rematch, showing that, perhaps, there was some animosity carrying over from the initial meeting.
Okami looked to use the Henderson/Sonnen game plan early on, but his wrestling skills were not up to snuff. Instead, Okami leaned heavy on Silva against the fence and worked from the clinch. As for Silva, he remained active in his movement and striking.
Silva came out much more active in the second round, his hands by his waist, always a sign that the champion has found his comfort zone. It's also usually a sign that the fight is not going to end well for Silva's opponent.
Silva was able to put Okami to the ground, but he did not follow him to the mat. Instead, he let Okami get to his feet. When the champion knocked Okami down a second time, he did follow and ended the fight with ground-and-pound.
It was the Silva of old, the Silva who didn't deliver the three clowning performances of UFC 90, 97 and 112.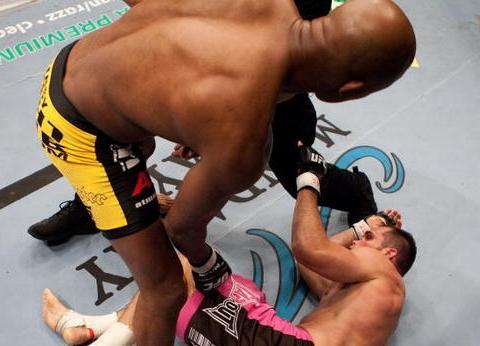 Josh Hedges/Zuffa LLC/Zuffa LLC via Getty Images
Anderson Silva made his UFC debut at UFC Fight Night 5, destroying Chris Leben in 49 seconds. For his next fight, Silva set his sights on taking ownership of the UFC middleweight title that was in the possession of Rich Franklin. That bout took place at UFC 64.
Silva's second UFC fight lasted a bit longer than his first, but the end result was the same. Silva dominated the 2:59 bout on the way to a stoppage victory by way of a knee to the head.
The clinch work from Silva in this fight was superb, softening the body of Franklin with repeated knees and forcing Franklin to drop his hands. As soon as Franklin lowered his hands, Silva went to work upstairs, delivering knees to the head of Franklin, one of which left Franklin with a new angle to his nose.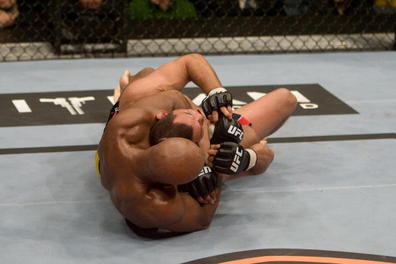 Josh Hedges/Zuffa LLC via Getty Images
After nine years away from the UFC, Dan Henderson returned to the organization at UFC 75. In his return bout, he dropped a unanimous decision to Quinton Jackson in a UFC / PRIDE title unification bout.
At UFC 82, Henderson still had his PRIDE welterweight crown to put up against Anderson Silva's UFC middleweight title. He would not find success in unifying those titles either.
While Henderson was on the losing end of the Silva bout, he did set the blueprint for how to possibly defeat Silva. Henderson had success in the first round, taking Silva to the ground and using strikes from in close from top position.
Unfortunately for Henderson, he could not repeat his first-round performance. Instead, he decided to strike on the feet with Silva during the second round. That approach resulted in Henderson hitting the ground and absorbing strikes from the top position from Silva.
Silva then worked to a back mount, locked on a body triangle and softened Henderson up with strikes. From there, he clamped on the rear-naked choke and forced the submission from Henderson.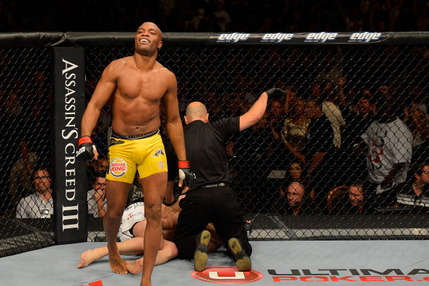 Donald Miralle/Zuffa LLC/Zuffa LLC via Getty Images
If you thought the rematch between Anderson Silva and Chael Sonnen was going to be a repeat of UFC 117, you were correct, for at least the first round.
The turning point in this fight came when Sonnen made the mistake of attempting a spinning back fist. Sonnen missed, staggered and fell with his back to the cage.
The look on Sonnen's face as Silva closed the distance was one of sheer terror. Silva gave Sonnen a split second to realize his chance at becoming middleweight champion had evaporated and then delivered a crushing knee to the body of Sonnen.
Silva then proceeded to throw strikes to his downed opponent. Sonnen was able to briefly stand, but the onslaught from Silva didn't stop, and the fight was called.
It was another example that clearly showed the only chance a fighter has of defeating Silva is to deliver a perfect fight.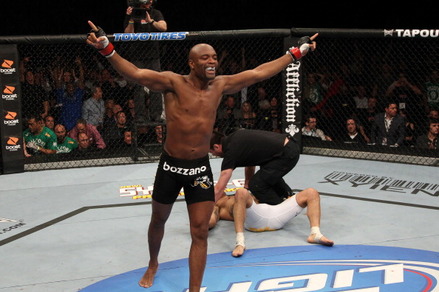 Jed Jacobsohn/Zuffa LLC/Zuffa LLC via Getty Images
The first minute of the contest between Anderson Silva and Vitor Belfort was tense.
Belfort, one of the most aggressive first-round fighters in UFC history sat back a lot longer than normal. That may have been a miscalculation.
The two minutes of inactivity in the opening stanza allowed Silva's mind to perform all the needed calculations. Once the math was done, Silva's hands dropped to his waist, and his movement increased.
Belfort briefly took Silva to the mat, but the champion was quick to get to his feet. Not long after, Silva delivered a front kick that had UFC commentator Joe Rogan screaming, "Oh! He front kicked him to the face!," as Belfort crumpled to the mat.
It was a spectacular knockout that launched a sort of front-kick revolution in the UFC. Silva flipped the switch for the rest of the fighters in the sport, letting them know that, yup, the front kick is a dangerous weapon.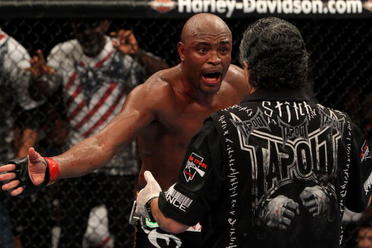 Josh Hedges/Zuffa LLC/Zuffa LLC via Getty Images
Chael Sonnen did a boatload of talking heading into his UFC 117 contest against Anderson Silva, and he backed that talk up for the better part of five rounds.
Sonnen pressured Silva early. The challenger showed no fear and offered no respect to the champion.
Sonnen took the successful game plan that Dan Henderson had used during the first round of his bout with Silva and used that plan for the entire fight, taking the fight to the ground and battering the champ with strikes. Sonnen would rack up 320 total strikes through the course of the contest.
With 4:25 left in the final round, Joe Rogan voiced the question that everyone watching the fight was thinking, "Is it too early for Sonnen to start celebrating?" The answer to that question, was yes, yes it was.
With 2:33 left in the final round, Silva used his left hand to grab the right wrist of Sonnen. With only his left hand available to strike with, Sonnen postured up and threw punches to the body and head of Silva.
Silva then threw several strikes from the bottom, forcing Sonnen to lean in close to lessen the impact. As soon as that happened, Silva latched on a triangle choke armbar combination and forced the tap from Sonnen with 1:50 left in the fight.
It was a hell of a comeback from Silva.