Grading Cleveland Cavaliers' Draft Day Decisions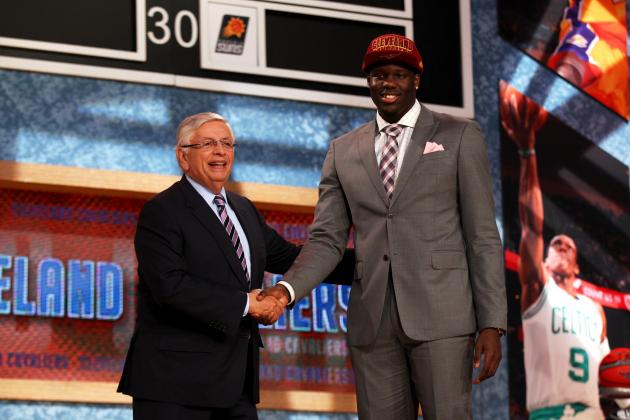 Mike Stobe/Getty Images

The Cleveland Cavaliers had themselves yet another successful draft night. Though rumors swirled that the Cavaliers were looking to trade some or all of their picks, including the No. 1 overall pick, the team elected to keep three of their four picks, including both of their first-rounders.
The Cavaliers ended up with some exciting prospects who add to their already solid core that includes Kyrie Irving, Dion Waiters and Tristan Thompson.
With all the guessing finished as to whom the Cavaliers would select, it's time to grade the team's actual moves from draft night.
*All statistics courtesy of ESPN.com unless otherwise cited
Begin Slideshow

»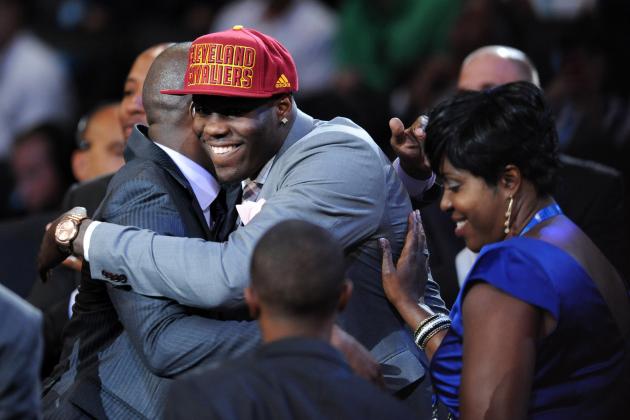 Jerry Lai-USA TODAY Sports

The Cavaliers shocked the world again, selecting UNLV forward Anthony Bennett first overall.
The rationale for Cavaliers general manager Chris Grant was simple. He believed that the 19-year old Bennett was the best player in the draft, stating, "He was one of those guys when you walked out of the gym when you saw him play, you kind of went, 'Wow.' " (via cleveland.com)

It's easy to see why Grant was impressed with the 6'8" Bennett, who averaged 16.1 points and 8.1 rebounds per game in his freshman season at UNLV. He is a great offensive player, a more than capable scorer who can take his shot out to three-point range. This past season he also showed that he has excellent rebounding abilities.
However, there are concerns that come with Bennett.
There are worries about the weight that he gained while rehabbing a shoulder injury, but Bennett himself said the weight gain has been exaggerated (via ohio.com).
He is considered a bit of a "tweener," as his size and game put him between a small forward and a power forward. However, Grant stated in a post-draft interview with NBA.com that he expects Bennett to play power forward, even with Tristan Thompson already the starter at that position.
Whether he starts or comes off the bench, Bennett should make an immediate impact with the Cavaliers. With Thompson and Anderson Varejao doing the bulk of the team's scoring in the paint, Bennett will be able to stretch the floor when he does play because of his shooting abilities. He also could have the chance to play some at small forward but will have to improve his defense to get that opportunity.
In a draft where up to six players could have justifiably been selected first overall, it's hard to come up with a grade. But provided Bennett's potential to be an excellent scorer with great rebounding abilities—as well as the growth that will come as he matures—this was a good pick for the Cavaliers.
Grade: B+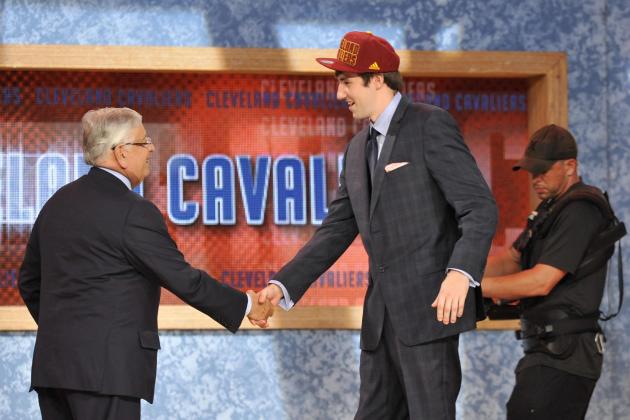 Joe Camporeale-USA TODAY Sports

The Cavaliers were rumored to be trading with the Dallas Mavericks up to the 13th pick in order to secure Karasev, but were able to remain pat and snag him with the 19th overall pick.
The 6'7" Russian swing man averaged 18.7 points per game last year for Triumph Lyubertsy of the Russian League, shooting 33 percent from the three-point line. These numbers are even more impressive when one considers that Karasev is only 19 years old.
The Cavaliers desperately need long-range shooters on their team, and that's Karasev's specialty. He believes he should be a great fit in Cleveland : "Cleveland needs shooters, and I think I'm the guy who can shoot the ball." (via cleveland.com)

As he noted in the aforementioned interview with NBA.com, Chris Grant expects Karasev to come to the Cavaliers this season. Karasev should make an immediate impact with his ability to shoot the ball. His size and skill set should allow him to play either small forward or shooting guard for the team.
Considering the Cavs wanted him enough to trade up to get him, Karasev was a steal—and one who fills a huge need.
Grade: A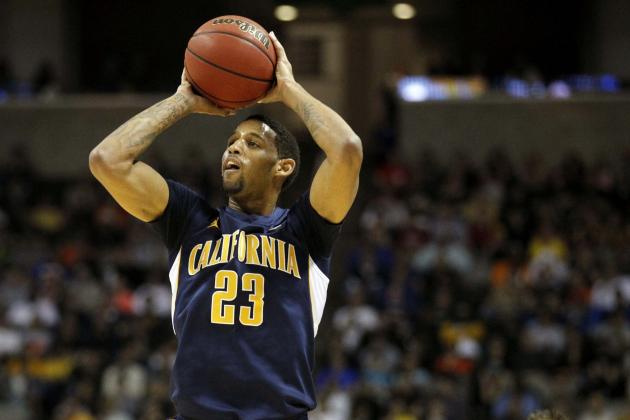 Cary Edmondson-USA TODAY Sports

With their first selection in the second round the Cavaliers selected California guard Allen Crabbe, then shortly thereafter traded him to the Portland Trailblazers for two future second-round picks.
The 6'6" shooting guard averaged 18.4 points per game for the Golden Bears last season, and he was another one of the top shooters in the draft, though he only shot 34.8 percent from three last season.
The first pick of the second round often is relatively valuable, as good players always slip out of the first round and the contracts become non-guaranteed.
Crabbe was a first-round talent who would have added more shooting to Cleveland, though the team did address that issue by selecting Sergey Karasev. While two second-round picks for one is a good future move, it's impossible to project where those picks will land in future drafts.
Additionally, it's fair to question whether the team could have gotten more value for this pick.
The Cavaliers clearly didn't want to have too many rookies on their already young team, but they traded away someone who could become a pretty decent player.
Grade: C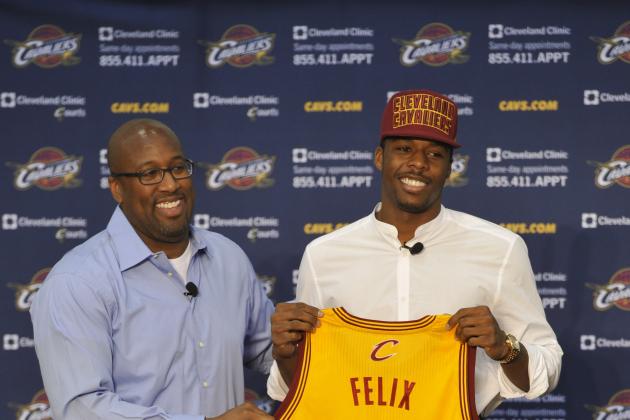 David Richard-USA TODAY Sports

The Cavaliers decided to keep their second second-round pick, selecting Carrick Felix out of Arizona State.
The 6'6" Felix averaged 14.6 points and 8.1 rebounds per game last year for the Sun Devils.
Felix is best known for his abilities on the defensive end of the court, averaging 1.1 blocks and 1.4 steals per game last season. His size should allow him to play both the small-forward and shooting-guard positions for the Cavaliers.
With Mike Brown as the new head coach, it's easy to see why the team would target a wing player who specializes on defense, especially with the struggles Kyrie Irving and Dion Waiters have had on that end of the court.
Felix's potential is somewhat limited because he is already 22 years old, but he could be a solid—though probably not spectacular—addition to the Cavaliers.
Grade: C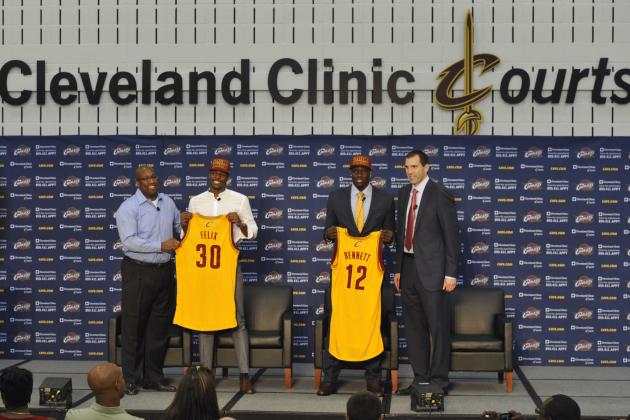 David Richard-USA TODAY Sports

The Cavaliers had themselves a very good draft.
When you have the first overall pick, you have the luxury of selecting any player you want, and usually a very talented one at that. With Anthony Bennett, the Cavaliers picked a player who has the potential to average 20 points and 10 rebounds per game.
The team also filled other needs, selecting a shooter with great potential who should contribute immediately in Sergey Karasev and a defensive stopper on the wing in Carrick Felix.
Draft grades can become irrelevant as soon as the season starts, but right now it looks like the Cavaliers did well for themselves.
Overall Grade: B+