10 Coaches' Pathetic Attempts to Look Cool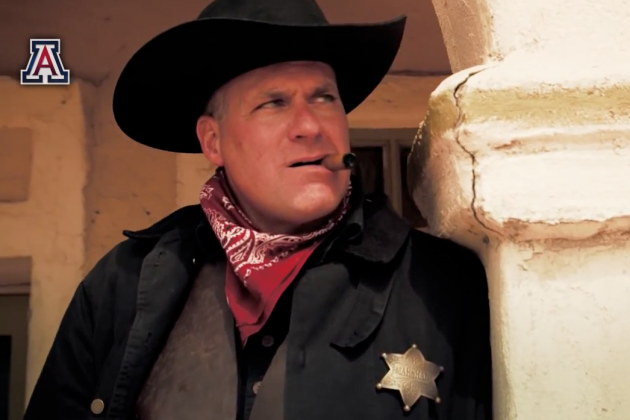 Image via ArizonaAthletics
There are two things cool guys don't do: look at explosions, and try to be cool.
There's nothing less cool than going over the top impress people—which is a pitfall sports coaches can stumble into.
Between their responsibilities to recruit talent, promote their program and keep up personal appearances, coaches can get carried away and pull some regrettable stunts in the name of fulfilling their duties (or stroking their vanity).
The following are some examples of coaches' pathetic attempts to look cool. They started out with good intentions, but their execution wasn't half as slick as they had hoped for.
Begin Slideshow

»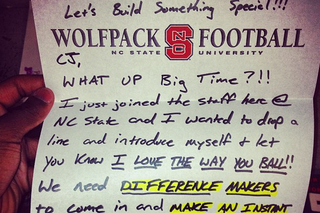 Image via @_RevisIsland
YOU = BALLER. Therefore, BALLER = YOU. TRANSITIVE PROPERTY, SON.
Colleges and their recruiting stunts are getting more outrageous by the day, but few top the gallingly inauthentic recruiting letters sent out by NC State director of personnel Drew Hughes.
In the spring of 2013, Hughes sent out what appeared to be a handwritten letter to a recruit scrawled with all-caps phrases. The letter led with the phrase "WHAT UP BIG TIME?!!" and featured other cool-kid-pizza-party phrases like "I LOVE THE WAY YOU BALL" and "YOU = BALLER."
While over-the-top and bleeding with try-hard, the message was at least authentic-sounding, until people found out it was a photocopied message sent out to all their recruits.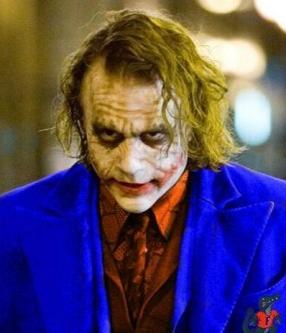 Image via @jokerphilips
Why so not serious?
There's nothing wrong with creativity, but Florida wide receivers coach Joker Phillips has taken a strange and somewhat creepy route with his Twitter recruiting in recent months.
Constantly engaged in social media, Phillips has been tweeting out Photoshopped pictures of Heath Ledger and Jack Nicholson as Joker from Batman, along with the hashtag "#ComePlayWRForTheJoker."
You can almost hear him asking around the athletic department for approval after sending the images out. "You see the new one? Yea, Jack Nicholson this time. Kids love that stuff. High five."
I've never looked at Rex Ryan's contract, but judging by his antics you'd imagine there's a clause in there demanding he reach a certain quota of headline stories in the New York media every week.
Take this press conference from 2011, for example. Ryan wears a makeshift blazer, explains he's been inducted into his alma mater's Hall of Fame and then starts pumping up the Jets' upcoming game against the Patriots by taking veiled shots at Bill Belichick's legacy.
Come on, Rex. You're better than this. Kind of.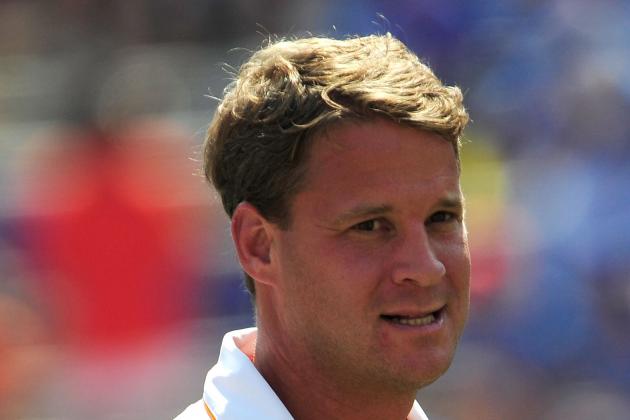 Sam Greenwood/Getty Images

High school recruits attended the University of Tennessee's "Junior Day" in 2009 expecting to be wooed, but not like this.
As the story goes, over 100 recruits were allegedly ushered into the team film room with head coach Lane Kiffin and several other coaches. Kiffin began speaking about the program, and after a while gave the floor to an unnamed assistant coach, who began an intense oration on how pumped their squad gets for special teams practice.
The next thing the recruits knew, the coach yelled for them to "Get fired up about special teams," and another coach in the room began ripping his shirt off "Superman-style."
Recruits said it was awkward, and when the coach didn't receive the response he wanted, he stepped out of the room, rallied more coaches, and the men ran back in screaming, ripping their (the coaches') shirts off and slamming their hands against the walls.
Kiffin himself didn't rip his shirt off, but allegedly stood by smiling and chuckling as it all went down. Normal? Of course.
At first, Phil Jackson joining Twitter was a gift from above. His first tweet looked like the work of a drunk mime, and the horribly misspelled spew of letters had the Internet panting with laughter.
"He really doesn't care," was the general consensus among people who saw the garbled message. "The Zen Master is an old man, and he can brag about his accomplishments and it doesn't even matter if he spells it right."
I loved Jackson's first tweet, that is, until the second one came out showing Jackson typing with his 11 championship rings on.
Awesome right? Yes, it was awesome, until you came to the devastating realization that it was a commercial for AOL and a viral marking ploy for his book, Eleven Rings: The Soul of Success.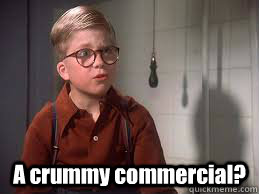 Image via QuickMeme
Do you want to be coached by men who dress up like cowboys in order to look cool for teenagers? If so, you might want to play football for the University of Arizona.
I don't know for certain how Rich Rodriguez and his coaching staff came to the conclusion that filming a spaghetti Western called "Hard Edge" was the right way to go about recruiting talent to the school, but I can guess the conversation went something like this:
"Hey, Rich. Thanks for the peyote. I've never tasted a sunset before. You want to do what? Really? Alright, I'll wear the hat—but only if we film it and release the video to everyone."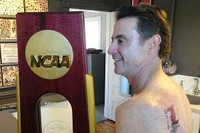 Image via Louisville Sports Information
After his team won the 2013 NCAA Tournament, Louisville Cardinals head coach Rick Pitino had to ball up and stick to his original promise—that he would get a tattoo if the team won a national championship.
Personally, I didn't have a problem with Pitino getting the tattoo. He had a great reason to do it, and it's not like he's someone who gets a crescent moon on their ankle because they want to be rebellious but don't want it show up on their LinkedIn account.
However, other people did think it was an immature move for a man of his advanced years. The most notable of which was Erin Calipari, daughter of—you guessed it—Kentucky head coach John Calipari, who thanked her lucky stars her father would never do something as embarrassing as getting a tattoo.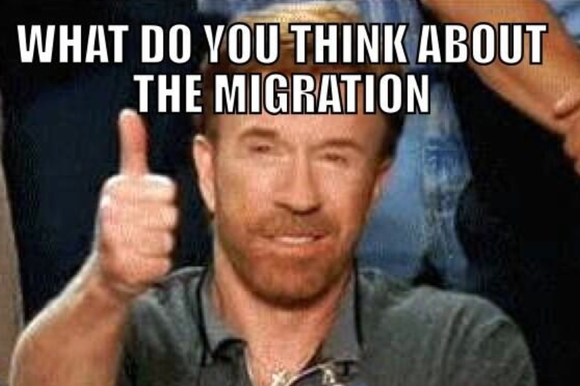 Image via @CoachPehrson
Chuck Norris jokes ran their course about six years ago, but Preston Pehrson—a Georgia Tech football graduate assistant—is doing his best to flog them back into existence.
Actually, Pehrson is trying to stuff almost every tired meme and Internet cliche down recruits' throats while stumping for Tech's "#TheMigration" recruiting campaign. The college is looking to fill up its roster with some of that sweet corn-fed Midwestern beef, and Pehrson's Twitter feed is like a running meme generator.
It's a rather obvious and tired ploy pandering to the youth, but here I am giving him free publicity, so I guess you can't say it's not working.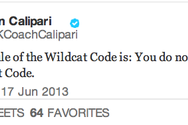 Image via @UKCoachCalipari
The first rule about using Fight Club to make reference to your basketball program is don't use Fight Club to make reference to your basketball program.
John Calipari broke this rule when he took to Twitter to scold his freshman point guard Dominique Hawkins.
Calipari first tweeted "The first rule of the Wildcat Code is: You do not talk about the Wildcat Code." This tweet was followed up in predictable fashion.
"The second rule of the Wildcat Code is: You do not talk about the Wildcat Code. LOL."
Hawkins had apparently broken a team rule and told a reporter at the Louisville Courier-Journal about the team's "Wildcat Code," which allegedly includes doing things to earn certain privileges such as access to the team locker room.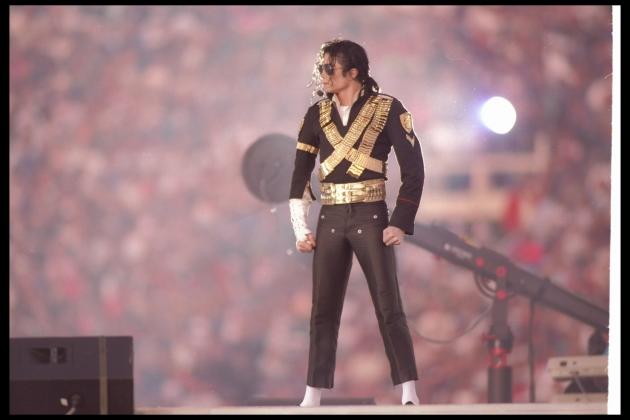 Mike Powell/Getty Images

He could just be making it up, but if you believe high school football star Da'Shawn Hand, then there's a coach out there who think he's friends with the dead.
Hand—a five-star recruit at defensive end from Virginia—was recently asked by Bruce Feldman of CBSSports.com what the "craziest thing" any coach has ever said to him since he's become a top high school recruit.
Hand's answer was a thriller, to say the least.
Well, I ain't gonna say any names, but one coach told me that since I'm the No. 1 player, I'm gonna get to meet Michael Jackson. I said "Isn't he already dead?" The coach goes "Well, all right, you can meet Tito."
Hand wouldn't name the coach, who apparently is cool enough to be friends with dead celebrities.