If you created a mock draft for NBA Draft 2013, kudos to you. But, chances are, your mock deserves to be mocked. Not much went according to plan on Thursday night.
But then again, do things ever go according to plan at the NBA Draft?
Let's look at how some of the best NBA minds reacted to five of the biggest moments from the draft, all the way from the No. 1 pick, through several trades and to the back end of the second round
Cleveland Cavaliers select forward Anthony Bennett with No. 1 pick.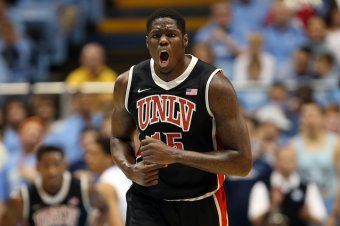 Streeter Lecka/Getty Images
Notice, I said "forward." That's because I have no idea if Bennett will play small forward or power forward in the NBA. The Cavaliers are probably expecting him to be play small forward, considering they already have Tristan Thompson, Anderson Varejao and Tyler Zeller getting most of the minutes in the post.
This pick was surprising, to say the least. And for the Cavs, I don't think surprising is a good thing.
Bennett even had no idea the pick was even coming, Alex Kennedy of HoopsWorld reported.

Did that really just happen?! Even Anthony Bennett and his camp didn't think he was going No. 1.

— Alex Kennedy (@AlexKennedyNBA) June 27, 2013
I'm not saying this pick for sure won't work out, but it sure is a risky one, considering Bennett's lack of size and injury history.
The pick even broke Adrian Wojnarowski, an NBA Columnist from Yahoo!, out of his normally very dry, fact-based tweets:
This promises to be a wild draft now.

— Adrian Wojnarowski (@WojYahooNBA) June 27, 2013
New Orleans Pelicans select center Nerlens Noel at No. 6, then trade him to the Philadelphia 76ers with a protected first round pick for point guard Jrue Holiday and their No. 42 pick.
New Orleans may have scooped up their first big steal under the Pelicans name. While they do already possess Greivis Vasquez, a decent starting point guard himself, Jrue Holiday was an All-Star last season. Holiday's arrival will likely cause the Pelicans to trade Vasquez, as Lakers blogger Drew Garrison suggests:
So New Orleans absolutely needs to trade Greivis Vasquez now.

— Drew Garrison (@DrewGarrisonSBN) June 28, 2013
And with Vasquez fresh off leading the NBA in total assists, the Pelicans should be able to get some great help in return for Vasquez, possibly at the small forward position.
While Noel should undoubtedly improve the 76ers' post defense, the loss of a young, elite floor general is too much to lose. Michael Carter-Williams will try to fill the void, but I'm not sure that will happen in the near future.
Minnesota Timberwolves select Trey Burke at. No. 9, then trade him to the Utah Jazz for picks 14 and 21, which become Shabazz Muhammad and Gorgui Dieng.
This trade is a perfect example of a win-win situation. The Jazz lacked a real point guard, and the Timberwolves needed scoring at shooting guard and an athletic post defender to help out Kevin Love and Nikola Pekovic.
Now, both teams have taken care of those needs.
Muhammad may have been the best pick of the three, going to a team with a wizard passer (Ricky Rubio) and great post scoring (Love and Pekovic). These factors will get Muhammad great shots in the offense.
CBS Insider Jon Rothstein strongly sided with the T-Wolves selection of Muhammad:
There it is. GREAT pick here by Minnesota. Wolves needed scoring and they got it with Shabazz.

— Jon Rothstein (@JonRothstein) June 28, 2013
Memphis Grizzlies select Jamaal Franklin with No. 41 pick.
It's almost as if teams forgot about him...
Every year, there is at least one player that takes a huge tumble in the draft for no apparent reason. This year, it was Jamaal Franklin out of San Diego State University.
Alex Kennedy tweeted the following:
Jamaal Franklin going this low was a huge surprise. There was talk that he could be a top 20 pick earlier in this process. Huge slip.

— Alex Kennedy (@AlexKennedyNBA) June 28, 2013
The swingman is athletic as can be, defends well and always plays with a high motor. Franklin should be a good fit for the Grizzlies' bench, where he can make momentum-shifting plays on both ends of the court.
Chad Ford even reported from last month's drills that his jumper was surprisingly strong, even with a tweaked ankle at the time:
Jamaal Franklin's ankle is still gimpy so he didn't workout today. But he's shooting the ball really well in drills.

— Chad Ford (@chadfordinsider) June 1, 2013
Boston Celtics trade Kevin Garnett, Paul Pierce and Jason Terry to Brooklyn Nets for 2014, 2016 and 2018 first round picks, along with Kris Humphries, Gerald Wallace, Kris Joseph, MarShon Brooks and Keith Bogans.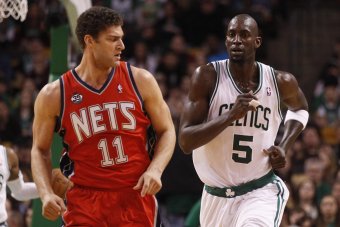 David Butler II-USA TODAY Sports
This one is just totally bizarre. It's not like we didn't see the Boston fire sale continuing, but it was just the sheer amount of entities involved in the deal that was surprising.
It's definitely too soon to announce the ultimate winner of this deal, considering the amount of future draft picks involved.
But for the short term, it looks like the Nets will have a huge edge.
Alex Kennedy tweeted this about the Nets' lineup next year:
Deron Williams, Joe Johnson, Paul Pierce, Kevin Garnett and Brook Lopez, with Jason Terry as sixth man. The 2013-14 Brooklyn Nets, folks.

— Alex Kennedy (@AlexKennedyNBA) June 28, 2013
Lots of memorable moments came from the 2013 NBA Draft, but the Nets-Celtics trade has to be the biggest moment, and it will greatly change the NBA landscape for the next few years.
Will Brooklyn, with a star-studded (or former star-studded) lineup and a rookie coach in Jason Kidd, have what it takes contend for a title this year? That's something that we will find out in several months.
That isn't to say that the new kids on the block from the draft don't matter and won't contribute, because many of them will be difference-makers for their new teams.
It's just that a bigger moment involving seasoned veterans stole the show.