The day has come. Paul Pierce will don colors other than green and white for the first time in 15 years when he takes the floor next season. Wearing black and white? It just doesn't seem right.
By now, you're likely caught up to speed. But if you're not, here are the parameters of the blockbuster trade between the Boston Celtics and Brooklyn Nets.
According to ESPN.com, the Celtics will ship Pierce, Kevin Garnett and Jason Terry to Brooklyn in exchange for Gerald Wallace, Kris Humphries, Kris Joseph, MarShon Brooks, Keith Bogans (via sign-and-trade) and three future first-round picks. Those picks en route to the Celtics are good for 2014, 2016 and 2018.
So where do the Celtics go from here? Danny Ainge has a rebuild on his mind, and that's what appears to be on the horizon.
Did the Celtics make the right call moving Garnett and Pierce?
As things stand, the Celtics will open the 2013-14 season with a starting lineup that blends together some permutation of Avery Bradley, Courtney Lee, Jeff Green, Kris Humphries, Gerald Wallace, Jared Sullinger and Kris Joseph.
Rajon Rondo continues to rehab his torn ACL, and his return date is still up in the air. Whether Rondo's a part of the team's long-term future remains to be seen, but trading him is no easy proposition.
While the immediate future in Boston appears bleak, the Celtics have an intriguing rebuild ahead of them.
Maximize arsenal of draft picks
On paper, it's easy to say the Celtics lost this trade. Just ask Bill Simmons. However, Pierce and Garnett are nearing the end of illustrious careers, and had this trade not been made now, the team would have just been delaying the inevitable.
That rumored Celtics-Nets trade is so bad for Boston that Doc Rivers just quit on the Celtics again.

— Bill Simmons (@BillSimmons) June 27, 2013
For now, forget the tangible assets the Celtics acquired. Instead, focus on what the future holds in the form of draft picks the Celtics have begun to stockpile.
As of now, the Celtics own their own first round pick in 2014 along with the pick they'll reportedly receiving from Brooklyn.
Should Boston falter next season the way that many people believe they will, then that's quite alright. For the Celtics, it's better to be one of the league's worst teams rather than your average, run-of-the-mill Eastern Conference team stuck in basketball purgatory.
Especially heading into the 2014 draft.
Next year's class is loaded with talent at the top, namely in the form of Andrew Wiggins, Jabari Parker, Marcus Smart and Julius Randle. While the pick they acquire from Brooklyn will likely fall outside of the lottery, Boston figures to be armed with a relatively high lottery pick in one of the most talented drafts in recent memory.
And beyond 2014, the Celtics have picks aplenty. In 2015, Boston possess two first-rounders. They have their own pick and the rights to the Los Angeles' Clippers top pick which they received as compensation for Doc Rivers, according to ESPN.
And so on and so forth.
In 2016 the Celtics own two firsts (their own and one from Brooklyn), and the same goes for 2018. However, according to Bill Simmons, that 2018 pick is transferable to 2017.
Found out Boston can swap 1st round picks with Brooklyn in 2017 as part of that mega-deal. I might talk myself into this trade by July 4th.

— Bill Simmons (@BillSimmons) June 28, 2013
In short, the Celtics have the ammo to rebuild. While they may not possess the personnel to inspire confidence, fans should place their trust in Ainge to parlay these picks into more valuable picks and assets.
Good trade for Boston by the way. If you're going to rebuild, go all the way. 2 unprotected 1st's coming from an aging Nets team..

— Steve Kerr (@SteveKerrTNT) June 28, 2013
Make financially sound decisions
To compliment those draft picks, the Celtics have afforded themselves future salary cap flexibility. Yes, they're taking on Gerald Wallace's unsightly deal that pays out $30 million over the next three seasons, but they also acquired Kris Humphries' expiring contract worth $12 million and MarShon Brooks, whose team option can be declined next season.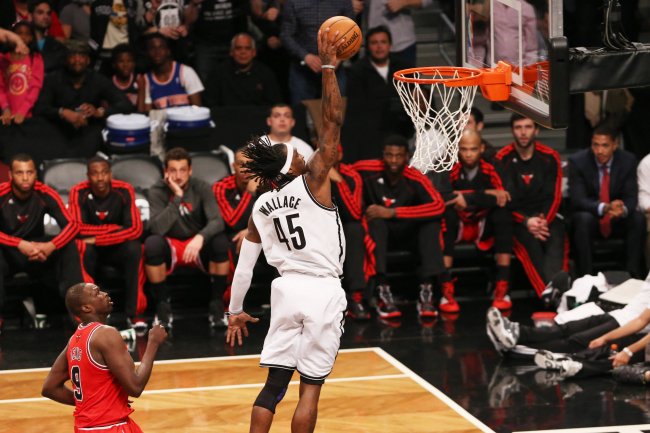 Anthony Gruppuso-USA TODAY Sport
Boston also shed the salaries of Garnett and Terry for 2014-15 (worth a combined $17.5 million), which should give the Celtics decent cap flexibility heading into a summer in which a number of big-name free agents are slated to hit the open market. In addition, the Celtics were able to rid themselves of $15.3 million this season that they would have owed Pierce. So while Wallace's contract may look bad, the outgoing salaries the Celtics will avoid paying are far heftier than the incoming ones.
As things currently stand, the only players the Celtics have under contract past the 2014-15 season are Green, Lee, Wallace, Jared Sullinger and Fab Melo.
However, it's worth noting that the Celtics can waive Wallace using the stretch provision, which, according to CBA FAQ, would allow Boston to pay out Wallace's $30 million salary over seven years (take the number of years on the contract, double it and add a year).
Invoking Wallace's stretch provision would allow the Celtics to take a smaller cap hit each season, but also hurts the team because they would be paying Wallace until 2020. For now, the best course of action would seem to involve riding out the remaining three years and absorbing the cap hit in a shorter time frame.
The roster makeup is none too pretty, but Celtics fans can take comfort in knowing that relief is on the way.
What to do with Rondo?
With the Celtics now a shell of their playoff-contending former selves, it's inevitable that questions will crop up surrounding Rondo's future with the Celtics.
Rondo's contract runs until the end of the 2014-15 season, so there's no rush to make a decision regarding his future just yet.
Jared Wickerham/Getty Images
And at this point, Rondo's value is lower than it will likely be in another year, thanks to a serious knee injury.
Should Rondo give indications that he's unhappy with the direction of the team after this season, it would likely be in Ainge's best interest to explore his options. Then, heading into the 2014 draft, Ainge will be armed with another asset to trade.
The rebuilding process will be a laborious one, there's no doubting that. But given the Celtics' thirst for victory, the end result will likely be intriguing.
Note: All salary cap figures courtesy of HoopsHype unless noted otherwise.