Power Ranking the 2013 Newcomers Who Will Have Biggest Impact on SEC Race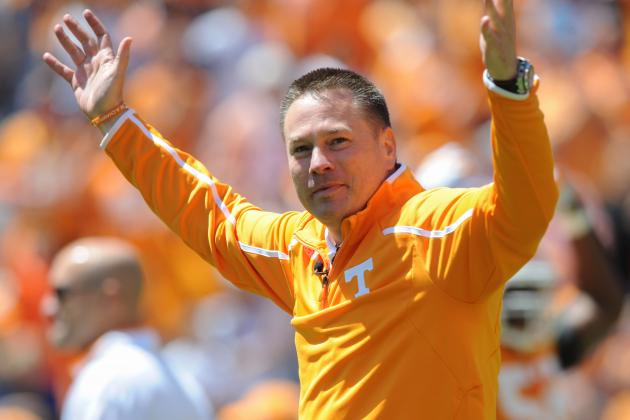 Randy Sartin-USA TODAY Sports

Even though the SEC is college football's finest conference, newcomers can still make an immediate impact.
Nick Saban did it at LSU in 2000, Cam Newton did it at Auburn in 2010 and Johnny Manziel did it just a year ago.
Well, which coach, freshman, redshirt freshman or transfer will have the biggest impact on the 2013 season? Will a new arrival in the form of a coach be more significant than the arrival of a player?
Take a peak inside and see which new face will have the greatest impact.
Begin Slideshow

»
The combination of Johnny Football's skills, Kevin Sumlin's offense and the absences of Ryan Swope and Uzoma Nwachukwu could lead to a breakout season for freshman Ricky Seals-Jones.
Imagine having Mike Evans split wide and Seals-Jones on the opposite side. That's a nightmarish situation for defensive coordinators.
Many believe another Texas A&M recruit, LaQuivionte Gonzalez, will have the greatest impact on the team because of his speed, but Seals-Jones' 6'5", 220-pound frame should give him more opportunities.
Carl Lawson could make Corey Lemonier's absence slightly less noticeable.
Lawson is a 6'3", 251-pound defensive end with a motor that never stops. What jumps out on film is his explosive ability, as it is virtually unmatched by anyone in the class of 2013.
His first-step quickness is what makes him elite, and that should allow Lawson to see the field immediately.
Auburn was 11th in sacks recorded in the SEC last season, and the Tigers were second to last in total defense. Don't worry Auburn, help is on the way in the form of an explosive, young defensive end.
Derrick Henry would be higher on this list if not for a fractured leg bone suffered in the spring.
Still, Henry is expected to be ready for the first game of the season, and he should be the spell back for T.J. Yeldon next season.
What does that mean? Well, that just means that Alabama has yet again established another dynamic one-two punch at the running back position.
Henry can run through or around competition, which suggests he could be another Trent Richardson-type player for the Crimson Tide. Judging from Yeldon's performance last season and Henry's injury in the spring, there's no reason to believe he'll take many carries away from Yeldon, but he'll still have his moment in the sun.
Florida's secondary is stacked.
From Marcus Roberson to Loucheiz Purifoy, it's safe to say the Gators might have the best cornerback tandem in the nation. Well, Vernon Hargreaves III is only going to make that defensive backfield better.
Not sold? Watch the highlight tape embedded in the slide and judge for yourself. In the Under Armour All-American game, Hargreaves recorded an interception, incredible pass breakups and hard hits, earning him the MVP.
Yes, Purifoy and Roberson will start for the Gators next year, but having Hargreaves give either guy a rest is much like what LSU had in 2011. With Tyrann Mathieu, Tharold Simon and Mo Claiborne, the Tigers were able to rotate guys in and not miss a beat. With the addition of Hargreaves, the Gators are in that same position in 2013.
Speaking of LSU—Quantavius Leslie can thank LSU offensive coordinator Cam Cameron for being so high on this list.
Leslie, a junior college transfer, is a 6'4" receiver who averaged 21.5 yards per catch at Hinds Community College in 2012. An impressive stat, no doubt, but this is where the big boys play. Can Leslie keep up a similar production?
The reason Leslie will have an opportunity to contribute right away is LSU's lack of size at wide receiver and Cameron's offensive transformation.
The Tigers are expected to open up the passing attack next season, and that should give Leslie an opportunity to prove his worth.
The No. 1 recruit in the nation could see Ole Miss transform from pretender to contender in 2013.
Look, the Rebels have talent. Donte Moncrief, Bo Wallace, Jeff Scott and newcomers Laquon Treadwell and Laremy Tunsil are extremely gifted on the offensive side of the ball.
On the defensive side, well, the Rebels are not as talented but there are some bright spots. C.J. Johnson and Denzel Nkemdiche were those bright spots in 2012 and Denzel's brother, Robert, could be another in 2013.
Robert was the most highly sought after player in the 2013 signing class. His great snap anticipation and toughness against the run will make him one of the best defensive ends in the SEC. Will he produce enough to make Ole Miss a Cinderella story in 2013? Time will tell.
Tennessee is an afterthought in the SEC East right now.
No Tyler Bray. No Justin Hunter. No Cordarrelle Patterson. No worries from SEC East foes.
Despite losing that offensive explosion, the Volunteers could surprisingly contend in the division because of one word—system. Butch Jones is an incredibly successful offensive coach, as he led Cincinnati to scoring 32.3 points per game with his spread offense last season.
That system, a system which is having tremendous success in college football, should help Tennessee, much like the system helped Texas A&M and Ole Miss last season. With a strong returning offensive line and two talented running backs to work with, Jones could shock the SEC in 2013.
As a freshman, Tray Matthews might have to carry this Georgia defense.
No pressure, young fella. If you scour the Internet in hopes of learning about Matthews, you'll find that just about everyone who's seen this young safety play is impressed.
He has size, he has range, he reads the ball well, he has great instincts and athleticism, and he takes direct angles. In other words, he's going to show out this fall for the Bulldogs.
And that's a good thing, too, seeing as though Georgia lost seven players to the 2013 NFL draft. Matthews has to shine bright early and become a leader on this depleted defense. He'll do just that.
"Finally!" Auburn fans shout in abundance. Yes, finally. Auburn fans have complained about the lack of attention the Tigers are receiving this preseason.
Don't worry Auburn fans—Gus Malzahn will have the greatest impact of all of the newcomers in the conference.
Last year's Auburn team had the makeup of a Malzahn offense without, well, Malzahn's offense. Without Malzahn and his system, that offense averaged 305 yards per game, the worst in the SEC. It's time to revert back to the offense that won Auburn a national championship in 2010.
Malzahn is the guy to shake things up in the SEC. He's new enough to recharge fans with excitement and hope, while his system should be familiar enough among the players to evoke a sense of comfort. His system mixed with the athleticism on this team should see Auburn pull off a few upsets in 2013.