The Los Angeles Clippers were not very active on draft night, yet the future of the franchise became clearer. The front office made no trades, did not attempt to acquire any more draft picks and simply stuck to its plan to add shooting and defense to the present roster.
With the addition of Doc Rivers, the Clippers finally have an identity on the court—Chris Paul and Blake Griffin—and on the sidelines. Furthermore, Rivers' system has proven to be an effective one. A system where the Clippers front office can target specific players needed on both sides of the ball.
Selecting Reggie Bullock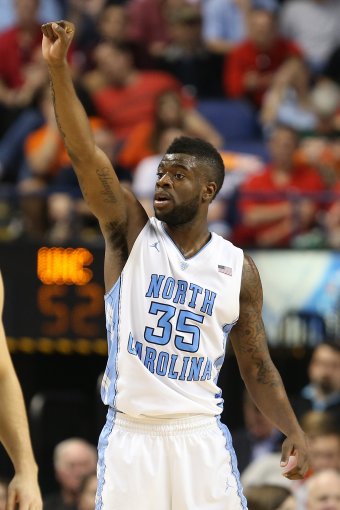 Streeter Lecka/Getty Images
With the 25th pick in the draft, the Clippers found the perfect player for Rivers' system and someone that fills an immediate need, Reggie Bullock. Rivers described the type of player they were targeting at 25 to Arash Markazi of ESPN LA.
We had targeted him and he was one of the guys we wanted. We felt like we needed more shooting and he does that. I love the fact that he's a big program guy. He's a guy that understands his role. That's what he did at North Carolina.
The team has desperately lacked wing defenders—especially those who can shoot. Bullock's specialty is his three-point shooting.
As a junior at North Carolina, Bullock shot 44 percent from three, knocking down 88 shots. The previous season, Bullock hit 71 threes at a 38 percent clip.
At 6'7", the sharpshooting wing will be able to play both shooting guard and small forward. Assuming Bullock picks up Rivers' defensive system; he has the opportunity to play an immediate role in the rotation as a rookie.
After selecting Bullock, Rivers commented on why the team chose to select the former Tar Heel.
I've been to two of his games live, which is unusual for an NBA coach to say that, Rivers said. He has size and can play the small forward position and can shoot it on the catch and can defend. Those are all the things we targeted and we got it.
Final Grade: B+
Not Trading Eric Bledsoe
Prior to the draft, Marc Spears of Yahoo! Sports mentioned that the Clippers were not going to deal Eric Bledsoe on draft night.
Clippers aren't expected to trade Eric Bledsoe tonight despite interest from the Raptors, Pistons, Pelicans, Magic and Mavs, sources tell Y!

— Marc J. Spears (@SpearsNBAYahoo) June 27, 2013
This was probably the correct decision, especially considering the success Avery Bradley had while playing shooting guard in Rivers' system for the Boston Celtics. Bledsoe could play a similar role, but Rivers at least needs time to sit down and watch tape on Bledsoe before making a decision to trade him or not.
Additionally, the Clippers did not seem to have much interest in acquiring a pick in this draft in return for Bledsoe. The main rumor, according to Ramona Shelburne and Marc Stein of ESPN, has the Clippers sending Bledsoe to the Orlando Magic for Aaron Afflalo and other pieces.
Sources told ESPN.com on Tuesday that a trade with those two players as the principals could happen as soon as this week and potentially could be expanded to include Magic forward Andrew Nicholson and a future first-round pick as compensation for the highly coveted Bledsoe.
The Clippers will have plenty of time between now and the beginning of free agency to make a decision on Bledsoe. They also could decide to hold onto Bledsoe and deal him at the trade deadline or see what offers he receives in restricted free agency next summer.
Unfortunately, some of the teams rumored to have interest in Bledsoe, such as the Utah Jazz and New Orleans Pelicans, acquired point guards. Utah traded for Michigan's star point guard, Trey Burke. Meanwhile, the Pelicans dealt Nerlens Noel and a 2014 first-round pick for Jrue Holiday.
Final Grade: B
Not Acquiring Additional Draft Picks
Finally, the Clippers decided not to acquire any additional draft picks, despite reports from Brad Turner stating they may have been interested in doing such.
With NBA draft so unpredictable, Clippers may try to get 2nd round pick to find another solid player

— Brad Turner (@BA_Turner) June 28, 2013
Considering the talent level on the board, the price may have been too high in order for the Clippers to acquire another pick. Also, any player the Clippers may have drafted would be in a battle, not only for a spot in the rotation but for a spot on the roster.
The team clearly needs to add a few additional pieces in addition to re-signing some of its free agents. Lamar Odom, Chauncey Billups and Matt Barnes are logical choices for the team to attempt to re-sign on cheap contracts and the team has the mid-level exception to use.
That means another rookie being drafted would likely ride the pine all season while spending time in the Development League. The team may have viewed its remaining roster spots as too valuable to use on a developmental player.
Final Grade: B-