The Best and Worst Picks from the 2013 NBA Draft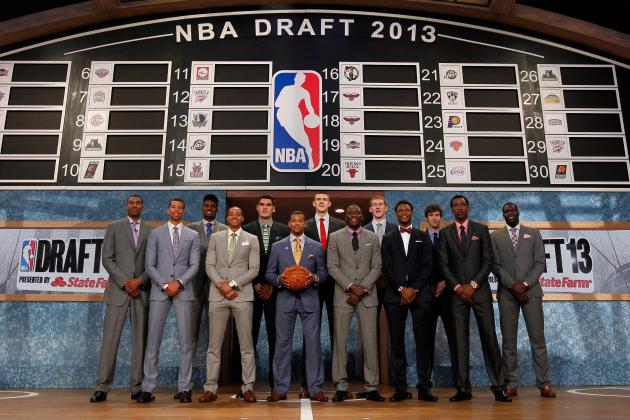 Mike Stobe/Getty Images

What an amazing 2013 NBA draft.
There was the drama and unpredictability of the first pick being unknown heading into Thursday night. There was action. There was masterful trolling by NBA commissioner David Stern in his final draft, a great crowd that played along and a touch of nostalgia at the end of the first round when Hakeem Olajuwon showed up in his draft day tux.
Honestly, what more could you ask for?
Well, how about a look at the best and worst picks of the night?
To the list to review.
Begin Slideshow

»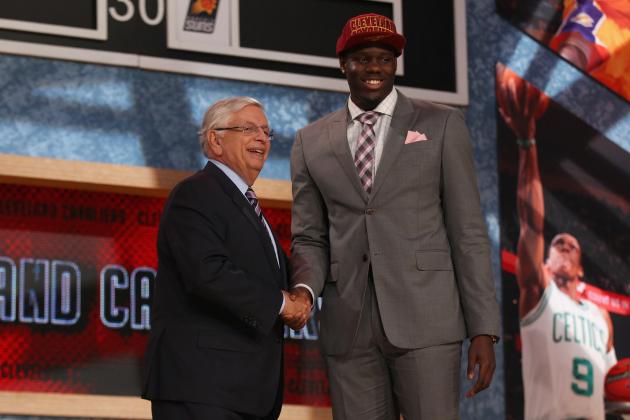 Mike Stobe/Getty Images

The reasoning behind this pick is sound enough. The Cleveland Cavaliers feel Anthony Bennett was the best talent in the draft, and I'm not usually one to quibble with the "best player available" strategy.
Still, when a desperate need is so blatantly ignored, it's hard not to raise an eyebrow.
The bottom line is that the Cavs needed help defensively. This is a team that ranked 27th in defensive efficiency last season, 29th in blocked shots and 25th in defensive rebounding percentage. They needed help up front to account for the lackluster defense of core players like Kyrie Irving, Dion Waiters and Tristan Thompson.
However, that's not what Bennett does. His athleticism and range make him a promising stretch 4, but he is a player who was completely lost off the ball defensively in college, as he looked confused and lazy on that end an awful lot.
Bennett is not a plus defender right now by any stretch of the imagination, and barring any huge development, he may never be.
If Cleveland's front office thinks that it can get away with Bennett and Thompson manning the back line of a playoff-caliber team, it is mistaken. Defense translates into playoff success, and Cleveland whiffed on its chance to make huge strides in that area.
Yes, "reaching" shouldn't matter all that much, and Bennett could absolutely be great, but it's doubtful he'll be great in the ways that Cleveland will need most.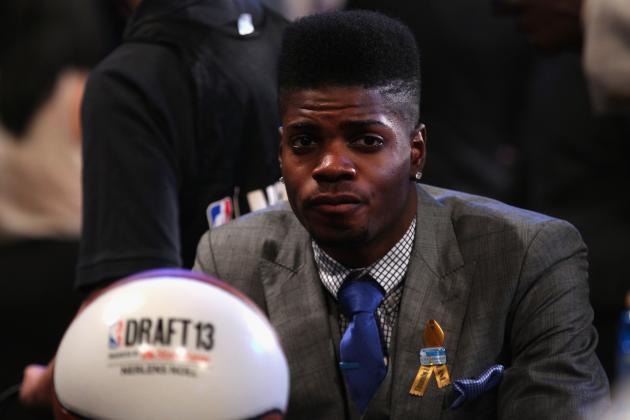 Mike Stobe/Getty Images

Here's what the Philadelphia 76ers did on draft night.
They got great value in Nerlens Noel to fill a huge position of need, they slimmed down their salary by moving Jrue Holiday, they picked up a "lightly protected" first-round pick in a loaded 2014 draft from a current NBA lottery team and they ended up keeping their other pick in the lottery to use on an exciting, cheaper replacement point guard.
Not bad.
New GM Sam Hinkie is already executing the Houston Rockets' model pretty well, and Noel is the biggest prize from the surprising trade. Potential defensive anchors don't come around that often, and Philadelphia's ability to exercise patience while they rebuild will be rewarded down the line by Noel's production.
Great value, great fit, great pick.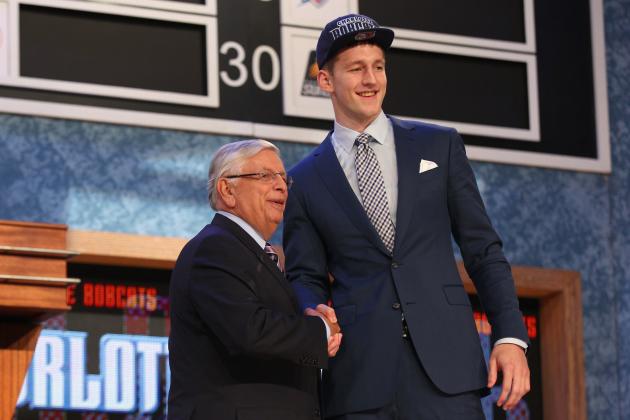 Mike Stobe/Getty Images

It's hard to trust the process of the Charlotte Bobcats.
Who is really calling the shots in Charlotte? How broad is their scope when evaluating players, and why did they fire a first-year coach when he had a roster that had no shot at being anything but awful?
Due to a series of bad decisions in the past, the Bobcats need to address everything from the top down. After missing out on Anthony Davis last year, the franchise had another shot at drafting a game-changing defensive player in Nerlens Noel, or perhaps better yet, a possible opportunity to trade down in the draft to acquire more assets and talent.
Instead, they went with Tyler Zeller.
It's not that Zeller isn't a promising prospect. It's just that he was a traditional post player at Indiana who drew a ton of fouls and scored with his back to the basket. That was his game.
Isn't it a little scary when a player's biggest source of production doesn't translate well to the next level?
Zeller is being projected as a 4 who will play more of a pick-and-pop game. With better rebounders and defenders in Noel and Alex Len available, he'll need to become a really good shooter to justify this pick.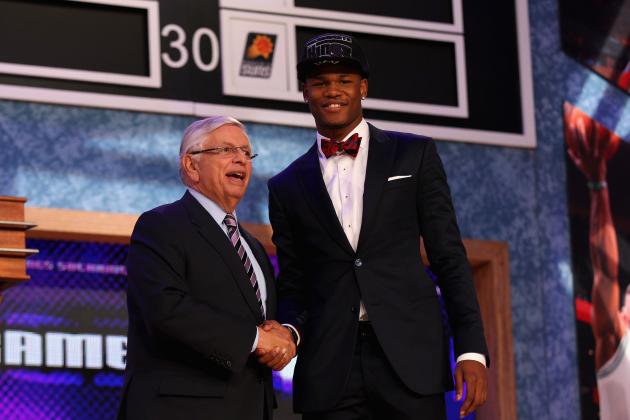 Mike Stobe/Getty Images

The Sacramento Kings were the team to stop Ben McLemore's little slide down the draft board, and they were wise to do so.
With Tyreke Evans being a restricted free agent this offseason, the Kings might have been forced to match even the most ridiculous offer from another team. That's no longer the case.
McLemore provides the Kings with a lot of options from a roster standpoint, and he forms a very good backcourt with point guard Isaiah Thomas right off the bat. McLemore will space the floor, play in transition and add the athletic wing defender the Kings' 29th-ranked defense so badly needs.
McLemore's passiveness may have had a lot to do with his fall, but on a Kings' roster that sometimes has trouble sharing the ball, that might be more of a refreshing trait than a negative one. This was a good pick that could easily turn into a great one over time.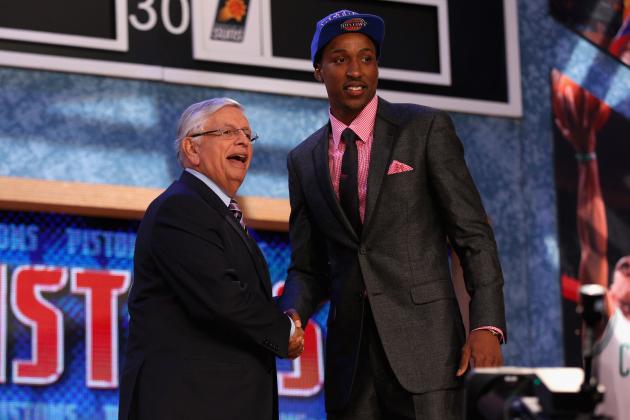 Mike Stobe/Getty Images

The Detroit Pistons may have made the most baffling pick of the night.
Brandon Knight, who averaged four assists and 2.7 turnovers for the Pistons last season, is not a point guard. Rodney Stuckey, as Detroit has to know by now, is also not a point guard.
Jose Calderon is a point guard, but he's also an unrestricted free agent who probably wants to play for a contender, or at least be somewhere other than Detroit.
So what's that mean? Detroit has no point guards now or for the future. Trey Burke, probably the best pure point guard in the draft and a Michigan hero, was there for the taking.
Instead, the Pistons went with Kentavious Caldwell-Pope, who is another high-usage shooting guard (albeit an effective one) who can't create for others.
The Pistons' front office had a chance to give Greg Monroe and Andre Drummond a player who could set them up and make their lives easier. They chose to pass, which is something their backcourt will be doing very little of this year.
Consequently, the Pistons, who should be rebuilding, will likely instead have to resort to overpaying a free agent yet again to fill a gaping hole.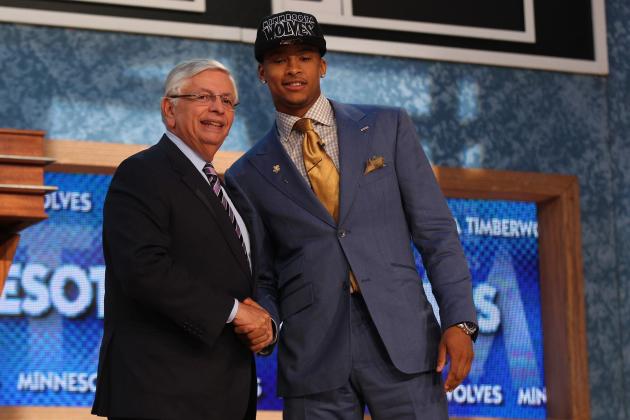 Mike Stobe/Getty Images

Now here's a team that knew what it wanted.
The Utah Jazz coveted a point guard to add to their promising young core. When they saw Trey Burke fall, they pounced.
Easy as that.
What makes things even better for the Jazz is that they only had to give up the 21st pick to move up and take their highest rated point guard on the board. No future picks or current players were forfeited. That's a cheap price to pay to get exactly who you want at the position you need the most.
Unlike Detroit the pick before, Utah recognized Burke's ability as a pick-and-roll player who can help develop big men with a steady diet of pretty passes. Derrick Favors and Enes Kanter should be thrilled, and so should Burke. If you had to handicap the race for 2013-14 NBA Rookie of the Year today, he might be the consensus front-runner.
That's not a bad haul for a team that started the day out with the 14th and 21st picks, right?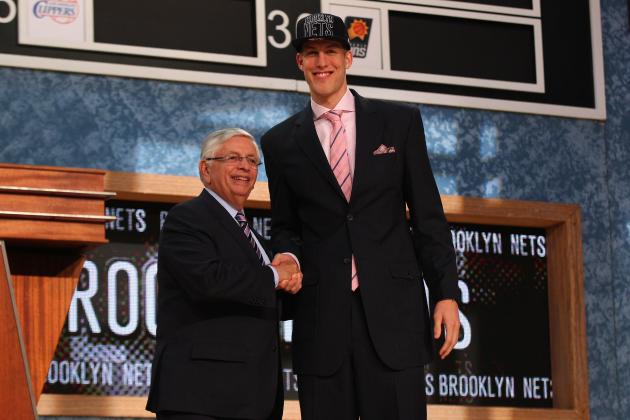 Mike Stobe/Getty Images

The Brooklyn Nets improved their title chances by swinging a huge deal for Boston's Kevin Garnett and Paul Pierce, according to David Aldridge of NBA.com.
The Nets are as all-in as all-in gets.
Here's my question, though: If the Nets knew that the trade was close to completion, why on earth would they waste a draft pick on Mason Plumlee, a guy who projects to be their third-string center?
When you consider that almost every member of the Nets loves to post up offensively and that Brook Lopez and Garnett are more than capable of handling the center spot, it makes the decision to go with a big guy who can't stretch the floor like Plumlee even more confusing.
Brooklyn will struggle next season defensively with quicker wings, floor spacing and with getting penetration offensively. If they wanted an NBA-ready player, why not take Tim Hardaway Jr. or Reggie Bullock? Both could play more important roles as backup wings and provide some much-needed athleticism and life to an old roster.
The Nets also could have gone the other way and went with a high-potential player like Archie Goodwin or Ricky Ledo. Since the Celtics now have three of Brooklyn's future first-round picks, the chances to nab a high-potential young star aren't going to come around very often anymore for the Nets.
Instead, the Nets went with a warm body who can keep the bench warm at a position where those types of players are in high supply. I don't get this one.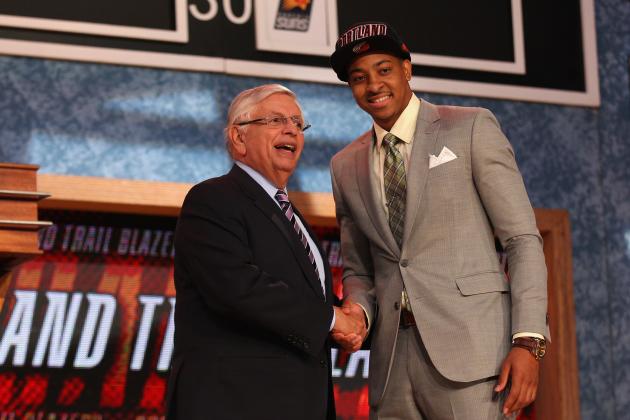 Mike Stobe/Getty Images

The Portland Trail Blazers had one of the worst benches in NBA history last season, and that's not hyperbole.
They couldn't score to save their lives, and poor head coach Terry Stotts had to run his starters into the ground because of it.
So what did Portland do with the 10th overall pick? Get a guy who might be the best pure scorer in the entire draft.
C.J. McCollum's ability to create open looks for himself is exactly what Portland needed, and whether he's starting next to Damian Lillard as an off-ball scorer and rebounder or leading the way as a sixth man, McCollum fits much better in Portland than you might think at first glance.
The Blazers struck gold with a small-school star in Lillard last year, and they might have done it again this year with McCollum.