With just two rounds in the NBA draft there's bound to be some deserving players that don't get drafted.
Out of the vast talent pool that the college and international games provide, only 60 players have the opportunity to get drafted while others must find different ways to work their way into the league. While NBA teams certainly put in their due diligence to make the best decisions possible, a player's career isn't over just because he didn't get drafted.
Just ask players like Ben Wallace, Jeremy Lin and Bruce Bowen. All three players found ways to carve out nice careers for themselves in the NBA after feeling the sting of going undrafted.
So who is the most likely to make NBA GMs regret not picking them up in the draft? These three players are likely candidates.
Christian Watford, Indiana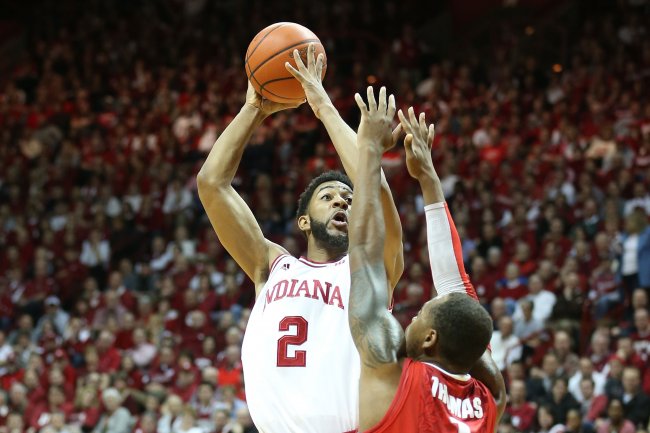 Andy Lyons/Getty Images
Teams tend to value two things in the second round of the draft: upside and niche players.
In the second round of the 2013 draft, teams missed out on one of the most intriguing niche players in the draft. Christian Watford wasn't a star at Indiana—No. 2 pick Victor Oladipo and No. 4 pick Cody Zeller took up much of the limelight—but Watford shined as a valuable role player.
Watford should find his way on to an NBA roster thanks to his incredible three-point shooting and work ethic. The 6'9" forward shot 48 percent from beyond the arc for the Hoosiers while collecting 6.3 rebounds per game.
The most impressive aspect of his three-point shooting? He had to work for it, as Indiana coach Tom Crean tweeted, Watford was not the best shooter when he came to Indiana.
Christian Watford shot 32% from 3 as a freshman and 48% from 3 as a senior. Our guys get better day by day so that it shows up year by year.

— Tom Crean (@TomCrean) May 6, 2013
Concerns exist about Watford's athleticism, but many an NBA sniper has overcome a lack of athleticism to make a roster and contribute.
C.J. Leslie, N.C. State
The fact that C.J. Leslie went undrafted is a head-scratcher.
The 6'9", 200-pound forward displayed versatility at North Carolina State. Playing at both forward positions, Leslie led a talented Wolfpack team in scoring and blocks with 15.1 points and 1.2 blocks per game. After leading N.C. State to a 24-11 season, Leslie left the team as a junior. Experts like Adrian Wojnarowski of Yahoo! Sports expected him to be a late-first- or early-second-round selection.
After two workouts, N.C. State forward CJ Leslie shut it down w/ teams. He's expected to be selected in 30's. One of draft's top athletes.

— Adrian Wojnarowski (@WojYahooNBA) June 27, 2013
As the NBA tweeted out, Leslie showed that he was one of the draft's best pure athletes at the combine.
6'8" SF C.J. Leslie ran the fastest agility (10.19s) & 2nd-best sprint (3.10s) of all #NBACombine participants pic.twitter.com/Ce7Bp5gwGF

— NBA.com/Stats (@nbastats) May 17, 2013
However, none of that would matter as Leslie slipped right out of the draft. Now he must work to show teams that he's capable of playing in the NBA.
Myck Kabongo, Texas
Usually if you forego the draft after your sophomore season, you're fairly certain you're going to get drafted. Not so for Myck Kabongo.
Kabongo's career at Texas was not pretty by any means. As a freshman, he played a large role on the Longhorns 20-14 team that was eliminated in the first round of the NCAA tournament as he averaged 9.6 points and 5.2 assists.
Despite some indication that he might leave after his freshman year, Kabongo decided to stay. He was soon suspended for 23 games of his sophomore season for receiving impermissible benefits, per Yahoo! Sports. In limited action, he upped his scoring to 14.6 points per game and continued to work well as a distributor at 5.5 assists per game.
Despite the struggles, NBA draft experts like Alex Kennedy of Hoopsworld felt that Kabongo would at least be drafted.
I'm still surprised that Myck Kabongo went undrafted. He has so much talent. In a few years, we might look back on that and laugh.

— Alex Kennedy (@AlexKennedyNBA) June 28, 2013
With Kabongo slipping through the cracks, the importance of proving your stock on the court has been underscored even further.