The Biggest Steals from the 2013 NBA Draft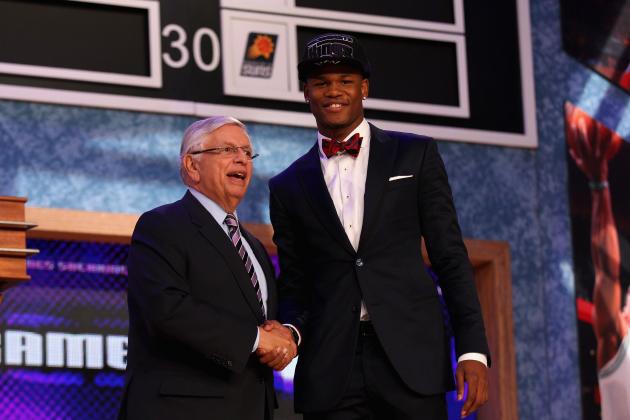 Mike Stobe/Getty Images

The 2013 NBA draft was controlled chaos. Players' values rose and fell all night, and countless basketball scribes struggled to keep pace with the annual flurry of draft-day moves.
The Cleveland Cavaliers sent a ripple through the hoops world by snagging UNLV freshman Anthony Bennett with the No. 1 pick, but that was nothing compared to the shockwave brewing in the Northeast.
The Boston Celtics sent Kevin Garnett, Paul Pierce and Jason Terry to the Brooklyn Nets for Gerald Wallace, Kris Joseph, Kris Humphries' expiring contract and three future fist-round picks (2014, 2016, 2018).
But often times the loudest talk on draft day loses some volume while the night's whispers raise their decibel levels over the long haul. While based in months, years even, of statistical breakdowns, film studies, prying interviews and on-court workouts, these were still nothing more than 60 educated guesses.
Some teams guessed wrong. That's an inevitability whenever this inexact science is put on full display. Other teams couldn't have been more right with their moves, even if they might not realize it yet.
Draft recaps love to pinpoint which teams missed badly and just how far from their mark they really were. But what about the teams that peppered the bull's eye? What about the ones that found value on a night that, by its essence, oversells the impact of a collection of unproven talent?
Begin Slideshow

»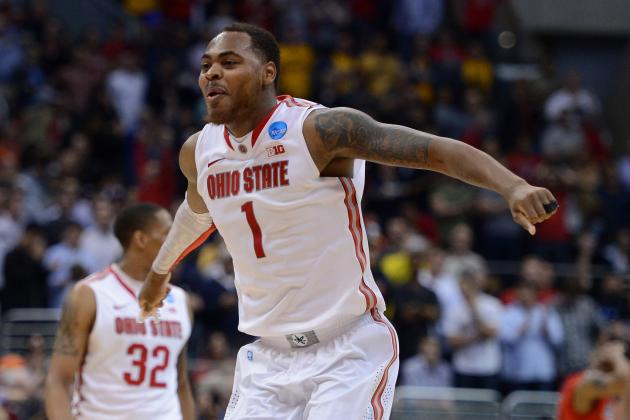 Harry How/Getty Images

Siding with the San Antonio Spurs' scouting staff on draft night is never a bad idea.
But there's more to like about the potential of the No. 58 pick, Ohio State's Deshaun Thomas, than just his future employer.
Rookies don't get to choose where they'll end up, which is an unfortunate reality since so much of their ability to carve out a successful career depends on the opportunity for playing time and a fit with the right system.
Thomas has to be feel good about his chances of finding both in the Alamo City.
San Antonio doesn't have a natural backup for rising star Kawhi Leonard on the wing. The Spurs' frontcourt could quickly be clearing out with Tiago Splitter and DeJuan Blair both slated to hit the free-agent market. Tim Duncan is 37 years old, and his minutes are sure to only decrease.
Thomas doesn't have the ideal athleticism for an NBA wing. His 6'7", 215-pound frame screams he's not built for life in the post, either.
Some call him a tweener, but San Antonio will find a way to utilize his versatility. The league continues to downsize, so his size isn't the issue it once was. The Spurs' team defense can mask his shortcomings on that end, and they'll maximize his size advantage against smaller defenders on the other end.
He can score from anywhere on the floor (19.8 points per game as a junior), and he landed in a great situation with San Antonio.
The Los Angeles Lakers might be the offseason's biggest losers if Dwight Howard leaves the bright lights of Hollywood, but that story's yet to written.
One chapter that Lakers Nation should be excited to start is former Duke star Ryan Kelly's career with the Purple and Gold.
His college stats were underwhelming (12.9 points per game as a senior), but that helps to explain why he was still on the board in the second half of the second round. He's the player Mike D'Antoni was searching for last season, a 6'11" stretch forward who shredded nets last year with a 42.2 percent three-point success rate.
He was already an instinctive player before his education under Mike Krzyzewski ever got started. Spot-up shooting is his biggest asset, but he can put the ball on the floor and create for himself or his teammates.
He fits the criteria of a second-round steal, thanks to an NBA-ready weapon in his arsenal. Kelly has the ability to create space to get off his shot, and he also has a turn-around jumper from mid-range.
He doesn't have All-Star potential and will probably never crack a starting lineup, but a prolonged NBA career is a far more realistic prospect than most No. 48 picks typically enjoy.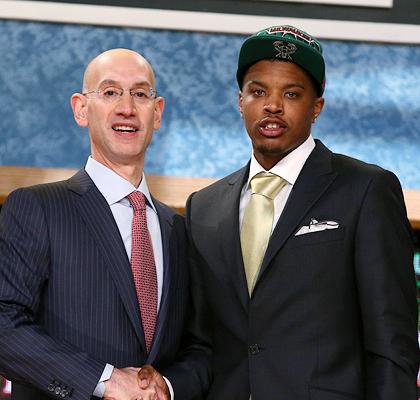 Nathaniel S. Butler/Getty Images
The Dallas Mavericks were one of the most active teams on draft night, and no prospect moved more than Ricky Ledo. It was a match made in basketball heaven, even if it took three trades to make this pairing a reality (Milwaukee Bucks to Philadelphia 76ers to Atlanta Hawks to Dallas Mavericks).
If Ledo played one game of college hoops at Providence, he could've come off the board in the first round. If he played a full season, he may have found himself in the lottery.
But academic issues restricted his college hoops experience to the Friars' practice floor, leaving the former McDonald's All-American on the draft board at the No. 43 pick. The 6'6" scorer is a combo guard in the most flattering sense of the phrase, capable of causing havoc at either guard position on either end of the floor.
He has the handles to create his own shot out of isolation sets and the basketball IQ to make his presence felt in a more controlled offensive system. He'll already have a size advantage in certain matchups, and he has a high release he can get off against bigger defenders.
With his quickness and athleticism, he has scary potential as a finisher and a defensive stopper. Academics won't be keeping Ledo off the floor any longer, and frankly I'm not sure anything will.
Joe Camporeale-USA TODAY Sports

Remember the pre-draft chatter that said Michigan standout and consensus National Player of the Year Trey Burke had a chance to be the No. 1 pick?
That was early in the draft process when the basketball world was still buzzing over the dynamic point man's ability to will his Wolverines to the NCAA title game.
But once he and his classmates entered the meat-market phase of the process, his stock started sliding. The 6'0" Burke didn't show as well in physical measurements as he did in his jaw-dropping highlight reel.
Some of the game's greatest players are world-class athletes, but not all world-class athletes are great (or even good) basketball players. If Burke is nothing else, he's simply a basketball player.
Just look at the words NBADraft.net's Aran Smith used in his scouting report on the Michigan product: "tremendous heart, determination, natural-born killer, fearless warrior, clutch performer who relishes the opportunity to take the club on his back and carry them to victory."
So while other executives invested their futures on superior athletes who couldn't match Burke's resume, Utah Jazz general manager Dennis Lindsey wasn't going to make the same mistake.
"Trey was one of the few guys we targeted that if he did slip we would start making calls and aggressively move up," Lindsey told the Associated Press. "We thought enough of Trey that we traded two first-round picks for him."
If you forget about his physical profile and focus solely on his body of work, it's not hard to see why Utah made the bold move that it did. Burke could outshine the two players combined that the Jazz parted with to bring him in (UCLA's Shabazz Muhammad and Louisville's Gorgui Dieng) and possibly all of the eight players selected before him.
The Sacramento Kings entered Thursday night's draft with three immediate needs.
They needed a perimeter scorer capable of drawing attention away from DeMarcus Cousins, a versatile playmaker to replace Tyreke Evans in case the free-agent guard bolts this summer, and a superstar talent in a class that wasn't supposed to have one.
Incredibly, they managed to do all three with a single selection, the seventh one that commissioner David Stern announced, no less.
He's up for any task on the basketball court. He has in-the-gym range, handles to create to separation, freakish athleticism that shows up on both ends of the floor and an instinctive feel for the game.
McLemore was viewed by many as having the highest ceiling of the entire class, but he saw his draft stock decrease thanks to some poor showings on the workout circuit. To downgrade his ranking due to the final weeks of the draft process meant you had to ignore his undeniably impressive game film.
Scouts have questioned his assertiveness, but he's walking into a locker room in desperate need of a leader. His situation is shaped for All-Star success, maybe something even better than that.
This wasn't petty theft; this was grand larceny.