NBA Draft 2013: Ranking the Best and Worst Picks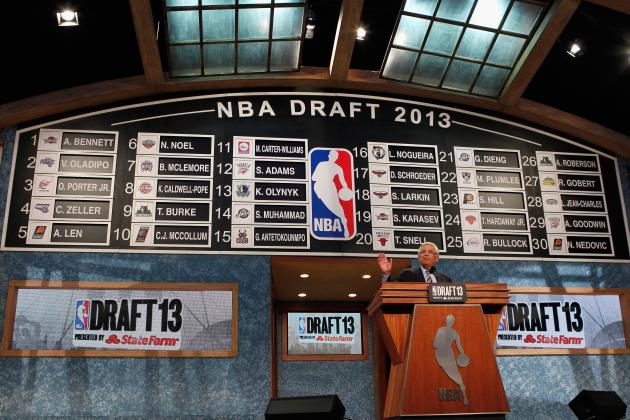 Mike Stobe/Getty Images
What a draft it was.
Ranking the best and worst picks in the 2013 NBA draft is more difficult than in past years since most teams seem to be getting (gasp) smarter about who they're choosing and when they're doing it.
To be honest, there weren't a huge amount of head-scratchers this year. There were certainly some, but most teams made sound and reasonable decisions.
With that being said, some choices were certainly better than others. We'll start with a few of the best since those outweighed the poorer selections this year.
Begin Slideshow

»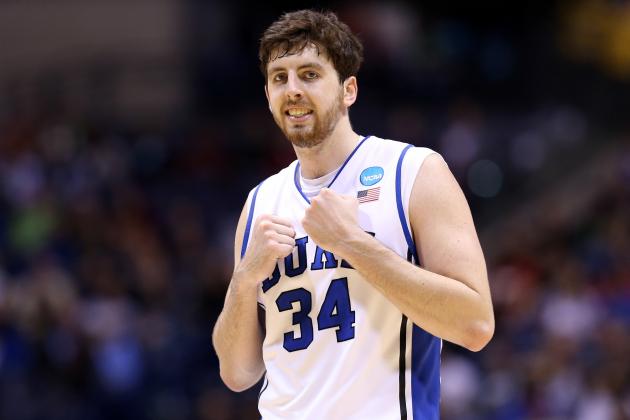 Streeter Lecka/Getty Images
Kelly could be a solid stretch 4 for the Lakers.
Snagging Duke's Ryan Kelly with the 48th pick in the draft was a surprisingly good find for a pretty shallow Los Angles Lakers team.
There are some real concerns surrounding Kelly—he's not particularly athletic or strong, and he's almost certain to be a defensive liability at the next level.
However, Mike D'Antoni's system essentially requires a power forward who can stretch the floor with his shooting, and Kelly has the size (6'11") and shooting touch (42.2 percent from three last season) to do that.
D'Antoni didn't have a true deadeye shooter at the 4 last season, and there's no doubt that Kelly can light it up from outside. He may never be a legitimate rotation player for the Lakers, but he's more than worth a shot with such a late pick.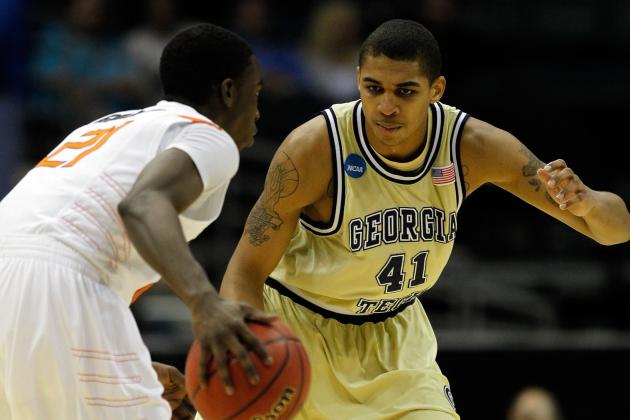 Jonathan Daniel/Getty Images
Rice spent time at Georgia Tech before moving to the D-League.
The Washington Wizards made a smart pick by taking Otto Porter Jr. at No. 3, and they kept it going by trading up for Glen Rice Jr. in the second round.
Rice spent last season in the NBA D-League, but that in no way means he's not NBA-ready. Rice isn't an outstanding shot-creator, but he can knock down threes (38.5 percent last season). That could make him a dangerous weapon coming off the Wizards bench.
Rice isn't a great defender, but he's a good enough athlete to be one in the future. He's able to hit from outside, score on straight-line drives and succeed with or without the ball.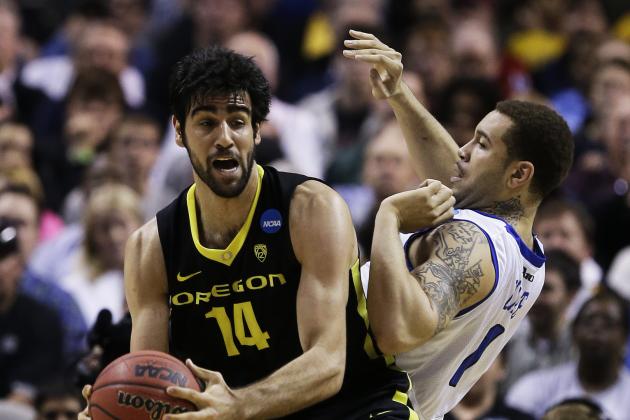 Ezra Shaw/Getty Images
Kazemi's outstanding rebounding should translate well.
Arsalan Kazemi can rebound. That's pretty much it. He's just so good at it that he validates being picked.
Kazemi led the nation in defensive rebounding percentage last season and finished sixth overall in total rebounding percentage. Kazemi's offensive game is limited, and he doesn't have the potential that a lot of other players taken in the second round do.
But rebounding is one of the most translatable skills from college to the NBA, which means that Kazemi may still find himself in the Sixers rotation someday. This is a guy who prompted Nebraska head coach Tim Miles to say (per Grantland's Brett Koremenos):
"You have to keep an eye on him in so many facets in terms of the way he rebounds the ball. It's not just an athleticism thing, it's more of an intuitive thing. He plays on mistakes. You lean left, he goes right and it's over, he's got the ball."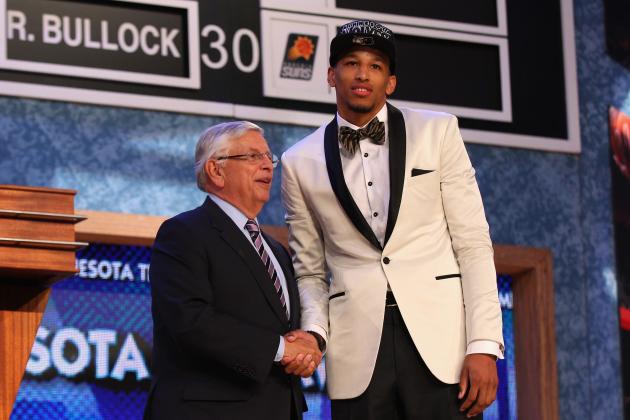 Mike Stobe/Getty Images
Roberson could end up being a rotation player for the Thunder.
Andre Roberson may never make it into the Oklahoma City Thunder's rotation, but they made a great call trading up for him.
Roberson's offensive game is very limited—he's really only dangerous right at the basket—but he's athletic, and he can defend and rebound. Oklahoma City ranked in the bottom half of the league in defensive rebound percentage last season.
Roberson pulled down 13.3 rebounds per 40 minutes last season, and that kind of ability could be extremely valuable on an OKC team that rebounds by committee.
Roberson is a tweener, and he'll probably be playing in the D-League next season. But he's got loads of potential and could make an impact on an already stacked Thunder roster.
Had he been taken too early, Ricky Ledo might have been on the other end of this list. Ledo's talent is unmistakable, but he was academically ineligible for Providence last season, which hurt his draft stock.
Ledo's jumper isn't all that polished, and like most young players, he's far from a finished product on the defensive end. But he's a mean ball-handler and one of the few guys picked later in the draft who has no problem creating shots for himself and others.
Ledo's a risky pick to trade for, but he's one who could pay huge dividends down the road for Dallas Mavericks.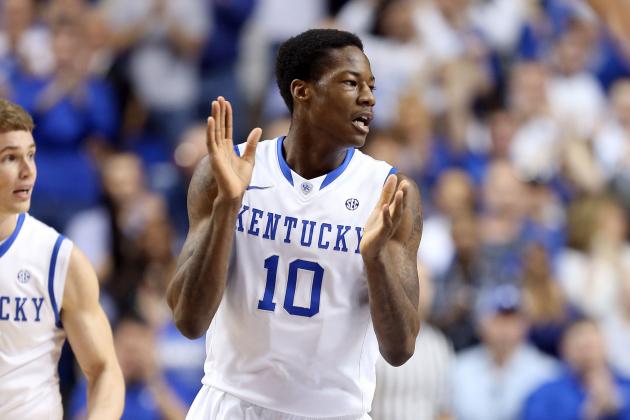 Andy Lyons/Getty Images
The Suns got a guard with huge potential.
Advanced analytics love Archie Goodwin.
Just check out this write-up from ESPN's Ryan Feldman. Goodwin compares favorably to Tyreke Evans and...wait for it...Russell Westbrook. Not bad company to be in.
Admittedly, what that basically says is that Goodwin is a good athlete with lockdown potential and a shaky jumper. But trading to take Goodwin at No. 29 in the draft could be a great move for a struggling franchise.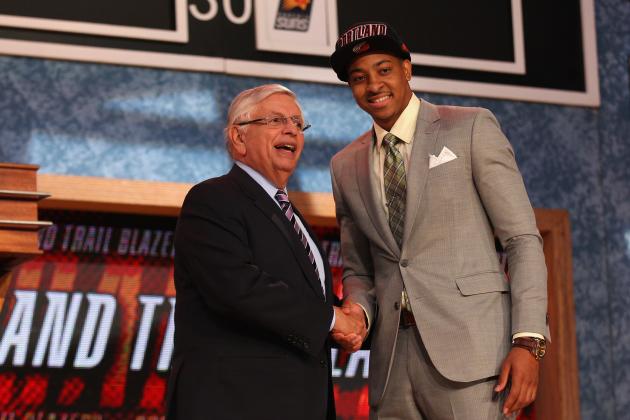 Mike Stobe/Getty Images
C.J. McCollum and Damian Lillard? Hmm...
C.J. McCollum should end up being a very good guard in this league—he can create for himself and for others and is lights-out off the ball as well. But he's a very similar player to Damian Lillard, who just happens to already be playing the point for the Portland Trail Blazers.
There's no question that McCollum was the best player on the board at that point, and he'll provide some much-needed depth for the Blazers. Still, it's unclear if he and Lillard will be able to play big minutes together—as it stands, they'll be in trouble defensively.
It should be very interesting to watch the McCollum-Lillard backcourt this year.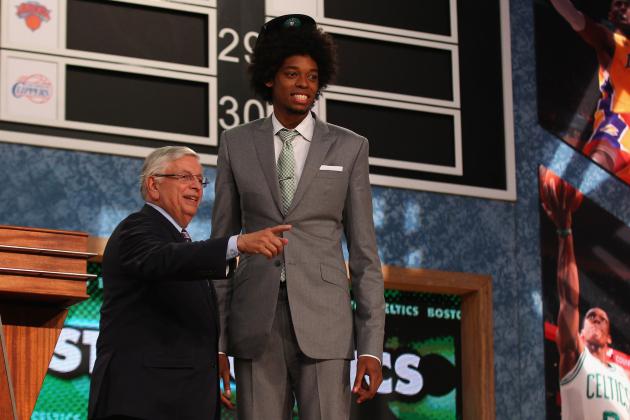 Mike Stobe/Getty Images
Nogueira also has great hair.
Lucas Nogueira is another project center, but he fills a potential hole for the Atlanta Hawks and provides some good value at No. 16.
There's a good chance the Hawks stash Nogueira overseas, so says Sports Illustrated's Rob Mahoney, which would be helpful in his development.
Nogueira has a long way to go on both sides of the ball, but he's a great athlete with top-notch shot-blocking and rebounding potential. Take a look at some of his recent highlights, and you'll see that he's raw but has big upside.
Most importantly, he's a legitimate center, meaning Al Horford could move to his more natural 4 spot when Nogueira joins the team.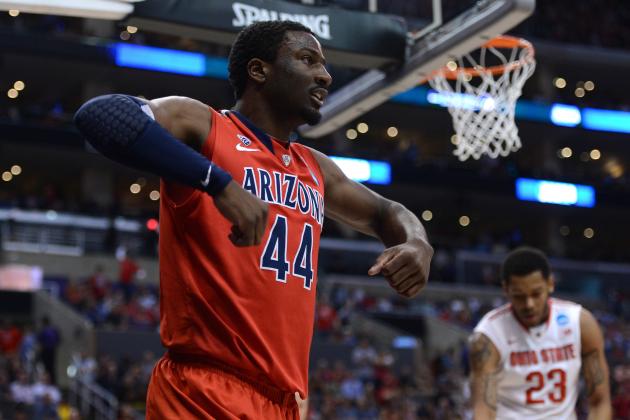 Harry How/Getty Images
Hill doesn't seem like a great fit for the Pacers.
The Indiana Pacers have proved over the past few years that they know how to draft out of the lottery, so maybe it's unfair to question this pick. Still, taking Solomon Hill at No. 23 is a reach.
Hill could be a solid player someday, but most mocks had him as a second-round pick, and he doesn't have the defensive prowess that the Pacers covet in most of their picks.
One great thing about Hill is that he hit 39 percent of his threes last year. That said, Reggie Bullock could have done much of the same and is a significantly better defender at this stage.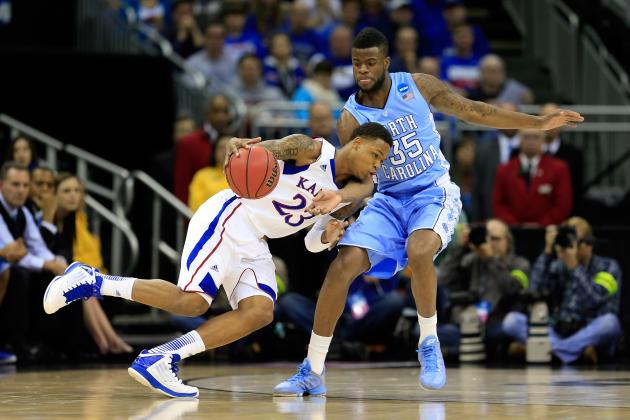 Jamie Squire/Getty Images
Bullock tops this year's crop of "Three and D" players.
Danny Green's excellent NBA Finals put the exclamation point on just how important "Three and D" wings have become in the NBA. And of all the players in this draft, North Carolina's Reggie Bullock is the guy who is most likely to thrive in that role.
Bullock isn't a great athlete, so he's unlikely to ever be a true lockdown wing defender. But he's more than capable of being strong defensively (just like Green), and he was one of the best shooters in college basketball last season.
Bullock hit 43.6 percent of his outside shots last season on a whopping 5.8 attempts per game. He ranked in the 91st percentile in Synergy catch-and-shoot rankings (per Grantland's Brett Koremenos).
Bullock will never be a star, but he projects to be a superb role player, which is all that a contender like the Los Angeles Clippers need.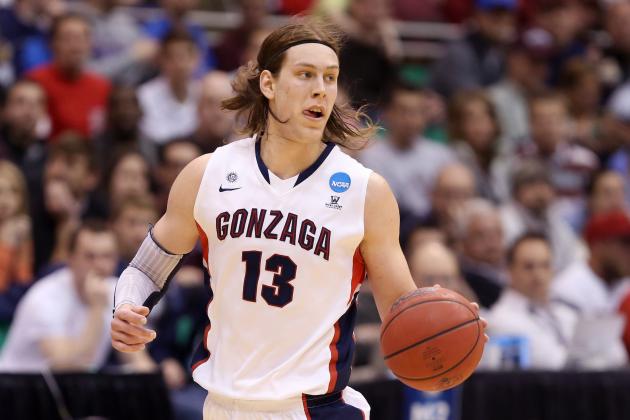 Streeter Lecka/Getty Images
Olynyk will be solid, but he's a poor pick if Boston's leveling its roster.
Kelly Olynyk isn't the problem. The Boston Celtics' basic strategy is.
If the Celtics' trade with the Brooklyn Nets goes through, then Boston will officially be in full-on rebuilding mode. That is what makes the team's selection of Olynyk so strange.
Why not try to hit a home run with this pick? Olynyk will be, at the very best, a solid stretch 4. There's nothing wrong with that, but a good role player seems like an odd pick for a team that clearly doesn't plan on competing anytime soon.
Why not roll the dice with a player like Giannis Antetokounmpo or Lucas Nogueira? Those are guys who could be real impact players someday. It may seem unfair to put this in the "worst pick" category, but Boston could have done much better.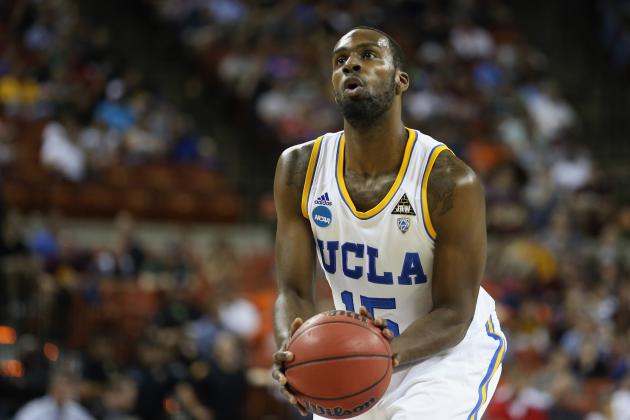 Ronald Martinez/Getty Images
Shabazz will look great next to Ricky Rubio.
Shabazz Muhammad has had a fall from grace over the past eight or nine months, but he's actually a surprisingly good fit for the Minnesota Timberwolves.
Muhammad can flat-out score, and he averaged 22 points per 40 minutes last season. It's not that Muhammad can score in buckets, but how he does it that should make Minnesota fans so excited.
Jonathan Givony of Draft Express wrote that Muhammad "gets most of his points leaking out in transition, moving off the ball, as a spot-up shooter, posting up relentlessly, crashing the offensive glass, and coming off short curls in the mid-range area."
Basically, Muhammad does most of his work off the ball, making him a perfect fit with Ricky Rubio, who needs to have the ball in his hands.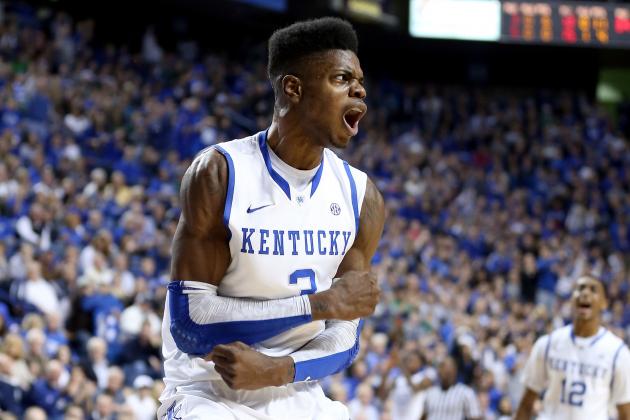 Andy Lyons/Getty Images
Noel could be an absolute steal.
Noel's recent ACL injury raises some questions, but he's expected to make a full recovery. If that's the case, then he's one of the few potential home runs in this draft.
Noel has plenty of room to grow offensively—his game on that end of the court is limited to mostly jump hooks and straight-line drives—but he's the best athlete in the draft and a potential Defensive Player of the Year candidate down the road.
Noel will have to bulk up a bit to hold his own in the paint, but he projects to be an elite shot-blocker/rim-protector in the mold of Larry Sanders.
Noel averaged 2.5 steals and 5.4 blocks per 40 minutes this season. The only other collegiate centers in history to average more than two steals and five blocks per 40 minutes were Hakeem Olajuwon and David Robinson (they each did it twice via CanisHoopus.com).
And now the bad: The Philadelphia 76ers had to give up Jrue Holiday, their 23-year-old All-Star point guard, in the trade to get him. But when you consider that they got Noel and a lightly protected pick (just No. 1 through No. 3) in a stacked 2014 draft, it was a good trade for the 76ers.
If the Noel knee injury hurts the 76ers the way that Andrew Bynum's did, then this could end up being a franchise-killer. But as it stands now, the 76ers did a great job positioning for the future.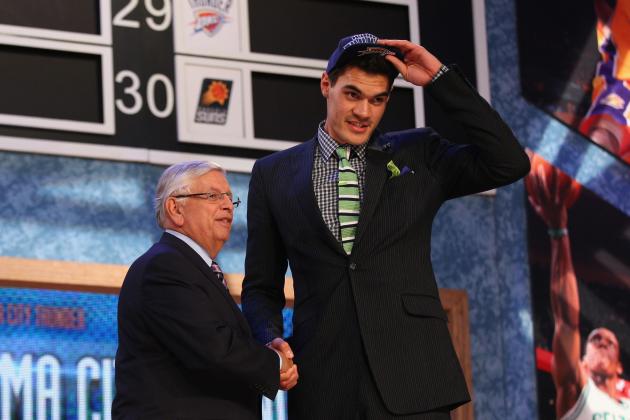 Mike Stobe/Getty Images
Adams is a long-term project on a team built to win now.
Steven Adams is this year's quintessential project center.
Check out his DraftExpress profile, and you'll see phrases like "excellent athleticism," "excellent potential" and "rare size," while also seeing things like "fairly raw," " offensively very limited" and "clearly a long-term project." He's a boom-or-bust pick.
And though he certainly fits a position of need for the Oklahoma City Thunder, considering how aggressive they were trying to move up for a legitimate impact player, it's hard not to be a little disappointed by what they ultimately came away with.
Adams could end up being a good player someday, but he's years away from actually contributing for OKC, which more than likely means a few more seasons of watching Kendrick Perkins do stuff like this.
Maybe Adams will end up being a smart pick, but it would have been nice to see OKC end up with an immediate contributor.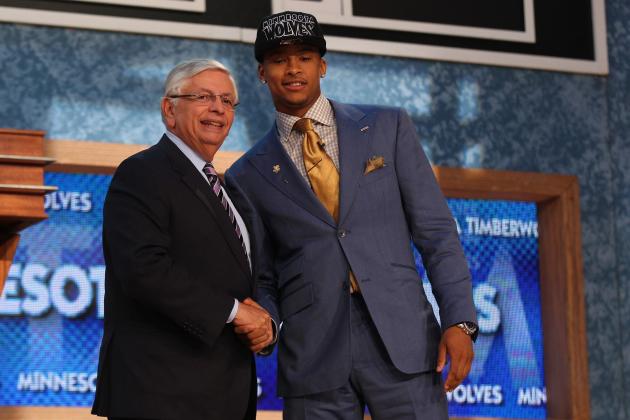 Mike Stobe/Getty Images
The Jazz walked away with the best point guard in the draft.
The Utah Jazz needed a point guard, and they got the best one in the draft. Now why isn't everything that simple?
Utah had to give up its No. 14 and No. 21 picks for Burke, but that's a fair price for someone of Burke's talents. He is an effective pick-and-roll player and a terrific jump shooter, making him a perfect fit with Utah's talented bigs.
There are definitely some questions about Burke's size—he stands just 6'1"—and whether he'll be able to play consistent defense and effectively finish at the rim. But his jumper and the bigs backing him up help negate those two problems, and if all goes right, he'll be Utah's starting point guard for years to come.
Mike Stobe/Getty Images
Len over Noel is an interesting choice.
Alex Len could end up being a terrific two-way player, but the Phoenix Suns made a big mistake in passing up Nerlens Noel here.
You can understand why the Suns chose Len—he certainly outdueled Noel in their one meeting this season, and Noel was never supposed to be on the board at No. 5 in the first place. But Noel still should have been the easy choice for a team that needs help almost everywhere.
His ACL injury is less of a concern with the Suns since they have far and away the best training staff on the planet, and he grades much higher than Len on every analytics-based draft rater.
ESPN's Kevin Pelton's WARP (wins above replacement player) rater had Noel at first in the draft and Len all the way down at 23rd. No disrespect to Len, but Noel has the higher ceiling and floor.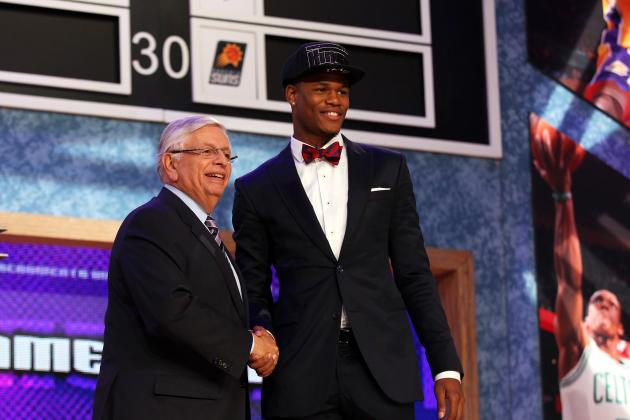 Mike Stobe/Getty Images
The Kings got an absolute steal.
Ben McLemore is perhaps the most talented player in this draft. That alone is enough to explain why the Sacramento Kings made a great pick snatching him up at No. 7.
McLemore is a super athletic shooting guard with a smooth outside stroke who's actually drawing some Ray Allen comparisons. That's the best-case scenario for McLemore, but he certainly has the talent to make it happen.
The one problem with this pick is that the big knock on McLemore is that he doesn't have a superstar's mentality and is often too passive. That makes the Sacramento Kings—a team that seems to have little direction or leadership—a less-than-ideal place for McLemore to develop.
Still, though, there's no question that the Kings are walking away with a fantastic individual talent, and you can't ask for much more than that.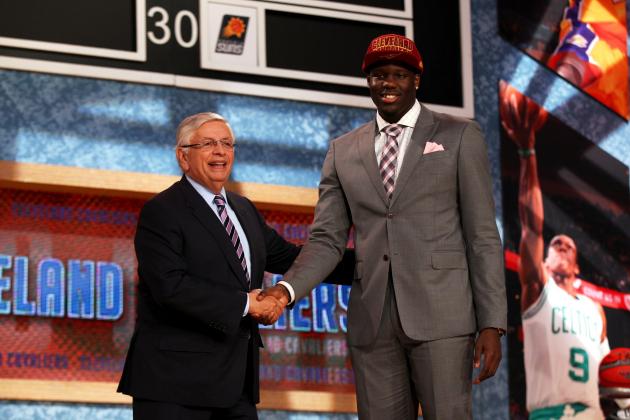 Mike Stobe/Getty Images
Anthony Bennett is the last No. 1 pick who will shake commissioner David Stern's hand.
Anthony Bennett is probably going to be a fantastic player, but how does he fit in with the Cleveland Cavaliers?
Bennett projects to be a stretch 4 in the NBA, and it's unclear how he'll play with current Cavaliers power forward Tristan Thompson.
Bennett is a fantastic athlete and can score at will, but he's not a great defender. If the Cavs were picking for need, then Otto Porter and Nerlens Noel seem like no-brainers.
If Cleveland thinks that Bennett can really play the 3, then this could turn out to be a great pick. But at the moment, it just doesn't seem like Bennett is a great fit with the rest of the team.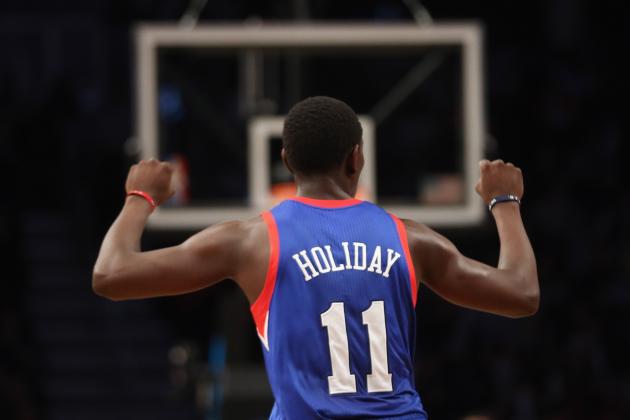 Bruce Bennett/Getty Images
Welcome to the Pelicans, Jrue.
Yeah, yeah, the New Orleans Pelicans didn't actually pick Jrue Holiday, but this was such a huge move that we're going to count it. And ultimately, it was a pretty great trade for the Pelicans.
Jrue Holiday is a 23-year-old All-Star point guard who's only going to get better. Can any other team say they got a better player out of this draft? Not only was Holiday crippled in a Philadelphia 76ers offense that placed a premium on mid-range jumpers, but he's never played with the talent he'll have in New Orleans.
Anthony Davis is a bona fide franchise player, Ryan Anderson is possibly the best stretch 4 in the league and Eric Gordon, if healthy, is one of the best young shooting guards. The Pelicans can decide what to do with Greivis Vasquez later.
They may have given up a lot (Nerlens Noel and a 2014 first-round pick), but they have an outstanding young core moving forward.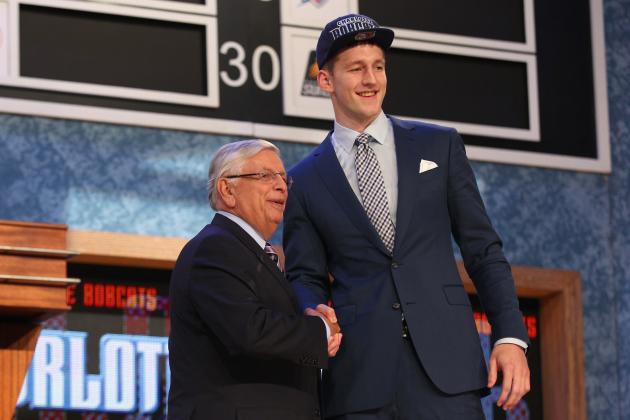 Mike Stobe/Getty Images
Zeller will be good, but he was too safe a pick.
Cody Zeller may not have crazy star potential (few do in this draft), but he's a very solid pick.
Of all the big men in this draft, Zeller might just be the one with the least bust potential. Zeller's a terrific athlete who can run the floor, score in tons of different ways and potentially play the 4 and 5 interchangeably (though he seems like more of a 4 at the next level).
So why is this a bad pick? Because the two players with the most talent in the draft—Nerlens Noel and Ben McLemore—were still on the board when Zeller got chosen. McLemore and Noel have All-NBA potential, and the Charlotte Bobcats have a big hole at both positions.
The Bobcats got a good player in this draft, but they're one of the most talent-starved teams in the league. At some point, they need to try and hit a home run. This seemed like a better time than any.