2013 NHL Draft Predictions: Which Prospects Have the Highest Ceiling?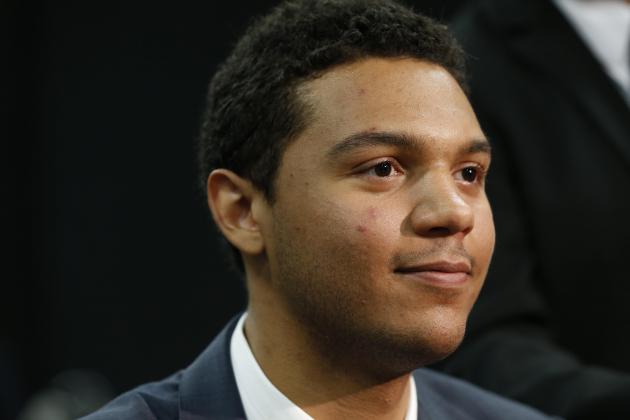 Greg M. Cooper-USA TODAY Sports
Seth Jones
The 2013 NHL draft has some of the more promising prospects of the past decade. All athletes develop at an individual pace, so teenagers who look like stars at 15 years old can look ordinary at 20.
Conversely, there are players who look very average against their peers at 16 years of age, yet are world beaters at 25.
Wayne Gretzky had his critics in the late 70s even though he seemed destined for superstardom by many. At the other end of the spectrum was the mercurial Alexandre Daigle. Some viewed him as one of the better forward prospects in years, but for various reasons, his junior numbers never transferred to the NHL level.
Some players are nearing their peak at 18, while others are nowhere near their best years. The following list includes those prospects who have the highest ceiling. The players are listed in ascending order of anticipated draft position.
References to current rankings are from the Central Scouting lists on nhl.com
Begin Slideshow

»
Zachary Fucale is a very good goaltender. Not only does he have a lot of athletic ability, but his mental toughness seems to be off the charts. Those that have played the position know how important it is to be able to recover immediately following a bad goal.
Fucale has that type of temperament and it allows him to play his best games on the biggest stages.
He wasn't always at his best at the 2013 Memorial Cup, but he made the big saves when his Halifax Mooseheads needed him to do so.
Fucale may not be drafted until the second round, but his athletic ability, solid fundamentals and will to win warrant a team selecting him in the first round. Most goalies in today's game do not peak until they are in their mid 20s. Look for Fucale to be ahead of that curve and develop into one of the better starting goalies in the NHL.
His ceiling is higher than any other goaltender in the 2013 draft.
Samuel Morin is 6'6" and well over 200 pounds and is not done growing.
Morin's NHL playing weight may approach 250 pounds. This is nearing Zdeno Chara-like in both size and reach. While Morin does not have currently the offensive skill to dominate a game like Chara, his physical presence is similar.
Morin's draft ranking with Central Scouting has skyrocketed as scouts have tried to assess his developing game. Samuel is a project, and the ceiling on his game may be much higher than what some have predicted.
He is an underrated skater who can close quickly and decisively on attacking players. His agility and reach make it very difficult for opposing forwards to get to the net when he is on the ice. However, despite the improved skating, there is a lot of room for Morin to improve his stride.
Morin is certainly physical, but once he realizes just how intimidating he is, he could become one of the premiere shut-down defenders in the game. In many ways, the sky is the limit for the towering Morin.
Max Domi had a great season with the London Knights. The son of former NHL enforcer Tie Domi is a highly gifted player. He had 87 points in 2012-13 and finished second in OHL playoff scoring.
Domi is a natural playmaker who almost always looks to pass before he will shoot the puck. He has played with some talented teammates, but one reason why his ceiling is higher than many is that if he is paired with a pure world-class shooter, his assists total could go through the roof.
He also has the benefit of being highly intelligent and is able to draw on his excellent knowledge of the game thanks to all of the time he as spent at NHL rinks since he was a young child.
The concerns about Domi's size are unfounded for the most part. He's nearly 200 pounds and stands 5'9". He's built much like his father, and his low centre of gravity will continue to make it difficult for him to be knocked off the puck.
Watch for Domi to develop into a top-line NHL forward, likely on the wing, in the next couple of seasons.
When you watch Darnell Nurse play an OHL game, there are moments when you are struck by how he appears to be a man playing among boys. Nurse is 6'4" and about 200 pounds. Given his athletic frame, he could add at least 15 or 20 pounds as he reaches the NHL.
Nurse is just beginning to scratch the surface in terms of his offensive contributions.
He is gaining confidence with the puck and improved immensely in that department this year. He produced 41 points with the Sault Ste. Marie Greyhounds in the 2012-13 OHL regular season. He has even more to give in the offensive zone without question.
As Nurse gets stronger, he will be able to handle any power forward in the NHL. He is already a force on the blue line; with another 20 pounds, he will be impenetrable.
Alexander Barkov is becoming a household name in hockey circles as the draft approaches.
The NHL draft should be his first step to stardom. The Finnish centre is one of the youngest draft-eligible players, but his game suggests something much more.
It is not an overstatement that Barkov should be considered as the first overall pick in Newark, NJ on Jun 30. Barkov has all the tools to be a dominant No. 1 centre in the NHL. He has a great shot and his ability to find the open man is dynamite.
He may make the jump to the NHL even sooner than some expect. He will not be 18 until September, but depending on what team selects him at the draft, he may get a long look as a top-six forward at training camp.
Alexander has impressive speed and drives to the net as well as any potential draftee. He has also refined his defensive game by playing against men in the SM Liga in Finland in 2012-13.
If Barkov lasts after the first three or four picks, expect the Nashville Predators or Carolina Hurricanes to be fielding calls from most, if not all other, NHL teams. He is that good.
Jonathan Drouin is far and away the best pure point-getter in the 2013 draft class.
He is wizard-like with the puck and can do everything at high speed. While Drouin is a gifted shooter, he might be most impressive when he is finding his teammates. He will excel at the NHL level when he can play with even more players who share a similar on-ice vision.
As Drouin gains even more confidence, he will shoot the puck at a higher rate, and there is no telling how good he can be offensively. It is not a stretch to believe that he will challenge for the Art Ross Trophy in a few years.
Jonathan will also get stronger in the coming years, and in the right organization, he should develop into a premiere offensive player for several years. It will be exciting for hockey fans to see him grow in all facets of the game.
While some observers have chosen to pick apart Seth Jones' game, there really is not a lot to criticize.
He might be the best defensive prospect in the past 25 years. Outside of Chris Pronger, no other defenceman has had his blend of size, skill and mobility in their draft year.
Jones is a lock to be a superb NHL defenceman, and there is reason to believe that he will become a perennial All-Star with his world-class talent.
Seth is equally good in all situations, as he can dominate opponents at even strength, on the power play and shorthanded. He has great hockey sense and you rarely see him needing to scramble to get into better position.
When Jones gets a little heavier and slightly nastier, he will have no peer in the league.
If Jones finds the right fit at the pro level, he should be a multiple Norris candidate as the NHL's best defenceman.