Twitter Erupts As Celtics Reportedly Trade Kevin Garnett and Paul Pierce to Nets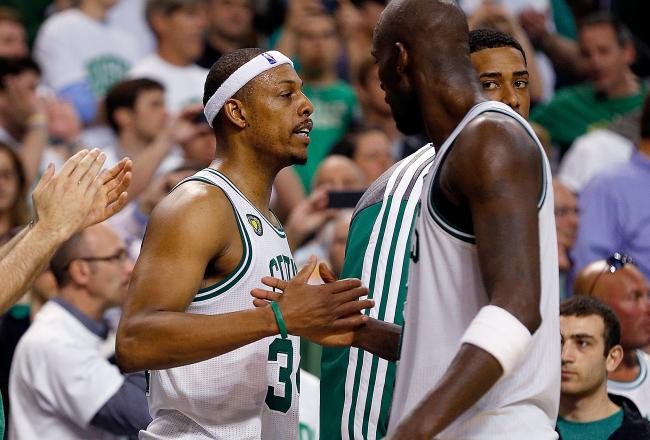 Jim Rogash/Getty Images
Kevin Garnett and Paul Pierce may get to finish their careers playing together—it just won't be with the Boston Celtics.
According to Yahoo! Sports' Adrian Wojnarowski, Garnett and Pierce will head to the Brooklyn Nets along with Jason Terry in a deal for Gerald Wallace, Kris Joseph, the expiring deal of Kris Humphries and three future first-round selections.
The first-round picks come in 2014, 2016 and 2018. Wojnarowski did not provide details on whether the selections carry any protections. Brooklyn will also execute a sign-and-trade with Keith Bogans and add Reggie Evans to the trade to make it work under the salary cap.
While the two teams have agreed in principle to the deal, it cannot be consummated until July 10. That is the date the NBA's moratorium on transactions ceases, allowing the deal to become official.
As part of the agreement, Brooklyn will pick up Pierce's $15 million contract for next season. The 35-year-old forward could have been bought out for $5 million, a decision that had to be made by the end of this month.
The deal was also contingent on Garnett waiving his no-trade clause to come to Brooklyn. Wojnarowski reports that Garnett is willing to do so, with the Nets guaranteeing to pick up the full $12 million option on his contract for next season:
Kevin Garnett will agree to trade to Brooklyn and Celtics are sending KG and Paul Pierce to the Nets, league sources tell Y! Sports.

— Adrian Wojnarowski (@WojYahooNBA) June 28, 2013
The Nets have agreed to fully guarantee the $12 million owed Garnett in the 2014-'15 season, sources tell Y! Sports.

— Adrian Wojnarowski (@WojYahooNBA) June 28, 2013
In short, the Celtics and Nets have consummated a trade that will fundamentally alter how the Eastern Conference looks next season. Under new head coach Jason Kidd, the Nets will have a starting lineup that boasts five current or former All-Stars.
As one would expect, Twitter essentially self-combusted with news of this deal's finalization. Here is a look at all the best reactions from around the Web Thursday night.
If you were wondering about the costs of this deal, well, let's just say Mikhail Prokhorov might need to eat off the Dollar Menu a couple times next season. According to Wojnarowski, the Nets will have an $80 million tax bill at their doorstep for the 2013-14 campaign:
If Nets complete deal for Kevin Garnett and Paul Pierce, franchise's payroll will be $100 million, with a luxury tax bill of nearly $80M.

— Adrian Wojnarowski (@WojYahooNBA) June 27, 2013
With a tax bill like that, Prokhorov will undoubtedly expect to compete for a championship. ESPN's Darren Rovell tweeted out that the folks at Sportsbook have already dropped the Nets' odds in half:
The guys @sportsbook_com have made the Nets 25/1 to win the title from 50/1 on news of possible trade w/Celtics

— darren rovell (@darrenrovell) June 28, 2013
Couper Moorhead of NBA.com, while still being relatively optimistic about Brooklyn's chances, notes the team could struggle on offense:
Nets might still struggle with stale, predictable offense, but if KG is healthy they can be a Top 10 team on both ends of the floor.

— Couper Moorhead (@CoupNBA) June 28, 2013
Frank Isola of the New York Daily News isn't sold on the Pierce portion of the trade:
Kevin Garnett, despite his age, is an upgrade for the Nets. Paul Pierce would be better as a back-up. The poor guy can't move.

— Frank Isola (@FisolaNYDN) June 28, 2013
A little less than a year ago at this time, Ray Allen was leaving the Boston Celtics for the Miami Heat. Garnett deleted Allen's phone number. My Sports Legion's Twitter feed notes a smidgen of hypocrisy less than 12 months later from the Big Ticket:
Kevin Garnett didn't like when Ray Allen bolted for Miami, a year later....KG bolts for Brooklyn.

— NBA Legion (@MySportsLegion) June 28, 2013
Others chose to remember Garnett's time in Boston more fondly. The 37-year-old forward brought a 17th championship banner to the Celtics and emerged as one of the team's most beloved players in that city. Bleacher Report NHL lead writer Nicholas Goss was one of many who were already commemorating Garnett's time in Boston:
Watching Kevin Garnett in Boston was truly special. Not many players like him left in the #NBA. Gives everything he has each game.

— Nicholas W. Goss (@NicholasGoss35) June 28, 2013
Back with the Celtics, only one superstar remains—point guard Rajon Rondo. A noted cantankerous personality, Rondo is often described as tough to get along with. Hoopsworld's Alex Kennedy wonders how Rondo's teammates will feel next year in a rebuilding project:
If Rondo was hard to deal with when surrounded by Rivers, Garnett and Pierce, imagine how insufferable he'll be with this supporting cast.

— Alex Kennedy (@AlexKennedyNBA) June 28, 2013
Meanwhile, in a fact that might blow your mind, Darius Soriano of ESPN's TrueHoop points out that Pierce and Garnett will be playing with a former contemporary:
KG and Paul Pierce will be Nets and will play for head coach...Jason Kidd? Think about that for a second.

— Darius Soriano (@forumbluegold) June 28, 2013
Also, for those who needed even more eye-opening mental pictures, here is Garnett and Pierce in Nets uniforms, courtesy of Bleacher Report's Twitter feed:
Kevin Garnett and Paul Pierce in Nets uniforms (via @MikeKing00) pic.twitter.com/ABrDbgWltF

— Bleacher Report (@BleacherReport) June 28, 2013
As for the tweet of the night, that goes to Sports Illustrated's Richard Deitsch. He just wants to see the two middle-aged men on HBO's Girls. Garnett would certainly bring the right level of intensity and unintentional comedy to the screen:
I cannot wait to see Kevin Garnett and Paul Pierce on @girlsHBO this year.

— Richard Deitsch (@richarddeitsch) June 28, 2013
Follow Tyler Conway on Twitter:
This article is
What is the duplicate article?
Why is this article offensive?
Where is this article plagiarized from?
Why is this article poorly edited?