NHL Draft 2013: Breaking Down the 3 Best Fits for Every Pick in Round 1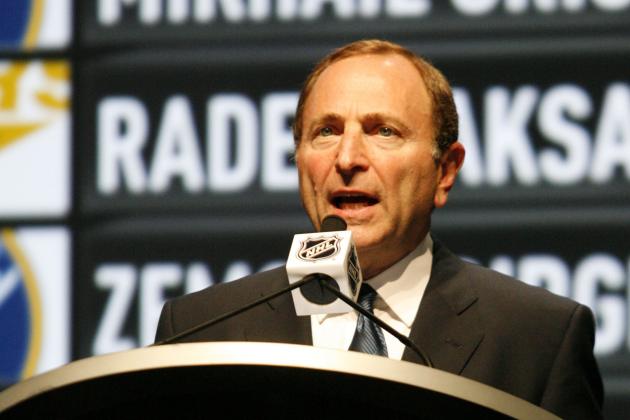 Charles LeClaire-USA TODAY Sports
Commissioner Gary Bettman
The 2013 NHL draft is going to bring a lot of intrigue in all likelihood. With all of the amazing talent available that day, several clubs will be improved as early as next season—if they choose wisely.
The Colorado Avalanche have not announced it officially, but indicators are that they will be selecting Nathan MacKinnon from the Memorial Cup champion Halifax Mooseheads with their first selection.
After that, there has been wide speculation, with no definitive answer, on who will be selected next. GM Dale Tallon has likely fielded calls from most teams with proposals to pry that second pick away from the Florida Panthers.
This list will break down the three best fits for every pick, starting with the Colorado Avalanche. The first listed choice is the player anticipated to be chosen by each team.
Begin Slideshow

»
The three best fits: 1. Nathan MacKinnon, C 2. Valeri Nichushkin, LW 3. Alexander Barkov, C
The Colorado Avalanche's Joe Sakic has said they will be taking a forward with the first selection in the NHL draft, according to The Canadian Press (via CBC Sports).
The Avalanche are loaded up front and all three of these players would add firepower to their already potent attack. Nathan MacKinnon is a fantastic skater who is a goal scorer and playmaker, sometimes in the same shift. MacKinnon should be a top-line player in the not-too-distant future.
Valeri Nichushkin is a power forward who can offer finesse when needed. He is an exceptional talent.
Alexander Barkov is 6'2" and still filling out his frame. He is a great skater and has a lot of offensive potential. As one of the youngest players in the draft, the sky is the limit for this man-child.
The three best fits: 1. Seth Jones, D 2. Valeri Nichushkin, LW 3. Alexander Barkov, C
With the Avalanche determined to take MacKinnon, the Florida Panthers are going to receive a number of offers for this No. 2 pick.
The Panthers have more than one need, so the best fits, in their case, would include defenceman Seth Jones along with the next two best forwards. Jones can do it all and will be a top-pairing defenceman for many years in the NHL.
His array of talents is not easy to find on the point.
Nichushkin offers the ability to play any number of styles and will be a beast to handle down low in the offensive zone. His game could look very similar to Milan Lucic when he learns the North American style. Alexander Barkov has fared well competing against men in the Finnish SM Liga.
His adjustment to the NHL, while challenging, will be made easier by this previous level of competition.
The three best fits: 1. Valeri Nichushkin, LW 2. Alexander Barkov, C 3. Jonathan Drouin, LW
The Tampa Bay Lightning are most likely to be considering a forward, and with the talent available still at the No. 3 pick, they will get an NHL-ready player.
The Lightning will be looking to add size, and Nichushkin makes the most sense for them. He will complement the skilled Tampa Bay forwards with his big body and willingness to crash the net.
Valeri will benefit from all the skill the Lightning have up front. GM Steve Yzerman will also consider the gifted Barkov, who should be able to step into a second-line NHL role in short order. He may even do this as a winger to start his career.
The Bolts will also take a long look at Jonathan Drouin, as he may be the best pure offensive talent in the draft. His speed and finesse will transfer very well to the NHL. He will be a top point producer for many years.
The three best fits: 1. Alexander Barkov, C 2. Jonathan Drouin, LW 3. Elias Lindholm, C
The Nashville Predators will be looking to add some offence to their forward ranks.
Alexander Barkov is not likely to slip past the Predators in the No. 4 spot. He brings a complete game with no major weaknesses whatsoever.
Left winger Jonathan Drouin, as electrifying a player as there is in this class, would also make some sense. However, Nashville could use some more strength down the middle. Drouin's offensive prowess will be enticing though.
Elias Lindholm, another centre, should also be on the Predators' radar. He offers a dynamic offensive game featuring tremendous top-end speed.
The three best fits: 1. Darnell Nurse, D 2. Nikita Zadorov, D 3. Elias Lindholm, C
The Carolina Hurricanes have a great one-two punch at centre with Eric and Jordan Staal, so they will lean toward a defensive prospect.
However, Lindholm will likely receive some consideration, as every organization is looking to add depth at centre ice, especially when the player under consideration is as talented as Lindholm.
The OHL's Darnell Nurse is the best fit for the Hurricanes, as he offers size, mobility and a lot of nastiness in his game. He will be No. 1 defenceman in the NHL.
Nikita Zadorov will also be considered. His game grew immensely this year and he will not be fun to encounter in the NHL. He's a defenceman who is only a season or two away from being a great shutdown defender as a pro.
Lindholm may be considered as well, as he could be drafted to complement the Staal brothers and begin his NHL career as a forward.
The three best fits: 1. Jonathan Drouin, LW 2. Elias Lindholm, C 3. Sean Monahan, C
With three first-round picks—if they retain all of them—the Calgary Flames will be very busy at the 2013 draft.
There is a real possibility that Drouin could drop to them at the No. 6 spot, and he would be the best fit for them. His attacking game is too good to pass on for the Flames, who are trying to improve their losing ways without hitting rock bottom.
Elias Lindholm and his all-around game will also be under consideration. The Flames could use help at all three forward positions.
Ottawa 67's Sean Monahan should be under consideration. He features a two-way game and good size down the middle. The sublime talent of Drouin will be difficult to overlook for the Flames if he's still available when they make this first selection.
The three best fits: 1. Elias Lindholm, C 2. Sean Monahan, C 3. Nikita Zadorov, D
The Edmonton Oilers will not be able to address all of their areas of concern at the draft, but with the seventh overall pick, they should get a great prospect.
The Oilers can add a talented centre with size, so Lindholm, if available, makes the most sense. He's 6'0" and continuing to put on weight. He would help solidify the Oilers down the middle for several seasons. He would be surrounded by talented wingers in Edmonton.
The Oilers will also consider Sean Monahan. He's even bigger than Lindholm but doesn't bring the same high level of offensive ability.
Because the Oilers need to fill some holes on the point, Nikita Zadorov of the London Knights will likely be in the mix. His ability to be a shutdown defenceman in a top-four pairing will be tough to pass on.
GM Craig MacTavish is most likely to take one of the two pivots with the pick.
The three best fits: 1. Sean Monahan, C 2. Max Domi, C 3. Nikita Zadorov, D
The Buffalo Sabres may be making a few big moves on draft day, as they have multiple first-round picks and want to atone for a very disappointing season. The Sabres have a good core of young players to build around.
Centre Sean Monahan is a likely target if available at No. 8.
His Ottawa 67's struggled all year, but Monahan soldiered on despite the team's lack of depth. Sean will be a stalwart up front for the Sabres and brings a lot of leadership abilities.
The Sabres should also be looking at Max Domi. The London Knight is second only to Drouin in pure offensive instincts. The Sabres will have a tough time passing on Max. Buffalo may also be looking for a shutdown defenceman.
The hulking Zadorov is huge, mean and skilled. He may have the most potential of all of the defensive prospects.
The three best fits: 1. Max Domi, C 2. Hunter Shinkaruk, C 3. Nikita Zadorov, D
The New Jersey Devils have always prided themselves on a strong defensive game and timely scoring.
The Devils have several promising young players at a few positions, although they are likely strongest on the point. Adding to their forward group is their highest priority and Max Domi would be a great fit. Domi is a playmaker by nature, and if paired with a sniper, the combination could be lethal. He is relentless in the offensive zone and will be difficult to separate from the puck.
Hunter Shinkaruk should also be considered. He offers versatility in that he can play any of the forward positions and is responsible in the defensive zone. He is a sniper, though, and will flourish in a top-six role. The Devils should seriously consider him at No. 9.
New Jersey must have a look at Zadorov if he hasn't been selected. He's a big hitter who likes to take chances, but they are usually calculated. He can control the game when he's on the ice with both skill and physical intimidation.
The three best fits: 1. Nikita Zadorov, D 2. Rasmus Ristolainen, D 3. Ryan Pulock, D
New head coach Lindy Ruff is flexible but demanding. He has the gift of adapting his philosophy to the roster he has to work with at the time.
Ruff will want the Stars cutting down on offensive chances given up.
The Stars have a great cast of forwards and are likely to take a defenceman with their first pick. Zadorov could see big minutes with a coach like Ruff. He will be a shutdown defender capable of playing big minutes when needed. He is extremely agile with a good first step, especially considering his size.
The Stars should also look at Rasmus Ristolainen. The Finnish blueliner offers huge offensive potential and an ability to move the puck out of his end with ease. He needs to work on his defensive game, but that is not unique at this age.
Dallas is likely to take a long look at Brandon Wheat King, Ryan Pulock. He's another rushing defenceman who is a threat to score on most shifts. He'd be a great addition to the Dallas power play in another season or two.
The three best fits: 1. Rasmus Ristolainen, D 2. Ryan Pulock, D 3. Hunter Shinkaruk, C
The Philadelphia Flyers are often in the middle of things on draft day. Fans don't tolerate losing seasons well in their city and owner Ed Snider wants a winner every year.
The Flyers have a few needs to address, although a first-rate defender likely tops the list. Philadelphia plays a high-speed style with some great talent up front. Adding the offensive-minded Ristolainen would be a good bet here. Not only is he a great skater, he has a heavy shot from the point.
Even with the recent signing of Mark Streit, the Flyers could use a young puck-mover on the point. The Flyers will also look at Ryan Pulock. He's another mobile defenceman who joins the rush with ease.
Philly does have needs up front, and a versatile forward like Hunter Shinkaruk should be under consideration. He could fill a number of roles for the Flyers.
A defenceman is the likeliest pick here though.
The three best fits: 1. Hunter Shinkaruk, C 2. Bo Horvat, C 3. Ryan Pulock, D
Head coach Dave Tippett demands attention to detail from his players. Although GMs often make the final decision on draft day, head coaches are also consulted.
The Coyotes play suffocating defence and need to add some offensive-minded players to their forward mix.
Calgary native Hunter Shinkaruk should provide offence at the next level and does all the little things that coaches like to see. Shinkaruk projects as top-six forward but could be used on the third line as he transitions to the NHL.
The London Knights' Bo Horvat will also be under consideration. Horvat is not flashy, but he offers the type of honest play that teammates can always depend upon.
The three best fits: 1. Bo Horvat, C 2. Curtis Lazar, C 3. Ryan Pulock, D
The Winnipeg Jets hold the No. 13 pick, and there will be a number of options for the Jets to consider. They don't have a real deficit at any one position, but adding a quality centre would make the most sense.
Bo Horvat, if still available, would be a quality pick for the Jets. He is a natural centre, and all NHL clubs are looking to build on their depth down the middle.
Curtis Lazar could also be in the mix. Lazar, much like Horvat, is a great leader. Both players would benefit from developing those leadership skills alongside Andrew Ladd. The Jets have some good prospects on defence but may consider Ryan Pulock. They will have had a lot of looks at Pulock with the Brandon Wheat Kings playing just down the road.
Adding a quality forward is more likely for the Jets at No. 13 though.
The three best fits: 1. Ryan Pulock, D 2. Samuel Morin, D 3. Curtis Lazar, C
The Columbus Blue Jackets have some very good young players at the NHL level and prospects like Ryan Johansen coming through their system. The Jackets do have some good young defencemen as well, but they could use some more depth on the point.
Pulock's skills are rooted in his ability to read the play well and make the right decision. This may be owing to him being a forward originally before moving to the point—he understands the game from many perspectives. Samuel Morin would also be a great long-term pick for the Jackets.
His game improved immensely over the last half of the season. Again, if Lazar is available, the Jackets may consider him based on his leadership skills, offensive skills, and willingness to do anything for his team.
Pulock is a good bet here.
The three best fits: 1. Curtis Lazar, C 2. Alexander Wennberg, C 3. Anthony Mantha, C
The New York Islanders quietly had a very good season. Long-suffering fans have reason to be optimistic about the current roster and the number of talented prospects in the system. The Islanders could be in the market for a character forward who can contribute offensively.
Curtis Lazar would be a logical choice for the Islanders if he remains available with the No. 15 pick. Lazar could develop over the next season or two, as the Islanders have no need to add an NHL-ready player. The speedy and talented Alexander Wennberg may also be on their list with this mid-round pick. He has a great set of hands and would fit well with the talented core of Islander forwards.
Anthony Mantha, who is a 50-goal scorer, also warrants a look from the Islanders' management team. Big, talented forwards with soft hands don't come along every day.
Ultimately, Lazar makes the most sense for the Islanders.
The three best fits: 1. Samuel Morin, D 2. Josh Morrissey, D 3. Madison Bowey, D
The Buffalo Sabres have two picks in the first 16. It's a great opportunity to build from the draft. With the number of quality forwards available, and the likelihood that the Sabres will take one at No. 8, the Sabres could select defenceman Samul Morin at No. 16.
Morin is becoming a much better skater, is surprisingly agile at 6'6", and will play at well over 200 pounds when he becomes an NHL regular.
There are two other defenceman who will deserve some consideration from Buffalo's top brass. Josh Morrissey and Madison Bowey are two WHL defencemen with comparable games. Morrissey has more offensive upside and will receive a lot of consideration from teams picking in the middle of the first round. Bowey is a powerful skater with a physical edge.
The Sabres should look long and hard at him as well.
The three best fits: 1. Alexander Wennberg, C 2. Anthony Mantha, LW 3. Josh Morrissey, D
The Ottawa Senators have an efficient minor league pipeline to the NHL. Their AHL affiliate, the Binghamton Senators, have been a competitive team for years, and players have had to work hard to get their opportunity with the parent club.
Selecting Alexander Wennberg from Sweden would be a smart move. Wennberg has had experience playing against some top competition in Sweden and has a lot of skill with the puck. The leading goal scorer from the QMJHL, Anthony Mantha, would also make sense for the Senators. He may not have as much speed as Wennberg, and the Senators would love to get even quicker up front.
Because the Senators will be looking for depth at all positions, Josh Morrissey from the Prince Albert Raiders should also receive some discussion here.
Wennberg seems likely, based on the Senators' greatest need.
The three best fits: 1. Anthony Mantha, LW 2. Andre Burakovsky, LW 3. Valentin Zykov, RW
The Detroit Red Wings don't often have the chance to select in the top 20 at any draft. You know that GM Ken Holland will seize the opportunity.
With the depth in the draft, he should get a solid prospect. If Anthony Mantha remains available here, look for the Wings to add Mantha to their ranks. Mantha has both size and one of the best pair of hands in the draft. His release is outstanding and he shoots the puck with exceptional accuracy. He is not a physical player by any measure though.
Because the Red Wings love to play head coach Mike Babcock's puck-possession style, Andre Burakovsky and Valentin Zykov will be considered. Both are great skaters who would integrate well with the Wings.
Holland is not looking to add to his NHL roster with this pick at No. 18, and Mantha's upside is too good to pass on.
The three best fits: 1. Andre Burakovsky, LW 2. Valentin Zykov, LW 3. Frederik Gauthier, C
Columbus has three picks in the first round and will receive offers for at least one, if not all, of these picks.
Certain players always endear themselves to certain management groups, so jockeying is inevitable.
If the Blue Jackets add a defenceman earlier in the draft, choosing a forward makes sense at No. 19. Andre Burakovsky loves to handle the puck and the Jackets are building a team that will want to hold the puck rather than dumping and chasing.
Right winger Valentin Zykov should also be considered, as he can play a similar game but with substantially more grit. Zykov is built like a fire hydrant and is almost impossible to knock off the puck.
Finally, Frederik Gauthier is also likely to get a long look from Columbus. Big centres with skill are always in short supply at all levels.
The three best fits: 1. Frederik Gauthier, C 2. Valentin Zykov, RW 3. Morgan Klimchuk, LW
The San Jose Sharks are carefully overhauling their roster and remaining very competitive. They were a great team at times this year, while on other nights, their youth was unable to play consistently for 60 minutes.
The Sharks have some outstanding young players and even though they don't select until No. 20, they may be able to add a quality forward with their first-round pick. Frederik Gauthier could be their pick, as they need to continue to add size to combat their California cousins, the Anaheim Ducks and Los Angeles Kings. Gauthier stands 6'5" and over 200 pounds. He'd be a good fit with the Sharks.
Baie-Comeau's Valentin Zykov will also be considered here. Zykov should only improve after making more adjustments to North American hockey, and 40-goal scorers are not easy to find.
Calgary native Morgan Klimchuk could be seriously considered here as well. The Sharks have always liked to draft WHL forwards, and Klimchuk could be a top-six centre after some more seasoning in the CHL or in the Sharks' minor league system.
The three best fits: 1. Valentin Zykov, RW 2. Morgan Klimchuk, LW 3. Kerby Rychel, LW
The Toronto Maple Leafs have infused some skill and a lot of speed in recent years. Randy Carlyle wants his players in constant motion and needs players with a lot of energy.
If Valentin Zykov is available at No. 21, the Leafs should select him. Zykov offers good size, speed and scoring ability.
The Leafs are undersized at forward and Zykov could help remedy that when he's ready to make the move to the NHL. Morgan Klimchuk also deserves a long look from the Leafs. He's defensively responsible and plays well in all three zones. Kerby Rychel has a similar game and both wingers are low maintenance in that they are motivated, mature players for their age.
The Leafs should have some good options with this pick, but if Zykov is available, he's the pick.
The three best fits: 1. Morgan Klimchuk, LW 2. Kerby Rychel, LW 3. Josh Morrissey, D
With three first-round picks, the Calgary Flames can be a real winner at the draft table.
The Flames have some talented young forwards, but even if they select a forward with their first pick, they could use another forward prospect. If hometown boy Morgan Klimchuk is available, he'd be a really good fit with the Flames. Klimchuk can play in all game situations and projects as a top-six forward if he continues to improve his game.
Windsor Spitfire Kerby Rychel might get heavy consideration as well from the Flames. He offers a similar game to Klimchuk's. If the Flames decide to look at a defenceman here, Josh Morrissey would make sense. Morrissey loves to attack, and if the Flames want an offensive defenceman, he'd be a good pick here.
Klimchuk makes the most sense for Calgary.
The three best fits: 1. Josh Morrissey, D 2. Madison Bowey, D 3. Kerby Rychel, LW
The Washington Capitals seem to be on the upswing once again. Head coach Adam Oates was able to rekindle Alexander Ovechkin's game, and the Russian is the current holder of the Hart Trophy.
Oates was one of the best passers to ever play the game and values skill and on-ice vision.
Defenceman Josh Morrissey has a lot of skill and savvy from his blue-line position. Madison Bowey does as well, although he doesn't have the same offensive punch that Morrissey has at this stage of their careers.
Because the Capitals don't have one overriding need, they may look at Kerby Rychel if he is still available. He has the type of heady game that Oates and GM George McPhee would appreciate with their dedication to icing a skilled, attacking team.
The three best fits: 1. Kerby Rychel, LW 2. Adam Erne, LW 3. Nicolas Petan, C
The John Tortorella era in Vancouver is dawning. It should prove to be interesting times on Canada's Pacific Coast in 2013-14.
The Canucks need to get younger and the draft will help with this process. If Kerby Rychel is still available, the Canucks should select him. He brings a complete game and projects to be a top-six NHLer.
Rugged left winger Adam Erne is worth a long look as well. The young American plays a robust game that Tortorella would appreciate.
Finally, the WHL's leading scorer, Nicolas Petan, should be considered. Petan is long on talent if only 5'9". The Canucks need more skill and he would fit that requirement.
The three best fits: 1. Adam Erne, LW 2. Ryan Hartman, RW 3. J.T. Compher, C
Fortunes change quickly in today's NHL, and the Montreal Canadiens were very successful in this shortened season, following a dismal one in 2012-13. The Canadiens could use some size and sandpaper at the forward position.
The Canadiens have to battle against some huge, skilled teams in the East.
Adam Erne would fit best here, as he brings a blend of gritty play and a willingness to physically engage any player on the ice. He can chip in with points when needed and brings energy to every shift.
Ryan Hartman has similar qualities to his fellow American, Adam Erne. Hartman is an agitator and can back it up. A final player that the Canadiens could look at here is J.T. Compher. Compher plays a similar style to these other two players but has the least offensive upside.
All of these players would work in Montreal in the years ahead. Erne is the best of the three right now.
The three best fits: 1. Madison Bowey, D 2. Robert Hagg, D 3. Mirco Mueller, D
The Anaheim Ducks had an excellent regular season. They dominated several Western Conference teams more often than not.
The Ducks are deep in young talent at forward and are most likely to select a defenceman. Similar to some other top organizations, the Ducks would be best served by adding a defender.
Madison Bowey would be a very good fit with the Ducks. Bowey can handle the puck well and plays the game at high speed. He loves to take the body at every opportunity. Robert Hagg is another talented rearguard who can handle the puck at speed. He has great acceleration and moves the puck quickly out of his own end.
Finally, Swiss defenceman, and WHL rookie, Mirco Mueller, put up 31 points this year and plays a three-zone game. He will get some heavy consideration from the Ducks.
The three best fits: 1. Zachary Fucale, G 2. Eric Comrie, G 3. Nicolas Petan, C
If the Blue Jackets retain all of their picks, a goaltender makes a lot of sense.
It would be early to select one, but Zachary Fucale projects to be a starting goaltender in a few years. Fucale's game features athleticism and a winning attitude. He does not take losing lightly and this should not be overlooked.
Eric Comrie would be another goaltender to consider. He is also very athletic and is a battler. He is rarely beaten by the first shot. The Blue Jackets should also consider the WHL's leading scorer, Nicolas Petan.
He's undersized, but in the right situation, he might be an impact top-six forward in a few more years.
The three best fits: 1. Robert Hagg, D 2. Mirco Mueller, D 3. Chris Bigras, D
The Calgary Flames are likely to select a defenceman if they choose two forwards with earlier picks.
The Flames have some solid NHL defencemen but could use some more organizational depth. Robert Hagg would be a good selection for the Flames. He is a great skater and makes good decisions with the puck.
Mirco Mueller has some similar qualities and has some promising offensive upside. He's a smart player who has benefited from playing with partner Ryan Murray with the Everett Silvertips. Chris Bigras offers some similar qualities with less offensive abilities. He plays a tough and disciplined game.
Hagg would be the best fit for the Flames at No. 28.
The three best fits: 1. Ryan Hartman, RW 2. J.T. Compher, C 3. Nicolas Petan, C
The Dallas Stars have two picks in the first round, and if they select a defenceman with their first pick, look for them to follow this up by selecting a hard-nosed forward.
If you watch Ryan Hartman of the Plymouth Whalers for a few shifts, you're struck by his abrasive and aggressive style. He is an agitator who enjoys getting under his opponent's skin.
J.T. Compher plays a similar game and can also put up points. Compher likes to chat with his opponents and it's usually not to discuss the weather.
If Dallas wants to go in a different direction, Portland Winterhawk Nicolas Petan could be considered. Petan plays a much different game than the other two players. If Dallas wants to add a player who can flat out score, then Petan might be its man.
The three best fits: 1. Nicolas Petan, C 2. J.T. Compher, C 3. Laurent Dauphin, C
The Chicago Blackhawks will have the final selection in the first round.
Fresh off their Stanley Cup win, the Blackhawks may be able to add more offensive talent to their organization.
Nicolas Petan has top-10 talent, but at 5'9" he's not getting the respect he deserves. He is second only to Drouin in pure skill with the puck. The Blackhawks may also take a look at USHL product, J.T. Compher. Compher is gritty and noisy. He projects as a solid third-line agitator in the NHL.
If the Blackhawks decide they want to add skill over grit, centre Laurent Dauphin might enter the mix at No. 30. Dauphin is a smooth-skating forward who can put the puck in net. Petan would be a great choice here though.