We knew the 2013 NBA draft was going to be full of surprises and uncertainty, but I'm not exactly sure anyone was expecting this.
Within the first six or seven picks, we already had shocking reaches, unexpected falls and blockbuster trades.
Dan Gilbert, Chris Grant and the Cleveland Cavaliers set the tone for the entire night when they threw a gargantuan curveball and drafted UNLV's Anthony Bennett with the No. 1 overall pick.
Here's a look at the historic moment, courtesy of the NBA's official Twitter account:
Anthony Bennett selected No. 1 overall by the @cavs in the 2013 #NBADraft #NBARapidReplay - http://t.co/tKuEjU1R2G

— NBA (@NBA) June 28, 2013
And when we say no one saw this coming, we mean no one, per Hoopsworld's Alex Kennedy:
Did that really just happen?! Even Anthony Bennett and his camp didn't think he was going No. 1.

— Alex Kennedy (@AlexKennedyNBA) June 27, 2013
Bennett becomes the first Canadian ever to be drafted No. 1 overall, and as Sportsnet's Holly MacKenzie points out, that wasn't supposed to happen until Andrew Wiggins in 2014:
ONCE AGAIN: A CANADIAN WAS TAKEN FIRST OVERALL. WE'RE A YEAR EARLY AND IT IS AWESOME.

— Holly MacKenzie (@stackmack) June 28, 2013
The next shocker came at No. 4, where the Charlotte Bobcats selected Indiana big man Cody Zeller to run the fast break with point guard Kemba Walker: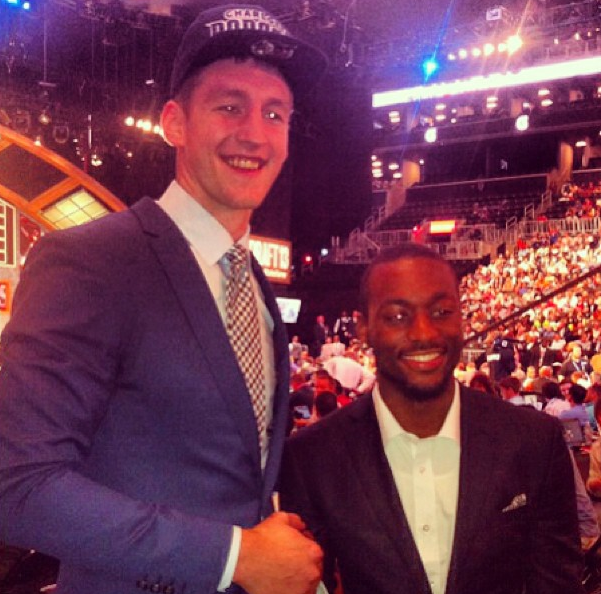 Zeller was once seen as a potential No. 1 pick, but his stock dropped throughout the collegiate season, and even one of his biggest fans (the Sporting News' Michael DeCourcy) was surprised to see him selected here:
As I've discussed all day, Cody Zeller is a WAY better prospect than people realize. But not the best left on board.

— Michael DeCourcy (@tsnmike) June 28, 2013
247 Sports' Jerry Meyer gives a sound reason for the odd selection:
Someone just told me Michael Jordan quit trying.

— Jerry Meyer (@jerrymeyer247) June 28, 2013
One of the guys presumed to go higher than Zeller was Nerlens Noel, who fell to No. 6 and was subsequently involved in a trade of massive proportions, per ESPN's Andy Katz:
Sixers get Nerlens Noel and 2014 first-round pick. New Orleans gets Jrue Holiday.

— Andy Katz (@ESPNAndyKatz) June 28, 2013
It was a trade that had several Philadelphia 76ers seemingly down in the dumps about losing teammate Jrue Holiday:
Wait, did Jrue get traded?

— evan turner (@thekidet) June 28, 2013
OMG ....

— Thad Young (@yungsmoove21) June 28, 2013
At the same time, Kansas' Ben McLemore continued to slide. But the teams that passed on him better hope LeBron James' scouting prowess isn't as good as his on-the-court ability:
They sleeping on Ben McLemore. Just watch

— LeBron James (@KingJames) June 28, 2013
The sharpshooter and crazy athlete was eventually taken No. 7 by the Sacramento Kings.
After Michigan point guard Trey Burke was taken at No. 9, the second trade of the night shortly followed, per ESPN Stats & Info:
Here are details on the proposed Jazz-Timberwolves trade involving Trey Burke: pic.twitter.com/o8OgwkodyC

— ESPN Stats & Info (@ESPNStatsInfo) June 28, 2013
Matt Kamalsky of Draft Express loves it for Burke:
Trey Burke should be the early favorite for Rookie of the Year as the starter in Utah.

— Matt Kamalsky (@DraftExpress2) June 28, 2013
When the Oklahoma City Thunder took Pittsburgh's Steven Adams at No. 12, former OKC guard James Harden reportedly laughed out loud, according to Chris Vernon:
now deleted, but was hilarious... RT @JHarden13 Steven Adams loooooooooooooooool

— Chris Vernon (@ChrisVernonShow) June 28, 2013
Harden himself said he never actually tweeted it:
I don't know what's going on but I haven't been on twitter.

— James Harden (@JHarden13) June 28, 2013
The Milwaukee Bucks took Giannis Antetokounmpo with the No. 15 pick, and they'll be hoping he changes the poor history of players from Greece:
Giannis Antetokounmpo: 1st player from Greece drafted in 1st round since 2000 (Iakovos Tsakalidis) #MILpick

— ESPN Stats & Info (@ESPNStatsInfo) June 28, 2013
Antetokounmpo is a tantalizing talent, but most assumed coming into the draft he was still a year or two away from contributing. Not so fast, according to CBS' Ken Berger:
Adetokunbo is not a "stash" pick for Milwaukee, source says. He'll come to NBA now.

— Ken Berger (@KBergCBS) June 28, 2013
Up next, Lucas Nogueira may have stolen the show with this tremendous hat-to-hair combo:
June 28, 2013
Another international player, Sergey Karasev, could turn out to be a steal for the Cleveland Cavaliers at No. 19. According to Kamalsky, his experience at such a young age is very rare:
Karasev isn't your average international draftee. Was a go-to-guy on a team competing at a high level surrounded by older US vets.

— Matt Kamalsky (@DraftExpress2) June 28, 2013
.