If strong offensive lines serve as the foundation for successful and potent offenses, then the Texas Longhorns appear to be in great shape in 2013.
According to Phil Steele, who annually produces Phil Steele's College Football Preview, the Longhorns boasts college football's best offensive line, a unit that brings back 124 career starts, the most in the FBS in 2013.
And per a 2009 piece in The Wall Street Journal, experience along the offensive line is absolutely critical in projecting success in college football.
The WSJ article highlighted teams with the most returning starts up front going into the 2009 season, with Texas, Florida and Virginia Tech among them. The Longhorns (91 combined starts), Gators (86) and Hokies (100) were among the top five teams in returning starts, and by season's end, they ranked No. 2, No. 4 and No. 10, respectively.
By comparison, Oklahoma's OL returned just 29 combined starts going into '09, and although the Sooners were ranked No. 3 in the preseason, they finished the year unranked.
Not since 2008 has there been a Longhorn offensive lineman selected in the NFL draft, a drought that could end in 2014. With two seniors and a throng of draft-eligible players among the top seven linemen, Texas appears to have the personnel (finally) around which to build a fast offense.
But despite the hype and promise at almost every other offensive position, the offensive line is the most experienced group, and they have an opportunity to shine this year thanks to the talent surrounding them.

Harrison to be Huge
Although junior college transfer Desmond Harrison has yet to enroll at Texas, the Longhorns will be on the receiving end of a huge boost up front in terms of performance and depth.
Specifically, Harrison's presence can lay the groundwork for a number of scenarios that will allow for diversity and a strong rotation under offensive line coach Stacy Searels.
Scenario 1: LT Harrison, LG Donald Hawkins, C Dom Espinosa, RG Mason Walters, RT Josh Cochran (Res: Trey Hopkins, Sedrick Flowers)
Scenario 2: LT Harrison, LG Hopkins, C Espinosa, RG Walters, RT Hawkins (Res: Cochran, Flowers)
Scenario 3: LT Harrison, LG Hawkins, C Hopkins, RG Walters, RT Cochran (Res: Espinosa, Flowers)
The centerpieces figure to be the newcomer Harrison and seniors Walters and Hawkins, who preceded the 6'8" Harrison by joining the Texas program from the junior-college ranks.
The versatility of guys like Hawkins and Hopkins creates a situation in which the 'Horns will have plenty of movable pieces between among those two and Cochran, Espinosa and Flowers. This flexibility is a luxury that Texas simply has not had in recent years.
Without Harrison, the Longhorns' OL is much weaker, going just six-deep.
Other 'Horns to watch will be sophomore Kennedy Estelle, redshirt freshman Curtis Riser and maybe even true freshman Darius James.
From Veteran to Victory
There is little question that Texas has quite a bit of experience up front.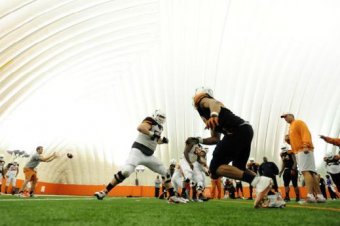 Hawkins will be a second-year starter for the 'Horns after joining the fold last summer. Espinosa, a redshirt junior, has 26 starts under his belt since earning the top spot at center as a freshman. Walters has made 38 consecutive starts since his redshirt freshman year. Cochran made a huge splash as a true freshman then registered 13 starts as a sophomore in 2012. Hopkins, a senior, racked up 25 combined starts over the last two years before missing last January's Alamo Bowl with an injury.
Many will say that offensive success starts up front.
Texas easily has the experience to warrant that kind of success, and even though consistency and the overall mean-streak have been missing in recent seasons, it is really hard to ignore the experience-related numbers. Numbers never lie, right?
With the kind of skill-position talent Texas's offense will field this year, it would be a huge shame for it all to go to waste if the big guys up front cannot find their rhythm.
Texas has pieced together a mix of athleticism, maulers and giants up front. And with the 'Horns able to offer a seven- and possibly eight-man rotation, the recipe for success is there.