First-Half MLB Flops Who Could Have Dominant Second Halves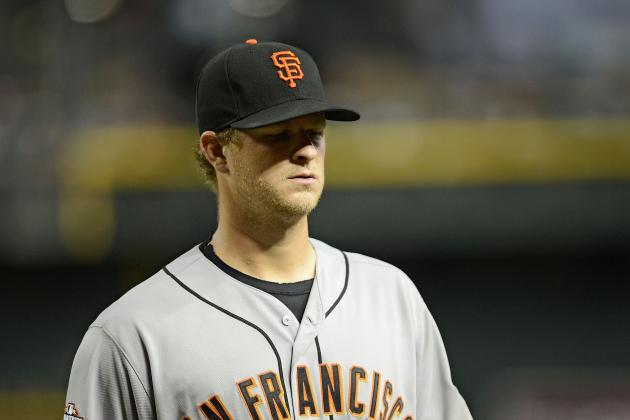 Jennifer Stewart/Getty Images
Don't look so glum, Matt Cain. Your second half will be better!
Each baseball season brings its own diverse bundle of surprising story lines. For instance, some players have enjoyed All-Star worthy campaigns despite otherwise pedestrian careers (i.e. James Loney). There have also been actual All-Stars who have completely forgotten how to hit the ball (i.e. Josh Hamilton).
While it's difficult to project whether players like Starlin Castro, Matt Kemp and R.A. Dickey will bounce back, as few peripherals view them favorably, there are several players who, despite enduring bad surface first halves, are more primed to break out post-All-Star break.
After the jump are eight first half flops who could very well dominate in the second half.
All statistics (through June 26) were sourced from Fan Graphs, Baseball Reference, Cot's Baseball Contracts and Brooks Baseball.
Begin Slideshow

»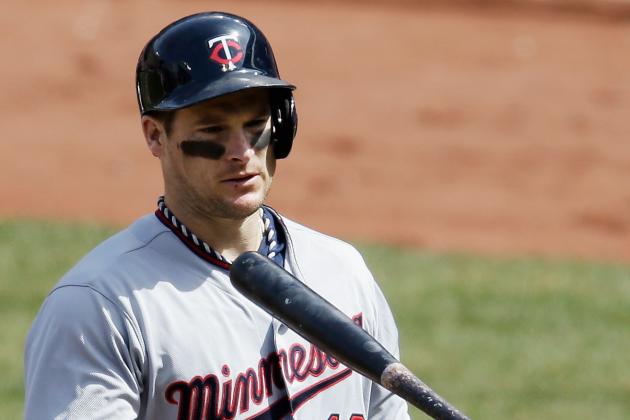 Rob Carr/Getty Images

After posting his best career year in 2012 (.260 batting average, park adjusted 143 wRC+ and 35 home runs), Minnesota Twins' outfielder Josh Willingham has endured a tough first half in 2013. The 34-year-old has posted a .217 batting average, 110 wRC+ and 10 home runs this year.
There are a few positive signs, however, for a second half resurrection. Willingham's .272 BABIP is 24 points below his .296 career rate, which might be a factor in his low batting average. Also, the slugger's 13.0 percent walk rate in 2013 is a tad better than his 11.4 percent career rate, meaning his plate patience has actually improved.
The "Hammer" might not hit 35 home runs again, but by season's end, his surface statistics should at least look a little prettier.
Jennifer Stewart/Getty Images

Since his debut in 2005, San Francisco Giants' starter Matt Cain has established himself as one of the best pitchers in the National League. In that span, the right-hander has posted a 3.27 ERA, 1.17 WHIP and 2.44 K/BB. Yet, so far in 2013, Cain, on the surface, has been nowhere close to his career averages. The 28-year-old has witnessed his ERA spike 1.27 points (as compared to his career rate) to 4.54 this season.
However, Giants' fans have little to worry about: Cain's peripherals support a second half breakout. In addition to actually posting superior walk (career 3.1 BB/9 vs. 2.58 BB/9 in 2013) and strikeout (career 7.5 K/9 vs. 8.55 K/9 in 2013) rates, Cain's park adjusted 3.76 xFIP is not only in-line with his career ERA, but also, is lower than his career xFIP (4.17).
Assuming Cain curbs his recent bout with the long ball (career 0.75 HR/9 vs. 1.43 HR/9 in 2013), the oft-Cy Young candidate should be just fine for the remainder of the season.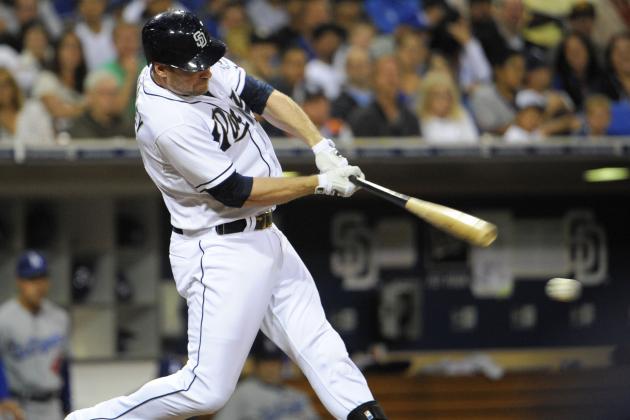 Denis Poroy/Getty Images

After producing 8.0 bWAR total over his first four full-seasons in the major leagues, Chase Headley emerged as one of the league's finest overall players in 2012, swatting a .286 batting average with a park adjusted 145 wRC+, 31 home runs, 17 stolen bases, 12.3 percent walk rate and even gloving a well above average 6.1 UZR/150 at third base. Headley placed fifth in MVP voting, while taking home both the Gold Glove and Silver Slugger honors. On the whole, his 2012 was worth 6.2 bWAR.
But 2013 hasn't been nearly as kind to the San Diego Padres' third baseman. While Headley has still been magnificent in the field, fielding a Gold Glove-worthy 22.8 UZR/150, the 29-year-old has slumped to a mere .224 batting average and just six home runs.
As glum as Headley's 2013 might seem, there is still plenty of hope for a turnaround. The switch-hitter might not club 31 home runs like he did last season, but Headley does have a chance of hitting .286 again, as he has been the victim of an uncharacteristically low .278 BABIP. Considering the slugger's career BABIP is .339, the staggering 61 point difference is certainly a major factor in his terrible batting average.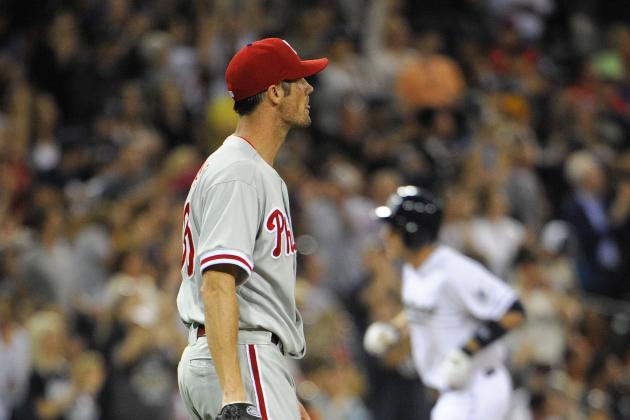 Denis Poroy/Getty Images

Mounting injuries aside, a lot of critics have blamed the Philadelphia Philles' subpar 2013 season on starting pitcher Cole Hamels. On the surface, Hamels is enduring his worst major league season, pitching to the tune of a 4.58 ERA (vs. park adjusted 3.72 xFIP), 1.30 WHIP and 3.00 K/BB. Not that it matters, but Hamels is also leading the National League with 11 "personal" losses.
Yet, perhaps the Phillies' brittle and archaic infield defense is more to blame than Hamels. For instance, third baseman Michael Young, 36, has been predictably horrendous, gloving an inexcusable -17.4 UZR/150. Similarly, first baseman Ryan Howard, 33, has posted a -2.9 UZR/150 at the other hot corner. Freddy Gavis, who was forced to play 150.1 innings at second base while Chase Utley, 34, sat on the disabled list, also stunk it up defensively, posting a -19.5 UZR/150. Jimmy Rollins and his sterling 5.9 UZR/150 at shortstop simply hasn't been enough to compensate for his infield mates' lacking gloves.
The return of Utley (and his 17.1 UZR/150 over 419.1 innings in 2013) could help Hamels' cause, but to-date, far too many balls in play (.310 BABIP in 2013 vs. career .285 BABIP) have resulted in base runners for Hamels this season.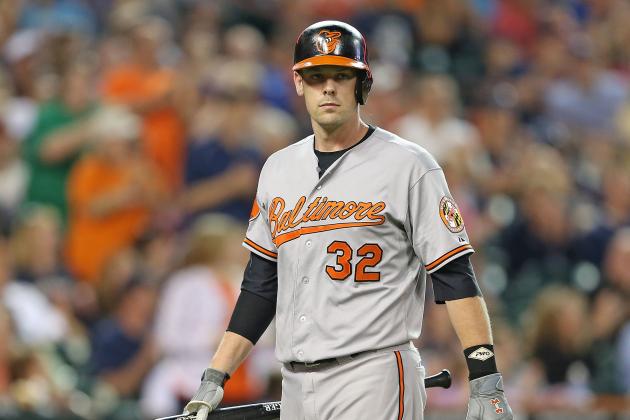 Bob Levey/Getty Images

Matt Wieters is one of just a handful of catchers who can hit (averaged a 3.25 oWAR between 2011 and 2012) and play good defense (averaged a 2.0 dWAR between 2011 and 2012). Yet, home run-pop aside (Wieters has 10 home runs so far), Wieters isn't doing much of either in 2013. The 27-year-old is hitting just .226 and gloving a mediocre -0.1 dWAR to-date.
Even though the young catcher only hit .249 last season, his incredibly low .236 BABIP (vs. career .293 BABIP) this season is likely the culprit for his low batting average in 2013. Assuming more hit balls begin escaping opposing fielders, Wieters will then perhaps see his batting average spike to where it should rightfully be.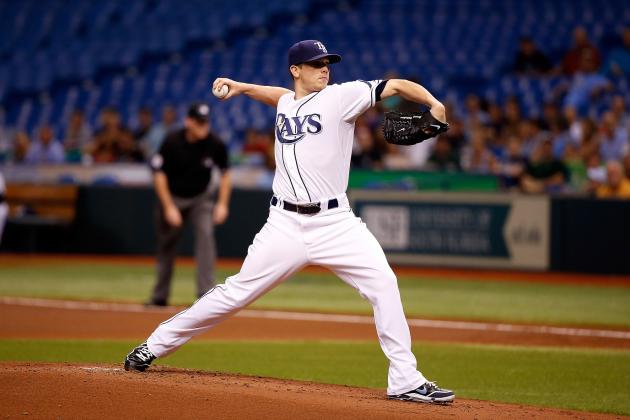 J. Meric/Getty Images

Jeremy Hellickson has arguably been the unluckiest pitcher in the American League this year. The 26-year-old has hurled a 5.11 ERA despite owning a park adjusted 4.03 xFIP. The 1.08 point difference between the two run metrics is most likely due to an unfortunately inflated BABIP (from career .245 BABIP to .289 BABIP in 2013).
Even though Hellickson is not a big strikeout pitcher (career 6.12 K/9 and 5.92 K/9 from 2011 to 2012), in 2013, the right-hander has been sitting down batters at an elevated 6.75 K/9 rate. All of his plate discipline peripherals in 2013 parallel his career rates too.
| | | | | |
| --- | --- | --- | --- | --- |
| | Swinging Strike % | Contact % | Out-of-Zone Swing % | Out-of-Zone Contact % |
| CAREER | 9.6 | 78.8 | 29.6 | 69.0 |
| 2013 | 9.4 | 79.2 | 29.3 | 69.1 |
Hellickson just needs luck to roll his way a bit more in the second half.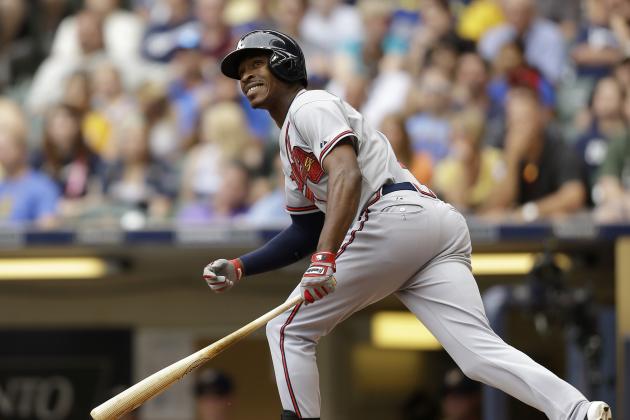 Mike McGinnis/Getty Images

B.J. Upton was lucky enough to score a five-year, $75 million deal this past offseason. Despite his wealth of talent (28 home runs and 31 stolen bases), Upton only posted a .246 batting average, park adjusted 107 wRC+ and 7.1 percent walk rate in 2012. Heck, even his usually-steady glove was well below his capabilities (-2.9 UZR/150). Yet, the center fielder was still able to convince the Atlanta Braves to hand him a big contract.
Unfortunately for the Braves, Upton has been the worst version of himself in 2013. The 28-year-old has posted a pathetic .174 batting average, 60 wRC+ and a 31.1 percent strikeout rate (vs. career 25.1 percent rate). It also doesn't help matters that Upton's BABIP is a whopping 94 points below his career average (from career .322 BABIP to .228 BABIP in 2013).
As dismal as Upton's 2013 has been, the right-handed hitter has looked much better as of late. In the month of June, Upton has hit the the tune of a .234 batting average, 118 wRC+ and 14.4 percent walk rate. If the highly-paid outfielder can build on his solid June, perhaps all will not be lost for Upton (and the Braves for that matter).
Otto Greule Jr/Getty Images

Not much is going right for the Chicago White Sox in 2013. Considering, more or less, the same team that went 85-77 in 2012 has posted a 32-43 so far record in 2013, it's fair to say that the White Sox have severely underachieved this season.
Yet, "struggling" starting pitcher Jake Peavy is not a reason for the team's lack of success in 2013. Peavy has hurled a 4.30 ERA, despite possessing a park adjusted 3.59 xFIP.
Peavy's high ERA vs. low xFIP could be the result of an uncharacteristically high HR/9 rate. Despite owning a career 0.92 HR/9, the 32-year-old appears to be letting up a few more long balls in 2013, posting a 1.34 HR/9. Also, 40 percent of Peavy's home runs have been with men on base—versus a slightly lower career 35.7 percent rate.
But is allowing too many home runs really correctable? In Peavy's case, it could be. The right-hander has been using his cutter significantly more in 2013 (21.3 percent) than in his career (career 10.2 percent). Considering the pitch has only been worth a dismal -2.1 runs above average—and has resulted in more home runs (three) than any of his other pitches, it appears as though Peavy should simply throw his slider more often instead (career 17.3 percent usage vs. 5.8 percent usage in 2013).