The exciting part of the 2013 NBA draft was the uncertainty surrounding the first round. Fortunately, the top picks have finally been decided.
This class features few marquee players compared to years past. As a result, there has been plenty of disagreement among teams and scouts over who are the best prospects available.
While there were plenty of theories entering the draft about what will happen with the first overall pick, the Cleveland Cavaliers surprised everyone by taking Anthony Bennett out of UNLV.
More surprises followed in the coming picks as no one knew exactly what would happen throughout the draft.
Here is a look at the completed draft selections, with updates to follow as they become available.
1. Cleveland Cavaliers: Anthony Bennett, PF, UNLV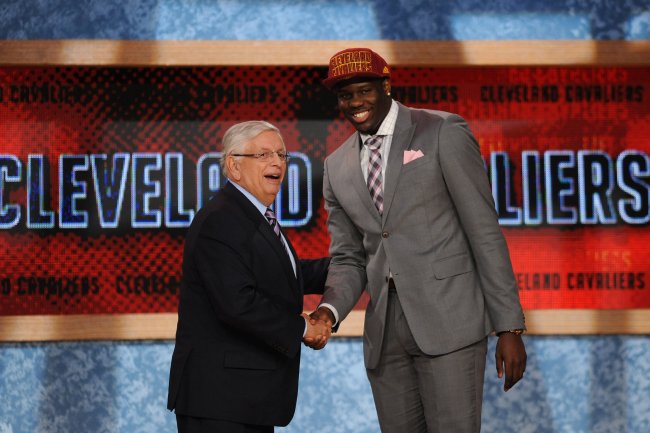 Jerry Lai-USA TODAY Sports
While there was debate about the team drafting Nerlens Noel, Alex Len or others, Anthony Bennett ended up being the one taken first overall.
The power forward is one of the more versatile players in the class as someone who can score in the low post or shoot it well from the outside.
At this point, the biggest question is where he will fit on the Cavaliers with Tristan Thompson already playing the position. However, Bennett's skill could allow him to play at the wing as the team continues to get better.
Who should have been taken with the first overall pick?
2. Orlando Magic: Victor Oladipo, SG, Indiana
In a draft full of risk, Victor Oladipo might be the safest pick in the draft. He is an elite on-ball defender with the length and athleticism to guard multiple positions in the NBA.
Orlando had the worst record in basketball this past season, and the team needed a change in mindset. Adding a high-energy player like Oladipo will help transform the squad in a hurry.
3. Washington Wizards: Otto Porter Jr., SF, Georgetown
After securing the backcourt with selections of John Wall and Bradley Beal in recent years, the Wizards filled another need by grabbing Otto Porter Jr. with the third pick. The local product is the type of player that fills up the box score almost every category and will help a team win in many ways.
Additionally, the wing is a very good defender who will immediately be asked to defend the best players at the position in the Eastern Conference.
4. Charlotte Bobcats: Cody Zeller, C, Indiana
This was one of the more surprising selections of the draft with Noel and Ben McLemore still on the board. Still, Cody Zeller is an athletic big man who is very polished on the offensive end of the court.
The Indiana player will provide immediately help to a Bobcats team that had little production from the frontcourt this season.
5. Phoenix Suns: Alex Len, C, Maryland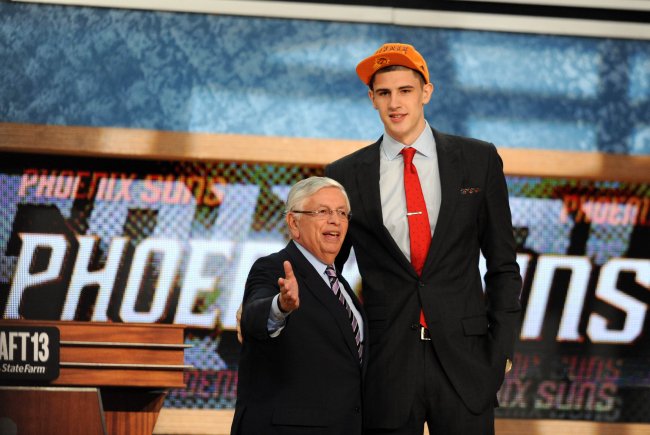 Jerry Lai-USA TODAY Sports
Alex Len has a big offensive repertoire, although he was not always able to show it at Maryland. The Ukraine native can score with his back to the basket or as a face-up shooter and should be able to do that consistently at the next level.
On the defensive end, he is not a big-time shot-blocker, but he is always in the right position and has the lateral quickness to defend the pick-and-roll.
He will be a good addition to Phoenix after the squad struggled to score last season.
6. Philadelphia 76ers (trade with New Orleans Pelicans): Nerlens Noel, C, Kentucky
New Orleans finally ended the slide for Noel, although he was quickly traded to the 76ers, according to ESPN's Andy Katz:
Sixers get Nerlens Noel and 2014 first-round pick. New Orleans gets Jrue Holiday.

— Andy Katz (@ESPNAndyKatz) June 28, 2013
While Philadelphia would add an elite shot-blocker with the athleticism to potentially be a force on the offensive end, this is quite a big price for the trade.
Jrue Holiday is coming off a fantastic season and the trade will leave the 76ers relatively bare next year.
7. Sacramento Kings: Ben McLemore, SG, Kansas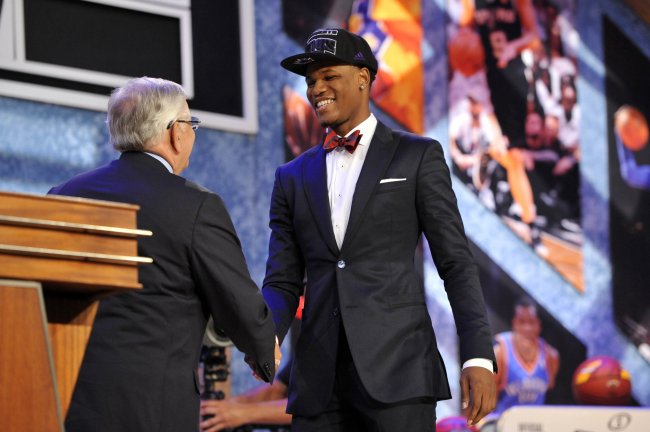 Joe Camporeale-USA TODAY Sports
It took a long time for McLemore to come off the board, but there might not be a player with more upside in the draft. The Kansas star showcased this season a pure shooting stroke as well as the ability to drive to the lane and score at the rim.
While he tended to be passive with the ball at times, he could be an All-Star if he gets the mindset of a go-to scorer with Sacramento.
8. Detroit Pistons: Kentavious Caldwell-Pope, SG, Georgia
With a couple of solid players already in the frontcourt, Detroit needed to add perimeter scorers. Fortunately, Kentavious Caldwell-Pope was available as a prototypical shooting guard.
The Georgia product has the size, athleticism and shooting ability to be very good at the next level.
9. Utah Jazz (trade with Minnesota Timberwolves): Trey Burke, PG, Michigan
Minnesota surprised many by drafting point guard Trey Burke with a number of players already at the position on the roster, but the ensuing trade made much more sense. Chad Ford of ESPN reported the move:
Trey Burke going to Jazz for 14 & 21

— Chad Ford (@chadfordinsider) June 28, 2013
The Jazz now get arguably the top point guard in the class as someone who had a lot of success at Michigan. His competitive nature is certain to take Utah a long way.
10. Portland Trail Blazers: C.J. McCollum, PG, Lehigh
C.J. McCollum was often compared to Damian Lillard as a small-school guard with good quickness and shooting ability. Now, the two will be able to play alongside each other in Portland.
The No. 10 pick has the versatility to play either guard position and will help give the Trail Blazers one of the toughest backcourts to defend in the league.
11. Philadelphia 76ers: Michael Carter-Williams, PG, Syracuse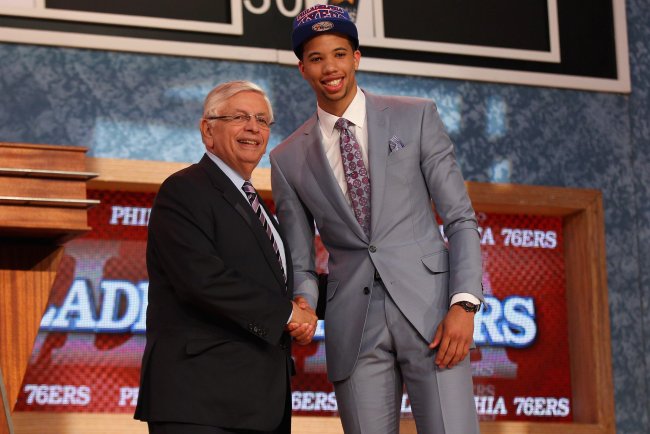 Mike Stobe/Getty Images
After trading away Jrue Holiday, Philadelphia was all of a sudden in the market for a point guard, and the team grabbed the best one available in Michael Carter-Williams.
The 6'6" guard knows how to use his size to his advantage and can create opportunities for teammates once he is in the lane. On defense, his length will help him dominate smaller players at the position.
12. Oklahoma City Thunder: Steven Adams, C, Pittsburgh
With a team already built to contend, Oklahoma City decided to draft a raw player in Steven Adams. The New Zealand native has the size and athleticism to help out in the future, although his lack of skill on the offensive end will keep him on the bench to start his career.
Fortunately, Oklahoma City can afford to wait for him to grow as a player before expecting him to contribute at a high level.
13. Boston Celtics (trade with Dallas Mavericks): Kelly Olynyk, C, Gonzaga
Dallas was trying to get out of this spot for a long time, and the organization was finally able to complete a trade, according to Jeff Goodman of CBS Sports:
Mavs will select Kelly Olynyk with No. 13 and deal it to Boston for 16 and a pair of 2nd-rounders.

— Jeff Goodman (@GoodmanESPN) June 28, 2013
While the Celtics have to give up a few late picks, they get an outstanding offensive player in Kelly Olynyk. The Gonzaga center can score inside and out and should contribute plenty on that end of the court in his first year.
14. Minnesota Timberwolves (trade with Utah Jazz): Shabazz Muhammad, SF, UCLA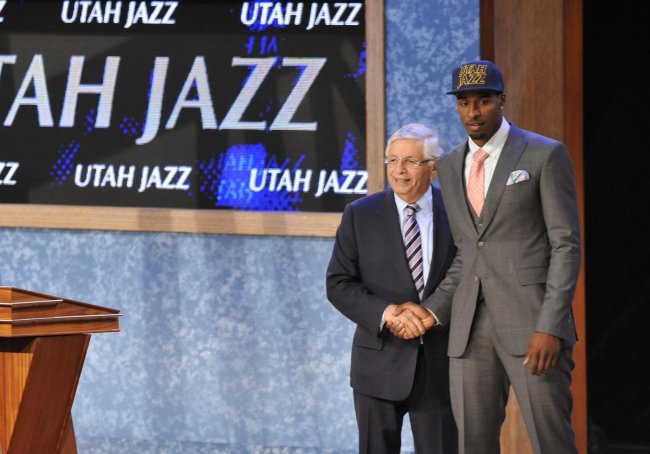 Joe Camporeale-USA TODAY Sports
Before the start of the college basketball season, Shabazz Muhammad was considered one of the top players in the entire country and was expected to be selected with one of the top five picks in the draft.
Although his stock has dropped significantly since then, he still possesses great upside as a pure scorer. If he can improve his mid-range game, he could become an above-average player in the league.
Minnesota needed a perimeter scorer, and it did a good job of finding one with this pick.
15. Milwaukee Bucks: Giannis Antetokounmpo, SF, Greece
This pick represents the future for Milwaukee. Giannis Antetokounmpo has as much upside as anyone in the class as a scoring wing with great handle and passing ability.
Unfortunately, he has not faced much competition in his career and could be a few years away from contributing in the NBA. Still, this stage of the draft represents little risk for a team willing to wait like the Bucks.
16. Atlanta Hawks (originally from Boston Celtics): Lucas Nogueira, C, Brazil
After the Dallas Mavericks traded back to the No. 16 spot, the team traded once again to give the Hawks this pick and a few other pieces, according to ESPN's Chad Ford:
The Mavs will select Lucas Nogueira with the 16th pick (via Celtics) and will trade it to the Hawks along with Jared Cunningham for 18 & 44.

— Chad Ford (@chadfordinsider) June 28, 2013
Lucas Nogueira is still raw, but he is already a very good defender who can rebound and block shots as well as anyone out there. Like other international players, it might take some time to contribute, but his athleticism could help him be successful.
17. Atlanta Hawks: Dennis Schroeder, PG, Germany
Jeff Teague is a free agent this year, which leaves an opening at point guard for a Hawks team looking to rebuild for the future. Dennis Schroeder is clearly one of the best at the position with great quickness and ball-handling ability to beat virtually anyone off the dribble.
The German player should be in the league right away and will continue to get better with experience.
18. Dallas Mavericks (trade with Atlanta Hawks): Shane Larkin, PG, Miami
The Mavericks finally make a selection, and it is one that will seriously help the organization.
Shane Larkin can be the squad's point guard of the future with the ability to create shots for himself and others, as well as hit a shot from deep if given the opportunity. If he was a few inches taller, he would have easily been a top-10 pick in this draft.
19. Cleveland Cavaliers: Sergey Karasev, SF, Russia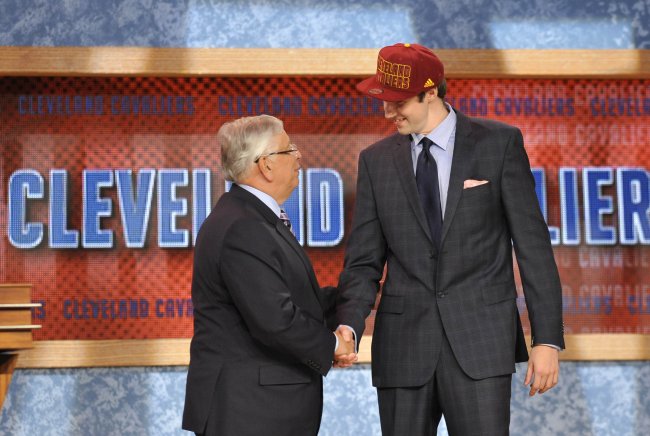 Joe Camporeale-USA TODAY Sports
Sergey Karasev is known for his shooting ability. The Russian wing has great range with his shot and has shown signs that he could become more of a well-rounded scorer with time.
If he does not stay overseas, Karasev could seriously help the Cavaliers next season as they look to contend for a playoff spot for the first time since LeBron James left town.
20. Chicago Bulls: Tony Snell, SF, New Mexico
The Bulls are looking to contend for a title next season when everyone is healthy, so grabbing a player like Tony Snell that can contribute right away makes a lot of sense.
Snell struggles at creating his own shot, but is solid at coming off screens and finishing and also fits in as a solid defender. After a good year with New Mexico, he will bring a winning attitude to an already strong team.
21. Minnesota Timberwolves (trade with Utah Jazz): Gorgui Dieng, C, Louisville
Gorgui Dieng is 23 years old, which scared many teams away. However, he is one of the best interior defenders in the class and will be able to help out immediately.
After grabbing more of an offensive threat in Muhammad, the Timberwolves balance themselves out with a defensive player with their second pick.
22. Brooklyn Nets: Mason Plumlee, C, Duke
The things that Mason Plumlee does well, he does extremely well. He can score consistently inside 10 feet with a great post game and is one of the better rebounders in the class.
Although he will never be able to hit a jump shot, he will provide some good depth to the Nets as the team looks to contend for a championship.
23. Indiana Pacers: Solomon Hill, SF, Arizona
This was one of the bigger reaches in the draft, as Solomon Hill does not do anything exceptionally well. However, the ability to fill up the box score in a bunch of different ways will help give Indiana added depth to help the squad.
24. New York Knicks: Tim Hardaway Jr., SG, Michigan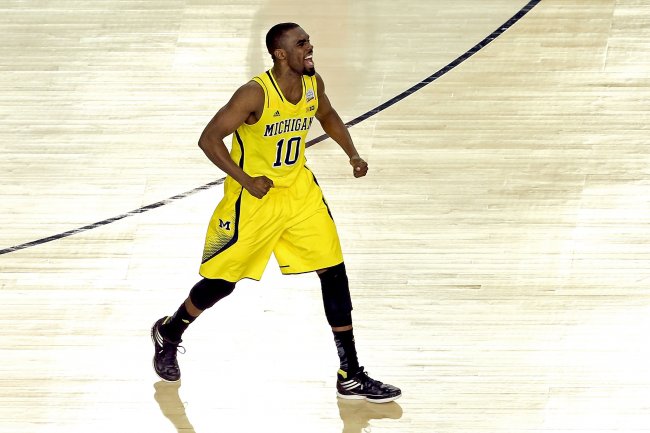 Andy Lyons/Getty Images
New York needed experienced players to help right away, and Tim Hardaway Jr. fits that description. The Michigan star has the ability to shoot extremely well and has the athleticism to finish above the rim with space.
He will give the Knicks some added depth and should be able to enter the rotation right away.
25. Los Angeles Clippers: Reggie Bullock, SF, North Carolina
At this point of the draft, contending teams look for players who can help right away. While Reggie Bullock is a bit one-dimensional, his shooting ability will help the Clippers immediately.
Additionally, his size will allow him to get off shots that would stop smaller guards in the NBA.
26. Oklahoma City Thunder (originally from Minnesota Timberwolves): Andre Roberson, C, Colorado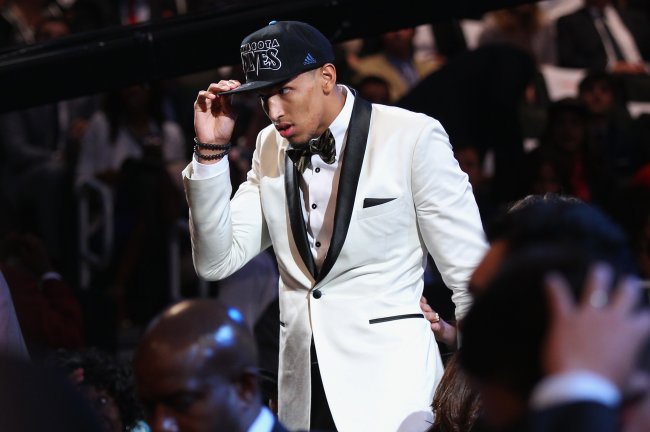 Mike Stobe/Getty Images
This was one of the more confusing picks of the draft as it was traded a few times, but Marcus Thompson of the San Jose Mercury News summed it up well:
Once again, the Warriors acquired No. 26 pick from Minnesota, then traded it to Oklahoma City for the No. 29 pick

— Marcus Thompson (@gswscribe) June 28, 2013
With this selection the Thunder get one of the best rebounders in the draft with an unstoppable motor that will allow him to be successful despite his lack of size.
27. Utah Jazz (trade with Denver Nuggets): Rudy Gobert, C, France
Denver originally made this selection, and then immediately traded it to the Jazz, according to Benjamin Hochman of the Denver Post:
Den will send Gobert to Utah for cashand 46

— Benjamin Hochman (@nuggetsnews) June 28, 2013
While Rudy Gobert is certainly a project, he has incredible length and be an impressive defensive player if he reaches his potential.
28. San Antonio Spurs: Livio Jean-Charles, PF, France
As a second straight pick from France, Livio Jean-Charles is another raw player who might be able to contribute at some point down the line. The difference is that the Spurs have little need for any rookie on the roster and could stash him in Europe for another year before needing his services.
29. Phoenix Suns: Archie Goodwin, SG, Kentucky
After being a big recruit out of high school, Archie Goodwin struggled like the rest of his teammates at Kentucky. Still, the guard is very young and has the quickness to get himself into the lane seemingly at will.
If he can improve his shot, the Suns will be getting a steal late in the first round.
30. Golden State Warriors (trade with Oklahoma City Thunder): Nemanja Nedovic, G, Serbia
Golden State originally was not even in this draft, so grabbing anyone is a bonus. Nemanja Nedovic has shown potential at Serbia, although he has not faced the best competition in his career.
Still, there is very little risk associated with this move for the Warriors.
Follow Rob Goldberg on Twitter for the latest updates in sports.