Alabama Football: Over/Under Stat Projections for T.J. Yeldon in 2013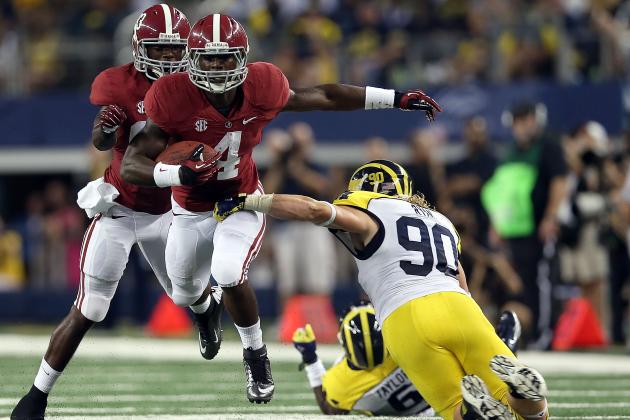 Ronald Martinez/Getty Images
Alabama RB T.J. Yeldon is poised to have a monster sophomore season as the Tide's feature back this fall.
At a place known for producing standout running backs, T.J. Yeldon wasted little time in making a lasting impression.
Alabama Crimson Tide fans first glimpsed head coach Nick Saban's latest backfield stud in last year's season opener. The 6'2", 218-pounder gashed a touted Michigan Wolverines defense for 111 yards and a touchdown on just 11 carries.
After a strong debut season as Eddie Lacy's understudy, Yeldon will ascend to the feature back role that has made stars out of Lacy and predecessors Mark Ingram and Trent Richardson.
How will Yeldon's sophomore numbers look in comparison to his freshman All-American campaign?
Begin Slideshow

»
2012: 175
Yeldon averaged roughly 12 carries per game in a backup role. However, those numbers should rise this season even with other backs fighting for carries in the Tide's backfield.
For reference, Lacy averaged nearly 15 carries per game as the lead back last season, while Richardson had 20 touches per game in 2011.
Yeldon's numbers are likely to fall somewhere in between those totals. The depth at running back and the offensive line having three new starters could limit his carries.
Yeldon is one of the nation's most talented rushers, and even on an offense loaded with talent at the skill positions, he's capable of being the go-to guy in crunch time.
Projection on Carries: Over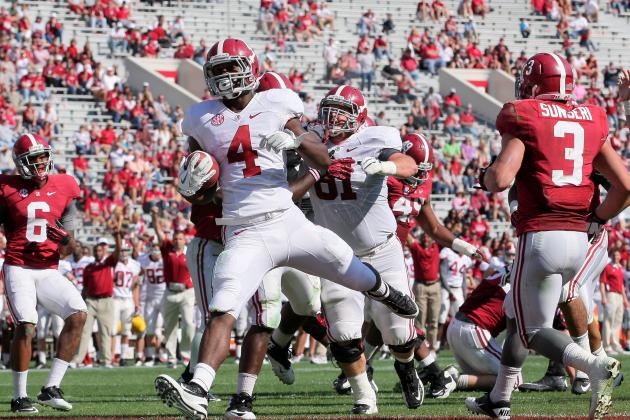 Marvin Gentry-USA TODAY Sports

2012: 6.33
Last season, Yeldon and Lacy joined Mark Ingram as the only Tide rushers under Saban to average more than six yards per carry with at least 100 attempts.
Yeldon is a physical runner who rarely goes down on first contact. However, he still has the breakaway speed to chew up yards in big chunks.
Considering the turnover on the offensive line and projecting him to take on an increased workload, expecting him to top last year's mark seems ambitious.
On the other hand, maintaining an average in the vicinity of six yards per carry seems like a possibility.
Projection on Yards per Carry: Under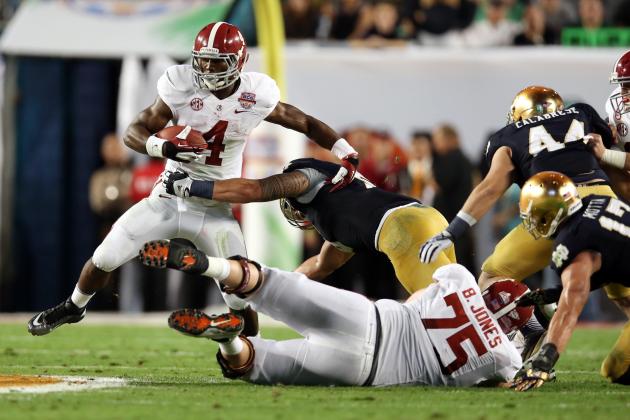 Matthew Emmons-USA TODAY Sports

2012: 1,108
Another by-product of landing the feature back role at Alabama is that Yeldon will get a chance at blossoming into one of the nation's most prominent players at his position.
Alabama's lead back has rushed for at least 1,300 yards in four of the last five seasons, and Yeldon appears to be a safe bet to reach that benchmark if he stays healthy.
The Tide have recruited well in the trenches, and while the offensive line may not be as stout as last year's unit, a steep drop-off isn't expected.
Alabama's bruising ground game has long been a staple of the offense's identity. Yeldon's numbers are expected to be profit from that principle this season.
Projection on Rushing Yards: Over
2012: 13 (12 rushing, one receiving)
Yeldon's 12 rushing scores placed him in a tie for fourth in the SEC, according to CFBStats.com.
His most notable touchdown came against LSU when he took a screen pass from A.J. McCarron and raced into the end zone in the final minute to complete a 21-17 comeback victory.
Alabama's lead backs have averaged 17 rushing touchdowns since 2009.
Considering that he should be more comfortable with the offense in his second season, expecting a slight increase in his scoring production is a reasonable projection.
Projection on Touchdowns: Over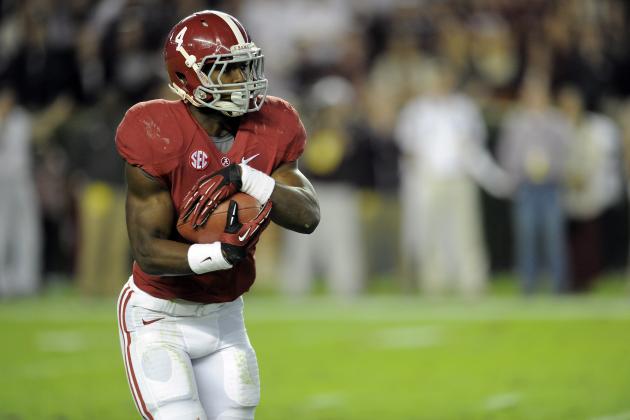 John David Mercer-USA TODAY Sports

2012: Three fumbles (two lost)
Yeldon's freshman season was a success by most standards. He put up huge numbers and positioned himself as the Tide's next dominant rusher.
However, one moment on November 10, 2012 will likely haunt him until he takes the field this fall.
With Alabama trailing Texas A&M 23-17 midway through the fourth quarter, Yeldon had a costly fumble that turned into points for the Aggies, and ultimately helped Kevin Sumlin's club hand Alabama its only defeat of the season.
Yeldon fumbled three times last season, losing two of them. However, a fumble attributed to Yeldon against LSU was a botched exchange with McCarron.
Three fumbles are not extreme numbers, but they're still too many when playing for a perfectionist such as Saban.
Considering that he is in line for a heavier workload in 2013, chances are likely that he will cough up the ball at least three times, and possibly more, this fall.
Projection on Turnovers: Over