The Washington Wizards have to feel good about what they did in the first round of the NBA draft on Thursday. In contrast, fans of the Phoenix Suns should be concerned about the way their team handled their first selection.
Neither the Wizards or Suns were alone in their apparent success or failure from draft night. It is too early to say for sure, but at this very early stage, it would appear the following picks and decisions were the biggest hits and misses of the first round.
The Biggest Hits
Wizards Take Otto Porter at No. 3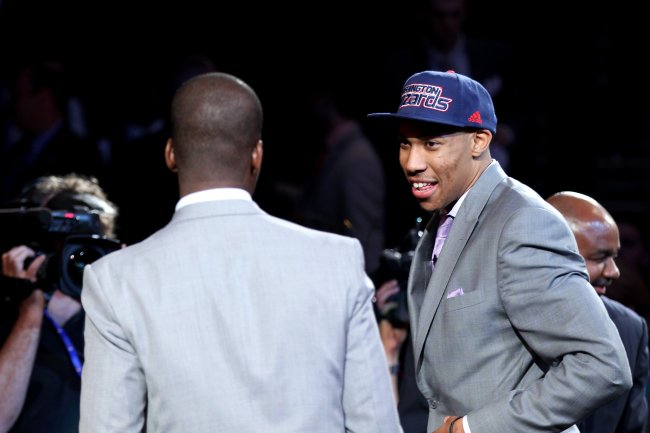 Mike Stobe/Getty Images
The Wizards came into the draft with a need at small forward position and they drafted the most natural player at the position. No. 1 overall pick Anthony Bennett will do fine at the 3 for the Cleveland Cavaliers, but the Wizards didn't miss out because Porter is a better fit for them.
Porter's versatility, defense and work ethic is just what the Wizards need to take them to the next level.
This is a pick that will pay off immediately.
Grade: A+
The Jazz Aggressively Fill Their Biggest Need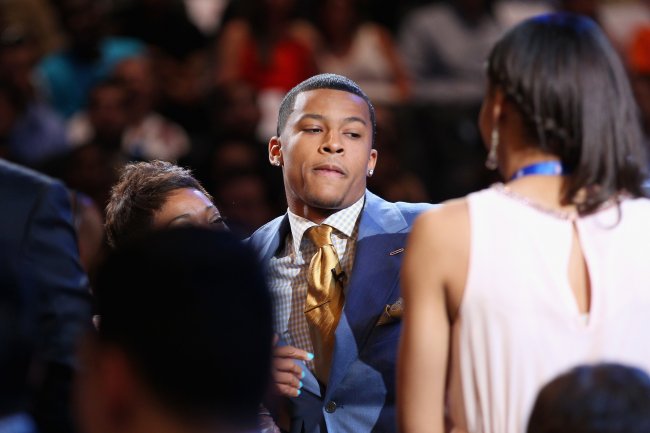 Mike Stobe/Getty Images
Utah had just one point guard under contract coming into the draft. Not only did the Jazz draft a man to run their offense for the foreseeable future, the team moved up to get the best player at the position in Trey Burke.
Yahoo! Sports' Adrian Wojnarowski delivers the good news to Jazz fans:
Trey Burke is going to the Utah Jazz in a trade, sources tell Y! Sports.

— Adrian Wojnarowski (@WojYahooNBA) June 28, 2013
The NBA tweeted this image of Burke in the Jazz cap:
Hey @UtahJazz fans... It's @Trey_Burke3. How do I look? pic.twitter.com/kJLLgt4Q2K

— NBA (@NBA) June 28, 2013
His ability to create and shoot the three will be a perfect complement to Enes Kanter and Derrick Favors inside and Gordon Hayward on the wing.
Grade: A+
New Orleans Passes on Burke But Secures Jrue Holiday and a Potential Sixth Man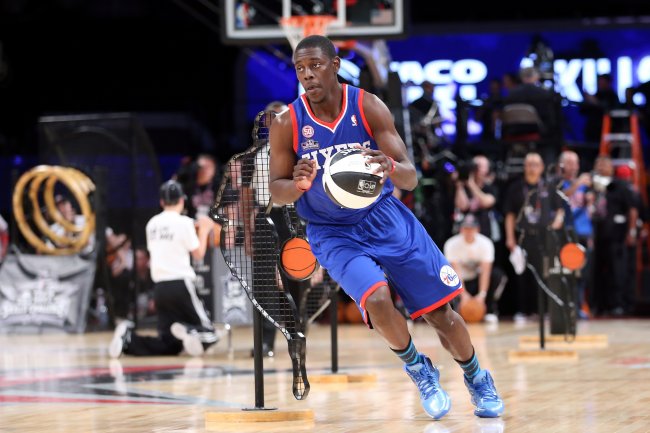 Ronald Martinez/Getty Images
Many had the Pelicans taking Burke with the sixth pick. When the team took Nerlens Noel, it didn't seem to make much sense with Anthony Davis already on the roster.
This deal was soon reported, and Pelicans fans should have been ecstatic.
DONE DEAL: Pelicans send Nerlens Noel and a 2014 first round pick to the 76ers for Jrue Holiday.

— NBA Legion (@MySportsLegion) June 28, 2013
It isn't often that an up-and-coming team gets the opportunity to add an All-Star point guard like Holiday without giving up any of its best players.
To make matters better, the Pelicans used the second-round pick they obtained to take Baylor's Pierre Jackson. Now the Pelicans could possibly dangle Greivis Vasquez as trade bait and they still have depth at point guard.
Grade: A+
The Biggest Misses
Phoenix Suns Will Rue the Day They Took Alex Len over Noel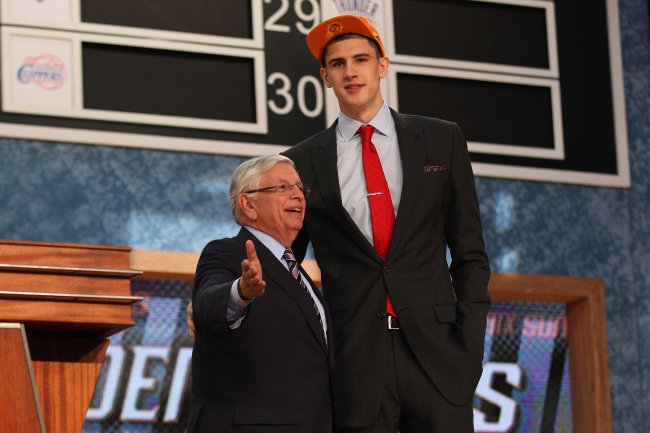 Mike Stobe/Getty Images
With Noel free-falling to the sixth spot in the draft, the Suns had an opportunity to take him with the fifth overall pick. Instead, they chose to draft Len.
Who will have the better career?
While Len is a decent young prospect, to put it plainly, he isn't better than Noel. The two did meet head to head in Noel's first college game and Len severely outplayed him. However, Noel improved dramatically through the season.
He showed the ability to dominate defensively, which is something Len never did in two seasons at Maryland.
Noel has a skill that will translates to the NBA, even if he never fully reaches his potential. His 4.4 blocked shots per game are the real deal.
Len had only five games this past season with double-figure points, rebounds and at least two blocks. Noel had four, and he played in just 24 games compared to Len's 38.
It may seem as though the knee injury caused Noel to drop, but ESPN's Chris Broussard reports one team executive says that wasn't a factor:
One exec who's team passed on Noel says don't blame injury: "He's actually healthier than Len or Bennett.''

— Chris Broussard (@Chris_Broussard) June 27, 2013
In any case, the Suns will feel the most sorrow if he stays healthy and outplays Len.
Grade: D
Philadelphia 76ers' Peculiar Moves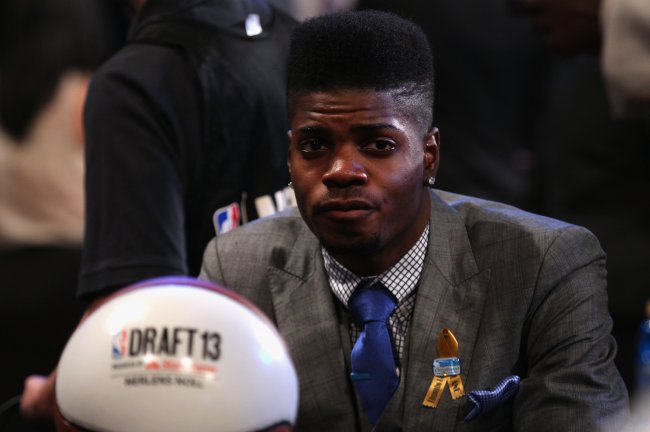 Mike Stobe/Getty Images
Obviously Noel is a talent and Michael Carter-Williams' size and athleticism are rare for the point guard position, but it was strange to trade the leading scorer on a woeful offensive team for a center who doesn't project as an offensive force.
Noel will block shots and rebound the moment he's healthy, but his scoring may never develop.
In addition to that, the team didn't pick up a point guard who could at least shoot with the 11th pick.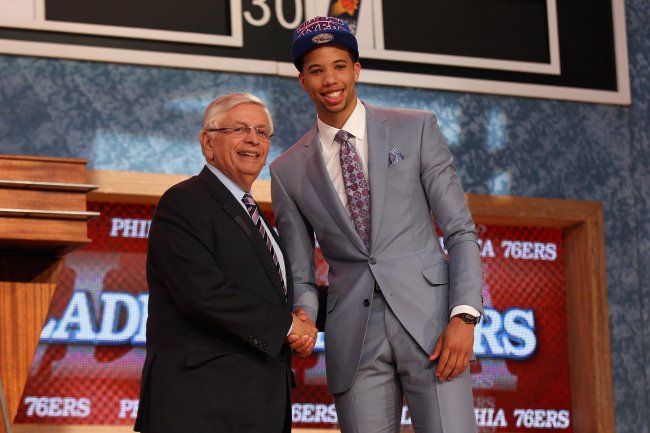 Mike Stobe/Getty Images
MCW shot just 29 percent from three-point range last season. While the players the 76ers added are talented, it doesn't seem as though the team addressed their primary need.
Grade: C-
Pacers Guilty of Biggest Reach in the First Round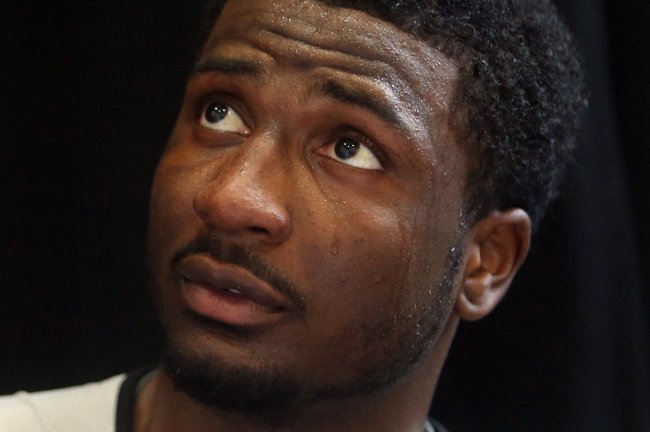 Jerry Lai-USA TODAY Sports
Solomon Hill is a nice, versatile wing player, but at No. 23, the Pacers could have done better.
Even if the team was looking to take the best player available, Michigan's Tim Hardaway Jr., North Carolina's Reggie Bullock or California's Allen Crabbe would have given the team the outside shooting it needs.
Each of them are better prospects than Hill because of their combination of athleticism and shooting ability.
Beyond that, the Pacers' biggest need was a backup point guard. Isaiah Canaan was still on the board here, but Indiana passed on him as well.
Hill may turn out to be a solid player, but the other options seemed more attractive.
Grade: C-
Follow me for hoops news, rumors and spirited opinions.