Spain beat Italy 7-6 in a penalty shootout to advance to the final of the 2013 Confederations Cup. The match had been tied, 0-0, after extra time.
The match started off very well. It was pretty open, and Italy were giving Spain a lot of problems. Italian football expert Paolo Bandini was just happy to see that the Azzurri didn't concede a goal after 15 minutes like they did at Euro 2012.
15 minutes gone. Italy not a goal down. Doing better than last time, at least.

— Paolo Bandini (@Paolo_Bandini) June 27, 2013
Rather than going right at Spain, Italy looked very organized in the midfield and defense. They shut down a lot of options for the Spanish attack and did well to hit back on the counter. FOX Soccer Trax was very complimentary of Italy's performance.
30: Spain look a bit rattled, don't they? Italy has done a great job at breaking with pace and shutting down the passing lanes. 0-0

— FOX Soccer Trax (@FOXSoccerTrax) June 27, 2013
Italy had a great chance to score in the 36th minute. Emanuele Giaccherini got some space on the left and fired in a cross to an unmarked Maggio. His header was directed right at a grateful Iker Casillas. It was a golden chance gone for the Italians.
Spanish football expert Dermot Corrigan noted that Maggio was not in an offside position when the ball left Giaccherini's feet.
Casillas with pointblank save from Maggio header. Spain want offside but dont think it was. Italy switching play quickly very cleverly.

— Dermot Corrigan (@dermotmcorrigan) June 27, 2013
Jack Lang of Snap, Kaka and Pop! thought Claudio Marchisio should have done something to get on the rebound.
Someone tell Marchisio you're allowed to go for rebounds.

— Jack Lang (@snap_kaka_pop) June 27, 2013
It was the third header which Italy could have scored after Marchisio and Daniele De Rossi had great efforts go wide of the goal.
Not to be outdone, Fernando Torres almost immediately then went to the other side of the pitch and missed a good chance to put Spain up. It was the best opportunity La Roja had to get on the board.
The first half ended, 0-0. If anything, Italy could have easily had two or three goals. Spain looked tired and couldn't handle the pressure from Italy. La Roja were probably lucky to go into the break just looking at a tie.
Width was the biggest difference between the two. Giaccherini and Maggio had so much space down the flanks with which they could do their damage. Corrigan had a great breakdown of the problem Sergio Busquets was facing.
Busquets has way too much space to cover each time Italy look to counter. First pass drags him one side, then switched quickly & Italy in.

— Dermot Corrigan (@dermotmcorrigan) June 27, 2013
One of the surprises going into the second half was that Cesare Prandelli chose to sub on Riccardo Montolivo for Andrea Barzagli. Bandini mad a note of what that meant for the Azzurri.
De Rossi having to fall back into defence a big blow. His presence in middle of park was significant one in first half.

— Paolo Bandini (@Paolo_Bandini) June 27, 2013
The pace of the second half dropped quite a bit. Both teams looked like they were having some problems with the heat earlier in the match, and that eventually caught up to them.
It only took La Roja 58 minutes to get a shot on goal when Jesus Navas' effort was saved by Gianluigi Buffon, per ESPN's Paul Carr.
Spain's first shot on goal vs Italy comes in the 58th minute. #ConfedCup

— Paul Carr (@PCarrESPN) June 27, 2013
Spain continued to have trouble getting much going in the attack. Andres Iniesta was doing well to get forward, but his shots on goal were wasteful. Navas was a good addition in the second half as he brought much-needed width and a fresh body.
Aside from those two, there wasn't much to get excited about.
Roger Bennett of the Men in Blazers podcast had a unique perspective on the match.
Proof this is one phenomenal game of football: press box silent on both sides of the aisle. Spanish and Italians united in fear, hope, dread

— roger bennett (@rogbennett) June 27, 2013
Bleacher Report's Italian football expert Matteo Bonetti wondered when the last time was that Spain were forced into a match like this.
When was the last time we've seen Spain pressed in their own half like this?

— Matteo Bonetti (@TheMilanGuy) June 27, 2013
Gerard Pique had a great chance to go ahead in the 85th minute. Torres made a nice run into the box and passed it off to Navas. Navas delivered a pass across to Pique in the box, but the centre-back launched it over the goal.
Give credit for the defender running that far to get an effort on goal; however, he should have done much better with the finish, centre-back or no centre-back.
Regular time finished, with the match still 0-0. Italy deserved to have won the match after 90, but they didn't make the most of their opportunities. They only have themselves to blame for that.
Giaccherini had an effort carom off the post in the 93rd minute. You got the feeling that Italy were simply cursed. How else could so many things go wrong for them?
Spain had a bevy of chances, only to sky them over the bar.
This match was no doubt a war of attrition. It was appropriate that it eventually went to penalties.
Leonardo Bonucci was the villain, as he was the only Italian to miss a penalty.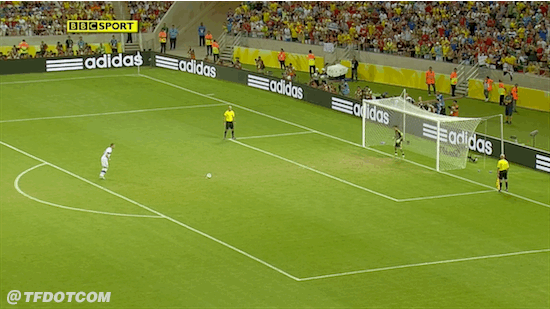 Navas promptly stepped up and slotted it home in the bottom right corner to win the match.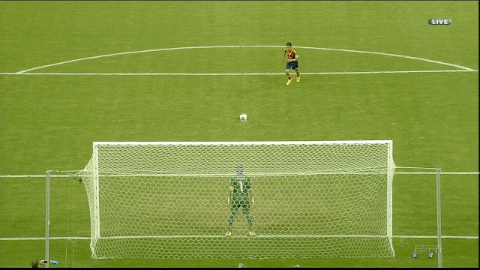 Goal's Zac Lee Rigg pointed out how a penalty shootout can make even the greatest goalkeepers look like amateurs.
Buffon and Casillas, two of the top three goalkeepers in the world, didn't save a penalty between them.

— Zac Lee Rigg (@zacrigg) June 27, 2013
The Yanks Are Coming had the tweet that best summed up the entire match.
Very good team plays very well against Spain. Folks say Spain look "terrible." Spain win anyway. Rinse. Repeat.

— The Yanks Are Coming (@YanksAreComing) June 27, 2013
Spain will go on to face Brazil in the final. The Selecao are at a major advantage as they have an extra day of rest.