Power Ranking the Top 12 Tight Ends in 2013 Fantasy Football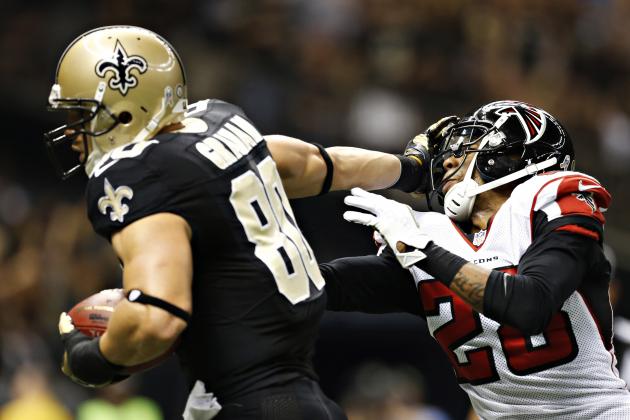 Wesley Hitt/Getty Images
Jimmy Graham of the Saints looks to stiff-arm the competition in 2013.
With fantasy football drafts fast approaching, it's time to take a look at the top 12 tight ends for the 2013 season.
Tight end is a relatively deep position this year, unlike last season when it was Jimmy Graham or Rob Gronkowski and then a toss-up on everyone else.
Start the slideshow to see who we think are going to be the top 12 tight ends. As usual, we start our rankings with the No. 12 tight end.
Begin Slideshow

»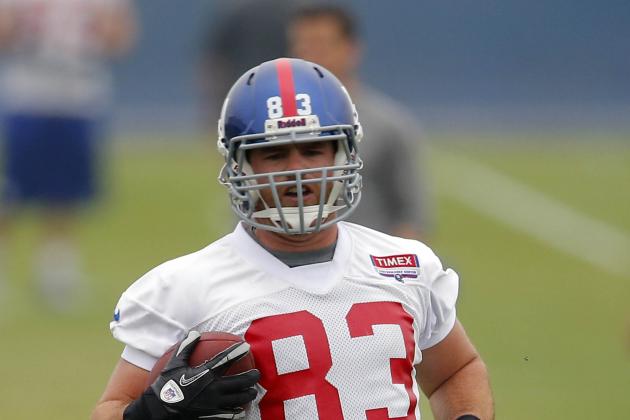 Jim O'Connor-USA TODAY Sports
Myers went to the Giants from the Raiders in the offseason.
Last season in Oakland, Myers put up a solid set of stats with 79 catches, 806 yards and four touchdowns in an otherwise bland Raiders offense. The other key stat with Myers is that he was targeted a team-high 105 times.
Myers will be in a more favorable situation in 2013 with the Giants, as he'll be on a team with a couple of legitimate receiving threats. Working with Hakeem Nicks and Victor Cruz will help to stretch the field and should allow Myers to post similar numbers to what Martellus Bennett did last season in the Big Apple.
Projection: 61 receptions, 672 yards, 5 touchdowns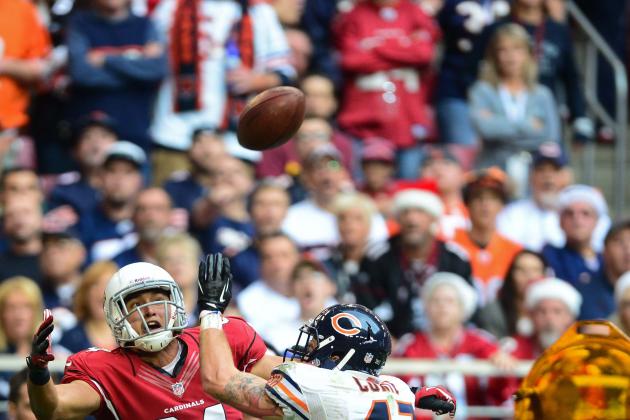 Mark J. Rebilas-USA TODAY Sports
Housler looks for the ball against Chicago.
Rob Housler of the Cardinals checks in at the No. 11 spot in the rankings. Wait, an Arizona Cardinal tight end this high up? Yes, really. With the addition of Carson Palmer at quarterback and a new offensive philosophy, Housler is poised to break out in 2013.
Last season in Oakland, Palmer targeted his No. 1 tight end a team-best 105 times. While Arizona head coach Bruce Arians favors more of a vertical attack, it should give Housler opportunities to get involved in the passing attack. Housler has been used as a true tight end, but he also should see some opportunities split out in three and four-receiver sets.
Assuming the offensive line in Arizona has improved, Housler could be a pleasant surprise in 2013.
Projection: 58 catches, 633 yards, 4 TDs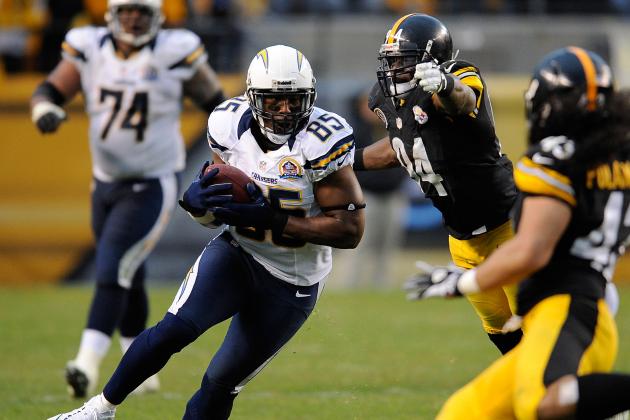 Joe Sargent/Getty Images
Gates looks to remain healthy in 2013.
Antonio Gates is a tried-and-true fixture at the tight end position in fantasy football. That was until recently. Foot injuries have slowed him down, and it's a risk owners must take if they want to draft him.
He appeared in 15 games last season but missed a total of nine games the previous two seasons. Gates also had a poor season, picking up 49 catches on 78 targets and 538 yards, his worst production since he was a rookie.
Consider that no player on the San Diego offense had more than 85 targets last season. While that kind of balance is good in the real world, it waters down the fantasy values of those players.
And you still have to consider the effectiveness of Philip Rivers too.
Projection: 59 receptions, 671 yards, 6 touchdowns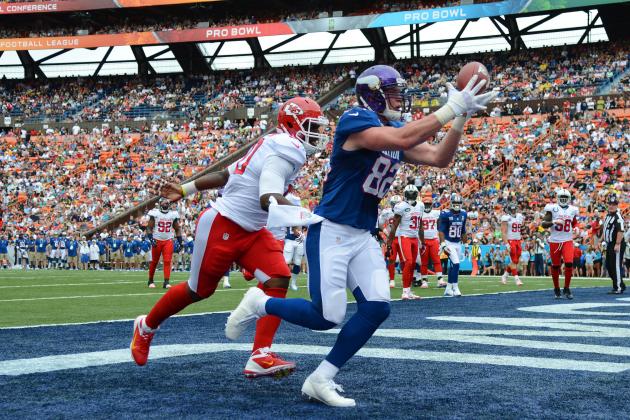 Kyle Terada-USA TODAY Sports
Rudolph snags a touchdown pass in the Pro Bowl.
The Vikings' Kyle Rudolph was the Most Valuable Player of the Pro Bowl with 122 yards and a touchdown on five catches. During the regular season, he never had more than 67 yards in a game.
Rudolph is more of a red-zone threat than an open-field receiver. He racked up nine touchdowns last season and scored as many receiving touchdowns as the rest of the team, combined. He can also give some good yardage after the catch, with 288 of his 493 yards coming in that fashion.
Minnesota added Greg Jennings in free agency and picked up University of Tennessee receiver Cordarrelle Patterson in the first round of the draft to give Christian Ponder more weapons to work with in the passing game.
Projection: 59 receptions, 598 yards, 8 touchdowns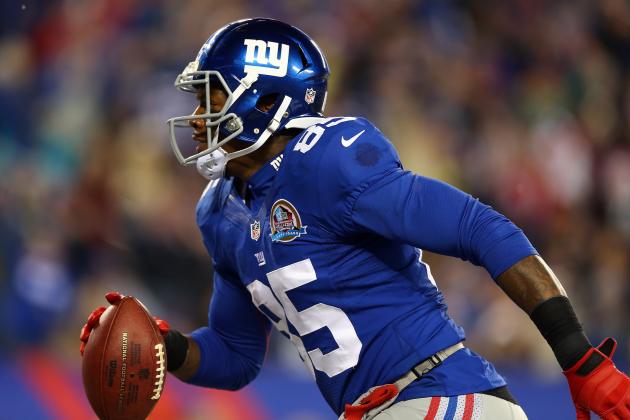 Elsa/Getty Images
Bennett left the Giants for Chicago.
Martellus Bennett signed a four-year contract with the Chicago Bears and is coming off a career-best season with the Giants.
In Chicago, the Bears have a new head coach in Marc Trestman who came from the Montreal Alouettes of the Canadian Football League and has two Grey Cup championships to his credit. Trestman's coaching style calls for a lot of quick passes, which should favor the tight end position.
Bennett is going to be behind Brandon Marshall in the pecking order for targets, but he will still have a strong season in 2013.
Projection: 63 receptions, 682 yards, 6 touchdowns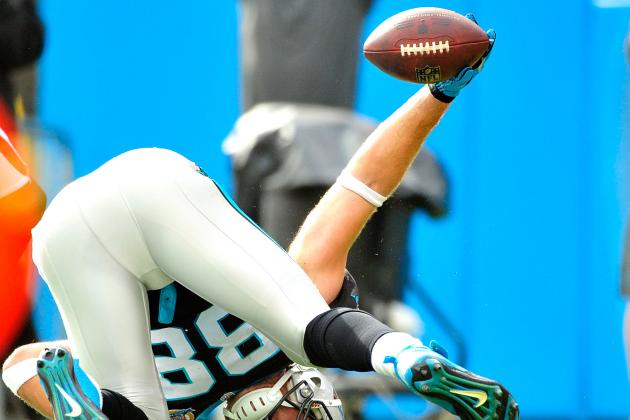 Grant Halverson/Getty Images
Could fantasy owners be head over heels for Olsen?
Carolina tight end Greg Olsen had a solid season and flew under the radar in fantasy football. Among tight ends, Olsen was fourth in receiving yards with 843 and sixth in receptions with 69.
For the Panthers, he was the second-most targeted receiver (104) and led the team with five receiving touchdowns.
Olsen should be a strong tight end option in fantasy football in 2013. Cam Newton likes rolling out to find Olsen as his check-down receiver. Of his 69 receptions, 42 of them resulted in first downs, so Newton has confidence that Olsen can pick up the key yardage when needed.
Projection: 71 receptions, 868 yards, 7 touchdowns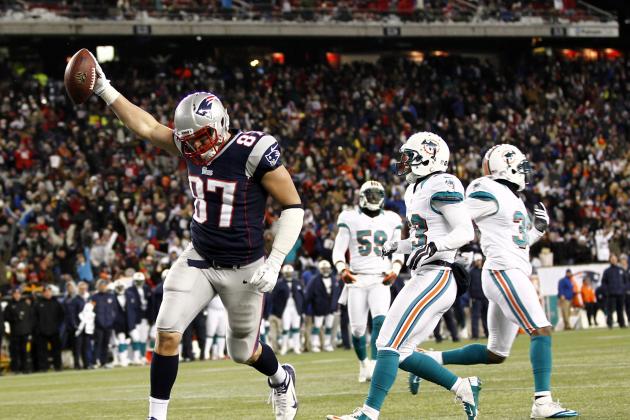 Mark L. Baer-USA TODAY Sports
Gronkowski scores against Miami in December.
Rob Gronkowski is going to have a different fantasy season in 2013. Gronkowski finished last season with 790 yards and 11 touchdowns despite missing six games.
Unfortunately, things have been difficult since then. Gronkowski had four more surgeries on his arm and back. Because of them, he will start the season on the Physically Unable to Perform (PUP) list, according to NFL.com's Ian Rapoport.
The Patriots lost Wes Welker, Brandon Lloyd and Danny Woodhead in the offseason, so quarterback Tom Brady is going to have to work with some different weapons in 2013.
Aaron Hernandez was arrested Wednesday as part of a homicide investigation and was released by New England later that morning. He cleared waivers, according to Chris Wesseling of NFL.com.
Because of all of the changes, defenses should find it easier to try to cover Gronkowski, thus potentially limiting his production.
Gronkowski owners should be prepared for a good, but not great, season, as he will fail to reach double-digit touchdowns for the first time in his career.
Prediction: 71 catches, 810 yards, 7 touchdowns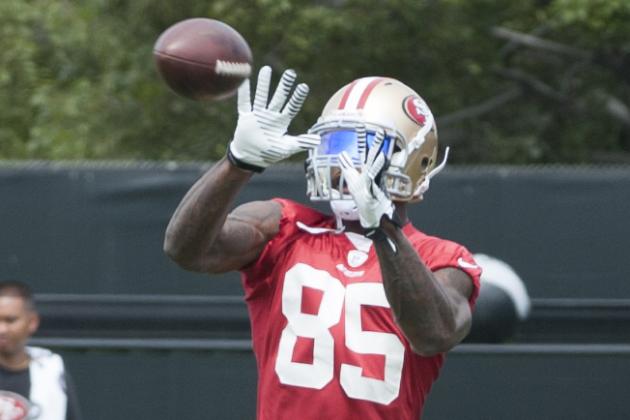 Ed Szczepanski-USA TODAY Sports
Davis should see plenty of targets in 2013.
Vernon Davis should be in line to have a strong season for the San Francisco 49ers, and he lands fifth on our list.
The 49ers already lost Michael Crabtree to a torn Achilles' tendon that will likely sideline him for most, if not all, of the season. That leaves Davis to be one of the key receivers for quarterback Colin Kaepernick. Anquan Boldin will help to be San Francisco's deep threat.
Davis posted stats of 11 catches for 210 yards and a touchdown in the 49ers' final two playoff games. Davis should be able to build on those numbers and that rapport with Kaepernick in 2013.
Projection: 66 receptions, 888 yards, 7 touchdowns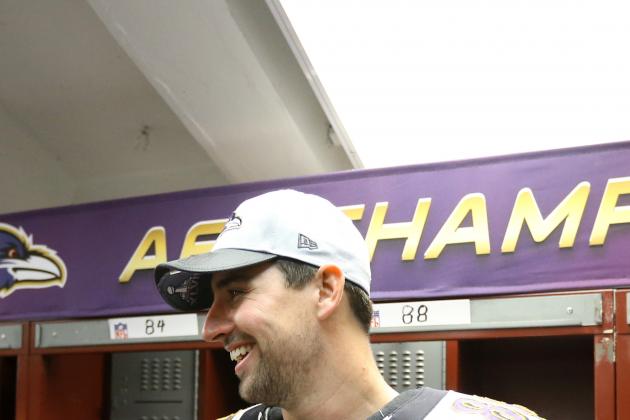 Mark J. Rebilas-USA TODAY Sports
Pitta should be one of the best tight ends in the league.
Dennis Pitta checks in at the fourth spot in our rankings for 2013. The Baltimore tight end will likely see more passes thrown his way in the coming season. He was targeted 93 times last year, and that number should go up with Anquan Boldin leaving for San Francisco.
Pitta could be lined up all over the field to add to his versatility and value. Baltimore still has Torrey Smith and Jacoby Jones as deep threats, but Pitta could easily join them in a three-receiver set and be highly productive.
Projection: 77 catches, 901 yards, 8 touchdowns
Dale Zanine-USA TODAY Sports
Gonzalez is set to have another solid season in Atlanta.
Tony Gonzalez comes in at the third spot of our rankings. He's on a team that features Julio Jones and Roddy White as deep threats, and they recently added Steven Jackson, who can be a pass-catching beast out of the backfield.
When you put that all together, defenses seem to forget about Gonzalez, as he was able to put up excellent numbers last season. His line of 93 catches for 930 yards and 8 touchdowns could be repeated again this season, and he might even exceed it.
Pick him up for your team this season because it will be his last in the league.
Projection: 92 catches, 978 yards, 9 touchdowns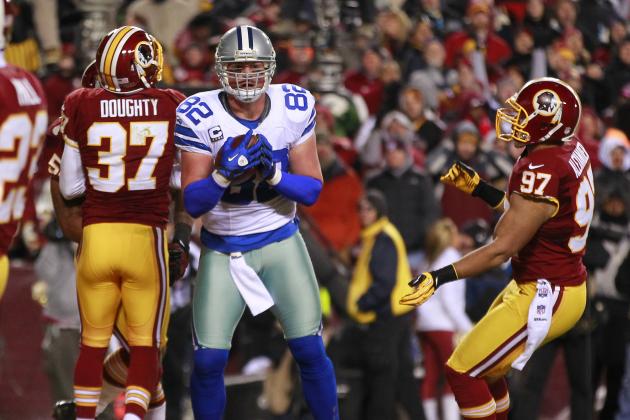 Geoff Burke-USA TODAY Sports
Witten scores a touchdown against Washington in December.
Jason Witten of the Cowboys hits the list as the second-best tight end.
He's been a dominant force at the position for the last few years, as he has gained at least 940 yards in each of the last six seasons. Four of those years, he went over the 1,000-yard mark. His reception totals have gone the same way, with at least 79 in each season, and he's hauled in 90 or more passes four times in that span. Another key stat during that time is that he hasn't missed a single game in six years.
Last year, he posted a career high in receptions with 110 highlighted with an 18-catch game against the Giants. When it comes to PPR formats, Witten is a darling of a tight end to have, and he led the all tight ends in targets with 150.
There is one knock that he can't escape though and it's a lack of touchdown production. Over those six seasons, Witten has scored more than five touchdowns just twice. If he hit the end zone more often, he would likely be the top tight end in fantasy. Instead, he's second-bestfor now.
Projection: 99 catches, 1,082 yards, 6 touchdowns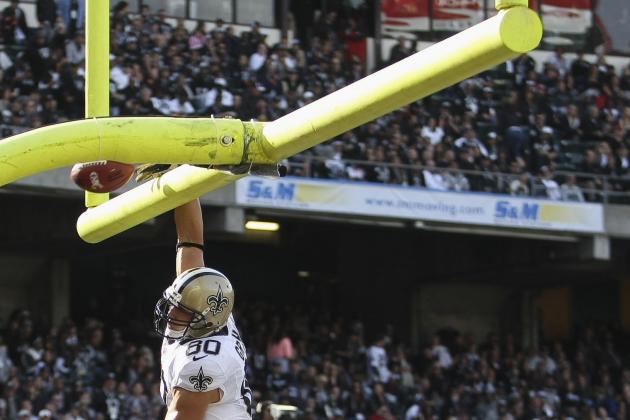 Kelley L Cox-USA TODAY Sports
Graham looks to slam dunk the competition in 2013.
The Saints' Jimmy Graham takes the top spot in these rankings. He barely missed on a 1,000-yard season in 2012, and that was with missing an October game against Tampa Bay. He didn't play at full health in the latter part of the season, so his numbers could have been even better than the 85 catches, 982 yards and nine touchdowns he put up.
Gulp.
He's got the size and speed to wreak havoc against opposing defenses, he has arguably the game's best quarterback throwing it to him and his contract is up after this season, so there's even more motivation.
Like he needs it.
Graham had offseason wrist surgery and is reportedly feeling good heading into next month's training camp. He should be the first tight end off the board in most formats in 2013.
Projection: 102 catches, 1,104 yards, 11 touchdowns