We don't know much about the direction in which the 2013 NBA draft will venture on Thursday night. It's been a frustrating two months or so of predictions and mock drafts, largely because those projections can change every day.
We do know, as noted by ESPN's Andy Katz, that the draft order is final:
According to the NBA, no trades were sent in before the 2 pm trade deadline. That means draft order is set.

— Andy Katz (@ESPNAndyKatz) June 27, 2013
That means picks will have to be made before they are traded, the ultimate stump question for sports nuts everywhere who don't remember that traded picks are still technically drafted by the team that ended up having a deal in place before the pick was in.
With just one trade, the lottery can be shaken up forever.
It starts at the top, where the Cleveland Cavaliers are reportedly picking between two prospects—much like the Kansas City Chiefs were earlier this year during the 2013 NFL draft.
According to Yahoo! Sports' Adrian Wojnarowski, two center prospects from the SEC and ACC headline the choice:
The Cavaliers are choosing between Nerlens Noel and Alex Len at No. 1. If they pick Len, Noel could drop to Suns at No. 5.

— Adrian Wojnarowski (@WojYahooNBA) June 27, 2013
Fox Sports' Sam Amico claims that the pick is already in—if the team decides to keep it, that is:
Cavs know who they'll select No. 1, I'm told. That's assuming they keep pick. Lots of trade talks, but my guess is they keep it. #NBADraft

— Sam Amico (@SamAmicoFSO) June 27, 2013
According to a report earlier in the day from Joe Kotoch of Sheridan Hoops, the Cavaliers are looking to trade the pick before actually having to tell David Stern the selection will be theirs:
The Cavs, as we've discussed for weeks, want to trade the first pick but are struggling to find a package that meets their demands. It does not appear they will get an established star such as LaMarcus Aldridge or Kevin Love, and they are engaged in discussions with Portland to move up to No. 10 to draft Sergey Karasev.
Cleveland's struggles with finding a taker for the pick or even coming up with a concrete strategy of its own has highlighted the unpredictability of this draft.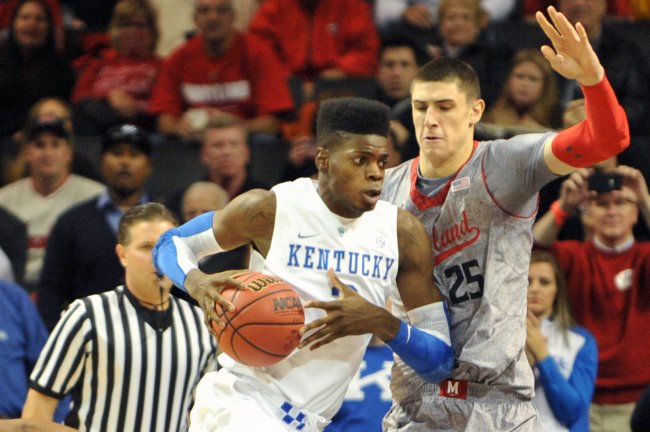 Jason Szenes/Getty Images
Until that first player comes across the stage and shows up in training camp for his new franchise, don't consider anything off the table with the Cavs or the No. 1 pick.
Moving down the board, it appears that Otto Porter is not the safe pick that we all thought he was for the Washington Wizards at No. 3.
According to Kotoch's report, Anthony Bennett has moved into the top spot on Washington's board with the third overall selection and the Wizards like what he would bring to the table in a John Wall-Bradley Beal-Bennett tandem:
The Wizards, according to a source, have placed Anthony Bennett at the top of their board. Bennett combined with John Wall and Bradley Beal would give the Wizards a dynamic threesome with plenty of offensive versatility. While some in the organization still like Otto Porter and think he is a safe choice, Bennett is the guy they are leaning toward.
Right behind the Wizards, the Bobcats appear to be in play for the leftovers from the top three picks. Since the uncertainty of Cleveland through Washington is very much a factor there, the Bobcats might not know their pick until the clock starts to tick.
ESPN's Chad Ford had this report about Charlotte's intentions at No. 4:
There's a growing belief that Cody Zeller is seriously in play at No. 4 to the Bobcats along with Alex Len, Anthony Bennett & Ben McLemore

— Chad Ford (@chadfordinsider) June 26, 2013
Wojnarowski confirmed that post with this tweet and added a nugget about Orlando's intentions at No. 2:
Could turn out to be huge day for IU basketball: Oladipo's strong at No. 2 for Orlando and momentum's growing for Zeller at 4 to Charlotte.

— Adrian Wojnarowski (@WojYahooNBA) June 27, 2013
In the middle of the lottery, there hasn't been much activity about a potential trade. New Orleans needs another good, young player to build with around the core of Anthony Davis, Ryan Anderson and Eric Gordon.
Sacramento, Detroit and Minnesota are all teams that would be much likelier to trade up than down, while Portland and Dallas have been the franchises with the most rumblings in the 10-14 range.
According to Wojnarowski, Dallas' long-hatched plan to relieve the cap value of the No. 13 pick is going to come to fruition on draft night. The kicker? The Mavericks are in an enviable position:
Nevertheless, Dallas has multiple suitors for the 13th pick and expect offers to get better in hours before draft tonight.

— Adrian Wojnarowski (@WojYahooNBA) June 27, 2013
One last blurb of note before we let the selections do the talking—Kotoch mentions the Oklahoma City Thunder as a team awaiting the outcome on Georgia shooting guard Kentavious Caldwell-Pope. KCP has a smooth stroke and averaged over 18 points per game as a sophomore, and OKC is losing Kevin Martin this offseason:
Kentavious Caldwell-Pope is a hot name right now, the Georgia wing has been shooting up boards and now a lock to go no later than 9th. According to a source, Oklahoma City really is intrigued by Caldwell-Pope and would consider trading up to land him. Several teams I spoke with believe he is the target of several teams looking to jump the Thunder.
OKC has the No. 12 and No. 29 picks in the first round in addition to the No. 32 selection in the second round. The assets are there to jump a few spots up the draft board, but the right team will have to emerge.
Things are heating up with respect to the NBA draft trade market, even ones that might never make it out of the exploratory stage.
Don't miss the draft tonight, as there's a good chance we could see more trades than we ever have before.
Follow Bleacher Report FC Ethan Grant on Twitter @DowntownEG.