2013 NHL Mock Draft: 1st-Round Predictions and Analysis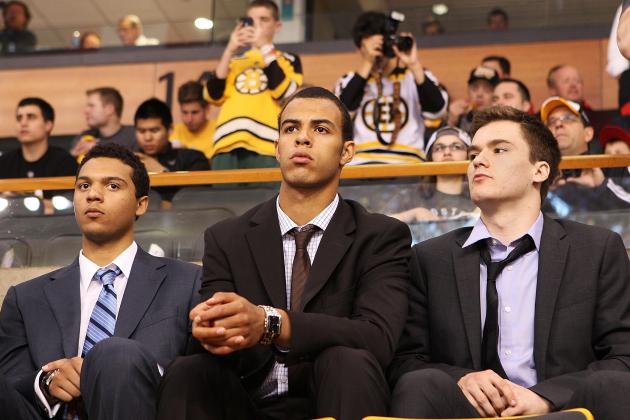 Gail Oskin/Getty Images
NHL prospects Seth Jones, Darnell Nurse and Jonathan Drouin at Game 3 of the Stanley Cup Final.
With the NHL draft just around the corner and buyouts officially being announced as of yesterday, there are a lot of rumors and speculation swirling around the league.
A few high-profile players have been bought out already and surely there are at least a few more to come. The unpredictability of buyouts gives the NHL offseason an added element of suspense, as any surprise release could create a domino effect of moves.
As teams get strapped with a lowering cap ceiling, young players become even more valuable—especially those who can contribute early.
This draft in particular has teams excited, as it is one of the best and deepest talent pools since 2003, a year which saw a number of future All-Stars get taken with the first 30 picks.
I didn't incorporate possible trades into this mock, because they're just too hard to predict. As the draft order stands now, here's my mock draft for the 2013 NHL draft.
Begin Slideshow

»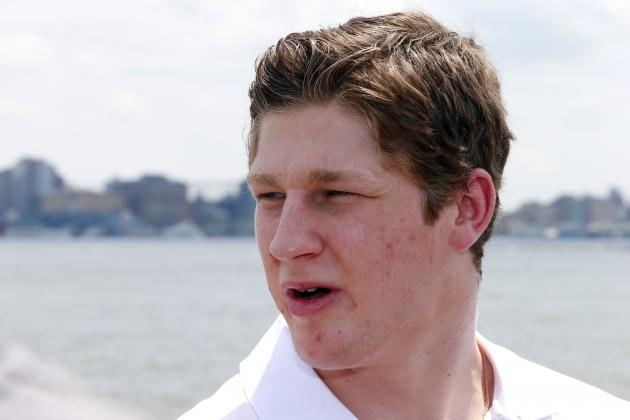 Rich Schultz/Getty Images

By all reports, including this from Craig Custance of ESPN, it seems like the Avalanche will select Nathan MacKinnon with the first overall selection.
He's a dynamic offensive talent that would give Colorado some serious strength up the middle, so the pick makes sense in a number of ways.
I still wouldn't be surprised if they looked to trade this pick, so keep an eye out for that in the next 24 hours.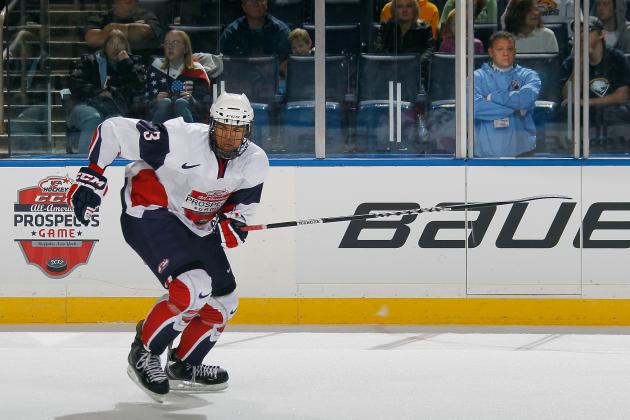 Bruce Bennett/Getty Images

If I had the top pick in this year's draft, I would take Seth Jones without any hesitation whatsoever. His talent is unrivaled not only by this year's class, but by any defenseman prospect in the past few years.
It's rare that someone with Jones' combination of size, speed and skill comes along. He's tall with a great reach and long strides but is also quick and smart in small spaces as well.
He can play in any situation and will most likely jump right to the NHL. If the Avs hold on to the first pick and take MacKinnon, I don't see how the Panthers could trade away the chance to get Jones.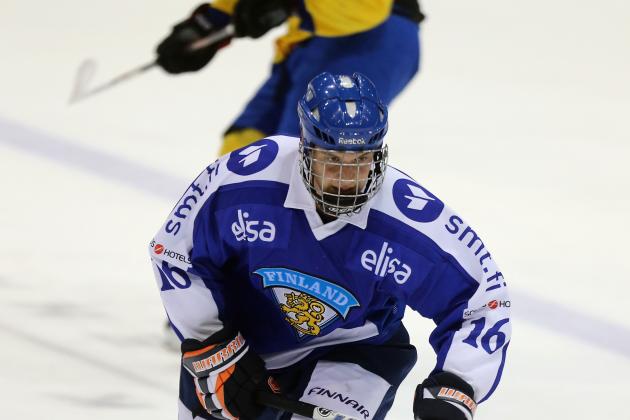 Bruce Bennett/Getty Images

Alexander Barkov may not be a name many people know yet, but the 17-year-old could become an NHL star in just a few years.
Jonathan Drouin is right up there with Barkov, but with the buyout of Vincent Lecavalier, the Lightning will be searching for a center to fill that void.
I actually think the Lightning are prime candidates to trade down and snag one of the second-tier centers, but if they stay here, Barkov should be the pick.
The Nashville Predators would be ecstatic to get a player of Jonathan Drouin's caliber at No. 4. Drouin is a left winger with an abundance of offensive upside.
He is the most skilled playmaker in the draft and has an underrated all-around game to go with it.
Drouin may not be NHL-ready right away, but he would give a majorly needed boost to the Predators offense whenever he arrives.
Valeri Nichushkin would be a perfect fit in Carolina. He is a prototypical scoring-oriented power forward, one who can take the puck coast-to-coast and drives hard to the net.
He has to refine his defensive game some, but his offensive talent is special. He shouldn't be a signing concern from Russia either, so he could easily end up on the third line for the Hurricanes next season.
Elias Lindholm is the last player in this initial tier of prospects in my opinion. The Swedish prospect has logged major minutes in the Swedish Elite League, which is impressive for a kid who turned 18 last December.
He has great hands and skates extremely well, but his hockey sense is really what makes him a great playmaker and sets him apart from the pack.
He is a solid two-way forward and is really the total package for a center prospect.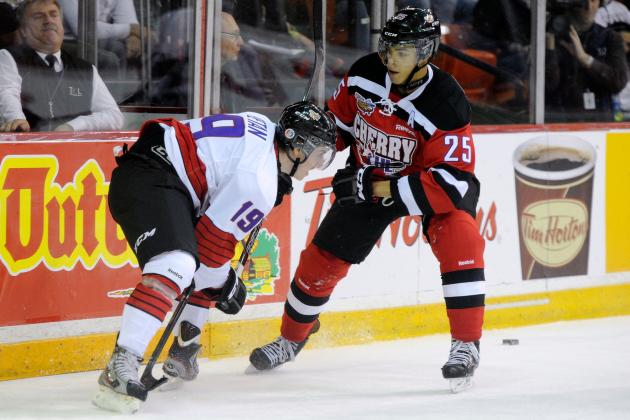 Richard Wolowicz/Getty Images

Darnell Nurse is comparable to Seth Jones in that they are of similar size and are both responsible two-way defensemen who skate well for their frame.
Nurse isn't quite the skater that Jones is, however, and doesn't have the offensive upside, which is why he won't be a top-five pick on Sunday.
But Nurse is a talented kid who can make plays at both ends of the ice and could be a shutdown defenseman one day.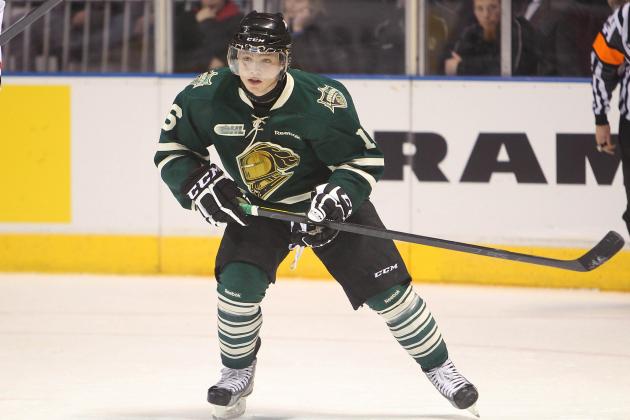 Tom Szczerbowski-USA TODAY Sports

Max Domi—son of former NHL enforcer Tie—would be the perfect selection for the Sabres, who are entering a major rebuilding phase.
They are a team in desperate need of some talent and excitement up front, and that's exactly what Domi brings to the table.
He's undersized but plays with a scrappiness similar to his father, although he is 10 times the playmaker. He's extremely creative and is really deadly if you give him space.
Sean Monahan is the best two-way center in this draft. He can flourish in any situation and has played big minutes for the Ottawa 67's of the OHL.
He could make the jump to the NHL right away and get acclimated to the Devils' style of play, which should mesh with his own style very fluidly.
Hunter Shinkaruk is the most talented player left on the board, and Dallas desperately needs some young offensive skill players in its system.
He would be an ideal fit to come in and develop as either a winger or center, working to improve his all-around game, because he is already a tremendous scorer.
The 18-year-old has the best shot in the draft and could learn a lot from current Stars forward Jamie Benn.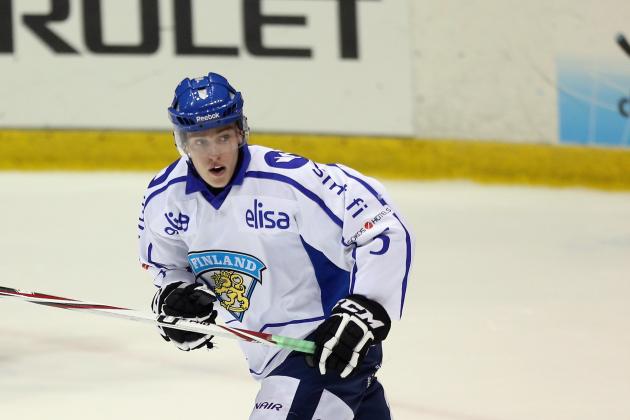 Bruce Bennett/Getty Images

The Flyers need some serious defensive help, and Rasmus Ristolainen is a gifted two-way defenseman who could potentially play from day one.
The Finnish prospect is a ferocious hitter with the ability to move the puck and create plays from the back, and is smart with the puck while still maintaining some aggressiveness.
Not only is Ristolainen a good value pick here, but he fills a huge hole for Philadelphia at the No. 11 slot.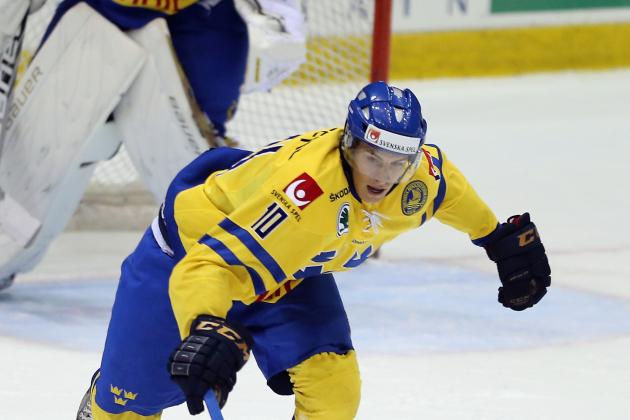 Bruce Bennett/Getty Images

According to his interview a couple weeks ago at the NHL draft combine, Alexander Wennberg plans to stay in Sweden next year to get stronger before coming over to North America.
While that may not thrill some fans, Wennberg could probably stand to gain some bulk, and the Coyotes won't be pushing for a Stanley Cup next season anyway.
Wennberg brings a lot to the table—he does everything well and could be a 60-point player who kills penalties and quarterbacks the power play too.
Winnipeg GM Kevin Cheveldayoff said in an interview with TSN Radio that he is attempting to move up in the draft "as high as possible," but I think if he stays at No. 13 he has to go with Bo Horvat, who is the clear best player left on my board.
Horvat is an extremely good skater with a high motor who will do all the little things that can help a hockey team over the course of a game and season.
A lot of people like Nikita Zadorov here, but I am a huge fan of the Brandon Wheat Kings' Ryan Pulock.
He will never be a great defensive defenseman, but Pulock could end up rivaling Erik Karlsson and P.K. Subban for the title of the best offensive defensemen in the NHL.
He isn't quite the skater that Karlsson is, and isn't as strong as Subban, but he is a bulldozer coming through the zone and possesses a slap shot that would already be one of the best in the NHL.
Nikita Zadorov is a project, and that's what I think could make him slip a little bit in the draft. He's a towering presence on the ice—one who skates well for a big man—but has some serious shortcomings.
The Russian isn't a great passer and doesn't have the best decision-making skills yet. He'll have to clean up his game a lot or he could be a liability with the puck in the NHL.
Mirco Mueller is a somewhat under-the-radar prospect who has seen his stock rise steadily over the past half-year or so.
He was second in rookie scoring for defensemen in the WHL last season and possesses some nice offensive talents to go along with a solid defensive game.
Mueller is a smart, strong player who minimizes risk and is responsible in his own zone, which could make him enticing to the Sabres after grabbing a forward with their first pick.
I'm pretty high on Curtis Lazar, although I have the same concerns as others about his ability to score and contribute as a center in the NHL.
I think he may be better suited to slide over and play the wing, where he will be more free to use his offensive talent to get quality scoring chances. Lazar is a real competitor and is underrated in his own end.
I'm a little lower on Samuel Morin than others, because I'm just not convinced that he can polish his game enough to be an effective top-four blueliner.
But the Red Wings have a plethora of forward talent, so it makes sense for them to look at a defenseman here, and Morin is the best available—although he is a bit of a project. If anyone can develop him, it's Detroit.
This pick may be a little out of left field, but with three first-round selections, the Blue Jackets can take some risks, and Zykov is one of the biggest in this draft.
His offensive upside is extremely high, however, and he reminds me a bit of former Columbus captain Rick Nash with his strong play and ability to score goals in multiple ways.
Nicolas Petan is a phenomenally skilled offensive player who is only 5'9" but can still generate a ton of offense.
He is an explosive skater with a great shot. Petan also has great vision and uses it to get out of tight spaces, quickly counter and get forward on the rush.
Andrew Burakowsky is the ultimate boom-or-bust player in the draft, and I think the Maple Leafs would be wise to take a shot on him.
With Jake Gardiner and Morgan Rielly in its system, and its recent pursuit of Kris Letang, Toronto seems to be in position to take a forward who could help put up points in bunches, and Burakowsky has the ceiling of a 75-point player.
Josh Morrissey is one of my favorite players in this draft. After taking a center with its first pick in the round, Calgary picks up a talented offensive defenseman.
Morrissey isn't big and doesn't play a physical game but is a great skater and expert passer who can join the rush and set up goals with the best of them.
After trading away last year's first-round pick, Filip Forsberg, the Capitals need to try again and grab another forward with this pick.
Gauthier is a hard-working two-way center who is, to put it simply, annoying to play against. He skates well, has active hands, and plays a more physical game than any other center in this class. He still has room to develop and could be a solid No. 2 center.
The Canucks haven't drafted a defenseman in the first round since 2005, and they could really use some bolstering of their blue line.
Hagg is an offensive defenseman somewhat like Morrissey, although he's a little more defensively conscious and plays stronger than Morrissey.
This is way lower than where Anthony Mantha has been going in other mock drafts, but when I hear about serious motivation and effort concerns, I see the potential for a major slide.
He has a lot of offensive upside and could be a tremendous goal scorer in the NHL, but he'll have to prove that his heart is in it first.
Adam Erne is the ultimate combination of an agitator and a scorer, which is a phenomenal combination when done right.
He could bring some grit and goals to Anaheim, which may be looking to move Bobby Ryan at the draft, according to Tim Panaccio of CSNPhilly.com, although that rumor always seems to be floating around and has yet to materialize into anything.
At this stage in the round, after having two first-round picks already, Columbus is in position to take the best player on the board.
Kerby Rychel is a smart winger who works hard and can get some dirty goals in front of the net while working along the boards and trying to make something happen every shift.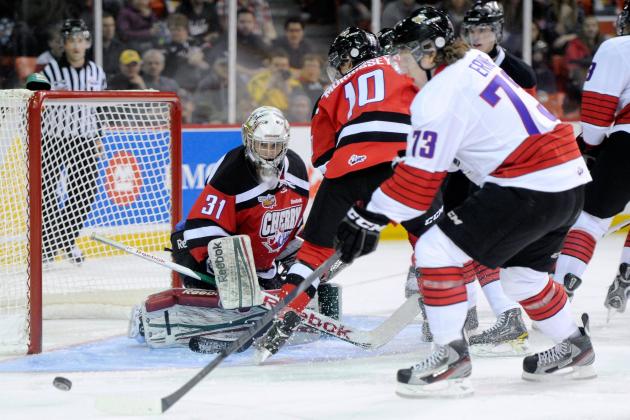 Richard Wolowicz/Getty Images

After addressing forward and defense with their first two picks, the Flames get some much-needed relief at goalie with the 28th pick.
Zach Fucale is the only goalie worth taking in the first round. Although his size and statistics aren't overly impressive, he's an athletic competitor who is a proven winner.
After taking a high-scoring forward with their first pick, the Dallas Stars look to add some talent to their defensive corps with Madison Bowey.
Bowey is yet another skilled offensive defenseman who can lead the rush and score goals from the blue line. He put up some solid numbers with the Kelowna Rockets and should contribute down the road in Dallas after developing for a year or two.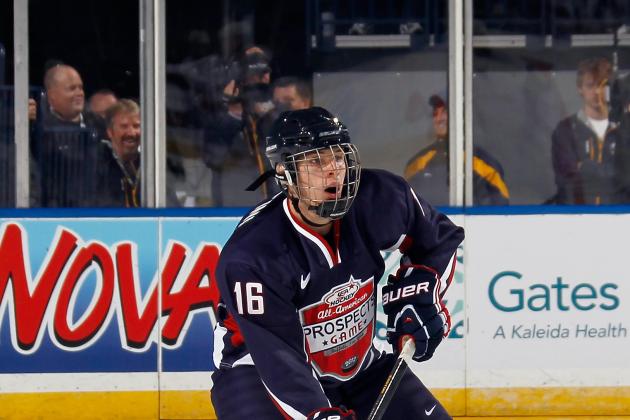 Bruce Bennett/Getty Images

Steve Santini is a strong defensive defenseman who would fit in perfectly with Chicago's already deep roster.
Opinions on Santini are varied, because some feel that his skating will limit him too much, but I think he's quick enough that he could develop into a solid second-pairing defenseman.