Minnesota Vikings: Exclusive with Adrian Peterson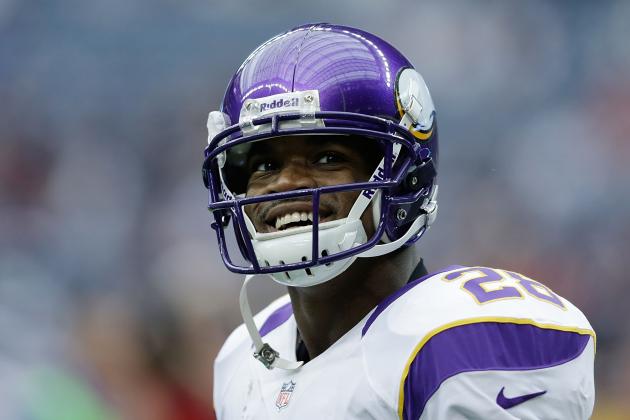 Scott Halleran/Getty Images
Adrian Peterson granted Bleacher Report an exclusive phone interview where he touched on a variety of topics.
When Adrian Peterson talks, people listen.
When he told Sirius XM/NFL radio (h/t ESPN) that gay marriage wasn't "something I believe in," the news traveled across the web faster than the Flash could.
When he told Marshall Faulk of the NFL Network (h/t NFL.com) that rushing for 2,500 yards was his goal, pundits and football fans were quick to chime in with their two cents.
So when I had an opportunity to interview the 2012 MVP, I found room in my schedule for the game's best running back.
Peterson touched on a number of different topics—from Greg Jennings' influence on the offense and realistic expectations for Cordarrelle Patterson's rookie campaign to his life-threatening allergic reaction to seafood and what he's doing about it.
Take a look.
Begin Slideshow

»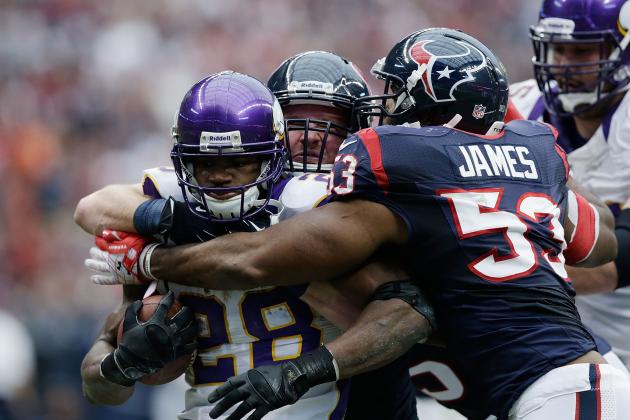 Scott Halleran/Getty Images
Adrian Peterson said he's not doing anything different to achieve his goal of 2,500 yards.
Disappointed by missing the single-season rushing record by nine mere yards, Adrian Peterson created tidal waves when he proclaimed rushing for 2,500 yards was his new goal.
The most yards ever gained rushing in a season is 2,105, which he fell short of in 2012.
To ascend to this new level, Peterson said he's doing "nothing different" and is going through his "normal routine."
"Just always challenging myself to get better, and that's what it's all about," Peterson said. "That's how you improve. It's pretty simple."
But instead of resting up the final month before training camp on July 26, Peterson said he's going to crank it up until that time.
"Just getting stronger, faster, more agile when I'm out on the field," Peterson said. "Those are the types of things I'll be working on."
That's what the Vikings like to hear.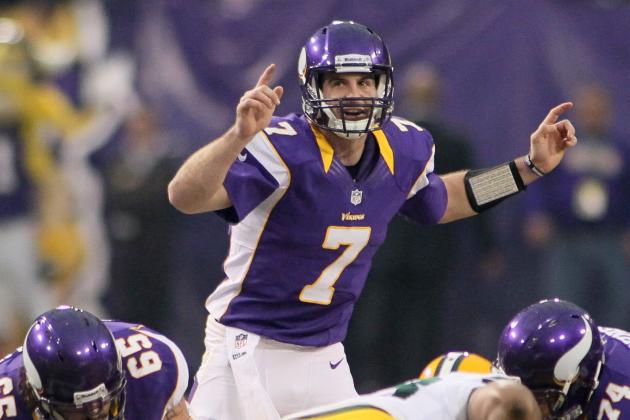 Andy King/Getty Images
Christian Ponder is becoming a more vocal leader, Adrian Peterson said.
The NFL has been and continues to be a league where success is based on quarterback play.
Minnesota showed that a phenomenal running back can vault a team into the postseason, but at some point the quarterback must elevate his game.
With nearly two full years as a starting quarterback, Christian Ponder has a big year ahead of him in 2013.
He's expected to start the season as a starter, and then his play will determine his status and the organization's future at the position.
Adrian Peterson said Ponder is "taking on that challenge of being the leader we need him to be" and taking on a more vocal role. He added that Ponder is "looking more confident in his game."
"He's very focused in on what he's trying to accomplish," Peterson said. "He's definitely taking the steps needed to be the guy we need him to be."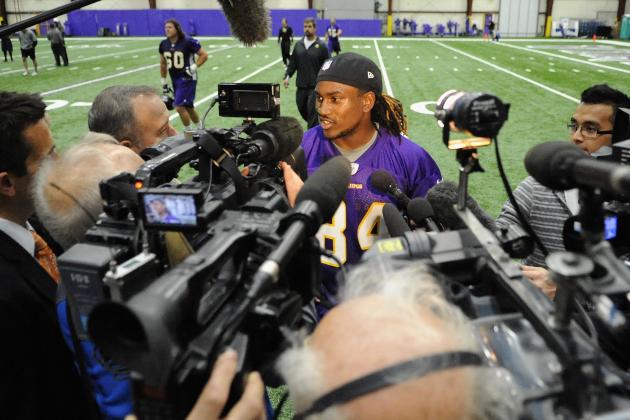 Hannah Foslien/Getty Images
There's a lot of hype surrounding Cordarrelle Patterson. Adrian Peterson said Patterson will determine his productivity as a rookie.
Fans are enamored with Cordarrelle Patterson more than they are with fellow first-round picks Xavier Rhodes and Sharrif Floyd.
It could be because Minnesota traded back into the first round to select him or because of the position he plays. Whatever the reason, fans are crazy for Patterson.
Many are going so far as to utter the name, "Randy Moss" under their breath when talking about his potential.
Adrian Peterson, who knows something about making an impact at a skill position as a rookie—he had 1,341 yards rushing with 12 touchdowns on 238 carries in 14 games in 2007—said Patterson's first-year success or failure will be self made.
"I could sit here and give you my opinion but my opinion doesn't really matter. I could just base it off what I see," Peterson said. "It's all on him and how hard he works in this last month (before training camp) and how he focuses on improving his game and being up to speed."
But with OTAs in the books, Peterson left impressed with Patterson, who is 6'3" and 205 pounds.
"He's a guy that's very athletic. Big guy. Big receiver. Quick. Has nice speed, nice hands," Peterson said. "He makes some great catches—I've seen him make some during OTAs. So, I'm excited to get out to training camp and see this guy with some pads on and see if that continues."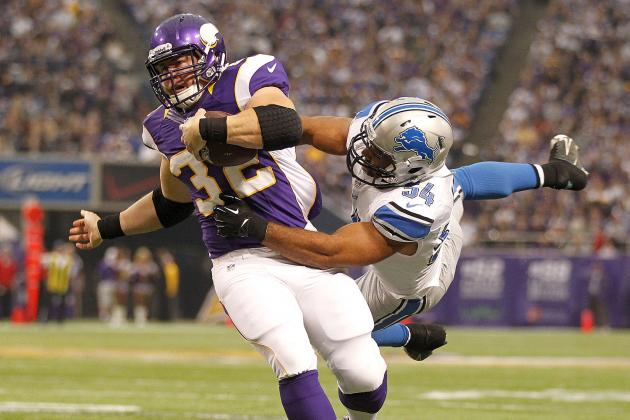 Andy King/Getty Images
According to Adrian Peterson, Toby Gerhart entered OTAs in great shape.
With Minnesota fearing the worst for Adrian Peterson's availability for 2012, Toby Gerhart was supposed to make a significant impact.
He showed signs of developing into a playmaking back in 2011, rushing for 4.9 yards per carry and 90 yards or more in three of Minnesota's final five games. His third year was supposed to be a breakout campaign.
But it didn't pan out. He finished with 169 yards rushing on 50 carries (3.4 yards per carry) with one touchdown.
With 2012 in the rearview mirror, Peterson believes Gerhart "definitely can be a feature back in the NFL."
"He's a great definition of being a professional," Peterson said of Gerhart. "I've told the guys that what I've seen different is that he's come in thinner—a couple pounds lighter than he was before—but more fit and lean so that he's quicker and stronger than he was before.
"Obviously, being around him the most, I can tell he's focused to just come in and continue to do what he's been doing, doing his job."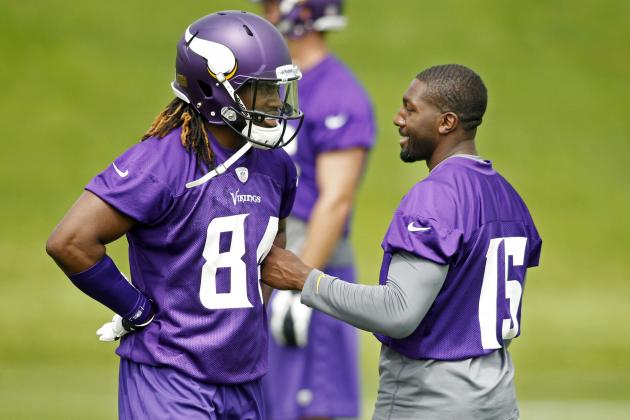 Bruce Kluckhohn-USA TODAY Sports
Greg Jennings' ability to instruct young receivers, like Cordarrelle Patterson, is already in motion, Adrian Peterson said.
Lacking a difference-making veteran at wide receiver, Minnesota made its biggest splash of the offseason by signing former Green Bay Packer Greg Jennings.
Even before the ink on his contract was dry, Jennings was the leader of the receiving corps. With seven years of experience and a Super Bowl ring and at 29 years old, he has more knowledge than any receiver on the roster.
When he speaks, the younger receivers should listen, which Adrian Peterson said has happened numerous times already.
"He and Christian (Ponder) seem to be on the same page and just kind of sitting back and watching Greg and how he's communicating with some of these young receivers: Jerome Simpson, Jarius Wright and Cordarrelle Patterson," Peterson said. "He's been able to give those guys knowledge and different tips that you can't learn from a three- or four-year guy. He's a savvy veteran and these guys are going to be able to learn from him."
As for Ponder, Peterson said Jennings' presence will help the quarterback improve, too.
"You talk about team chemistry and having that chemistry with your quarterback and having that chemistry with the receivers," Peterson said. "He's a guy that's not new to that, (having been) with Aaron Rodgers in Green Bay."
Peterson said Jennings' experience with chemistry and teamwork in Green Bay will be put to good use.
"Football, everybody thinks it's just Xs and Os and it's so simple. Run your route. Sit here at this mark. But it's bigger than that," Peterson said. "You got to have that chemistry. You've got to know what your receiver's thinking and you got to know where he's going to be and be able to trust him. You've got to know that if you put the ball there that he's going to get it. If you put the ball there, he's going to get it. And that's how you become a great football team."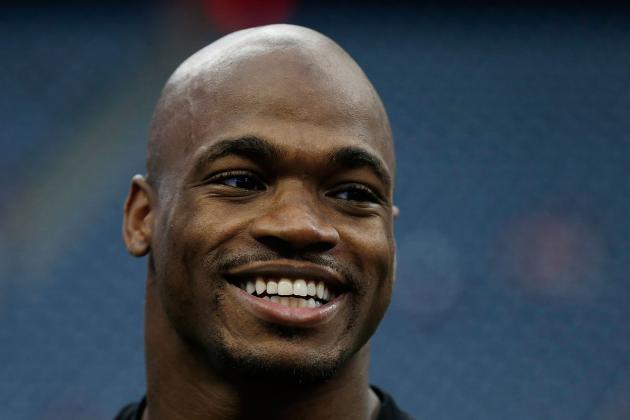 Scott Halleran/Getty Images
Adrian Peterson can smile now, but food allergies threatened his life last summer.
Adrian Peterson's accomplishments on the football field suggest he could be Superman incarnate.
The way he makes some of the world's best athletes look silly on the gridiron, his less than 10-month recovery from a torn ACL and falling nine yards shy of setting the NFL's single-season rushing mark suggest invincibility.
But not so fast. Superman had his kryptonite, and Peterson's is life-threatening allergies.
After downing a couple of bowls of seafood gumbo during lunch at training camp last summer, Peterson began to show symptoms of anaphylaxis (a life-threatening allergic reaction).
Luckily for him, nearby trainers recognized the symptoms and administered an EpiPen auto-injector. They dialed 911, and Peterson received further emergency care from a nearby hospital.
Shortly after the incident, Peterson met with an allergist who diagnosed his severe allergy to shrimp, scallops and lobster.
The incident and diagnosis have forced Peterson to alter his lifestyle, which now includes carrying two EpiPens at all times.
"My game plan is to know my food allergy," Peterson said. "Make sure that I'm avoiding them. I always have access to EpiPen auto-injectors and seek further assistance if a life-threatening reaction occurs."
The experience has led him to partner with Mylan Specialty to celebrate its 25th anniversary of the FDA's approval of EpiPen.
Peterson encourages people of all ages to visit 25YearsofEpiPen.com to learn more about life-threatening allergic reactions.
One in 13 children are diagnosed with anaphylaxis, Peterson said, which motivates him to educate others on proper prevention and treatment.
"People listen when I talk. That's something I've learned," Peterson said.