The Minnesota Timberwolves selected Michigan product Trey Burke with the No. 9 pick in the first round of the 2013 NBA draft.
Minnesota, however, will be trading Burke to the Utah Jazz, according to Adrian Wojnarowski of Yahoo! Sports:
Trey Burke is going to the Utah Jazz in a trade, sources tell Y! Sports.

— Adrian Wojnarowski (@WojYahooNBA) June 28, 2013
Burke played just two seasons as Michigan, but it was more than enough to showcase his superb talents. Now, Burke heads to Utah, looking to spark the team that went 43-39 during the 2012-13 season.
Here's a look at what we should expect to see from the 2012 National College Basketball Player of the Year in the future.
How He Will Fit in Utah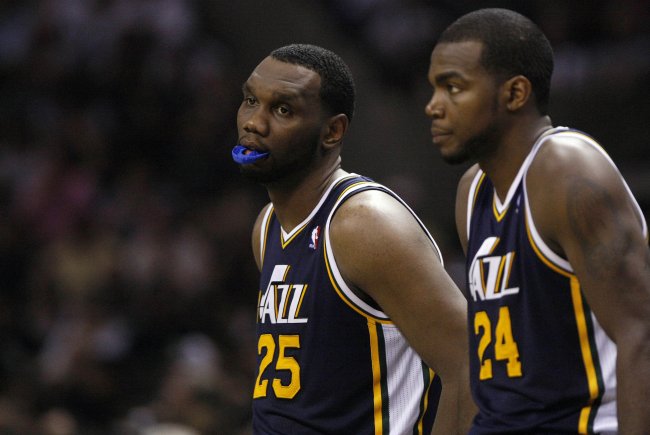 Soobum Im-USA TODAY Sports
Burke will go to the Jazz and make an impact right away as the starting point guard. Utah has a lot of talent heading to free agency, so acquiring a player like Burke in the draft makes plenty of sense. Mo Williams, Randy Foye and Earl Watson all played a big role at guard for Utah a year ago, but they are all unrestricted free agents.
While Burke is running the point in Utah, it's still up for debate as to who he will be making passes to. Al Jefferson and Paul Millsap were two of the top players on the Jazz last season, but both will also be able to sign wherever they want this summer. Gordon Hayward will likely still be on the team as the starting small forward.
Utah is a great fit for Burke because he'll play right away and run the offense the way he wants to. With so much in question as to who else with be on the roster, the Jazz could now build around their new point guard. Burke will become the face of the franchise immediately and will soon make Utah a playoff contender.
Offensive Projection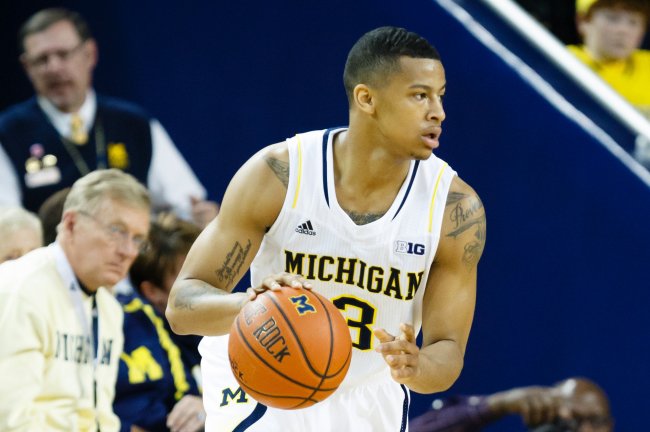 Rick Osentoski-USA TODAY Sports
Burke is one of the top pure scorers in this year's draft class. Last season at Michigan, the point guard averaged 18.6 points per night for one of the top programs in the nation. He was a prolific shooter in his two years with the Wolverines, flaunting his accuracy from all over the floor.
How will Trey Burke fare in the NBA?
Burke is fantastic when shooting off the dribble and is even better off the pass. As a sophomore, Burke shot 46.3 percent from the floor an 38.4 percent from downtown. He'll hit nearly every uncontested shot he gets and knows how to make plays when he's closely guarded and doubled-teamed as well.
Speaking of making plays, Burke is also a guard who doesn't hog the ball. While he likes to shoot—averaging 14.4 attempts per game in 2012-13—he's great at finding the open man too. This past season, Burke averaged 6.7 assists per game. Michigan was a very balanced team and there's no doubt he made his teammates even better.
One valuable asset that Burke will bring with him to Utah is the clutch factor. Burke loves to be the guy who gets the shot in a close game later. Remember when he hit the game-tying three-pointer against Kansas in the Sweet 16? Burke was remarkable when his team needed him most. Utah will love that about him.
Defensive Projection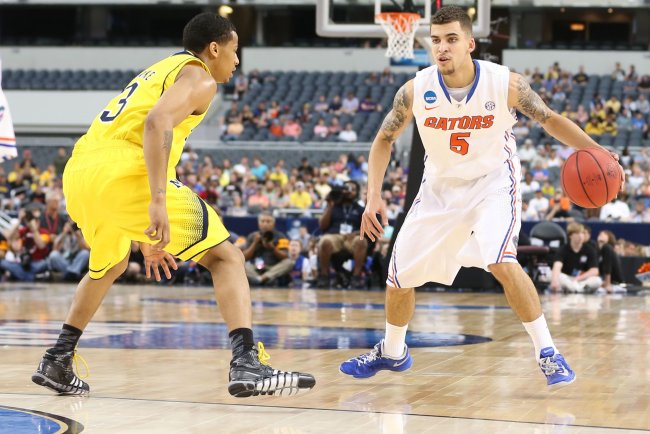 Kevin Jairaj-USA TODAY Sports
It's no secret that Burke isn't the best defender.
But there is the chance that he could be if he really pushes himself and works hard. Burke already has quick hands and does a good job at keeping his eye on the ball, but he lacks aggression. Burke could've averaged more than two steals per game if he put more pressure on opponents.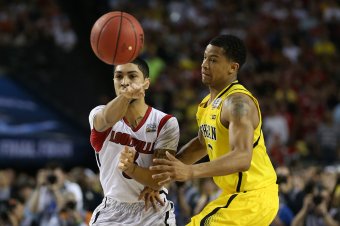 Streeter Lecka/Getty Images
While Burke does know how to get high up in the air, he probably isn't going to be blocking many shots in the NBA. He had 33 blocks in 73 career games at Michigan, but he will have less success at the next level. Burke won't be the biggest point guard in the league, but the Jazz didn't draft him to block shots.
The biggest goal for head coach Tyrone Corbin will be pushing Burke to be more intense on the defensive side of the ball. He could be one of the elite defensive point guards in the NBA if Burke is pressed to do so.
Best Season: 19.2 PPG, 48 FG%, 40 3PT%, 83 FT%, 3.3 RPG, 7.1 APG, 1.8 SPG, 0.3 BPG
NBA Player Comparison: Damian Lillard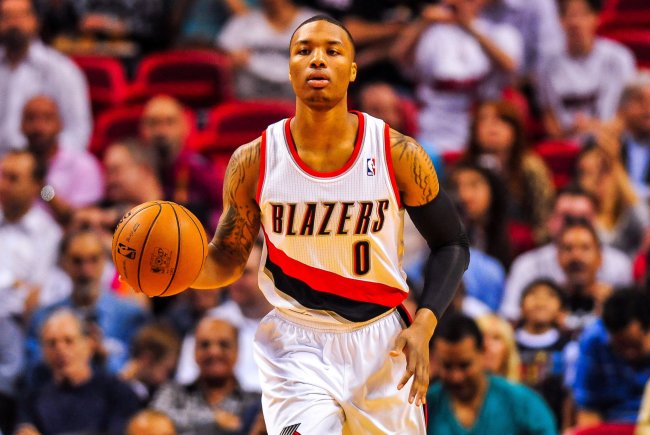 USA TODAY Sports
While Damian Lillard is a few inches taller than Burke, the two point guards have similar playing styles. Both are great shooters who like to the put their teams on their backs.
Lillard was the top rookie in the NBA a year ago after averaging 19 points and 6.5 assists per game for the Portland Trailblazers. Lillard may see the floor better than Burke will, but the Michigan product will be just as effective in terms of putting points on the scoreboard for the Jazz.