Examining Houston Texans' Offseason and Key Preseason Positional Battles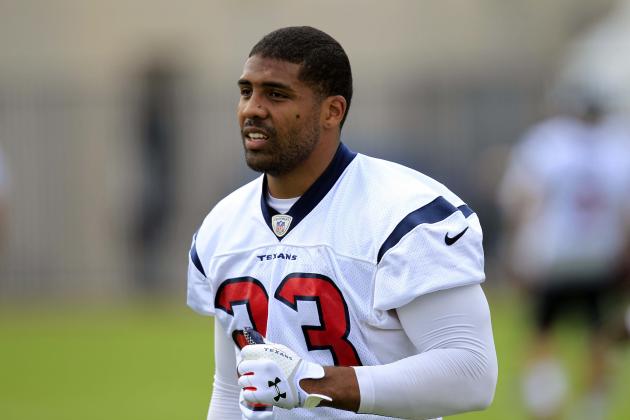 Thomas Campbell-USA TODAY Sports

There's something to be said for consistency, and in the AFC, few teams exemplify that better than the Houston Texans.
Yes, teams like the New England Patriots and Pittsburgh Steelers always seem to find a way into the late-round playoff picture. And yes, there are several teams capable of compiling a 12-plus-win season every single year.
But in the last two seasons, Houston has been the model of consistency on both sides of the ball, never far from the top of the rankings in any particular category.
The Texans fielded the No. 7 offense and No. 7 defense in 2012, piecing together a 12-4 record and an AFC South title. But just like the year prior, they were unable to parlay that success into anything more than a first-round playoff win and a divisional round exit.
This offseason has been about sustaining that success, while taking an extra step to break through the barrier.
The Texans kept their core in place this offseason, losing only a couple key contributors to free agency, but they also infused additional talent on both the free agent market and via the NFL draft.
Connor Barwin and Glover Quin were arguably the biggest names to depart for new teams this offseason, but Houston did well to select a couple of replacements without skipping a beat. In the second round of the draft, general manager Rick Smith selected South Carolina safety D.J. Swearinger, and also added veteran safety Ed Reed in free agency to fill the hole left by Quin.
Barwin and his 19 sacks in four years with the team will arguably be a little harder to replace, but the Texans have some pieces in place to do so, including 2012 first-rounder Whitney Mercilus.
But apart from a couple of depth signings and the addition of All-Pro punter Shane Lechler, there wasn't much more movement to speak of this offseason. All things considered, Houston did well in maintaining continuity on its roster, setting the table for another successful campaign in 2013.
We'll take a closer look at some of those offseason moves, as well as the 2013 NFL draft and a few positions to keep an eye on as the season draws near. Read on.
Begin Slideshow

»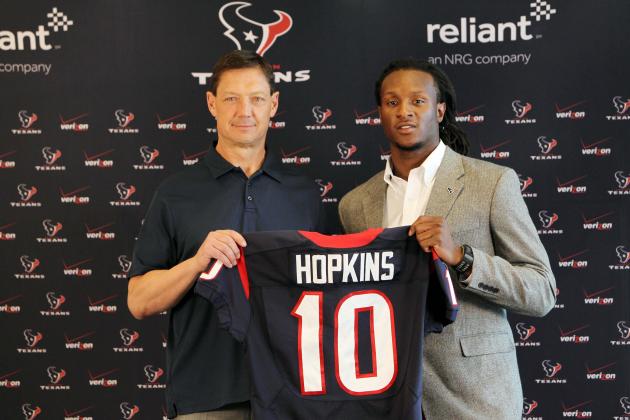 USA TODAY Sports

Round 1 (Pick 27): WR DeAndre Hopkins, Clemson
Round 2 (Pick 57): S D.J. Swearinger, South Carolina
Round 3 (Pick 89): OT Brennan Williams, North Carolina
Round 3 (Pick 95): DE/OLB Sam Montgomery, LSU
Round 4 (Pick 124): DE/OLB Trevardo Williams, Connecticut
Round 6 (Pick 176): OT David Quessenberry, San Joe State
Round 6 (Pick 195): WR Alan Bonner, Jacksonville State
Round 6 (Pick 198): DT Chris Jones, Bowling Green
Round 6 (Pick 201): TE Ryan Griffin, Connecticut
Grade: A
Prior to the draft, the general consensus was that Rick Smith would be targeting a wide receiver with his first-round selection. Despite another solid 2012 campaign, Andre Johnson continues to shoulder a heavy burden in the passing game, and it remains to be seen how long he can keep doing it mostly on his own.
With the 27th pick, Smith fused need and value with an excellent pick in Clemson wideout DeAndre Hopkins, effectively providing Johnson with the help he needs to keep the team's passing offense moving forward.
At 6'1" and 214 pounds, Hopkins isn't especially big or fast, but he does provide the Texans with exactly what they need—a tough, physical receiver with excellent hands and body control who can work an entire half of the field opposite their five-time All-Pro No. 1.
Johnson was the recipient of more than half the team's targets last season (58.1 percent), as noted by Tania Ganguli of the Houston Chronicle, and it was all too apparent Houston needed another quality receiving threat going forward.
In the second round, Smith selected South Carolina safety D.J. Swearinger, who should see plenty of action at free safety along with free-agent acquisition Ed Reed. If Reed continues battling the injury bug in 2013, the rookie could be in line for a sizable role at the back end of the defense.
With his next four picks, Smith also added to a strong pass rush and excellent offensive line with a pair of offensive tackle and outside linebackers in Brennan Williams, David Quessenberry, Sam Montgomery and Trevardo Williams.
The Texans weren't especially thin in either area, but after experiencing several injury setbacks at both positions in recent years, Smith did well to add some much-needed depth while also taking advantage of the value presented—as he also did in the sixth round in selecting Bowling Green defensive tackle Chris Jones.
In all, it was a highly successful draft class for Smith and the Texans, exemplifying what fans have come to expect from the seventh-year GM. There wasn't much to dislike about what he was able to do with his selections.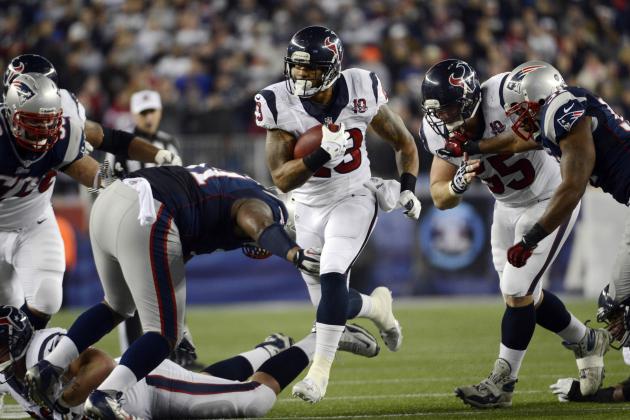 Robert Deutsch-USA TODAY Sports

Everyone knows about Houston's zone-blocking scheme and its unprecedented success in recent years, but many throw the term around without truly understanding what makes it so effective.
Simply put, zone blocking is the polar opposite of angle blocking, but it works in a similar way to a zone defense. Instead of blocking a predetermined defensive player, offensive linemen in a zone-blocking scheme block a specific area, working together as a unit to clear out spaces for its running back.
The idea is simple, but the term is often thrown around without understanding the nuts and bolts of the scheme. But the bottom line is this: Houston executes extremely well and has the right players to make it work.
For a zone-blocking scheme to work effectively (and in the interest of transparency, Houston does mix in some angle blocking as well), teams need offensive linemen who are quicker than they are big and more athletic than they are powerful. Zone-blocking schemes don't require 330-plus road graders.
However, a big part of operating an efficient zone-blocking scheme is continuity. Predicated on the ideas of blocking as a cohesive unit, teams can't afford major roster turnover in the offseason.
The Texans replaced the right side of their offensive line last season and the result was a decline in production for Arian Foster and the rest of Houston's running game. Foster struggled to get to the right edge on stretch-zone plays on a consistent basis, and some began questioning his ability to shoulder the massive workload with which he was presented.
While we're taking a look at position battles, this particular issue isn't so much about individual players as it is about continuity and cohesiveness. For Houston's running game to get back on track in 2013, its offensive line needs to gel as a unit this offseason—in a hurry.
Incumbent right tackle Derek Newton and third-round pick Brennan Williams have been recovering from injuries this offseason, as noted by John McClain of the Houston Chronicle, and it won't be easy for either player to get into the flow of the offense without being healthy and on the field.
Newton's surgically repaired right knee shouldn't keep him out much longer, but the Texans may run into some problems if he experiences any kind of setback in the recovery process, especially with Williams also nursing a knee injury he sustained in May.
Williams' knee injury was minor, and he shouldn't have any problem making up for lost time, but Houston certainly can't afford for either player to miss addition practice time with limited depth at the position.
Similar question marks remain at right guard—a position occupied by a rookie rotation last season in Brandon Brooks and Ben Jones. Brooks appears to be the front-runner to earn the starting role in 2013, but with so much youth and relative inexperience at the position, it may take a little time for the right side of Houston's offensive line to get back on track this offseason.
The rest of the line is in fine shape with Duane Brown, Wade Smith and Chris Myers locking down the other three positions, but in order for Houston's offensive line to find success in 2013, it needs to establish continuity across the entire unit. The Texans don't have unlimited time to make that happen.
There's reason to be hopeful for an improved running game this season, though. As long as Foster doesn't show signs of slowing after tallying 400-plus carries last season (including the playoffs), Houston's running game should look a little more like its 2011 form than the less-effective 2012 incarnation.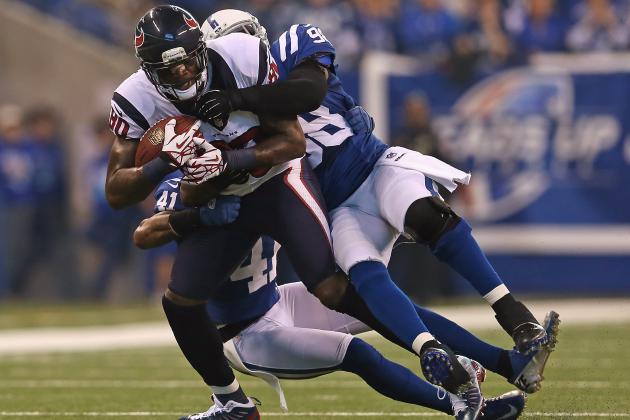 Jonathan Daniel/Getty Images

Adding DeAndre Hopkins in the first round of the draft was arguably the biggest improvement Houston made this offseason. There's no denying Andre Johnson's talent, but he needs a little help going forward.
As Matt Schaub's favorite target, Johnson was constantly blanketed with extra coverage as defenses were afforded the ability to roll coverages in his direction. With Hopkins in the fold, opposing defenses won't have that option.
In three seasons at Clemson, Hopkins notched 205 receptions for 3,009 yards and 27 touchdowns, and while college production doesn't always translate to the professional level, Hopkins' skill set certainly does.
The 6'1" wideout has tremendous body control and excellent hands—two characteristics imperative of a Z receiver in the NFL. Hopkins is tough, physical and doesn't mind running into traffic to come down with the football. Simply put, he was probably the most suitable receiver Rick Smith could have found in the first round.
But even with Hopkins locking down the second receiver spot, Houston has question marks throughout the rest of its receiver depth chart.
2011 undrafted free agent Lestar Jean caught just six passes for 151 yards and a touchdown last season, and he'll likely be in line for either the No. 3 or No. 4 spot on the depth chart in 2013. And as ESPN's Adam Schefter reported, DeVier Posey will start the season on the Physically Unable to Perform list:
Texans WR DeVier Posey, who tore his left Achilles vs New England in January, will open this season on the PUP list, per league source.

— Adam Schefter (@AdamSchefter) April 26, 2013
With third-leading receiver Kevin Walter cut this offseason, the Texans don't have a ton of depth to work with. Behind Jean and Posey, only second-year wideout Keshawn Martin has any real NFL experience, and he only caught 10 passes in his rookie campaign a season ago.
As such, rookie sixth-round selection Alan Bonner could also be in line for some extended playing time this season, as Posey recovers from his Achilles injury and the rest of Houston's young receiver corps finds its legs.
While inexperience and depth issues would typically sink many offenses in the league, Houston shouldn't struggle too much with making it work. Considering Johnson's high target rate and the addition of Hopkins (as well as the return of second-leading pass-catcher in tight end Owen Daniels), Schaub probably won't have an issue getting the passing offense going in 2013.
Paired with Houston's potent running game, there's little reason for concern—but the situation is worth keeping an eye on. If the Texans' youthful receiving corps struggles early in the season, Foster could be in line for a sizable workload until things settle down.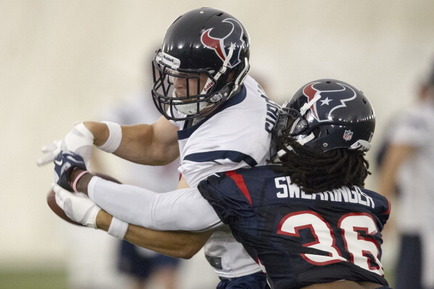 Bob Levey/Getty Images

Glover Quin is one of the most underrated safeties in the NFL, but Houston still saw fit to let him walk in free agency in favor of a younger, cheaper option in the draft in D.J. Swearinger.
Swearinger probably won't assume the starting role from Week 1 with Ed Reed on the roster, but the former Baltimore Ravens safety is still recovering from a hip injury, as noted by Paul Kuharsky of ESPN. Until the 34-year-old is back to full strength, his rookie counterpart will be getting a lot of much-needed playing time with the first team defense.
That's not a bad thing. As Swearinger explained to Kara Cook of HoustonTexans.com, playing next to Reed is a "blessing":
Playing football next to Ed Reed is a blessing. I'm truly blessed right now. Words can't describe it. That's definitely a guy that I'm looking forward to learning from and feeding off. Sean Taylor and Ed Reed are some of my idols that I looked up to when I was in high school. I want to just keep it going in the NFL.
If Swearinger can come anywhere close to what Reed has done in his 11-year NFL career, the back of Houston's defense will be in good hands.
The pair will be lining up next to incumbent strong safety Danieal Manning who notched 77 tackles, two interceptions and three forced fumbles last season. Despite losing Quin, Houston shouldn't have any trouble protecting against the deep ball in 2013.
Cornerbacks Johnathan Joseph and Kareem Jackson also return this season, both of whom were fantastic in 2012. Joseph dealt with several lower-body injuries throughout the season, and while he still played fairly well, it will be a huge boost to the Texans' secondary to have him healthy this season.
Brice McCain also returns after signing a new three-year deal this offseason. The 26-year-old was highly productive as the team's nickel corner last season, and he'll man that role again in 2013. With a trio of established and productive corners back in the fold (to go along with a strong trio of safeties), there's not much reason to worry about Houston's secondary this season.
As long as injuries don't take their toll.
Third-year cornerback Brandon Harris is in line to man the sub-package role as the team's fourth corner, but he hasn't seen a lot of action in his two years with the team. If for some reason Harris is expected to step into an expanded role this season, he'll have a lot to prove.
All in all, Houston's secondary shouldn't struggle much in 2013. As long as injuries aren't an issue, the Texans should have no problem fielding an improved pass defense this season.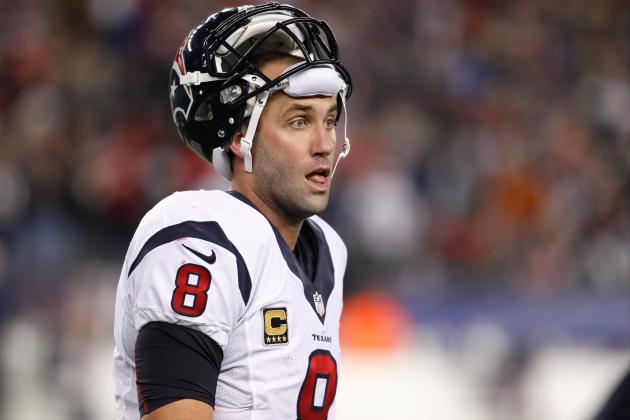 USA TODAY Sports

*For a complete look at Houston's 2013 schedule, check out NFL.com.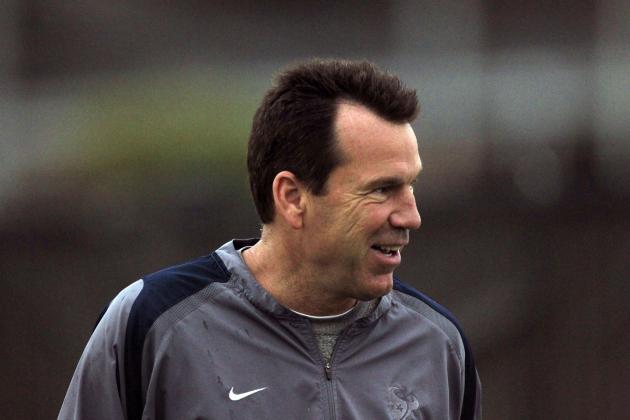 Thomas Campbell-USA TODAY Sports

Continuity is a good thing, and as long as Arian Foster and Matt Schaub don't regress this season, Houston shouldn't look any different than it did in compiling a 12-4 record a season ago.
And while nothing is guaranteed in the NFL, there's no reason to worry. That is, of course, as long as the Indianapolis Colts and Tennessee Titans don't continue making strides toward taking a shot at the AFC South title.
The Colts are easily Houston's biggest divisional threat. The teams split their series with two late-season matchups in 2012, and Indianapolis is poised for another big season in Andrew Luck's second year at the helm. For the Texans to continue their success in the AFC South, they'll have to outpace Indianapolis.
The Titans had a solid offseason, but they're still a few steps away from being serious contenders in the division. And as wrong as it feels to continue piling on the hapless Jacksonville Jaguars, there's absolutely no reason to expect them to make a real splash in the division race this season.
The AFC South is Houston's for the taking, and the only thing standing in the way is a fairly easy 2013 slate.
Apart from two matchups with the Colts and regular-season affairs with the NFC West, the New England Patriots and the Denver Broncos, Houston's schedule is littered with winnable games, including matchups with the Jaguars, Oakland Raiders, Kansas City Chiefs, Arizona Cardinals and San Diego Chargers.
Prediction: 12-4, First in AFC South
Expecting the Texans to match their 2012 mark this season isn't exactly going out on a limb, but there's not much reason to expect anything different this year. Houston had a solid offseason and lost very little in free agency, and in one of the weaker divisions in the league, it should once again be in line for a strong season and a playoff berth.
Schaub has to show a little improvement after falling off in the second half of 2012—and Foster has to prove he isn't wearing down from heavy usage—but by all indications, the status quo hasn't changed. Expect the Texans to field top-10 units on both offense and defense again this year en route to a 12-4 record and another division title.