Ranking the 10 Greatest WWE Matches in Rob Van Dam's Career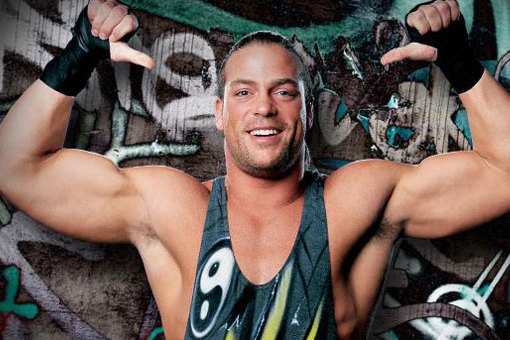 Photo from WWE.com
Rob Van Dam has a chance to add to his extensive collection of great WWE matches when he collides with six foes at Money in the Bank 2013.
His WWE career saw him fly, kick and splash his way into composing a number of classics. The list of his greatest hits is top-loaded with multi-person matches and ladder-centric battles. That makes Money in the Bank perfect for his WWE return.
Van Dam was a part of the first-ever Elimination Chamber match, the first TLC match on WWE Raw and the war over control of WWE in 2001. Each time, he has thrived, and each time, he was a thrilling component of an exhilarating machine.
The following is a list of his top ten WWE efforts based on the height of the stakes, the excitement of the action and how deeply rooted these matches are in our collective memory.
Begin Slideshow

»
At Invasion in 2001, Rob Van Dam battled Jeff Hardy for the Hardcore Championship in one of the better matches of the pay-per-view.
Van Dam's match against Shelton Benjamin at Backlash 2006 wasn't as great as many fans expected, but is worth rewatching regardless.
Van Dam's King of the Ring 2002 clash against Chris Jericho didn't quite make the cut, but some of his other battles with him, one-on-one or otherwise, did.
With the star power involved, one has to label this Triple Threat match a disappointment even as good as it was.
The chemistry between Rob Van Dam, Kurt Angle and Steve Austin wasn't as electric as it was with these men's greatest rivals. Still, a chaotic opening powered an exciting match with all three men clubbing and tossing each other.
Angle blocked a Van Dam kick and turned it into a fantastic-looking suplex. The match also featured Van Dam's usual creativity, near-misses aplenty and eventually Vince McMahon wielding a chair with a crazed look on his face.
The ending centered around the McMahon family drama and was capped off with an awkward stunner on Van Dam. This very good match neared greatness at times, but just never achieved it.
Rob Van Dam was not only the winner of this Money in the Bank ladder match, but it's biggest star.
He provided highlight after highlight including missing a Rolling Thunder onto a ladder and dropkicking Bobby Lashley off a ladder. He at first looked to be too concerned with stealing the show to focus on victory, but ended up removing the briefcase from its hook and flopping around the ring with joy.
Ric Flair's dramatic Willis Reed-like return, Shelton Benjamin's usual stunning displays of athleticism and Finlay's brawling added to the fun.
A fight for the Hardcore Championship was built more on chemistry and athleticism than traditional hardcore elements.
Yes, Chris Jericho swung a chair wildly and both he and Rob Van Dam used a ladder as a weapon, but this was more about speed, kicks and counters. It was a gorgeous match at times, with two rivals butting heads in an intense clash.
Jericho and Van Dam traded suplexes on a ladder and spent much of the match evading each other, stumbling and taking thrilling risks. A sense of desperation heightened this match as well.
A more dramatic build-up would have earned this a higher spot, but still it's hard to compete with the classics Van Dam has been a part of over the years.
The WWE and ECW event ended with one of ECW's most beloved stars against Cena, whom the hardcore fans roaring in the Hammerstein Ballroom despised.
A sign hung from the rafters that read, "If Cena wins, we riot."
The fervor of the crowd made that sign seem like no empty threat. Everything that Cena did earned a thunderous boo. Rob Van Dam received the opposite reaction.
This was a battle of underground vs. mainstream and rebels vs. the establishment.
The match itself was good, but the energy of the crowd made it great. Van Dam moonsaulted and kicked his way to stirring up the crowd further.
A surprise spear by Edge and the thrill of Van Dam winning the WWE Championship elevates this match to classic status.
An overzealous fan's involvement is the most infamous part of this battle over the Intercontinental title, but Eddie Guerrero and Rob Van Dam put on an excellent show before and after that strange moment.
Aggression and a quick pace strengthened this match, but it didn't feature as many breathtaking moments as the matches ranked above it.
With Chris Benoit watching at ringside, tension was high. Eventually, chaos would break out between him, Steve Austin and the men in the match.
A hard-fought battle is outdone on this list by matches with higher stakes and higher risks.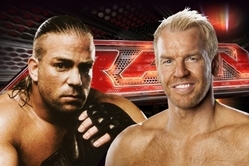 Images Credit: WWE
Momentum swung back and forth and both Rob Van Dam and Christian thrilled the crowd with aerial moves and ladder-centered spots.
The Intercontinental Championship has rarely felt so important as when these two men fought so passionately for it on WWE Raw in 2003.
Van Dam somersaulted out of the ring, only to have Christian hold the ladder up to protect himself. Both champion and challenger crashed into the ladder and soared around the ring in desperation.
The electric action filled with crashing and suffering ended with Van Dam hitting a five-star frog splash from the top of a ladder.
Watch the full match here.
Not surprisingly, this traditional Survivor Series match featured a number of great performances considering how star-studded it was.
Rob Van Dam teamed with Hall of Famers Shawn Michaels and Booker T, as well as the Dudleys, in a dramatic match with control over WWE Raw on the line.
Van Dam had some good moments opposite Scott Steiner and again demonstrated excellent chemistry with Chris Jericho. Brawling, outside interference and slick counters highlighted the action.
Weapons cracked against bodies and men flew with little regard for their health in this thrill ride of a match.
Rob Van Dam teamed up with Jeff Hardy against three other teams, including Kane, who fought alone for the tag team championship. Mr. Monday Night thrived here as either the victim writhing in pain or the man launching himself from corner to corner.
Enthralling carnage was the strength of this chaotic affair delivering a litany of memorable spots and jaw-dropping moments. It remains one of the best matches in WWE Raw history as a clash buzzing with excitement from start to finish.
The battle for WWE's existence against the invading WCW, pitted two teams against each other in the best traditional Survivor Series elimination match ever.
Rob Van Dam joined Kurt Angle, Steve Austin, Booker T and Shane McMahon against Team WWF led by The Rock.
Several personal rivalries and individual chemistry helped make this a masterpiece including Van Dam's clashes with Jericho and Austin going up against The Rock. Few matches have had as much drama, born from both storyline and from in-ring action.
Take the elimination match from Survivor Series 2003, up the stakes and amp up the passion of everyone involved and you have this match.
Van Dam was not a part of the end to see The Rock end the night victorious, but he certainly provided more than his share of thrills on the journey to the climax.
The central figure of this match was certainly Shawn Michaels, as he won the World Heavyweight Championship in the first-ever Elimination Chamber after being gone from the company for years.
Rob Van Dam, though, was one of the most fun elements of this battle. He took his high-risk style to a new level, using the steel structure as a showcase for his daredevil stunts.
Triple H, Chris Jericho, Kane and Booker T joined them in a fierce, violent clash of megastars. Bodies flew through plexiglass. Blood poured down faces.
Beyond the novelty of this new match, the men involved turned this into a compelling story, one where gladiators collided until one remained—a warrior returning from injury in glorious fashion.