Predicting the 10 Biggest Matches of the 2013-14 Premier League Season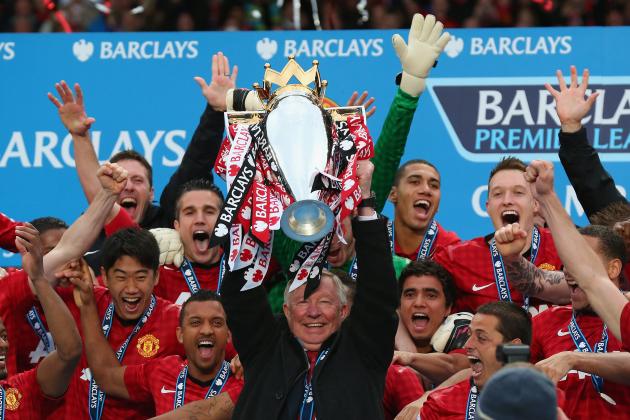 Alex Livesey/Getty Images

Last season's Premier League saw Manchester United regain the league crown from their local rivals Manchester City, before the shocking retirement of managerial legend, Sir Alex Ferguson (pictured holding the Premier League trophy on May 12 this year). Since then, there has been a raft of managerial changes at several Premier League clubs.
David Moyes was named as Sir Alex's successor at Old Trafford. In turn, Moyes was replaced by Wigan's Roberto Martinez at Goodison. Rafael Benitez left Chelsea to take over at Napoli, which left the door open for "The Special One," Jose Mourinho, to return to Stamford Bridge. Mark Hughes replaced Tony Pulis at Stoke City, and Manuel Pellegrini was named as the latest Manchester City manager.
Phew! That was quite a list to get through! And the start of the season is still over seven weeks away. There's no doubt that we'll see some interesting news and transfer stories as the season draws closer too.
This article is going to focus on what I predict will be the 10 biggest matches of the 2013-14 season. Whether it's a new manager heading in to his first big match in charge of his new club, or two promoted sides going head-to-head in their quest for Premier League survival, there are a lot of interesting games ahead of us over the next few months.
I've used the BBC Sport website for details of the 2013-14 Premier League fixtures. The slides will be in date order, i.e. from August onwards. Feel free to leave your own predictions below on what the biggest fixtures of next season will be.
Begin Slideshow

»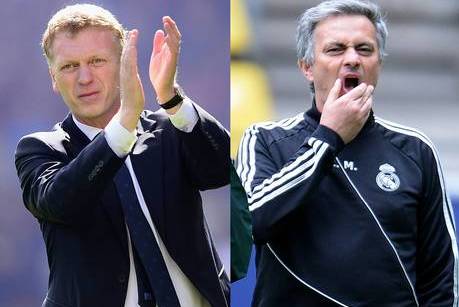 Image courtesy of independent.co.uk
You'd have to think that the date of this match will be moved to accommodate live TV coverage, but either way, the second week of the season throws up a tantalising contest between two of the Premier League's biggest clubs.
David Moyes' first home league match in charge of Manchester United comes against Jose Mourinho's Chelsea. Both managers would probably have preferred for a match of this magnitude to come a little later in the season, but they'll both thrive on the occasion.
After doing such a fantastic job with Everton over the last decade and more, Moyes finally has the chance to prove himself at a club with some serious financial clout. He already has an excellent squad at his disposal, and if he can make a couple of new additions over the next few weeks, he'll see this game as his chance to make a statement in his first home league match in charge.
Similarly, Jose Mourinho will bring his Chelsea squad to Old Trafford looking to stamp his mark on the Premier League once again after spells coaching in Italy and Spain. Chelsea have already added German forward Andre Schurrle to their ranks ahead of the new season, and Mourinho would love nothing better than to take the scalp of Manchester United in just the second game of the new season.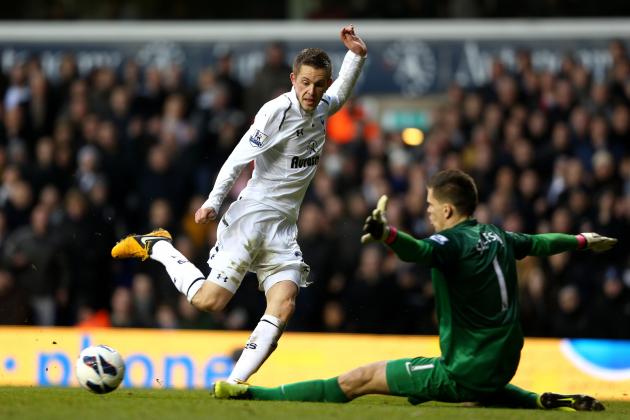 Paul Gilham/Getty Images

Just a week after Manchester United and Chelsea go head-to-head, we're treated to the first big London derby of the season where Arsenal go up against Tottenham at the Emirates.
An excellent run of form from the beginning of March until the final day of last season saw Arsenal pip Tottenham to fourth spot and with it, a Champions League place. After going so long without winning a trophy, Arsenal will be desperate to pick up some silverware this season. For a club with their heritage and standards, the wait for a trophy, or even challenging for one, has surely gone on for long enough.
Arsenal have some talented players, but they rarely deliver consistently enough to be considered as contenders. Rumours persist about Real Madrid's Gonzalo Higuain joining the Gunners, but one player won't be enough. Arsene Wenger should be looking to add more quality to the spine of his team, and then maybe they'll be up there with the best again.
Tottenham pushed Arsenal hard last season, but in the end, they didn't do enough to finish in the top four. They were impressive in large parts of the season, including their wins against Manchester United in September and against Arsenal in March, where Aaron Lennon (pictured) scored in their 2-1 win.
To have any chance of competing next season, Spurs simply have to hang on to Gareth Bale. He's their most important player and so much of Spurs good work comes through his pace, ability and his proficiency from dead-ball situations.
All signs point towards this match as being a key indicator to how both clubs will fare during the season.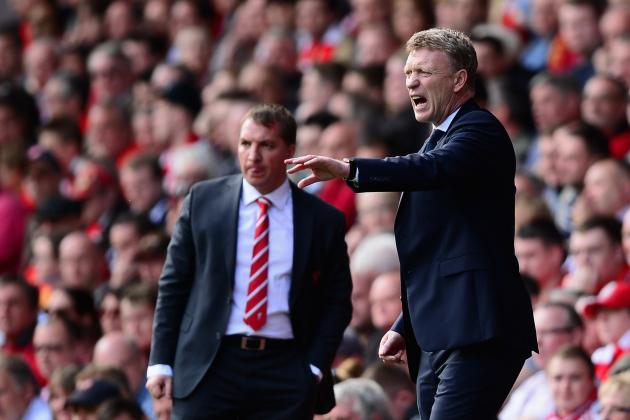 Laurence Griffiths/Getty Images

This match could well be part of a live TV double-header when Manchester United visit Anfield.
Brendan Rodgers settled in well to life as Liverpool manager last season and has won many fans with the way he carries himself and comes across during press interviews.
Managing Luis Suarez would be tough for any manager, never mind someone in his first season at a big club, but Rodgers handled things as well as could be expected. Will Suarez be there next season? Answers on a postcard please! But if he is, he'll play no part in this game due to his 10-game suspension for his actions late last season.
This match will mark David Moyes' third league game as United manager, with two of those coming against Chelsea and Liverpool. So much for a settling-in period!
Although he'll have experience of going to Anfield as a manager, going there as Manchester United boss is an entirely different thing altogether, and how Moyes prepares himself for handling that pressure will go a long way towards determining the outcome of this match.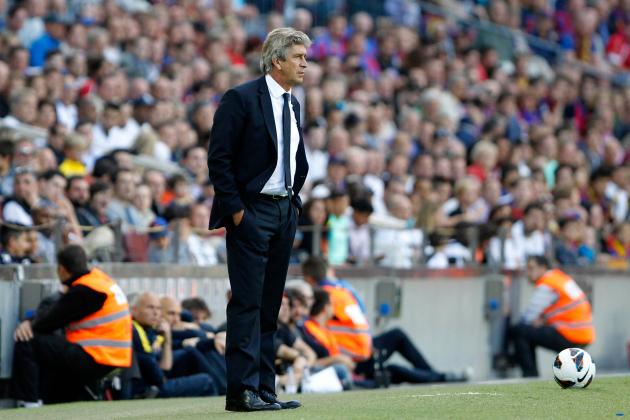 David Ramos/Getty Images

Manuel Pellegrini and David Moyes will have their first taste of the Manchester derby as managers in mid-September. Neither manager has experienced that atmosphere as a manager before and it'll be interesting to see which man, if any, comes out on top that day.
Pellegrini is the latest man charged with making City a dominant Premier League force, and after their inconsistencies last year, he'll want to unite the squad, which might be easier now that Carlos Tevez has signed for Juventus. Tevez's behaviour made life difficult for ex-City manager Roberto Mancini, so at least that's one thing Pellegrini won't have to worry about.
Moyes has an unsettled striker of his own to deal with in Wayne Rooney, so whether the Scouser is there to play in this match or not remains to be seen.
Both managers will be eager to present their new fans with a victory in one of the most hotly contested derbies in the country, which makes this match a must see affair.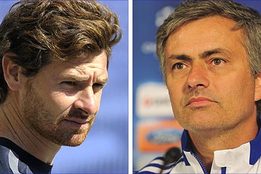 Image courtesy of footballtwist.com
Two old friends will go head-to-head for the first time in the Premier League when Andre Villas-Boas and his Tottenham team host Jose Mourinho's Chelsea at the end of September. AVB worked under Mourinho for several years almost a decade ago, including during Jose's first spell at Chelsea, so it'll be interesting to see how the student fares against the master.
Villas-Boas had a rough time at Chelsea and was harshly dealt with, but he proved last season that he's a very good coach. He had impressive results against the big four sides—Spurs went unbeaten against Manchester Utd, beat Arsenal and Manchester City at White Hart Lane and held Chelsea at the Bridge. He'll want a little more consistency from his players as they try to crack the top four.
Mourinho knows the importance of these games after his experiences during his first reign at Chelsea, so he'll be on top of things, but at the same time, he'll know that visiting White Hart Lane will prove to be a tough test for his side.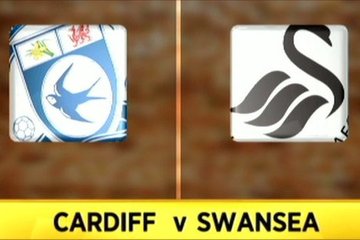 Image courtesy of bbc.co.uk/football
At the beginning of November, we'll see the first Welsh derby in Premier League history when Cardiff host Swansea. If you've ever had the pleasure of seeing a Cardiff vs Swansea game live, and I have, then you'll know that Premier League fans are in for a treat!
After years of coming so close to getting to the Premier League, Cardiff were finally promoted last season courtesy of winning the Championship, which is widely regarded as one of the toughest leagues in Europe to get out of.
Swansea had some success of their own last season though, winning the Capital One Cup in their centenary year and earning a place in Europe in the process.
The aim for both sides next season will surely be survival once again, but this is a fixture that neither side will want to lose.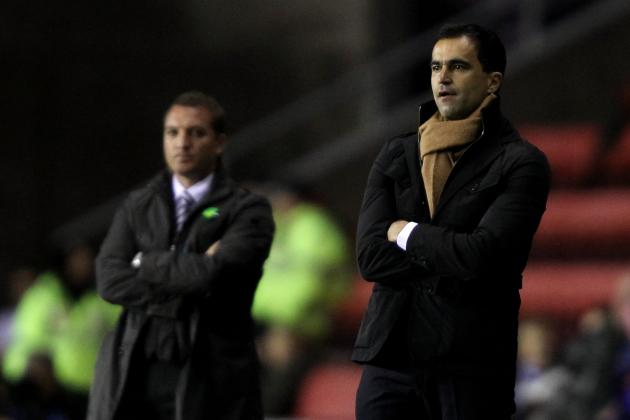 Clive Brunskill/Getty Images

The first Merseyside derby of the season comes just before the festive period when Everton host Liverpool. Both managers, Roberto Martinez and Brendan Rodgers, have worked their way up from managing in the lower leagues and have earned their chance at bigger clubs because of what they've achieved.
Martinez won the FA Cup with Wigan last season, but despite that, he's never experienced the atmosphere of a big, local derby as a Premier League manager. How will he have bedded in to life at a big club like Everton by the time this fixture rolls around? Time will tell. Martinez is a talented young coach and I wish him all the success in the world. Hopefully he's given time to prove how good he is.
As for Brendan Rodgers, he had an okay season last year. Liverpool's start to the campaign was tough, with both Manchester clubs and Arsenal coming his way in the first six league games. After that, his side picked up and he'll be better for the experience he gained last season.
Merseyside derbies are always enthralling encounters and with both sides looking to, at the very least, qualify for Europe. I'm sure this one will be no different.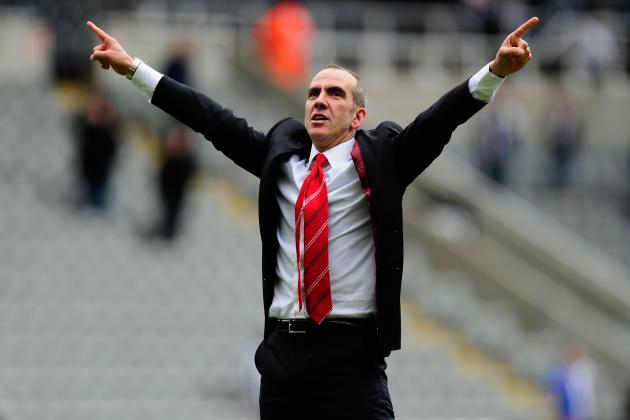 Stu Forster/Getty Images

Neither Newcastle or Sunderland should have any distractions next season, which makes their derby clashes the most important games of the season. I could've focused on their first derby earlier in the season, but this one stood out more to me because of what happened last season.
In one of his first matches in charge, Di Canio took his struggling side to Newcastle and somehow managed to mastermind a sensational 3-0 victory. His passion and determination, even on the touchline, were there for all to see, and while you might not like him, you have to respect that about him.
Both of these teams have incredible fanbases, and the rivalry between the players and fans, with a lot left to play for at that stage of the season, makes this a match you won't want to miss.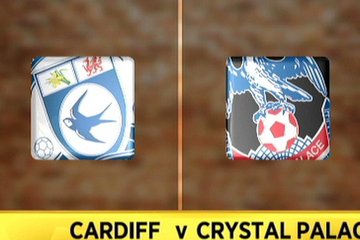 Image courtesy of bbc.co.uk/football
A match between two promoted sides so late in the season can usually be described as a six-pointer, especially as both of these clubs won't have the financial clout or be as attractive to better players as other clubs would be, no disrespect.
With the pressure on, and the likelihood that a win for either side could prove to be the difference between safety and disaster, whoever keeps their nerve in what's sure to be a nervy contest might just survive for another season.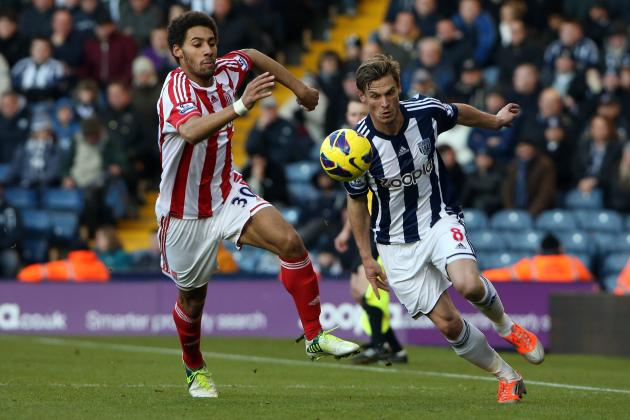 Ross Kinnaird/Getty Images

Sky Sports in the UK normally always has a "Survival Sunday" on the last day of the league season, and this could very well be one of the matches that is picked for live TV coverage.
After punching well above their weight at times last season, West Brom may struggle to string results together, especially if they can't re-sign Romelu Lukaku on loan from Chelsea. Lukaku's overall presence, and his goals, were critical to West Brom achieving a top-half finish last year and without him, there's no other obvious candidate to step up and replace him.
Stoke, on the other hand, were in serious, serious danger of being relegated last year. They were too inconsistent and had a horrific second half of the season, where they won less than half a dozen games.
The fans spoke and Tony Pulis ended up leaving once the campaign was over. As someone looking in from the outside, it seemed to be more a case of "what have you done for me lately" rather than Stoke fans appreciating what Pulis had done for them. He established Stoke as a Premier League club.
Now that he's gone, can they stay up this season? And how will his time at QPR affect Mark Hughes' thinking? I guess we'll find out over the coming months, but I'd guess that both clubs will struggle and this could be their most important game of the season.