Minnesota Vikings: 9 Players Firmly on the Roster Bubble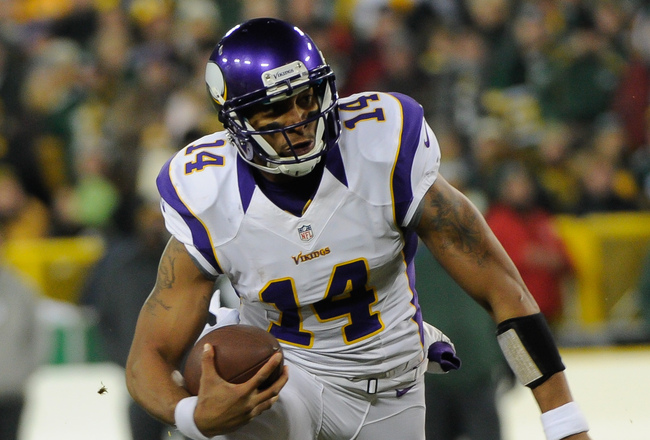 USA TODAY Sports
The Minnesota Vikings will offer the same entertainment they do every year when training camp rolls around.
Make no mistake—2013 in Minnesota will feature some of the most intriguing drama to hit a NFL camp battle, with fan favorites competing against relative unknowns for spots at the bottom of the depth chart.
High-profile names like Christian Ponder, Adrian Peterson and Jared Allen won't have to worry about securing their spots, but there are at least nine players who don't know whether they're on the outside looking in or fighting to secure a precarious spot.
Just as there are players who are clear starters and others who are camp bodies, the stories that persist throughout camp are the ones involving the most famous drama of the offseason—namely, who makes the team.
The following players are neither locks to make the Vikings nor merely camp bodies. They're in the thick of the competition to make the roster and could be the most entertaining stories coming out of the preseason.
D'Aundre Reed, DE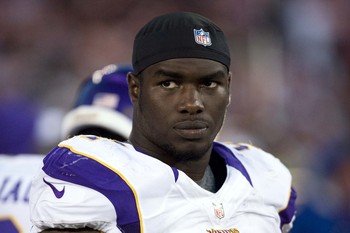 Ed Szczepanski-USA TODAY Sports
By all accounts, D'Aundre Reed is a good defensive end. In 2012, he had a strong training camp, and he regularly won the one-on-one battles that define defensive and offensive line play in the offseason.
An athlete with explosiveness and a great intuition for reading the snap, Reed wasn't necessarily a lock to make the roster the previous year, but neither was he likely to lose a spot to any of the defensive ends brought to the team in the summer between the end of the 2011 season and the beginning of 2012.
The Vikings are paying particular attention to how the defensive end battle is playing out on the bottom of the depth chart because their three top pass-rushers will be entering free agency and may be difficult to retain in the coming year.
Should Reed show the improvement he did a year ago, he should be a lock for another roster spot. But the additions of veteran backup Lawrence Jackson, along with underrated and undrafted free agent Marquis Jackson from Portland State, will put pressure on Reed. So will George Johnson, who is no slacker and already proving he can make an NFL roster with his time in Tampa Bay.
Reed might be a favorite to make the roster, but he shouldn't feel comfortable unless the Vikings decide to keep five defensive ends instead of four.
Marcus Sherels, CB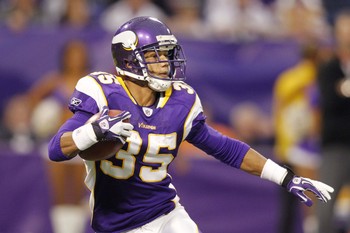 Bruce Kluckhohn-USA TODAY Sports
A Minnesota native, Marcus Sherels has made his way onto the roster by way of his above-average capabilities for returning punts to offset his undersized frame and subpar pass-coverage skills.
Sherels was firmly entrenched as the team's starting punt returner last year, a product of Jarius Wright's hesitancy and A.J. Jefferson's inconsistency. That meant the Vikings gave a valuable roster spot to a player who couldn't perform spot duty when called upon—and he's been called upon a disconcerting number of times.
Still, he's just above average as a punt returner, which is a rare-enough skill that deserves special consideration.
But with Cordarrelle Patterson, Jarius Wright, Joe Webb, A.J. Jefferson and a number of others competing for the spot, Sherels will have to step up and prove he can make a positive impact for the Vikings outside of special teams play.
For now, his roster spot is somewhat safer than it is under risk, but it only takes one player to boot him and there are a number of those attempting to do just that.
Jacob Lacey, CB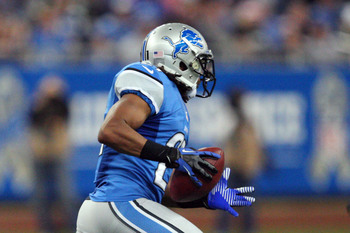 USA TODAY Sports
Hot on the heels of Marcus Sherels is another defensive back best suited for the nickelback position in Jacob Lacey.
Lacey took significant snaps for Detroit (nearly 600 last year) and didn't do too poorly when he was asked to play. That alone makes him a better nickel player than Marcus Sherels, but he also hasn't played as a punt returner in the NFL, making direct competition difficult.
Should someone else show adequacy as a punt returner, Lacey only has to continue his level of play to displace Sherels on the roster.
Nevertheless, he'll have to prove that what he can provide in depth is a large improvement over the difference in skill between Sherels and the next best punt returner on the roster.
That, however, might take some doing. There's a small chance that Lacey is only on the roster as a player who can give information on Detroit's defensive schemes. He may have to prove himself as more than just an advance scout in order to get a fair shake on making the final roster.
Brandon Burton, CB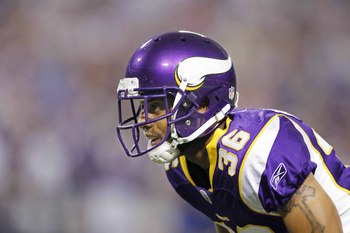 Bruce Kluckhohn-USA TODAY Sports
Ourlads, a service that continuously and accurately updates depth charts for every NFL team, lists Brandon Burton as the Vikings' fourth-string cornerback after Jacob Lacey.
The difference is that the Vikings may not want to employ two corners who can only provide depth at the nickel spot, which is what Sherels and Lacey provide. Burton projects as a depth player who can play outside or inside, and he has shown some improvement from year to year.
Burton has to prove he has earned a roster spot after his somewhat lackluster play in camps and the preseason, but he has been able to close the passing windows against opposing receivers.
He'll need to play up to his athletic potential in order to displace either of the players above him on the depth chart, but he certainly has the talent and capability to do so.
Joe Webb, WR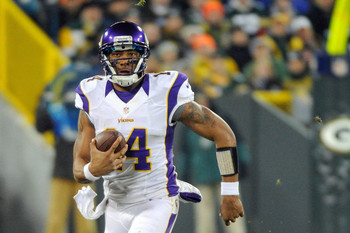 USA TODAY Sports
Joe Webb has been one of the most exciting athletes to put on a Vikings uniform in some time. He hasn't had the exploits of Adrian Peterson or Percy Harvin, but he has nevertheless proven to be deadly with the ball in his hands in open space.
Webb has alternately shown his agility, speed, vertical leap and strength when running in the open field with NFL defenders chasing after him. He has undoubtedly also shown excellent vision, with a talent for finding open spaces with his loping gait.
Standing 6'4" and with enormous hands, Webb has the athletic profile of a playmaker and could end up turning into a game-changer for a Vikings' offense that had been struggling to get downfield.
But with a heavy learning curve ahead of him, Webb's progression may prove too slow for the Vikings to remain patient, particularly with so much other young talent they could offer a chance to.
Stephen Burton, WR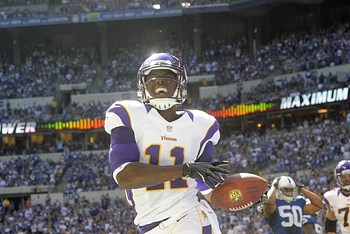 Thomas J. Russo-USA TODAY Sports
Stephen Burton was a player whom Vikings fans were much more likely to see on running downs than passing downs, which isn't quite the calling card a receiver wants.
Burton was another in a long line of players who drew buzz before training camp started last year with reported improvements in route-running and coverage recognition. Like many preseason superstars, Burton faded to relative irrelevance once the season began and could stand to lose his current spot even more.
There's some sense that if he doesn't improve, the Vikings could choose to put the developmental talent with more upside in Joe Webb at wide receiver and stick out the 2013 season with relatively limited depth.
The positive that Burton brings, besides being a more NFL-ready receiving talent, is his clear and solid play as a blocking receiver. He more often than not proved to be a match for NFL cornerbacks in paving the way for the run.
For such a run-oriented offense, that may prove to be the tipping point.
Andrew Sendejo, S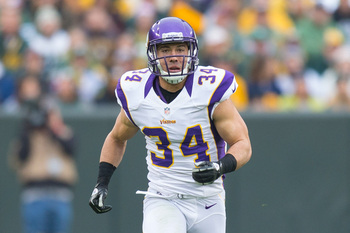 Jeff Hanisch-USA TODAY Sports
The Vikings know what they have in Harrison Smith, and they can be reasonably confident in Jamarca Sanford, the presumed starter opposite Smith.
They might also be reasonably happy with Mistral Raymond, who won the starting job last year at the beginning of the season.
The bigger issue comes from Robert Blanton and Andrew Sendejo. With solid on-field performance in 2012 in relief of both Raymond and Smith, Blanton also looks to have a relatively safe roster spot.
But as the safety who has stuck with the Vikings for two years as either a practice squad or special teams member, Sendejo might be in a critical year to prove to the Vikings that he's worth retaining.
Most players make the squad as solid special teams performers and hope to make the field as starters at some point later. Sendejo has a mountain to climb before he becomes a starter, but he is making his name known with excellent special teams performances, even displacing a special teams standout in Eric Frampton last season.
The Vikings would have to decide to keep five safeties on the roster for Sendejo to make the team solely on his play on kickoff and punt units. That could be asking a lot, given how much depth the Vikings are trying to develop elsewhere.
Christian Ballard, DT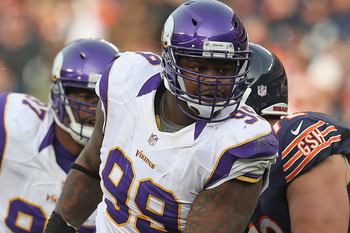 Jonathan Daniel/Getty Images
Christian Ballard hasn't been a bad player for the Vikings, serving well in his two years as depth behind Kevin Williams and occasionally Jared Allen.
A former defensive end at Iowa, Ballard played snaps at both defensive end (in run-defense situations) and defensive tackle (as a pure pass-rusher) in 2011 and solely as a defensive tackle in 2012. The conversion is a somewhat common one for players joining the Vikings, as Kevin Williams made the same transition in 2003 and even took nose tackle snaps that year.
But Ballard is in a difficult spot. If the Vikings elect to keep four defensive tackles, as they did in 2012, he'll likely lose out. With first-round pick Sharrif Floyd already taking first-team nickel snaps and slotted to play behind Kevin Williams in the base package, Ballard has a tough row to hoe in order to crack the roster.
His best hope is that the Vikings field five defensive tackles, as they likely won't move on from Letroy Guion and Fred Evans at nose tackle. Unfortunately, Ballard will be facing pressure from below in seventh-round draft pick Everett Dawkins, who has the same line versatility as he does.
A talented pass-rushing tackle who perhaps shouldn't have fallen as far as he did, Ballard will face serious pressure above and below him on the depth chart.
As it stands now, he has somewhat even-odds of making the team, but he could lose his spot quickly with a few bad bounces of the ball.
Matt Asiata, HB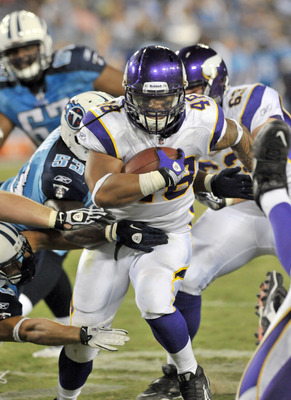 Jim Brown-USA TODAY Sports
The third running back on a roster should almost never feel safe with his position, and Matt Asiata is no different.
With little to no chance of moving up the depth chart, Asiata has immense pressure from below to deal with this preseason.
The issue comes not just from players like Bradley Randle, Jerodis Williams and Joe Banyard—all of whom have distinctive skills that might stand out for third-down situations—but from a player who isn't even listed on the depth chart as a halfback.
Zach Line from Southern Methodist proved to be an exceptional bruising fullback who was able to gain yardage despite rarely playing with the type of run-up that modern running backs are afforded. Line has many of the same skills as Asiata and might play with more strength and explosiveness.
Should the Vikings keep Line, they might move on from Asiata and keep three players on the roster who can lead-block and perform other roles as well.
Even if Line is a long shot to pressure Asiata, the other three running backs represent clear hurdles that Asiata hasn't quite cleared.
Keep Reading

Minnesota Vikings: Like this team?