NBA Draft 2013: Live Blog, Minute-by-Minute Analysis (7 P.M. EST)
Although there's a Kentucky center projected to go first overall for the second year in a row, this year's draft is much more uncertain than the 2012 edition. The Cavs (or whichever team ends up getting Nerlens Noel) are hoping this year's 7-footer is more Anthony Davis than Sam Bowie. Noel is coming off of an ACL injury in February which prematurely ended his freshman season, and some mock drafts have 7'1" Alex Len of Maryland going first overall to Cleveland.
This draft is considered to have a couple players who have a chance to make an immediate impact—including Georgetown swingman Otto Porter and UNLV forward Anthony Bennett—as well the diminutive point guard Trey Burke, who made headlines with his Naismith Award win and NCAA Tournament heroics. Then there's guard C.J. McCollum, a point guard/shooting guard hybrid from Lehigh University who keyed the Mountain Hawks' run in 2012 (and win over Duke in the NCAA Tournament) before missing most of this year due to injury.
Other than Noel, Indiana shooting guard Victor Oladipo is making the most headlines in this year's draft. The 6'4" guard impressed many with his improved shooting range this past season, in addition to his blazing speed, undeniable athleticism and top-notch defensive skills. Kansas' Ben Mclemore, who impressed college fans all year with his skill sets but hasn't perhaps had the best pre-draft workouts.
Nobody knows for sure yet which big man will be the top pick to play alongside Kyrie Irving in Cleveland, and how the rest of the draft will shake out from that point on. But this live blog will be tracking the action all night long as the fortunes of all 30 teams for the next few years, for better or for worse…
Thanks for reading, everybody! Please leave thoughts on any of the picks and trades from this crazy night of basketball moves in the comments board. Finally, some sleep after Brooklyn.
59th pick: Minnesota Timberwolves- Bojan Dubljevic, PF, Serbia: A 6'11" prospect from Montenegro, Dubljevic shot nearly 86 percent from the free throw line in the 2010-11 EuroCup, and shot over 47.4% from the three-point line for Valencia of the Spanish league.
60th pick: Dallas Mavericks- Janis Timma, SF, Poland: This 6'7" forward has some speed and plays decent defense, but will he be able to rebound against more physical forwards (not to mention centers) in the NBA?
57th pick: Phoenix Suns: Alex Oriakhi, C, Missouri: A former member of UConn's 2010 national-championship-winning team, Oriakhi has the size to rebound, and the ability to post up and make plays offensively (shooting almost 64 percent from the field for the Tigers this season).
58th pick: San Antonio Spurs: DeShaun Thomas, PF, Ohio St.: Thomas has range and is a very strong rebounder. Simmons and Bilas both expressed surprise that Thomas lasted this long on the board; I have to say I'm a little surprised as well after getting to see him play against Big Ten opposition several times this past college basketball season. Another prospect that reminds me of Draymond Green (maybe not as good of a rebounder, but has better range).
54th pick: Washington Wizards- Arsalan Kazemi, PF, Oregon: Averaging 9.4 points and ten rebounds a game for a surprising Ducks team this season, Kazemi can be an excellent rebounder at the professional level off the bench.
55th pick: Memphis Grizzlies- Joffrey Lauvergne, PF, France: Despite sharing a first name with one of the least-liked characters on HBO's Game of Thrones, Lauvergne's 6'11" frame and superb play on the EuroCup stage might make him a quite palatable prospect for Grizz fans.
56th pick: Detroit Pistons--Peyton Siva, PG, Louisville: The heart and soul of the NCAA champions, Siva is another prototypical point guard, averaging superb defense and ball-hawking skills as well as the innate passing gene.
51st pick: Orlando Magic-Romero Osby, PF, Oklahoma--Occupying the post formerly filled by Clippers star (and former top overall pick) Blake Griffin, Osby averaged 16 points and seven rebounds a game for the Sooners as a senior in 2012-13.
52nd pick: Miinnesota Timberwolves-Lorenzo Brown, PG, NC State--Brown is a superb on-the-ball defender, and can attack in transition if given a sliver of space. His shooting, however, could use some improvement.
53rd pick: Indiana Pacers (for Celtics)- Colton Iverson, C, Colorado State--A transfer from Miinnesota, this 23-year-old has the ability to bang bodies down low with his seven-foot, 255-pound frame. Iverson averaged a near-double-double (14.2 points, 9.8 rebounds) in his only season with the Rams.
49th pick: Chicago Bulls- Erik Murphy, PF, Florida: Scoring over 12 points a game in his senior season for the Gators, Murphy can do a little bit of everything, but isn't great at anything.
50th pick: Atlanta Hawks- James Ennis, SG/SF, Long Beach St.: This swingman averaged 6.7 rebounds per game this past season for the Aggies, and has above-average court awareness and playmaking abilities.
47th pick: Atlanta Hawks: Raul Neto, PG, Brazil: With the ability to play in transition or outside the arc, this Brazilian national team member is an under-the-radar selection for the Hawks that could pay dividends down the road. His wingspan of 6'4" is slightly longer than his 6'2" frame.
48th pick: Los Angeles Lakers: Ryan Kelly, PF, Duke: After battling a foot injury for much of his senior season, Kelly brings his rebounding and outside shooting to the City of Angels. Fun fact: Kelly is engaged to the daughter of former Steelers head coach (and current CBS analyst) Bill Cowher.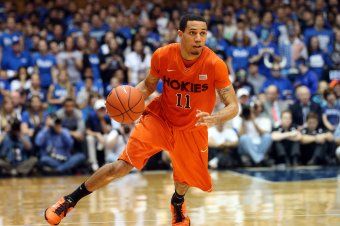 Streeter Lecka/Getty Images
The 46th pick for the Utah Jazz is Erick Green, the Virginia Tech point guard who led all NCAA players in points per game this season with 25 per game. Given how much he scored, it's no surprise that he shot almost 48 percent from the floor. Green, at 6'4", can also hit the boards, as he averaged four rebounds per game in 2012-13 for the Hokies.
The 44th pick of the night is Mike Muscala for the Dallas Mavericks out of Bucknell University. A forward-center hybrid, Muscala dropped likely because of the limited competiton he played against throughout his collegiate career, not because of his skill set (he can play under the rim and can shoot).
The 45th pick is Marko Todorovic for the Trail Blazers. A power forward from Montenegro who has played pro ball in Spain for the last year, Todorovic is a low-post presence who will likely stay overseas for at least another year or so to develop.
41st pick- Grizzlies--Jamaal Franklin, SG/SF, San Diego St.-- Franklin is athletic and can fill a stat sheet (17 points, 9.5 rebounds per game), although he needs to work on his jumper.
42nd pick- 76ers--Pierre Jackson, PG, Baylor--Coming off of a knee injury, Jackson was a prolific scorer before he went down. Will he be able to create shots for himself (ando thers?) at the next level?
43rd pick- Bucks--Ricky Ledo, SG, Providence--Ledo never played a game in college after being a heralded prospect out of high school. A star at South Kent High School, Ledo has proven he can play against several of the draftees tonight, but he is still largely an unknown commodity. Intriguing pick.
With the 40th pick of the draft, Portland takes Grant Jerrett from Arizona. Unlike his former teammate Solomon Hill, Jerrett is unproven (just 5.2 points per game) and left after his freshman season. This is a potential-based pick for the Blazers.
39th pick: The Trail Blazers draft shot-blocking center Jeff Withey from Kansas. The second Jayhawk to be taken tonight (after Ben McLemore), Withey will be able to bang bodies down low, and can potentially serve as a backup center right away.
36th pick: Sacramento-Ray McCallum, Detroit: This could be one of the sneaky-great picks of this draft. McCallum, a coach's son (coached by his dad at Detroit, in fact), is an excellent all-around player who makes smart decisions on the court and can do it all (18.7 points, 5.1 rebounds and 4.5 assists per game).
37th pick: Detroit- Tony Mitchell, North Texas: Mitchell has lots of potential, but his attitude is a concern, which is probably the main reason for him dropping so low despite his numbers (roughly 13 points and eight rebounds per game this past season).
Philadelphia drafts Glen Rice, Jr. from the Rio Grande Valley Vipers of the NBDL and subsequently trades him to Washington for the 38th and 54th picks. Philadelphia then takes Nate Wolters of South Dakota State (go Jackrabbits!) with the 38th pick.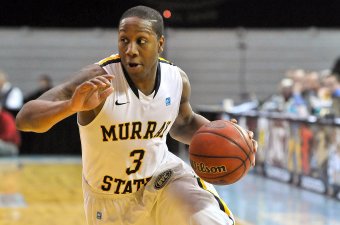 Jim Brown-USA TODAY Sports
Murray State star Isaiah Canaan, who averaged nearly 22 points per game in 2012-13 for the Racers, is the latest point guard to be drafted (34th overall for the Rockets). Canaan is a bit undersized at 6'1", but he is an excellent shooter who can come in immediately as an energy scorer off the bench for Houston.
Three picks, two Pac-12 players in the second round so far. Arizona State's Carrick Felix goes to the Cavaliers. The guard/forward, who averaged over 14 points for the Sun Devils last year, also pulled in over eight rebounds per game. This looks to be an intangibles pick for a rapidly improving (on paper, at least) Cleveland team.
Alex Abrinas, a guard from Spain, is the 32nd overall pick for the Oklahoma City Thunder. Celtics and Nets fans, how do you feel about the Garnett/Pierce/Terry blockbuster deal? Does this make the Nets players in the Eastern Conference Finals picture?
It's official: The Celtics have traded Kevin Garnett, Paul Pierce and Jason Terry to the Brooklyn Nets for Gerald Wallace and first-round picks in 2014, 2016 and 2018. The Nets are obviously looking to win right now, and the Celtics have officialy made the transition from their 2008 championship-winning core in to the Rajon Rondo era.
The first pick of the second round is Cal's Allen Crabbe. The Cavs have a 6'6" guard who was the best scorer in the Pac-12, and range all over the court. Crabbe shot nearly 46 percent from the field and scored 18.4 points per game for the Golden Bears in 2012-13.
Stern's first announced draft pick was Hakeem Olajuwon. His last: Nemanja Nedovic, another phonetically challenging name. After announcing the pick, deputy commissioner (and Stern's successor) Adam Silver surprises Stern by bringing out Olajuwon, wearing the same style of tuxedo he wore on draft night in 1984. "He still fits into the same suit," Stern says with a smile, but Olajuwon no longer has that 80's perm.
David Stern's last draft announcement as NBA commissioner is coming up, as he will announce a pick for the Suns that will end up going to the Thunder (I think. There's been a lot of trades in the last hour. My head hurts.).
Bilas says that Goodwin is talented in transition, but needs to improve his jump shot. Considering that Goodwin is listed as a shooting guard, this may not be a great sign for the Suns. He'll likely make the switch a a combo guard. Bill Simmons, who notes that Goodwin was one of the top high school prospects before his uneven single season with the Wildcats, is a fan of this pick. Time will tell
According to Andy Katz, Andre Roberson will be headed to Golden State, and whoever the Thunder draft here is headed to Phoenix. The pick is Archie Goodwin, a freshman shooting guard from Kentucky.
Another foreign pick for the Spurs, as they select center Livio Jean-Charles. The 19-year-old native from French Guinea will likely be stashed overseas for two or three years, according to Fraschilla. In addition to being able to bond with fellow Frenchman Tony Parker, Jean-Charles proved himself against his future NBA competition in several pre-draft workouts, as I stated in my previous article regarding first-round fringe prospects.
The Spurs, who were thisclose to winning a fifth championship in the Duncan era, are about to make the 28th overall pick. The ESPN panel is currently talking about how attractive of an option San Antonio is for potential free agents.
This article is
What is the duplicate article?
Why is this article offensive?
Where is this article plagiarized from?
Why is this article poorly edited?