5 Reasons LeBron James Can Be Even Better in 2013-14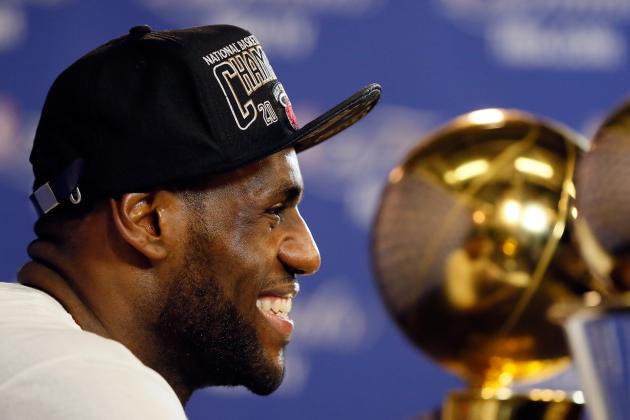 Kevin C. Cox/Getty Images
LeBron James is racking up team and individual trophies.
The Miami Heat did not have a first-round selection in the 2013 draft.
That pick went to good use.
"I gave up No. 30 to Cleveland for LeBron James," Heat president Pat Riley said with a smile. "I'm OK. I'll make that trade again.''
That sign-and-trade was made in the summer of 2010, after Riley convinced James to join the Heat.
Since then, Miami has reached the NBA Finals three times, winning the past two, against theOklahoma City Thunder and the San Antonio Spurs.
Only three franchises have ever repeated, but if James continues to improve, Miami is a good bet to join the Boston Celtics, Los Angeles Lakers and Chicago Bulls in that class, regardless of what Riley does, or doesn't do, this offseason.
So can he improve, after winning two straight regular season and NBA finals MVP awards?
His relative youth (at age 28) and driven mindset suggest that he can.
Six days after the championship, he was already thinking ahead:
"It's something that I want again. Because the time goes fast. We won it Thursday night, and we've already had the parade, and now it's like, what do you do? It's the summer. For me, I'm obsessed with success. I want that feeling again. I want to be able to win another championship because it's the best feeling in the world. I want it. I won't let myself down with it."
The following are five reasons why he won't.
(All quotes for this piece were collected over the course of the author's coverage of the Miami Heat for the Palm Beach Post.)
Begin Slideshow

»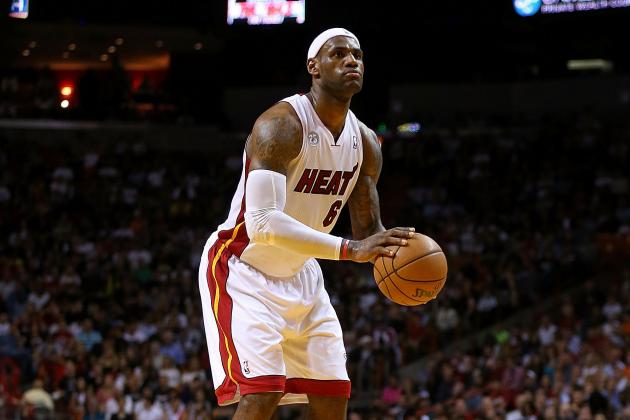 Mike Ehrmann/Getty Images
Imagine if LeBron James becomes lethal at the line?
You have probably heard this statistic:
LeBron James has improved his shooting percentage each of the past six seasons.
That is partly true, but it requires a caveat.
James has improved his field goal percentage.
Not his free throw percentage.
The Miami Heat forward shot 75.3 percent this season, his lowest since 2007-08. He did so while repeatedly tinkering with his form, even adopting Ray Allen's style late in the year. He did so while shooting the fewest free throws (7.0) per game since his rookie campaign.
So you can bet this will be an area of emphasis. And not just for James, either.
Just listen to Heat president Pat Riley:
"Our goal is to get him over 90 percent at the free throw line. Erik (Spoelstra's) goal is to get him to 12 free throw attempts per game. If the league will ever stop allowing players to tackle him at half court, he'll get another six free throw attempts."
James has always spoken of getting above 80 percent. If he had done that this season, his scoring average would have risen from 26.8 to 27.1.
He said that he doesn't need a shooting coach, just repetition. He vowed to "challenge" himself at the end of his workouts, when he's exhausted.
"And calm my breath down, and be able to make five in a row, or 10 in a row," James said. "I think it's mental more than anything as far as the free throw shooting."
With additional attention, he'll finally figure it out.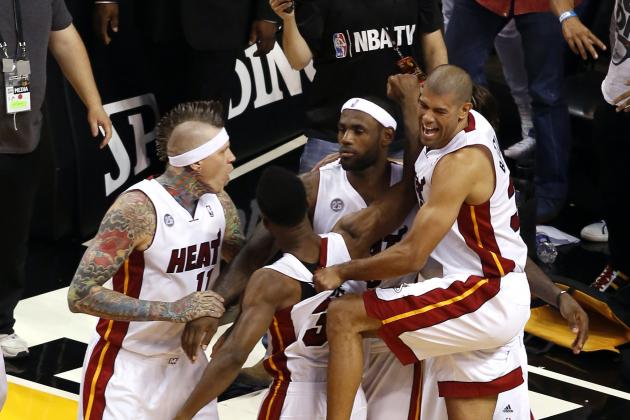 Robert Mayer-USA TODAY Sports
LeBron James will get to collaborate and celebrate with much the same crew next season.
LeBron James was ready to win another championship.
He just wasn't ready for the Miami Heat season to end.
"Damn, I wish we could come back in the locker room, have another practice, take another flight, have another bus ride, those 15 guys. That's what it's all about. You start to miss the guys throughout the summer, and I know my family probably doesn't want to hear that, but it's the truth."
It was especially tough for him to leave this group, if only for a couple of months, because they had so much fun together this season. Sometimes winning leads to good chemistry, and the Heat won plenty, with 66 victories in the regular season and 16 more in the playoffs.
But in this case, the chemistry might have led to some of the winning.
You don't get everyone to make a fool of himself in the Harlem Shake unless you genuinely like each other. And James was in the center of everything. He calls himself a "chameleon", and that was evident as he interacted with everyone from the serious Ray Allen to the eccentric Chris Andersen.
"We have a great team, we have a great nucleus, even some of the guys that didn't play, the camaraderie that it brought to the locker room," James said.
If Pat Riley brings back most of that roster, the Heat star should be even more comfortable next season, on and off the floor. He knows his teammates' personalities off the floor, and their preferences on it.
That knowledge makes him even more dangerous.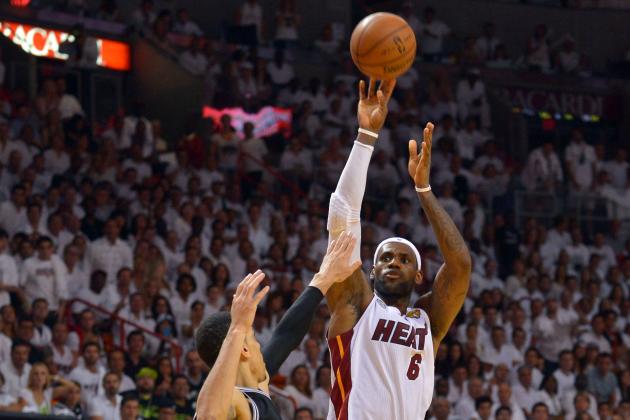 Steve Mitchell-USA TODAY Sports
What to expect after LeBron James shot career-high percentages? Even more than an encore.
In the NBA Finals, San Antonio Spurs coach Gregg Popovich remembered who LeBron James once was.
James forgot who he'd become.
Even after a season in which James posted, by far, the best field goal percentage of his career, he appeared reluctant to fire when Popovich pulled something out of his 2007 playbook, instructing his players to take a step back.
As he remained confused, and tentative, the Miami Heat fell behind 2-1 to the San Antonio Spurs.
"I watched film, and my mind started to work and I said, 'Okay, this is how they're going to play me for the whole series'. I looked at all my regular‑season stats, all my playoff stats, and I was one of the best mid‑range shooters in the game. I shot a career high from the three‑point line."
James did, making 40.6 percent from behind the arc.
"I just told myself why—'Don't abandon what you've done all year. Don't abandon now because they're going under. Don't force the paint. If it's there, take it. If not, take the jumper.'"
In Game 7, he kept taking them, and making them, scoring 37 points almost entirely from outside the paint.
Next season, expect him to take that confidence into every game, and to take his shooting percentages to an even higher level.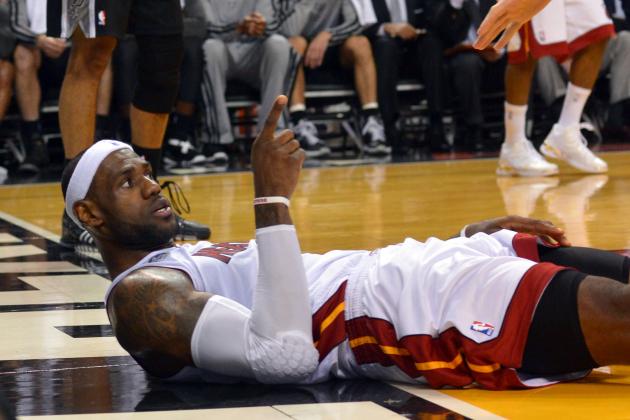 Steve Mitchell-USA TODAY Sports
While he won't spend the summer on his back, LeBron James' schedule isn't as full in 2013
Just before winter turned to spring, and as reporters moved on to interview his teammate Dwyane Wade, LeBron James shared something with a reporter who lagged behind.
"I feel like I've been playing for two-and-a-half years straight."
It wasn't much of an exaggeration.
James has hardly had a break since signing with the Miami Heat during the summer of 2010. He has played deep into June each year and, after winning the 2012 championship, he took little more than a week off before reporting for U.S. Olympic duty. Then he returned, and was expected to carry the Heat on both ends.
No wonder he revealed this on the night he won the 2012 NBA title:
"I need to rest my body. I do. As much as I love working out and as much as I love getting better, at this point I think the smartest thing to do is to rest my body. Give my body a break. I think that's the smartest thing."
It is, even if, as Heat coach Erik Spoelstra said, he won't be able to stay away too long. It's not in James' nature to chill out, not when he knows other players are working. He will have a busy promotional and marketing schedule, as usual, one that will require some overseas travel.
And he will have a big event: his August wedding in San Diego.
"I'm involved enough to where everything's gonna go right. The most important person is Savannah (Brinson). If she's happy, then I'm happy. I don't really care about nothing else. I don't really care about nobody else there on that day, besides her. If she's happy, I'm good, and we'll be all right."
Heat fans will be happy if he rests and recovers.
This summer, that finally is an option.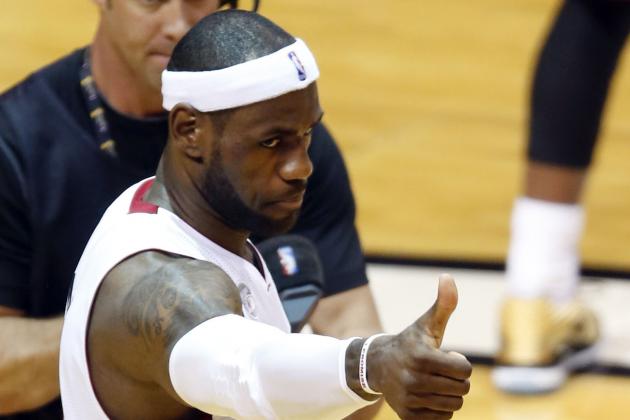 Derick E. Hingle-USA TODAY Sport
Everything is A-OK for LeBron James these days.
As the pressure mounted during the 2012-13 season, the Miami Heat found a release.
They would start singing, "I ain't got no worries".
They sang it so much, and it rang so true, that LeBron James yelled it as he held the Larry O'Brien Trophy, and Pat Riley joked that he would inscribe it on the championship rings.
It's a stretch to say that James will have no worries next season, especially with the entire league chasing him, some media members still dogging him and his possible 2014 free agency looming as the NBA's top storyline.
Still, he kept some of his critics at bay with his second championship.
What was Pat Riley thinking at that moment?
The Miami Heat president revealed his relief during an interview with Dan LeBatard on The Ticket Miami:
"I said, 'Man, this is so good'. And I was thinking this could have been so different if it didn't work out. Because we know what happened at the end of Game 6. After his scoring 16 points and bringing us back from the depths of loss, and then to have those two turnovers. And then if the game didn't turn around, then that was going to be the storyline. I'm just so happy that we didn't have to go there, those kind of scars, those kind of wounds."
James will enter the 2013-14 season with two rings, a fresh body and a reasonably clear mind.
His opponents?
They'll have the worries.