Get your sunscreen, water and team support ready for Friday, Chicago Blackhawks fans. Your team is ready to celebrate winning the 2013 Stanley Cup in style with a parade through the streets of the city that helped make it happen.
Chicago is one of the richest cities in the United States when it comes to professional sports success (third-richest behind New York and Boston if you count NFL, NBA, MLB and NHL titles), and the Windy City will have another chance to celebrate another title on Friday.
The Blackhawks are helping Chicago plan a second parade in the last four years after this year's Stanley Cup Finals. Conn Smythe winner Patrick Kane and the Blackhawks took down the Boston Bruins in six games to win the Cup on Monday night.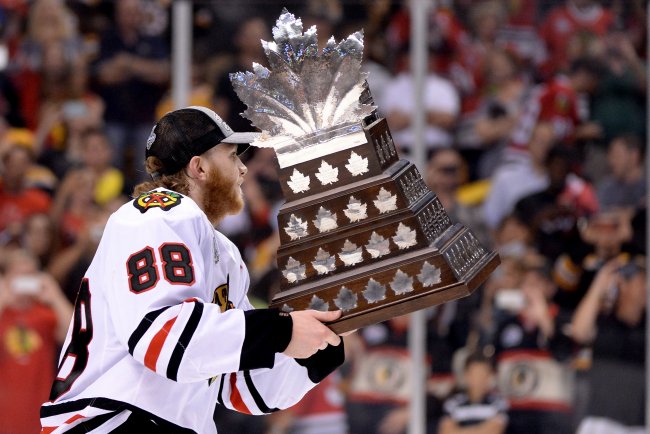 Harry How/Getty Images
The team also won the Stanley Cup back in 2010, the last time the city had a major championship to celebrate. The Chicago White Sox won their last championship in 2005, the Chicago Bulls won their last title in 1998, and the Chicago Bears haven't done so since 1985.
As many Chicagoans know, the Cubs are a completely different story.
But Friday will be a day for joy, happiness and unheralded madness through the streets of the city. The stress of life will melt away as the members of the 2013 championship team become part of everything the city represents for a few hours.
If you're looking for some helpful information about the events of the parade, the team's official Twitter account posted this to lend a hand:
Looking for more information about Friday's parade and rally. You can find them here: http://t.co/KxU7yaW4O0

— Chicago Blackhawks (@NHLBlackhawks) June 27, 2013
WGN will broadcast all of the day's events live and will also have a live stream for those not fortunate enough to leave their desks behind and gather for the festivities on Friday.
NBC Chicago's BJ Lutz and Lisa Balde reported the details of the parade on Wednesday afternoon, including access points and specific streets.
Here's an excerpt from that report:
The parade will begin at the United Center at 10:30 a.m. Spectators can begin lining up at Des Plaines Street and West Washington Boulevard. The parade will make its way east on Washington to North Michigan Avenue, then head north to East Randolph Street before heading east on South Columbus Drive and south to Hutchinson Field in Grant Park.
Here's a closer look at the route on Google Maps: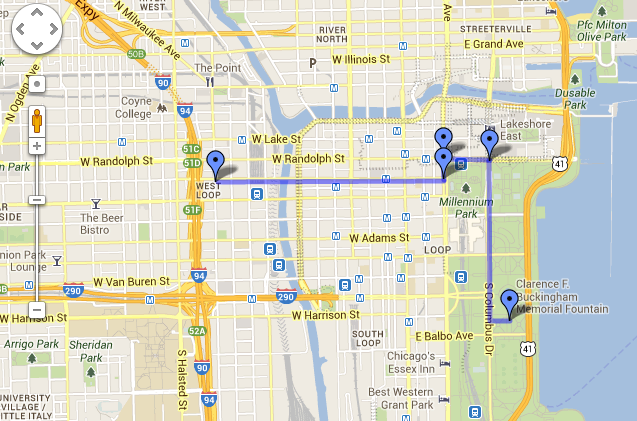 Jumbotrons will be out for those who are too far away from the action to get a hands-on view. The report also notes that the transportation nightmare, which will be a battle for those not trying to make it to the parade, will begin rearing its ugly head Thursday night.
Also noted in the Lutz/Balde story and reported on Twitter by ABC 7 Chicago is that the preferred beverage might not be the one that first comes to mind:
Official ask fans going to #Blackhawks parade to hydrate--but with water, not alcohol. #OEMC

— ABC 7 Chicago (@ABC7Chicago) June 26, 2013
If you're thinking about hiding that beverage in your backpack, don't. Just like the Miami Heat parade in South Beach, no backpacks will be allowed. RedEye Chicago had the post on Twitter:
No backpacks allowed at the #Blackhawks parade and rally on Friday: http://t.co/NU8fAmcwRp

— RedEye Chicago (@redeyechicago) June 26, 2013
City officials estimated in 2010 that the last championship parade had close to 2 million people in attendance, a number that would suggest that the majority of citizens in town migrated to the parade.
While that number might be a stretch for Friday's parade, you can bet droves of people will line the streets of Chicago to support their Blackhawks for their 2012-13 accomplishments.
After all, only one NHL team is technically still in season.
Follow Bleacher Report's Ethan Grant (@DowntownEG) on Twitter.