Chicago Cubs vs. Milwaukee Brewers Live Blog: Play-by-Play
Chicago Cubs shortstop Starlin Castro was considered one of the best young infielders in the game coming into this season. It's why Castro is considered the only untradeable player for a Cubbie team that seems to be a perpetual non-participant in the National League pennant race.
However, there are some who would say that Castro isn't even the best shortstop in this particular matchup, let alone the best player. Milwaukee shortstop Jean Segura, just 23, has given fans of the 32-43 Brewers something to cheer about this season. The young standout is currently batting .334 this season with 11 home runs and a .367 on-base percentage.
Segura's stellar stats don't end there: he leads the National League with 100 hits and is tied for the lead in all of baseball with eight triples already this year.
The Dominican Republic native has been a bright spot for a Brewer team suffering through yet another tough season, especially considering that they may very well lose slugger and former NL Most Valuable Player Ryan Braun for 100 games thanks to his involvement with the Miami-based Biogenesis clinic and purported steroid use.
In addition to Segura, outfielder Carlos Gomez has also excelled for the Brew Crew in 2013. Gomez is hitting .314 and has a .355 on-base percentage. He has also already hit 12 home runs this season (especially noteworthy considering his career high in that category is just 19).
His 4.9 wins above replacement mark (calculated by how the player's team would fare if a statistically average player replaced him) is the best of any major league player this season, and he is the man tied with Segura for most three-baggers in the league this year.
The Cubs' Scott Feldman (6-6, 3.49 ERA) will be pitching against Yovani Gallardo (6-6, 4.09 earned run average) in tonight's matchup.
The game will be broadcast on the WGN Network, based in Chicago. Let's see if Castro, returning from his first missed game in 269 outings (the second-longest streak in the majors, behind ex-Brewer Prince Fielder's 417 consecutive games), can get back on the right track, or if the Brewers will earn their 20th home-field victory of 2013.
Pinch hitter Scooter Gannett sends a pitch back, deep, to the track...and Schierholtz jumps to make the catch for the final out of the game. W: Feldman (7-6) L: Gallardo (6-7) S: Gregg (12)
Betancourt swings on the first pitch from Gregg and grounds it to third. Weeks, running on contact, comes at Castillo with speed as the throw from Valbuena comes home. Castillo holds on for a HUGE second out, as a runner on third with one out now becomes a runner on first with two outs.
...and Weeks makes his at-bat worthwhile with a double into the right-center gap. He gets into second standing up and represents the tying run here. Schafer sacrifices Weeks over to third base for the first out.
Weeks takes a close second strike to even the count at 2-2, then takes a ball which is just a bit inside to load the count. The second baseman then fouls the following pitch off. Big at-bat going on here...another foul ball...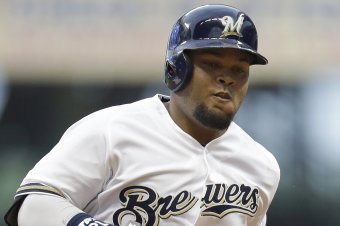 Mike McGinnis/Getty Images
Francisco hits a frozen rope to right field and over the fence on Gregg's third pitch. The first baseman's eighth homer of the season makes this a one-run game with no outs.
Kevin Gregg in to try to close the game for the Cubbies in the ninth. He has 11 saves in as many opportunities this year, with a 2-1 record and 1.11 ERA.
Axford induces a double play from the bat of Castillo to send the game into the bottom of the ninth. Brewers need at least two runs to keep their hopes alive.
Former Brewer closer John Axford (sans his signature handlebar mustache) comes in to pitch the ninth for Milwaukee. After Rizzo makes the first out of the ninth, Ramirez and Segura fight over a groundball off the bat of Bogusevic. It's ruled as an infield hit, although it easily could've been an error on Ramirez.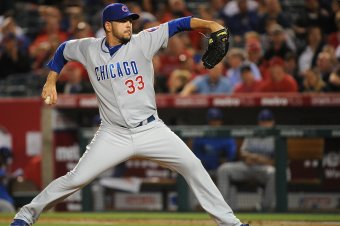 Lisa Blumenfeld/Getty Images
Ramirez chases a slider down and away as Villanueva earns a huge strikeout to leave Aoki stranded at third. Cubs still up 5-3.
Lucroy swings at a 3-0 pitch, and pops up to shallow left. Aoki doesn't even tag up on the play, and the onus will now fall on Ramirez (who has a homer and has driven in two of Milwaukee's three runs tonight) to make something happen here.
Carlos Villanueva, a former Brewer returning to Miller Park, comes in to relieve Russell. Segura sends a deep fly ball to dead center, but Sweeney is able to make the catch on the warning track. Aoki subsequently steals second base, however, and takes third shortly thereafter on a passed ball.
Russell comes back for his second inning of relief, and gives up his first hit of the game as Aoki sends a groundball into left field for a leadoff single.
Hand offers a hand to the Brewers, as Sweeney grounds out to send Chicago down in order. The Brewers have the top of their order (Aoki, Segura and Lucroy, with Ramirez in the cleanup spot) coming up in the bottom of the eighth.
Ramirez makes a great play on a groundball by Castro down the third-base line, then gets up and fires to first to get the shortstop by a step, preventing the Cub's third base hit of the night. Schierholtz is retired on the very next pitch for a quick two outs.
Donovan Hand is the latest reliever to come in for Milwaukee tonight. Betancourt takes over for Gindl in left field.
Jeff Bianchi pinch hits for Badenhop, and grounds out to Castro to send this contest into the eighth inning. The heart of the Cubs' order (Castro, Schierholtz and Sweeney) await whoever the Brewers bring in from the 'pen.
Excellent bunt attempt by Schafer trying to get on base to lead off the bottom of the seventh (as James Russell comes into the game in relief of Feldman for the Cubs), but he's thrown out by a split-second at first. Brewers pinch hitter Yuniesky Betancourt grounds out to Castro for the second out.
...and Valbuena breaks his bat on a groundout to second to end the inning. Still a two-run ballgame.
Borbon is walked by Badenhop to bring up Valbuena. Runners on first and second with two outs...
Barney pops up into foul ground, and Francisco makes the catch to bring up pinch hitter Julio Borbon. That spells the end for Feldman's night. The pitcher's stats: 81 pitches, 54 strikes, three strikeouts and three earned runs. If the Cubs can hold onto this lead, Feldman is on track for his seventh win of the season.
Bogusevic finally does take off, and makes it to second. He had 15 stolen bases last year for the Astros.
Castillo whiffs on a 1-2 pitch for Badenhop's first strikeout of the night, and Bogusevic is almost picked off at first a second later. Badenhop and Lucroy are keeping the rightfielder as close to the bag as possible.
After spending some time in the minor leagues with Toledo after being a starter in Houston, Bogusevic (hitting .333 in just a couple at-bats this season heading into tonight) is looking to stick in the majors this time around in the Windy City.
Bogusevic is up to begin the seventh inning for the Cubs. Burke Badenhop is now in to pitch for Milwaukee. Bogusevic hits a leadoff groundball single past Francisco and into right field.
Weeks grounds into a fielder's choice to end the sixth. Cubs still have a multi-run lead two-thirds of the way through this contest.
This article is
What is the duplicate article?
Why is this article offensive?
Where is this article plagiarized from?
Why is this article poorly edited?

Chicago Cubs: Like this team?