Why the NFL Offseason Matters More Than You Think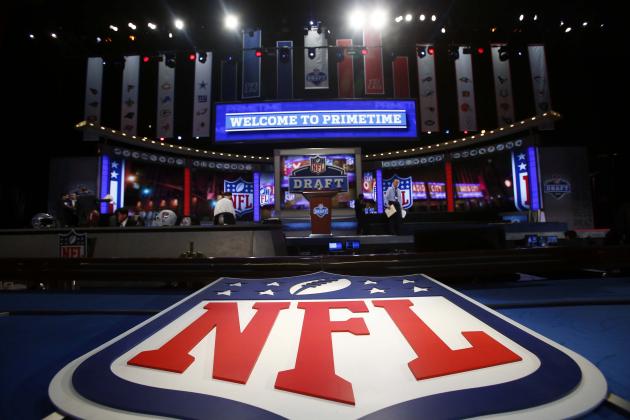 Jerry Lai-USA TODAY Sports

The NBA and NHL seasons are now officially over, which can mean only one thing:
The 2013 NFL season is right around the corner.
This it terrific news for the casual football fan. The annual Hall of Fame game is barely five weeks away, and months of excruciating boredom are nearly at an end. Pretty soon, it will be time to break out those throwback jerseys and sit down for some authentic NFL action.
For the diehard football fan, however, the offseason is not something to suffer through, but an annual event worth embracing.
It is a time of optimism, where every team appears to be on equal footing. It is also a time of excitement, as each franchise navigates through free agency, the NFL draft and training camps, hoping to gain an edge for the season ahead.
There is a reason why major media coverage of free agency and the draft process rivals the postseason coverage of some other sports.
For those passionate fans who eat, breathe and live football, the offseason is really one of the most important times of the entire calendar year. Not convinced?
Well, here are seven reasons why the NFL offseason matters a lot more than you might think.
Begin Slideshow

»
Kevin Hoffman-USA TODAY Sports
Can new head coach Doug Marrone lead the Bills to the top of the AFC East?
Only one NFL team can enter the offseason as defending Super Bowl champions.
From the moment the season ends, for all 32 teams, the focus becomes laying the groundwork to be that team once the next offseason rolls around.
This can mean anything from minor tweaks to the coaching staff or scouting department to complete overhauls of the front office. Either way, the goal is the same—build a foundation upon which a championship team can be erected.
This offseason, eight teams—the Kansas City Chiefs, Cleveland Browns, Buffalo Bills, Philadelphia Eagles, San Diego Chargers, Chicago Bears, Arizona Cardinals and Jacksonville Jaguars—hired new head coaches, while the New York Jets made a change at the general manager position.
While only a handful of these teams are likely to find long-term success with their current configurations of front office personnel, the coveted path toward building a dynasty has to begin somewhere.
Coincidentally, it begins in the offseason.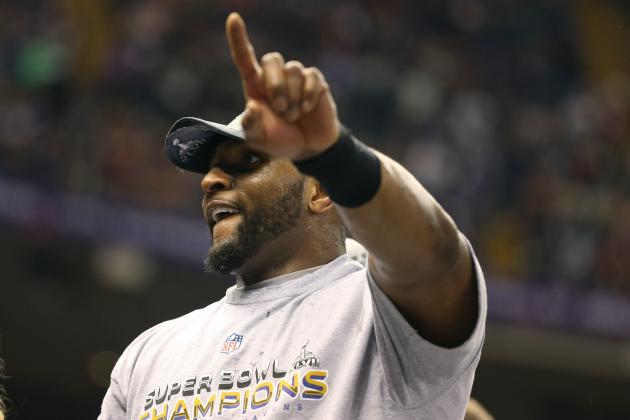 Mark J. Rebilas-USA TODAY Sports
Ravens LB Ray Lewis is only one of many longtime veterans who decided to walk away form the game this offseason.
One of the true beauties of professional sports is that they give us an opportunity to witness greatness.
Unfortunately, as fans, we don't always recognize greatness until it has come to pass.
Every offseason, a number of longtime veterans decide to call it a career. Many of them are ending truly great careers. We're talking about guys we grew up watching, rooting for (or against) and, more often than not, failed to fully appreciate during their time on the gridiron.
Virtually everyone took notice when Baltimore Ravens linebacker Ray Lewis announced his intention to retire following the 2012-13 season, and the fact he found a way to go out on top only raised the profile of his retirement.
However, Lewis wasn't the only recognizable face we won't be seeing next season.
Longtime Bears linebacker Brian Urlacher, Packers wide receiver Donald Driver, Colts center Jeff Saturday and Bills defensive end Chris Kelsay are just a few of the players we have grown accustomed to watching on the field every Sunday and who we won't be seeing on the field again.
While the NFL offseason can be a time for hope and renewal, it is also a time for reflection and appreciation for those players who have helped make this great game what it is today.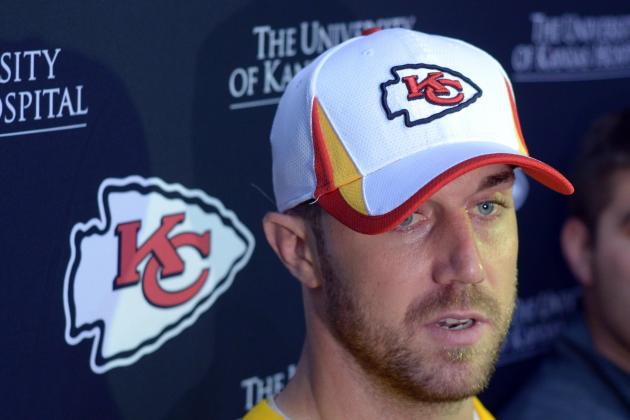 Denny Medley-USA TODAY Sports
The Kansas City Chiefs hope new QB Alex Smith can lead the team back to the playoff in 2013.
When the 2013 league year kicked off back on March 12, it brought with it a flurry of trade and free-agent activity.
Perhaps you noticed.
From the trade that sent San Francisco 49ers quarterback Alex Smith to Kansas City to the apparent dismantling of the Baltimore Ravens championship defense (Ray Lewis retired while cornerback Cary Williams, safety Ed Reed and linebackers Dannell Ellerbe and Paul Kruger left via free agency), wave after wave of offseason moves flooded the media headlines.
Some free-agent moves were expected. Others were a bit more surprising (James Harrison to Cincinnati, anyone?). Almost every move, however, qualified as news.
Of course, the entire purpose of free agency in its current, 20-year-old form is to encourage parity between the league's 32 ballclubs. Therefore, there is at least some cause to believe that even if your favorite team didn't have a successful season the previous year, an influx of talent could be enough to change fortunes in the season ahead.
Whether your team won or lost during the free-agency and trade period, it's a pretty safe bet that the roster looks quite a bit different next year than it did the last.
Hopefully, you have been paying attention.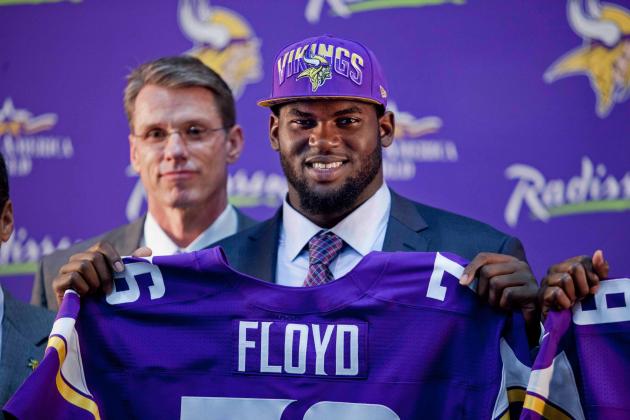 Bruce Kluckhohn-USA TODAY Sports
Smart drafting is the key to sustained success.
Ahh, the NFL draft.
It is the Super Bowl of the offseason—an annual three-day extravaganza of hype, hyperbole, suspense and, most importantly, franchise-altering decisions.
Every team has something at stake during the draft process. Some teams are simply looking to add the final key piece to an already-playoff-caliber roster, while others are trying to find the cornerstone of their immediate future. Every team is looking for depth.
Teams' evaluation of incoming rookie talent is an extended process, often beginning a year or more in advance. The media's coverage of the entire process is also an extended affair.
From the NFL Scouting Combine to pre-draft prediction shows and the hundreds of mock drafts that circulate magazines and the Internet, the buildup to the annual draft is immense.
The aftermath—post-draft interviews, recap shows and draft grades—can be just as extensive, which makes for literally months worth of entertainment for the hardcore football fan.
However, teams have a lot riding on the entire process. Drafting the right quarterback or the best free safety can lead to a decade of positional solidity, while making the wrong decisions can set a franchise back in a big way.
Fortunately, the rookie wage scale—instituted in 2011—has made certain mistakes less costly. It has also increased the number of trades and amount of risk-taking seen on draft day, which makes for an all-around more entertaining experience.
Make no mistake, however. The draft is serious business.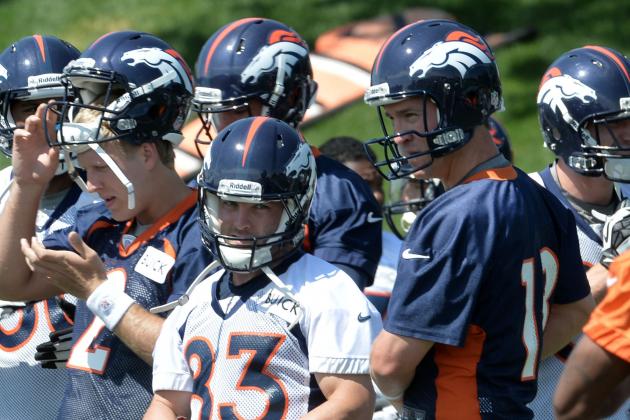 Ron Chenoy-USA TODAY Sports
Players grow together during the offseason.
Some say that strong bonds are formed in the heat of the moment.
In the NFL world, the strongest bonds just might be formed during the heat of training camp.
While the right coaches, best personnel men and most talented group of players can certainly take a team near the top, it's hard to envision a championship team that doesn't possess an undeniable chemistry.
From early offseason organized team activities and rookie minicamps to training camp and the start of the preseason, the offseason is a journey that a team's players can only make together.
There is no denying that the NFL regular season is a grueling 17-week testament to players' ability to work hard and provide maximum effort. However, all that hard work begins during the offseason.
As schemes are being installed and drills are ran, players are forced to work side by side, forming a sense of friendship and brotherhood that will last throughout the coming year.
While not every player will make the final 53-man roster, those who earn a place on the team will find themselves part of a group that has learned to play, fight and, hopefully, win as one.
Kirby Lee-USA TODAY Sports
49ers WR Michael Crabtree is just one player who has suffered a significant injury this offseason.
Unfortunately, while blockbuster trades, marquee signings and stunning cuts have become a part of each and every NFL offseason, so too have injuries, off-field incidents, failed drug tests and player arrests.
While some of these events are serious lapses of judgement and others are unavoidable freak accidents, all of them have the potential to bring lasting effects.
Even for a playoff-caliber team, having a key player unavailable to start the season can be a difficult obstacle to overcome.
Already this offseason, high-profile such as San Francisco 49ers wide receiver Michael Crabtree, Cleveland Browns running back Trent Richardson and San Diego Chargers linebacker Melvin Ingram have suffered injuries serious enough that it could compromise their ability to prepare for or participate in part or all of the 2013 season,
Meanwhile, impact players like Jacksonville Jaguars wideout Justin Blackmon, Cleveland Browns receiver Josh Gordon and Seattle Seahawks defensive end Bruce Irvin face suspensions to begin the 2013 regular season.
At the end of the day, the NFL is truly an ever-changing and unpredictable world, and it doesn't take a moment to stop during the offseason.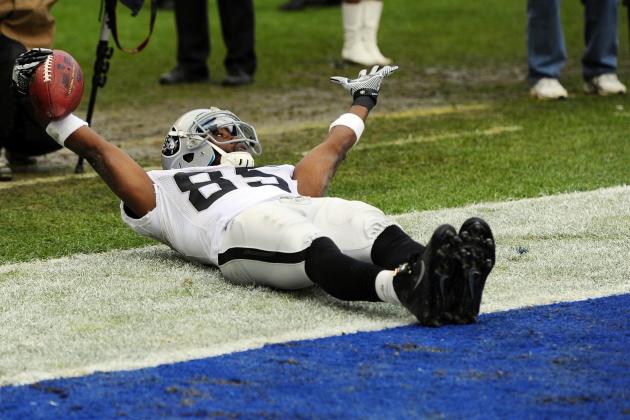 Christopher Hanewinckel-USA TODAY Sports
Though they won just four games in 2012, the Oakland Raiders have yet to lose a game this season.
Perhaps the biggest reason to embrace the NFL offseason is the sense of optimism it can bring to each and every individual football fan.
At this point in the NFL calender year, all 32 teams are equals. The joys of victory and the utter disappointment of defeat have yet to creep into the minds of players and fans alike, and practically everyone has a reason to view their proverbial glass with a half-full mentality.
Reigning champs dream of repeating, while those who fell just short can imagine making that final push toward the ultimate goal. Even fans of recently struggling franchises can believe their teams have made the necessary improvement—either through front office personnel or through overall roster talent—to right the ship and finally contend.
In the past we, have seen teams go from worst to first in their respective divisions. We have watched franchises go from perennial bottom-feeders to conference contenders—all in the span of a single season.
Or more accurately, it occurs in the span of an offseason.
The possibilities are always endless and the horizon always bright, and that is why, at least in the fan's mind, the offseason will always remain important.