3 Free Agents Who Could Boost the Indiana Pacers' Bench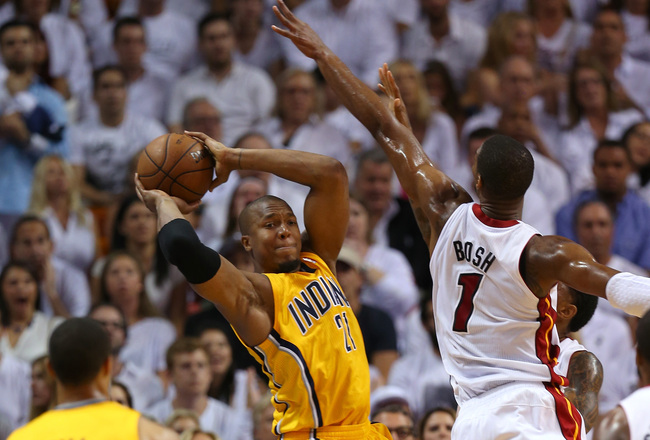 Mike Ehrmann/Getty Images
In the 2012-13 season and postseason, the Indiana Pacers had a great core group of players and their starting lineup was one of the best in the entire league.
However, their shortcomings were apparent in the playoffs, and it was clearly noticeable that their bench lacked the firepower and aggressiveness that other teams' benches possessed.
According to Hoops Stats, the Pacers' bench was 29th in scoring during the season, averaging just 24.1 points per game. To make matters worse, the bench shot the lowest field goal percentage out of every other team's bench in the NBA (39.3 percent).
It was even worse in the playoffs, as the Pacers' bench only combined to score 15.8 points per game on an abysmal 38.6 field goal percentage.
Other than re-signing David West, the other important key to the Pacers' offseason plan is to improve the talent and depth of their bench.
Kyle Korver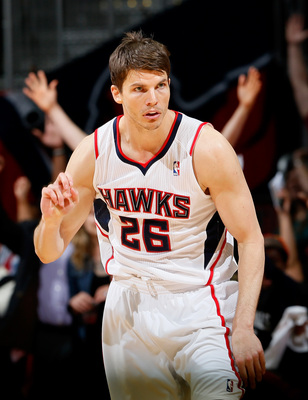 Kevin C. Cox/Getty Images
Kyle Korver is a cheap, but effective option to give the Pacers a spark off the bench. He also does just one thing and he does it well, which is shooting the ball.
For his career, Korver has shot 41.9 percent from beyond the arc (per Basketball Reference). In the past four seasons though, he has shot an incredible 44.8 percent from three-point land, which is remarkable.
He earned a hefty $5 million last season, but it's highly unlikely that he would make that much again, considering his role in the past few seasons.
If the Pacers can snatch Korver for a cheap price and put him into a similar role as the Chicago Bulls a few seasons back, then his production in spurts would be very helpful to a team that lacks perimeter shooting off the bench.
Matt Barnes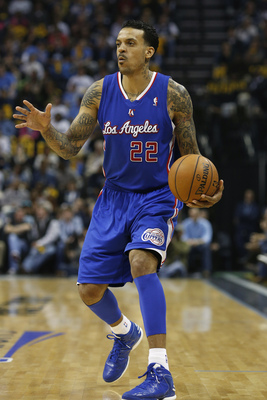 Joe Robbins/Getty Images
Matt Barnes is the ultimate energy and hustle player that every team would love to have.
Not only will Barnes run out on the break at every opportunity, chase every loose ball and go for every rebound, but his defense is extremely underrated.
According to 82games.com, Barnes held opposing small forwards to a PER of 14.6 in the 2012-13 season. That number isn't spectacular and it says that his individual defense is rather average, but the small forward position is one of the most talented in the league today.
Barnes could come off the bench and provide invaluable minutes while Paul George takes a breather. He can take over defensive duties and let George focus more on the offensive end of the floor, since he has the size and length to bother any player from the 1 to the 4.
His price and contract may be the issue though. There are sure to be other teams out there who would love to have Barnes' services. However, he's still a great fit for a Pacers team that's looking to add quality depth to their roster.
Chris Andersen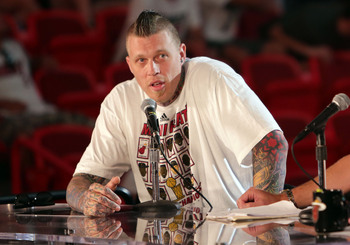 Alexander Tamargo/Getty Images
The Birdman definitely made his mark during the playoffs with the Miami Heat this past postseason, but he's set to become an unrestricted free agent this summer.
In the limited minutes he played during the regular season, Chris Andersen was very productive. In just 14.9 minutes per game, Andersen recorded 4.9 PPG, 4.1 RPG and 1.0 BPG per contest. His energy and rebounding certainly made an impact off of the Heat bench during their postseason run.
Andersen's style of play would be a perfect fit for the Pacers' bench as well. He provides relentless energy and hustle just like Barnes, but he also helps the team keep its identity with his tenacious rebounding and crashing the glass.
Like Korver and Barnes, Andersen would be highly valued on the open market by a lot of teams, so the Pacers will definitely need to make themselves stand out among the rest to sign him. It's also hard seeing Andersen bolting the Heat after he won his first NBA championship and is enjoying success for the first time in his career.
Keep Reading

Indiana Pacers: Like this team?