The second round of group play at the 2013 Under-20 World Cup is officially in the books as Groups E and F finished their matches Wednesday afternoon.
A team's second match is critical in the group stage. You can either punch your ticket to the knockout stage, or make the mountain to advance even steeper. Losing your second match is critical because it means you have to get a result in your third match.
With so much on the line, there was some tentative play on Thursday. It lacked some of the excitement that fans have seen on previous days.
Here are the results and recaps of each match, along with the standings for each group.
Group E Results
Iran 2, Egypt 1
Chile 1, England 1
Group F Results
Uruguay 2, New Zealand 0
Croatia 1, Uzbekistan 1
Group E Standings
| | | | | | |
| --- | --- | --- | --- | --- | --- |
| Team | Win | Draw | Loss | Goal Diff. | Pts |
| Iraq | 1 | 1 | 0 | +1 | 4 |
| Chile | 1 | 1 | 0 | +1 | 4 |
| England | 0 | 2 | 0 | 0 | 2 |
| Egypt | 0 | 0 | 2 | -2 | 0 |
Group F Standings
| | | | | | |
| --- | --- | --- | --- | --- | --- |
| Team | Win | Draw | Loss | Goal Diff. | Pts. |
| Uzbekistan | 1 | 1 | 0 | +3 | 4 |
| Croatia | 1 | 1 | 0 | +1 | 4 |
| Uruguay | 1 | 0 | 1 | +1 | 3 |
| New Zealand | 0 | 0 | 2 | -5 | 0 |
Uzbekistan Remain on Top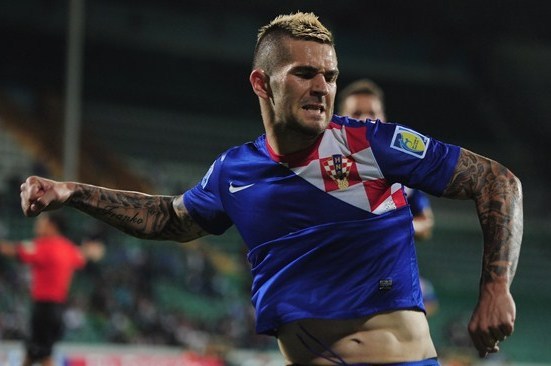 Uzbekistan built off their win against New Zealand by drawing with Croatia.
The Uzbekistanis drew first blood when Sardor Rakhmanov knocked in a free kick in the 24th minute. Jamshid Iskanderov sent in a free kick from the left that was headed on to Rakhmanov, who added the finish. It was a lucky goal as Rakhmanov didn't connect with the ball very well at all.
It was another set piece setting up a goal, only this time for Croatia. In the 65th minute, Ante Rebic delivered in a free kick, which found a completely unmarked Marko Livaja, who had a rather easy finish for the goal. It was shocking how none of the Uzbekistan defenders picked him up or tracked his run.
That was the last real action of the match, as Uzbekistan remain top of the group with the 1-1 draw.
Croatian football expert Alex Holiga was less than enthused by the match.
FT Croatia 1-1 Uzbekistan (U-20 WC). A really boring game between two unimaginative and not particularly talented sides.

— Aleksandar Holiga (@AlexHoliga) June 26, 2013
Either team would have been able to secure its place in the knockout stage had it won. Instead, they'll likely need to get at least a point in their next match.
Uruguay Dominant in Victory
It took all of four minutes for Uruguay to go ahead of New Zealand. Giorgian de Arrascaeta was fouled about 25 yards from goal. He stepped up to take the free kick and fired in a laser for the top left corner. The keeper didn't stand a chance.
La Celeste put the game out of reach in the 75th minute. Nicolas Lopez poked in the goal after his header had bounced off the post. It was a bit of good luck as the ball bounced right to Lopez's feet, just over the diving keeper.
That's not to say that Uruguay didn't deserve to win the match. They were far and away the better team. They had 21 shots to New Zealand's three, and had 62 percent of possession.
The loss pretty much dooms New Zealand, as they'll need a miracle to finish third in the group. Uruguay picked up three critical points and will advance to the knockout stage with a win in their third match.
England Remain Winless
A draw wasn't the worst result for England. But the Three Lions just can't pull themselves out of the funk they're in at the U-20 World Cup, per The Independent's Sam Wallace.
England 1-1 Chile at U20WC. 'Battling' performance. Now 15 games in this competition dating back to 1997 since last England win

— Sam Wallace (@SamWallaceIndy) June 26, 2013
Things didn't look good for England when Daniel Potts brought down Angelo Henriquez in the box. It was a clear foul, and the referee had no choice but to whistle for the foul. Nicolas Castillo hit it in the bottom right corner to give Chile the 1-0 lead.
Harry Kane equalized in the 63rd minute when his shot from the top of the box found the bottom left corner.
Both teams had chances to go ahead, but neither could find that lethal touch in the box. In the end, a draw was the fairest result. Although Chile looked the better side, they didn't do enough with their possession.
England will need to pick up a win in their next match if they have any hope of advancing the knockout stage. It's hard seeing them with only two or three points being able to go through.
Chile are sitting a little prettier. Depending on the result of Iraq's final match, they've got a place in the knockout stage surely in the bag.
Iraq Get Another Shocking Result
One of the biggest surprises of the tournament so far has been Iraq. They left it late in their 2-2 draw with England, and now they've toppled Egypt, 2-1.
Things didn't look very good when Hassan Ahmed scored in the 27th minute. It was a strong header into the bottom left corner.
Ammar Abdulhussein equalized in the 33rd minute. He had a lot of space outside the box and had an effort on goal. He hit it low and hard into the bottom right corner. The shot itself was well-struck, but it was very poor defending from Egypt, as they just let Abdulhussein run right at them.
Once again demonstrating a flair for the dramatic, Iraq waited until the 79th minute to find the winning goal. It was a good individual effort from Mohanad Abdulraheem as he kept possession, eventually rounding the keeper and setting himself up with an easy finish.
Iraq go top the group with the win, and Egypt are firmly planted down at the bottom.