Grading Every Cincinnati Bengals Offseason Move to Date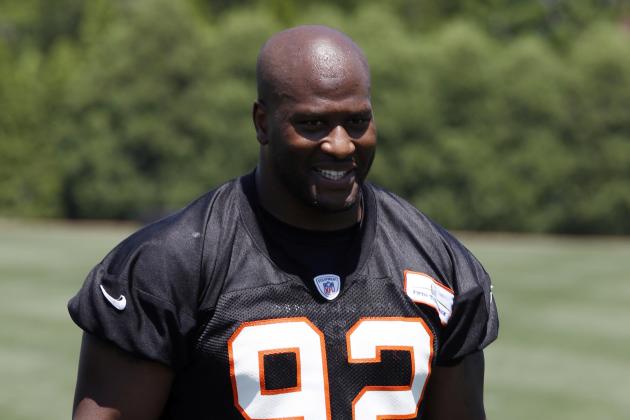 David Kohl-USA TODAY Sports

As you look at the Cincinnati Bengals' offseason, you'll notice something that really isn't all that different—they weren't particularly active. It seems that it's been quite a few years since they have been.
Still, there were signings, re-signings and the draft to examine. Cincinnati certainly won't have an entirely new look when they take the field on Week 1 in Chicago, but there will be some new faces. Additionally, there will be some of the same faces, for better or worse.
What grade will the Bengals receive this far into the offseason, as we inch ever closer to opening week?
Begin Slideshow

»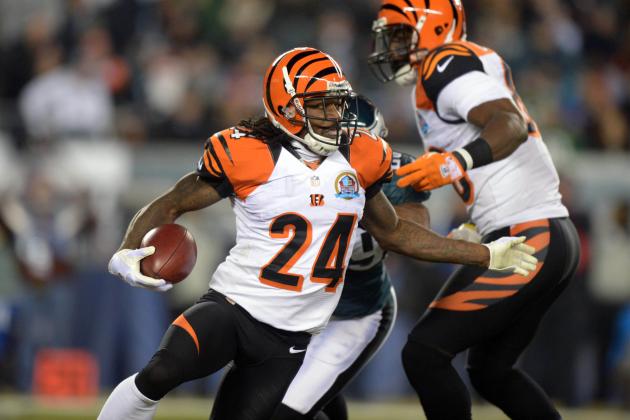 USA TODAY Sports

**This slide will highlight some of the "lesser known" re-signings, and the bigger ones will be highlighted in following slides individually.**
Adam Jones
In three seasons with the Bengals, Jones has not really been much to write home about, mostly because 2012 was his only full season with the team to date. Still, Jones is a solid corner with a lot of speed and can be utilized on special teams. He was good to keep for depth in the secondary and on returns.
Terence Newman
Newman's 75 tackles was probably the most impressive statistic for what was a pretty normal season for the former Cowboy. He didn't shatter any career highs, but he wasn't a liability in the secondary either. He filled in nicely for the injured Dre Kirkpatrick, so having the veteran on the team will be beneficial to mold Kirkpatrick and fill in as needed.
Brandon Tate
Going into 2012, Tate was in a battle to be the Bengals' No. 2 receiver. How did he answer the challenge? By managing only 13 catches, one touchdown and being a mediocre return man. His role with Cincinnati is unclear for 2013, but for now, he seems like a waste of a spot in what is becoming a crowded receiving corps.
Robert Geathers
Geathers was a huge part of the team formerly led by Carson Palmer and Chad Johnson in 2005. He managed to have a career year in 2006—racking up 10.5 sacks—but it proved to be a fluke. Besides those couple seasons, he's never lived up to the big contract he received. Now he seems to only be kept around as insurance should something happen to Michael Johnson or Carlos Dunlap.
Grade: B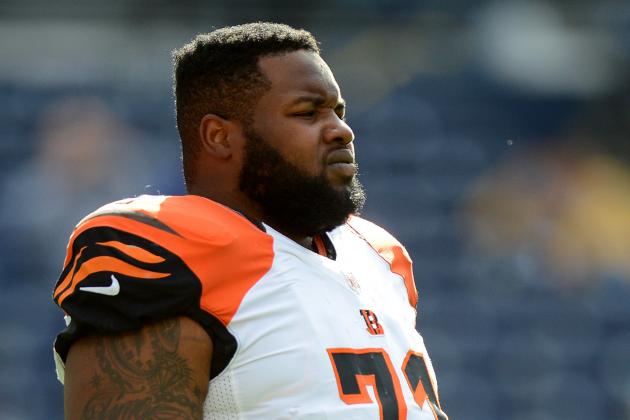 Jake Roth-USA TODAY Sports

I hate to give Cincinnati a good grade for re-signing Andre Smith, especially because I believe his critics. I still look at him as the guy that showed up his rookie season fat, lazy and out of shape.
He had one decent season in 2012—the performance he should have been putting up since being drafted—and he was suddenly being called one of the best right tackles in all of football.
That's stretching it, but there's no denying he performed at the right time.
Whether I like him or not, the Bengals had no choice. Letting Smith go was not an option—or, at the very least, not a good choice. Andy Dalton needs all of the protection he can get, and it would appear that the gargantuan Smith is turning things in the right direction. Let's hope he continues to impress.
Grade: A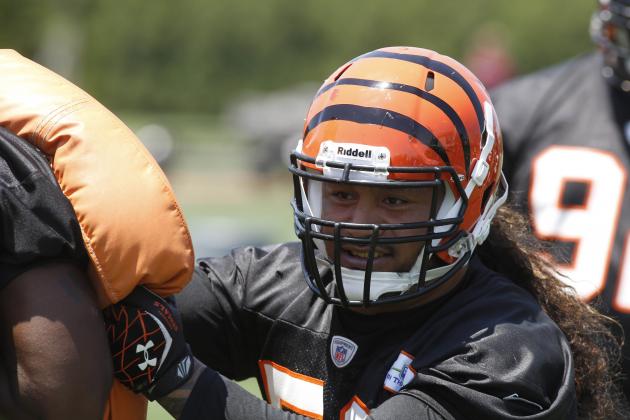 David Kohl-USA TODAY Sports

He misses tackles. He can't blitz. He can't cover. Owen Daniels tore him apart in January. He was the proverbial scapegoat.
And yet, Cincinnati brought him back to play the exact position where he was so detrimental. I'm not one of these professional football analysts that watch hours of tape or analyze every minute strength, but I will never understand the need to bring Rey Maualuga back to Cincinnati.
Vontaze Burfict showed an incredible upside in 2012, and a lot of thoughts were that he would move to the middle upon Maualuga's exit. Once he was re-signed, I figured it was a foregone conclusion that he would be moved, or even simply be there for depth.
Nope. He is in line to start. So it will be a good year for tight ends against the Bengals.
Grade: D-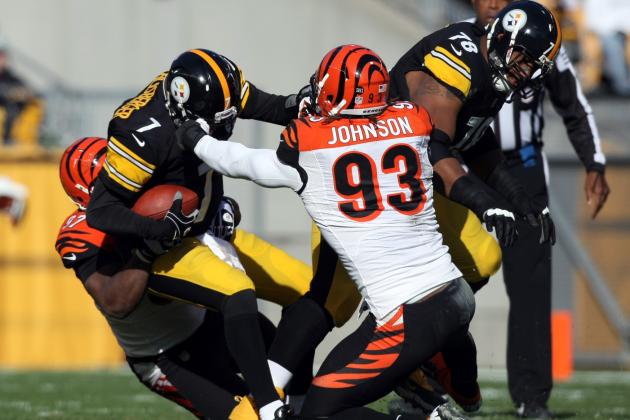 USA TODAY Sports

I'm very optimistic about Margus Hunt, and his development into an NFL defensive end. But he would never have measured up to what Michael Johnson has brought to the Bengals.
Johnson was asked to blitz a lot more in 2012, and it worked out—he shattered his career high in sacks, accumulating 11.5 of them. Being alongside the likes of Geno Atkins definitely helps, but Johnson has such a combination of speed and power that it makes him a pain for offensive lines.
It would have been better for the Bengals to sign him long term, but to at least franchise him and keep him around while the defense is top-notch was huge. It may have saved the performance of their D-line.
Grade: A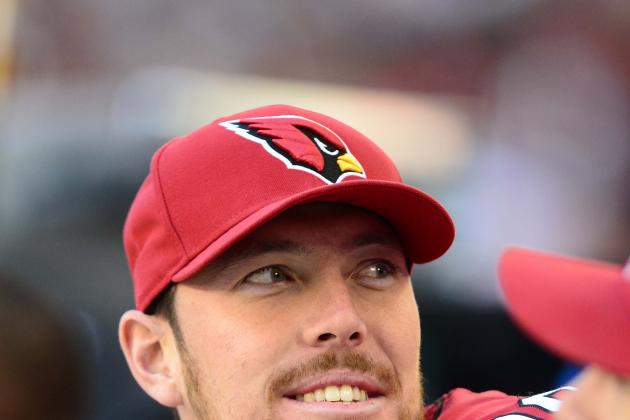 Mark J. Rebilas-USA TODAY Sports

There isn't a huge need to go into too much depth about the quarterbacks Cincinnati brought in to back up Andy Dalton. You can only expect so much in such signings.
John Skelton and Josh Johnson—who are most likely going to be the backups—aren't the most impressive options. Green Bay had Matt Flynn, and the Redskins have Kirk Cousins—both solid backups.
Skelton and Johnson won't save the day, but they have experience—more than Bruce Gradkowski had.
Grade: C+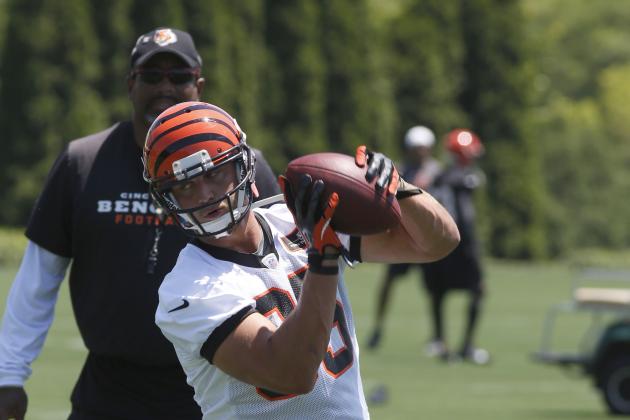 David Kohl-USA TODAY Sports

Whenever I think back to the draft, I remember myself shouting obscenities at the screen in dismay as Tyler Eifert's name was announced.
Though I still don't think he was the best option available, I've re-examined the situation. Jermaine Gresham has proven he can be a receiving tight end, despite the occasional drop. But Orson Charles is a better blocker than receiver. Eifert, meanwhile, can do both and do both well.
Let's face it—Andy Dalton isn't a deep threat.
This means he will be focused on the tight ends across the middle, so the two tight end set will be good.
Giovani Bernard massively upgraded the running game, as BenJarvus Green-Ellis now doesn't have to carry the load himself.
Additionally, the Bengals added a lot of guys that they can use. Shawn Williams and Cobi Hamilton have shown a lot of promise in their limited time so far. Overall, the Bengals drafted decently again.
Grade: B+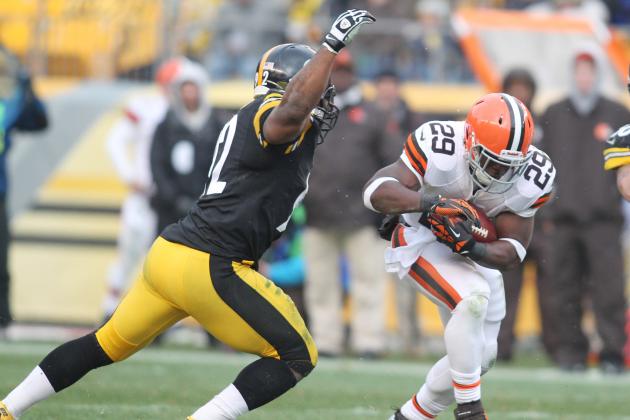 USA TODAY Sports

With Thomas Howard and Dan Skuta having left town, the linebacker corps was starting to thin a little bit. There was no way the Bengals could fully rely on Vincent Rey or Aaron Maybin all season.
Now, James Harrison has made his way to the Queen City. However, he may not be the guy he once was a few years ago in Pittsburgh—when he recorded seasons of 16, 10.5 and 10 sacks.
Nevertheless, he will add a huge blitzing presence across the middle three—since Maualuga obviously won't do it, and Burfict is good in coverage. With Harrison in the fold, the defense just might be complete.
Grade: A