Less than two rounds into Wimbledon, the event has already been ruined. The lack of superstars has turned the prestigious championship into an average tournament.
So far, we have seen the biggest names in the sport drop out at a ridiculous rate. This includes two of the best players in tennis history, Rafael Nadal and Roger Federer.
After winning the French Open in dominant fashion, Nadal lost to Steve Darcis in straight sets. Considering the King of Clay had built up a 43-2 record this season, the first-round exit was certainly surprising.
Of course, this was not as shocking as the second-round loss for Federer, who has won this event seven times in his career. The legendary player was coming off a tournament win at Halle and was among the favorites to win it all.
As ESPN Stats & Info points out, this loss breaks an impressive streak for the Swiss superstar:
Roger Federer: 1st loss before quarterfinals of a Grand Slam since 2004 French Open (snaps record 36 straight GS qtrs reached)

— ESPN Stats & Info (@ESPNStatsInfo) June 26, 2013
Amazingly, this only begins to showcase the early exits for the sport's top players. Two competitors that have played extremely well lately—Jo-Wilfried Tsonga and Stanislas Wawrinka—are also out of the tournament.
Tsonga was one of a large group of players that were forced to retire due to injuries on Day 3 of Wimbledon, according to the tournament's official Twitter account:
Yet another retirement on Day 3! Tsonga retires against Gulbis with a suspected knee injury #Wimbledon

— Wimbledon (@Wimbledon) June 26, 2013
John Isner and Steve Darcis also withdrew from the men's draw, leaving a relatively empty day of action. Still, likely the biggest injury was on the ladies' side of the bracket, with No. 2 seed Victoria Azarenka taking herself out of the tournament, according to the Wimbledon Twitter feed:
Announcement on Centre Court: Victoria #Azarenka has withdrawn from #Wimbledon due to injury. Schedule will change. More to follow... #Vika

— Wimbledon (@Wimbledon) June 26, 2013
You could see the raw emotion from the talented player when she slipped on the wet grass in her opening match:
The injury to Azarenka, combined with the early upset of Maria Sharapova in the second round, has created a void of talent in the women's draw.
Obviously, there is plenty of skillful players remaining in both brackets. However, the depth of each side is relatively weak beyond Novak Djokovic and Andy Murray in the men's half, with Serena Williams pretty much alone in the ladies' draw.
Is the tournament more or less exciting with the early exits?
In most sports, early upsets create excitement for fans because of the idea that anyone could lose at any moment. However, tennis is all about who you are able to beat instead of how far you are able to get in a tournament.
As a result, the absence of star players in both brackets completely weakens the remainder of Wimbledon. No matter who is able to win, the title will not be as impressive as it could have been.
The eventual winner will be looked at as "lucky" to avoid the best competition on the path to the title. This mindset has stuck with Federer throughout his career, as the only time he won at Roland Garros was after Nadal was upset by Robin Soderling in 2009.
That will never be truer than in this event, which has already lost some of the best competition.
These upsets are pretty rare at Wimbledon. Normally, the best players advance in both the men's and women's draws. Here is a look at how many top-four seeds have reached the semifinals in the past 10 years of the tournament: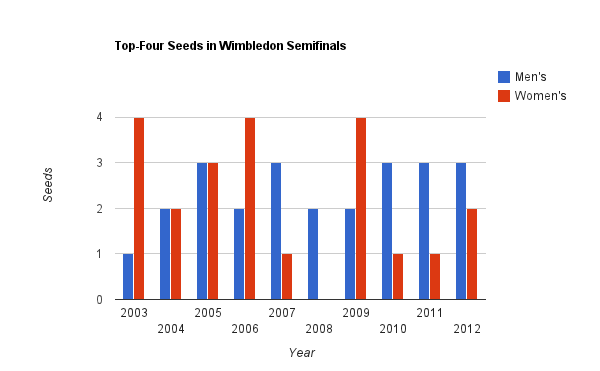 This year's appears to be an exception. If an underdog is able to come through with a championship, it will always be looked at as "the year when every good player was eliminated early."
Not all Grand Slam titles are created equal.
This is on top of the fact that television ratings are certain to drop without the star appeal. Grantland's Brian Phillips made a joke about what has become of Wimbledon:
I am FIRED UP for the impending Wimbledon semi between 64-year-old Macedonian diplomat Srgjan Kerim and an unseeded border collie.

— Brian Phillips (@runofplay) June 26, 2013
Any young stars looking to make a name for themselves on the big stage will have to wait for another opportunity. Casual fans will not watch the later rounds if no one they know is left competing.
There was a lot of excitement heading into this tournament, especially on the men's side. This was the first Grand Slam tournament in a year that featured all of the "Big Four," a group that includes Djokovic, Nadal, Murray and Federer.
Unfortunately, fans will not be able to watch the potentially great matchups in later rounds, which has removed the excitement that was present a few days earlier.
Normally, the exit of so many talented players provides a great opportunity for those left in the tournament. In this case, however, the remaining competitors suffer just as much as the ones knocked out.
Follow Rob Goldberg on Twitter for the latest updates in sports.