NHL Draft 2013: Ranking the Top 10 Wingers in This Year's Class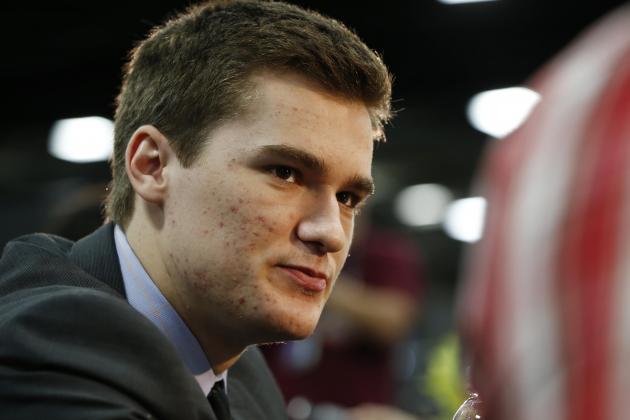 Greg M. Cooper-USA TODAY Sports

The 2013 NHL draft currently boasts Jonathan Drouin as the top draft-eligible winger, but once this sniper is off the boards, what winger's name will be called next? There are a number of talented wingers with different caches of skills, and each has various strengths and weaknesses. With the draft only days away, here are the top 10 wingers eligible for the 2013 draft.
Begin Slideshow

»
Pavel Buchnevich is an interesting winger who has a lot of potential. He has illustrated creativity and the ability to use his hands, but he is on the small side.
His dynamic passes and shooting acumen will help him at the NHL level, but he needs to bulk up to have a lasting impact. He reads the ice well and is a great creator of offense, and he has the potential to be a great player if he can add some size.
Kerby Rychel is a budding offensive player who is coming off of back-to-back 40-goal seasons with the Windsor Spitfires. He is an accomplished two-way forward who projects to be a physical power forward.
Rychel has decent size, is a dedicated player and has the potential to become a solid all-around player. Rychel's future is bright, and he is one of the most well-rounded wingers who is draft eligible.
Valentin Zykov is a Russian right winger with tremendous upside. The 6'1", 215-pound winger skates well for his size, and he has a high offensive IQ. During the 2012-13 season, Zykov netted 40 goals and added 35 helpers for 75 points.
While he doesn't have the talent that would warrant a pick early in the draft, he should be coveted if he is still on the board midway through the first round.
Adam Erne is a skilled power forward who uses his speed and acceleration to create offense. Erne is a smart player and playmaker who isn't selfish with the puck. He can beat you with a great shot, or he can fool the defense with a great pass to an opponent in the offensive zone.
He is a physical player who is still growing, and his upside suggests he can become a winger who imposes his size on the opposition.
Andre Burakovsky is a Swedish winger with a lot of upside. His skating stride and speed is a huge part of his game, and he's a creative player who likes to deke and fake out opponents. He is solid at possessing the puck, and he is also great at forcing turnovers.
Burakovsky is also a very strong worker who is continually trying to get better, and if he gets strong physically, he has the potential to become an all-world winger.
Anthony Mantha is 18 years old and he already stands 6'4" and weighs 187 pounds. He is an impressive offensive winger and is coming off of a season in which scored 50 goals in 67 games.
Mantha is also a very agile skater who is great at protecting the puck, and he doesn't shy away from physical play. Because of his age and current skills, he is an attractive prospect who can only continue to develop and improve at this point.
Frederik Gauthier is a versatile forward who can play either wing or center, and he has the potential to be a talented all-around player. Gauthier is a sizable forward at 6'5" and 214 pounds, and he is an above-average skater considering his size
Gauthier is also very competent at playing a defensive two-way game, and he is one of the draft's most complete wingers.
Hunter Shinkaruk is versatile forward who spent a good part of the 2012-13 season at right wing. During his time with the Medicine Hat Tigers, he scored 37 goals and added 49 assists for 86 points in 64 games.
He is only 5'11" and 174 pounds, but his aggressive playing style will allow him to be an impact player whenever he is on the ice. He is a prospect who has some developing to do, but he projects to be a solid all-around winger.
Valeri Nichushkin is 6'4", weighs 196 pounds and is an offensive menace. The skilled Russian winger was the No. 2-ranked European prospect by NHL Central Scouting, and he has the potential to make an impact at the NHL level.
Nichushkin skates well for his size, he crashes the net, and he has a deceptive shot that should make him a solid NHL scorer. He is still under contract with the KHL, so the team that drafts him will have to wait at least a year to bring Nichushkin on board.
Jonathan Drouin had an amazing season with the Halifax Mooseheads alongside Nathan MacKinnon, and he is the top winger entering the draft. Drouin is a dynamic all-around winger who is a great passer, shooter and skater.
In 2012-13, Drouin tallied 41 goals and 64 assists for 105 points in only 49 games, and it was a coming-out season for the young superstar. He also had an impressive Memorial Cup run that saw him tally 35 points in only 17 games.
He is a dark-horse candidate to be selected No. 1 overall, and whatever team he is drafted by will be adding a future All-Star winger.